Berlin - Is This the Best
Train Station in Europe?
Words and Pictures by John Clayton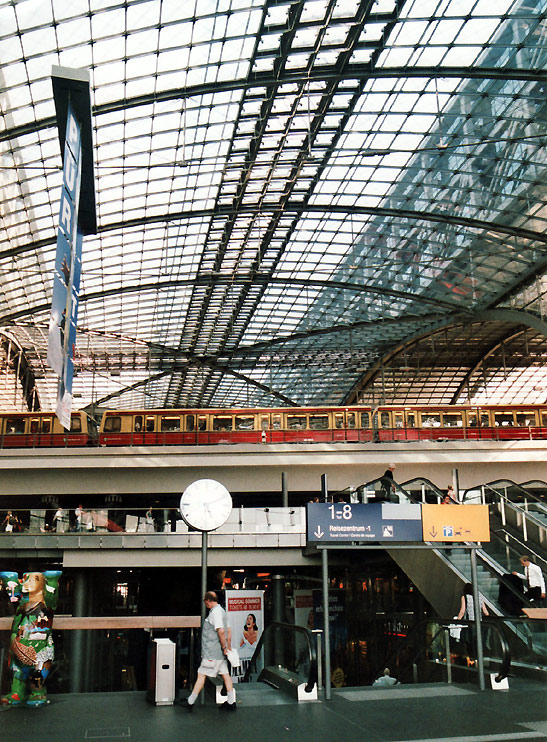 A Classic Roof!
The enormous glass roof over the station is at once imposing and incredible - and it gives it not only a very modern look, but also denotes an open sort of airiness - and freshness. It's interesting to note that research indicates that very often in a fire, many people die of smoke inhalation. Which is why the center panels of this roof are so special - at the very first hint of a fire, all those panels automatically open up to let out the smoke!

Editor's Note: It would appear that the older one gets, time goes by much faster than when one was, well let's say a lot younger. Do you know what I mean? I say that because on November 9th this year there was a huge celebration in Berlin, Germany - and in many other parts of the world - because that date signified it was the 20th Anniversary of the coming down of the Berlin Wall. It seems extraordinary that 20 years have passed by so quickly, I mean somehow when one says 1989 it does not appear to be that long ago - but when one says 20 years, well that DOES seem a long time ago. I was in Berlin shortly after the Wall came down, and it was one of the most incredible travel experiences of my life - I'll share that with you in a future TB story - but as a train buff I was thrilled when I heard that Germany's capital city would once again have a world class railroad station. When I was in Berlin after the Wall came down there was no such building and talk about a new one was just that - talk. Then, slowly but surely, positive things did begin to happen and a process to build something magnificent, began to take shape. What follows are my thoughts when I went to see the finished, final version - and it was, and is, totally magnificent - so, when you go to Germany I hope you'll find the time to visit Berlin (one of my favorite cities) but also that you'll find time to walk around this wonderful new train station.

ave you ever thought about a railroad station being like a big department store? I mean what if - when you boarded the elevator to go to "Home Furnishings," or Electrical Appliances on the 2nd or 3rd floor - you instead heard announcements about trains going north, south, west and east - and all on a different level? ? This scenario is so unusual that the thought probably never entered your mind but, strange as it may sound, there is a railroad station in Europe that does exactly that. The city is Berlin, Germany, and the station is the new five (yes five!) level Hauptbahnhof or Berlin Central Station. There is no other train station under construction, and on such a gigantic scale, as this one, anywhere in Europe.
As a train aficionado I'd gone there several years ago to see the first steps in the building of a train station for the 21st century and beyond - and it would begin to take shape in an area that was a desolate wasteland between East and West Berlin. The fact was that Berlin was one of the most heavily (and most frequently) bombed cities in WW2 Europe and, at war's end as the clean up began, there were a lot of open spaces. In early 2008 I was there to see the progress of the past few years.
Next to the Swiss, I've always thought that Germany has one of the best railroad systems in Europe -- especially their superb ICE, or Inter City Express trains that I've ridden many times during my trips to Germany. Their speed is often in excess of 200 mph, and their accommodations and level of service, are all superb. As but one example, travel between Berlin and Hamburg in 1990 took 4 hours and 3 minutes. The same journey today is only 90 minutes.
With the advent of German reunification in 1989, there evolved an urgent need for an expanded and updated rail system in what had previously been East Germany. Another key component was to make Berlin the center rail hub where passengers could arrive, leave and connect on both domestic and international trains as easy and as "simplified" as possible. This new, superbly modern station does all of that - and a whole lot more! The North South routes are domestic, and the East West lines are international. Connecting, arriving, leaving and getting to where you want to go in Berlin, is now easier, simpler and faster than ever before. Making all this a reality was one of the biggest construction jobs ever, not only in Germany but in all of Europe.
Here's an idea of what big means for Berlin's Central Train Station. Current results show there are 300,000 passengers a day; 110,000 who are either arriving, leaving or changing trains; equally incredible, trains traveling in all directions leave and depart at an amazing interval of 90 seconds; approximately 220 long distance trains arrive each day; 324 regional trains, and over 600 S-Bahn local trains every day; 310 trains, plus over 600 trains move in an East/West direction, and 234 in a North/South direction; it has over 900 parking spaces for automobiles; there are four platforms with eight tracks serving the North-South lines, that are next to the underground and S-Bahn stations; 54 escalators are dotted around the huge complex, 43 elevators and five magnificent staircases; plus over 9,000 sprinklers for fire protection, and at night the station looks even more spectacular as 9,000 lights illuminate its striking appearance; the station itself occupies 750,000 square feet of space and the cost of this gigantic project was $850 million, with a building time of 10 years. There are over 80 different shops from upscale hair salons; travel agencies; car rentals; clothing stores, plus wonderful places to eat and dine. It was opened by German chancellor Angela Merkel on May 26th 2006.
Kirsten Schmidt, director of PR for the city of Berlin in North America, comments. "This beautiful and architecturally stunning station now makes it possible to get connections to destinations all over Europe, and there are always wide choices of departures. I always urge people to get tickets through Rail Europe. Another great fact about its location is that you can reach some of Berlin's top tourist attractions - such as the nearby Reichstag, Brandenburg Gate and the Memorial to the murdered Jews of Europe, all of which are only a very short walk from the station." Schmidt noted that US visitors to the city had increased considerably, and that Americans can find some of the lowest hotel rates in Europe. "In 2008," she says, "the average room rate in a Berlin four or five star hotel was around 138 Euros a night, compared to similar rooms in London at 345 or Paris at 329 Euros."
For lots of fascinating information about Berlin and the superb ICE trains, click on Google and type in "German ICE trains information," and for the station itself, just type in "New Berlin train station." Other worthwhile websites are www.visitBerlin.de and www.cometogermany.com.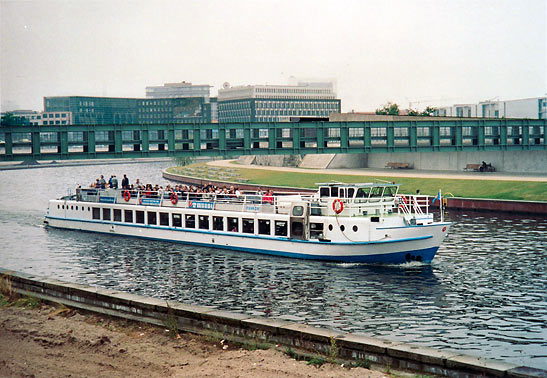 Cruising Berlin!
It's a surprise to many tourists when visiting this great city, to learn that one of the best, most charming ways to see Berlin, is by one of the many cruises along the River Spree and the Landwehr Canals. Tours depart from several of the city's bridges and piers - and yes, you get to see some of the most famous landmarks in Berlin! Tours vary in length from 1 hour to 3 or more, and you pass under no less than 63 bridges and go through numerous locks.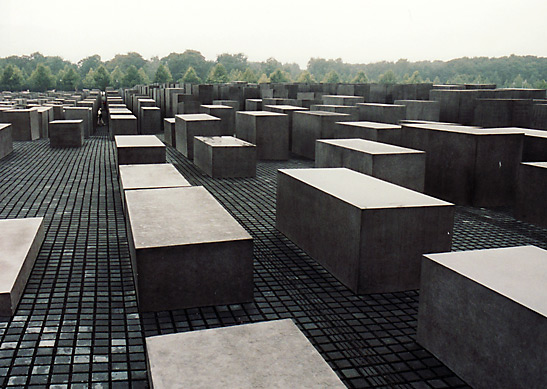 Silent Tribute
I found one of the most memorable and quietly stunning attractions in Berlin, to be the Holocaust Memorial. Designed by Peter Eisenman and engineer Buro Happold, it consists of a nearly 5 acre site that's covered with 2,711 concrete slabs that vary in height from nearly 8 foot long to 3 foot wide. Although its concept was controversial, it has become one of this city's must see places. It was dedicated on May 10th, 2005 and opened two days later.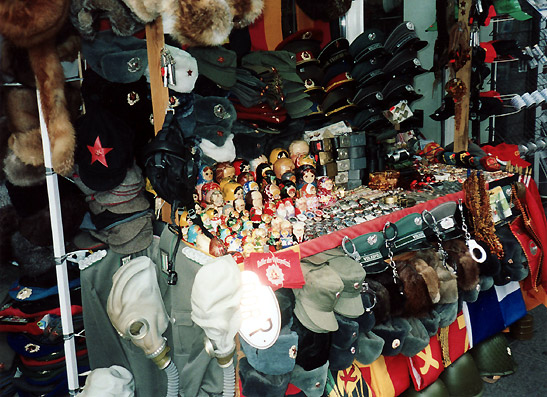 My Hat's off to YOU!!!
Are you a collector of "things" on your travels? Well me too! This is just one of several such places that you'll find around Berlin, where you can buy - as you see - a wide variety of memorabilia encompassing Berlin's storied and colorful history. This "store" is near Checkpoint Charlie. And yes, I purchased several hats to bring back to the USA.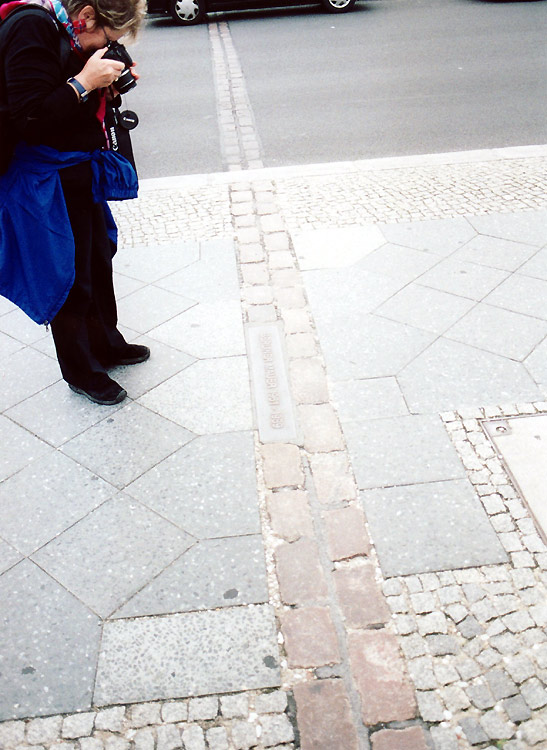 A Line of Difference!
Although the Berlin Wall was a travesty in its era, and an affront to human dignity and freedom, it became over time (especially after it was torn down) a sort of Berlin Icon. As you travel around this lovely city it's hard to sometimes recall where the Wall was. To remedy that, Berliners placed a line of bricks in the street so everyone knew where that infamous Wall once stood. I thought - and still do - that it's a very clever idea in tourism marketing.