Welcome to Traveling Boy's Interactive site. Here you can let us know what you really think about our articles. Spammers, please don't rain on our parade. Don't even think about it. We're going to screen all the comments. Put a link to your clients and you're automatically removed from our list. Kapeesh?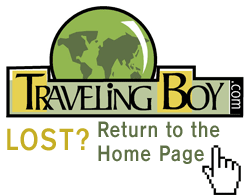 Let us know what articles you'd like to see. If you're about to go on a trip, why not drop us a line and let us know how we can create your dream vacation.
Love to write? Do you want to contribute to our library of personal travel adventures? Send us an email and we might consider your work. We do require pictures with all your articles. You can send those to us in an email. Look around our site and you will notice that each article is swarming with photos. Please make sure you've got original or copyright-free photos that we can use. We will assume that any picture you send is legit. If you come up with consistently great articles, then we might consider you to join our team of regular bloggers.
Have any questions? Let us know. In the meantime, welcome to the fun side of travel … welcome to the road less traveled.