DIRECTORS AND THEIR ACTRESS WIVES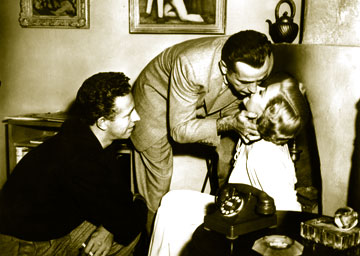 Nicholas Ray directing actress & wife Gloria Grahame and Humphrey Bogart in "In a Lonely Place" (1950) Photo courtesy of Photofest.
---
Cinema and Romance is in the air. So, the theme for trivia 59 will be devoted to film directors who directed their own actress wives.
---
No one will see your answer except for you.
For more on cinema, see Traveling Boy's The 20 Best Films of 1971, Part One

Congratulations!
You have completed DIRECTORS AND THEIR ACTRESS WIVES.
You scored %%SCORE%% out of a possible 5 points.
Your performance was: %%RATING%%
Your answers are highlighted below.