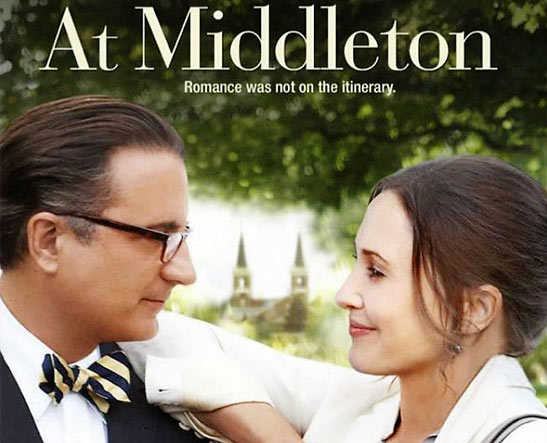 Andy Garcia and Vera Farmiga star in this charming, but brief, love story.
Courtesy photo.
Andy Garcia Discusses His Latest Film, "At Middleton," and His Journey to Stardom
By Beverly Cohn

ne of our national treasures, Andy Garcia is among Hollywood's most respected, talented actors having starred in an array of successful films including, "The Untouchables," "Stand and Deliver," "Black Rain," "Internal Affairs," "The Godfather: Part III," "When a Man Loves a Woman," "For Love or Country: The Arturo Sandoval Story," "Ocean's Eleven," "Ocean's Twelve," "Ocean's Thirteen," "Smokin' Aces," "City Island," and "The Lost City," which he co-wrote, directed, and had a starring role.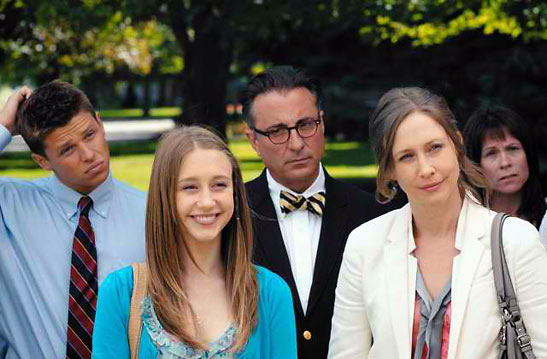 L-R: Conrad (Spencer Lofranco) with his dad George (Andy Garcia) and Audrey (Taissa Farmiga) with her mom Edith (Vera Farmiga) visit the Middleton campus for a day of orientation. Courtesy photo.
Garcia's latest film is, "At Middleton," in which he plays, George, an extremely strait-laced, bow-tie wearing cardiac surgeon visiting the Middleton campus with his son. His co-star, Vera Farmiga, plays Edith, an off-the wall woman who is also checking out the campus with her daughter. Co-written by Glenn German and Adam Rodgers, who also directed, the story revolves around George and his undeniable attraction to Edith's power to move him out of his comfort zone, culminating in experiencing a day full of new, but brief adventures and strong sexual feelings that cannot be acted upon. The talented supporting cast includes Taissa Farmiga (Audrey), Spencer Lofranco (Conrad), Nicholas Braun (Justin), Mirjana Jokovic (Professor Riley), Peter Riegert (Boneyard), and Tom Skerritt as Dr. Roland Emerson. A most sought after actor, Garcia has a number of films in completion or post-production, including "Kill the Messenger," "Let's Be Cops," "Rob the Mob," "Rio 2," and "What About Love."
A most ingratiating Garcia recently sat down with a select group of journalists to discuss both the film and his personal journey, and the following has been edited for content and continuity for print purposes.
Andy, how did you get attached to the script and what did you love about your character?
Andy: I loved everything you saw in the movie. It's what I envisioned in the script. It was all there. The spirit of the film, and how I related to Vera, was all there in what you saw. George came to life for me when I read the script. The writers, Adam and Glenn, wrote George and it was all there. Then I processed George and we were basically in sync. We talked about my character and I said I didn't want to wear a regular tie and that I wanted it to be a bow tie. I wanted to be sort of like Buster Keaton. We talked about all these metaphors and were in sync about the tone of the movie and what we were going for. But, you're nothing until you have Edith. Obviously, you need everyone else in every scene, but the essential thing is who is Edith because that's the essential relationship for me in the movie.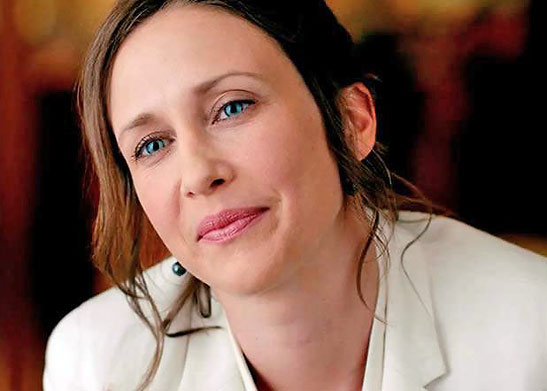 Andy Garcia said: "Vera (Farmiga) was always at the top of my list to play Edith.."
Courtesy photo.
Did you have a number of actresses in mind for the part of Edith?
Andy: Vera was always at the top of our list. There are always two different lists in these kinds of things. There's the list where the distributors want to give you money. Some territory in Turkey has a list. The French have their list. England has their list. South America has their list. Everybody has their own list and sometimes there are similar names on each list – names that are completely unobtainable or names that make absolutely no sense. Then there's the artistic list, the actors list. Sometimes those names are on the list; sometimes they're not, depending on the flavor of the month or whatever. But the important list to me is who's on my list and Vera was always at the top and we were fortunate that she responded to it. I knew we had a good shot with a great actress because of the material. I knew that going in. The material always has been the key for independent films. If you have good parts, you're going to attract good actors. No one in an independent movie is there for a financial windfall. They're there because of the material. So, if you start with great material, you're going to get a great cast.
Vera mentioned that because she has young children herself, she knew what it would feel like as they moved on. Do you agree?
Andy: Yes, of course. But, I thought it was great for my son Conrad (played by Spencer Lofranco) to have that experience. It wasn't like why are you going away? I don't think I ever said that. I always encouraged my kids to go to college. I never went away to college so for me it was cool that they had earned that opportunity and we were able to afford it. I wasn't worried about choices they would make in college. I was never concerned about that with my kids. They're very mature and I knew they would make the right choices.
What advice did you give your kids?
Andy: I didn't impose any kind of schooling. But I said if you want to be an actress, you better start studying acting right now – not when you're 40. Just go for it and do it and take the work seriously. I was more about encouraging them to get into a good program that supports your interests. If you're going to go to school, you should broaden your horizons and get a great education. Take in the concept of education, not only the experience, but enhance your mind.
What were some of your responsibilities as a producer on this film?
Andy: Well, the first thing we had to do was to raise the money. We were working on that all the time. There was a previous incarnation of the movie so there were some pre-sales. Basically, Glenn and producer Sig Libowitz took care of the paper work so I could concentrate creatively on the part.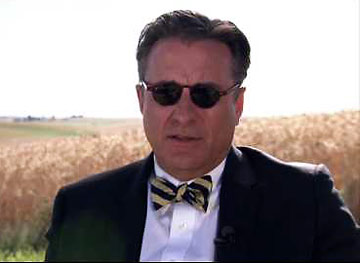 Andy Garcia as George, an up-tight cardiac surgeon, is about to experience a transformative day. Courtesy photo.
What was it like having both Adam Rodgers who wrote and directed as well as his co-writer Glenn German on the set?
Andy: They were on the set every day and when you finish a scene, you could check with the two of them to make sure they were happy. They have the film inside of them so if they see the movie come to life, and hopefully enhanced, and if they're happy, then I know we're on the right track. It's interesting in that there might be a scene that you don't think will work and then it becomes the most important scene that ends up in the movie.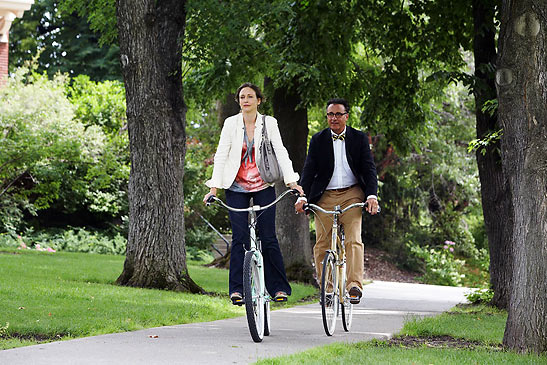 Edith and George ride through the campus on bikes they "borrowed." Courtesy photo.
There was a major transition with your character who, in the beginning, is an up-tight, reserved guy with a serious profession who looks like Mr. Brooks Brothers, wearing a bow tie and glasses. What was your process in transitioning into kind of a carefree guy who was willing to steal a bicycle?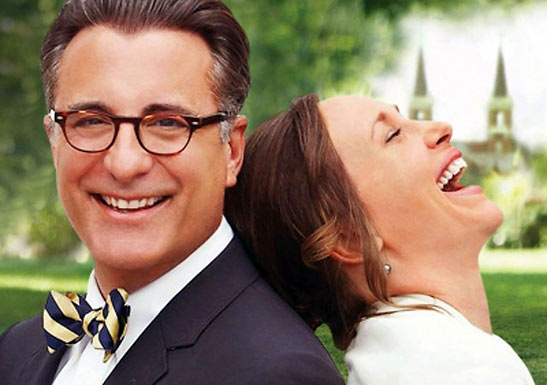 George is caught up in Edith's energy, which he finds hypnotic. Courtesy photo.
Andy: I think he's sucked into that. There's a thing in the script where Vera's daughter (Taissa Farmiga) calls her a Succubus and I looked up the meaning and it's an extraordinary, voluptuous, God-like woman with bat wings and long hair who preys sexually on men. George falls victim to that energy. When he meets Edith, he falls victim to that energy and gets sucked into this vortex of her energy and has to follow has to follow this energy. She's the leader in this relationship all the way through for me until the acting class where they have that revelation. He is directly honest with her about his life and when they leave that room, he says to her, "What just happened and what are we going to do about it? So, now it kind of switches where George is trying to take the initiative and now she can't deal with it and she says, "What are you talking about? We're married and I'm out of here." So they decide to chalk it up to having an incredible couple of hours. "I gotta' go meet my son." You have to meet your daughter. Goodbye Edith."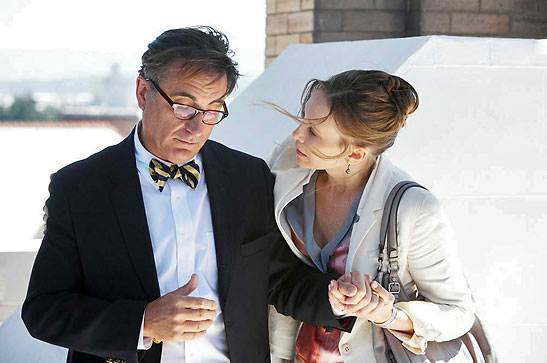 Atop a high tower, Edith comforts George who is having a panic attack because of his fear of heights (Aeroacrophobic.) Courtesy photo.
The scene in the tower was really convincing. Did you ever know anyone who is Aeroacrophobic?
Andy: Isn't Aeroacrophobia a fear of spiders?
That's Arachnophobia.
Andy: I don't like to walk on the ledge of a building, but I don't have that kind of a fear. My wife has a little bit of it. I've experienced the sensation when you're on the balcony of certain places that are very high – like 28th floor – and there's a railing and you kind of start feeling like I want to jump off. (Laughter) Like I can't control myself so you gotta' get in touch with that feeling. Normally I'm not like that and don't have vertigo, thank God. Vera said the opposite – that when she's in a place that high, she likes to lean over the side. (Laughter) I guess there's type casting and miscasting. (Laughter)
When you started your career, did you ever think you would become the super successful actor that you are and that you'd win multiple awards?
Andy: No, I didn't think in those terms. To me, it was like a virus. It was like a calling that I had to deal with and that was nurtured from a very early age when I use to go to movies in Miami Beach, a lot of times by myself, and identified with particularly larger-than-life characters, heroes of the day, like James Coburn in "The Magnificent Seven," or "In Like Flint," or Steve McQueen in "The Great Escape," or Sean Connery in "Dr. No," or "Goldfinger," films that I identified with and I would get lost in them. Something inside of me, even at that early age, saw myself in those movies doing that, but I was engaged in other things like sports, in which I was very active. I played in organized sports until my senior year when I got sick.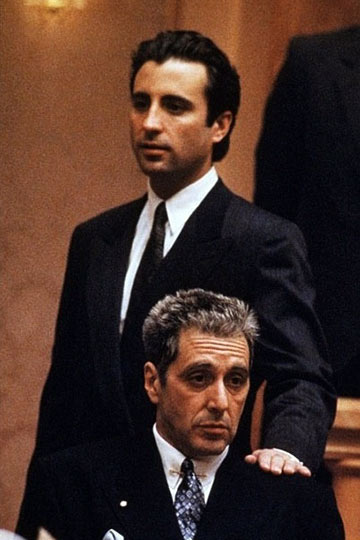 Andy Garcia with Al Pacino in "Godfather III."
Courtesy photo.
What changed for you as a result of that?
Andy: I took an acting class and had this inner awakening and the teacher encouraged me and told me that I really had something. It was not that I was ready or polished but he encouraged me to continue to study. It was like a thing inside of me and I had to deal with it because it was beginning to affect my life. You have to make a decision about what you're going to do with your life – that adolescent stuff. What are you going to do with your future? Are you going to be an accountant? You have to fend for yourself so it's a lot of pressure on anyone to decide what am I going to do with my life. Am I just going to float around and rely on somebody else? What is my journey in life? I came to realize that that was my journey and I had to take responsibility for it. So, I felt a connection and a destiny to it and all I wanted to do was to make films and I wanted to make a living at it. That was my goal. And, I wanted to work with the best people – my heroes, you know, all the stuff a kid would dream of. It was a simple task. I just wanted to make a living as an actor, just as an actor, that's all I wanted to do and do the kind of work that had the resonance that would affect people. I didn't think of it in terms of fame or anything like that. I was just interested in being part of that and then later on, I saw "The Godfather," and that was it and that was when I finally stepped out and said, "That's what I want to do."