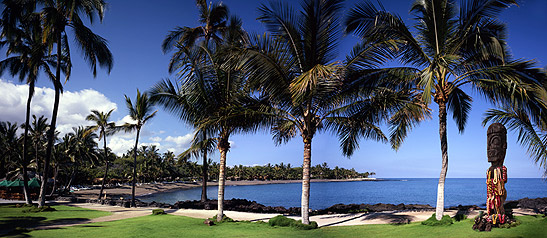 The Hawaiian Landline to a Soul Connection
Story by Tamara Lelie
Photos courtesy of Kona Village Resort

t was sometime around late afternoon when I arrived at Kona Village Resort and was greeted by a warm Hawaiian woman gently placing a lei around my neck and handing me a Mai Tai. Sweet respite for the soul! I had never been to Hawai'i before and my only images I had were of the few episodes I had seen on "Hawaii 5-O" as a kid; so I had no idea what to expect. All I knew was that I needed nurturing and I needed it now.
When I think of Kona Village Resort on the Big Island of Hawai'i, I think of peace, quiet and a rest and rejuvenation for the mind, body and soul. Out of any travel experience I've ever had, none have matched the beauty of my trip to Kona and specifically Kona Village Resort, a resort built on the land that used to be an old fishing village. There is something about the Big Island in general which makes you feel so alive. I found that the answer to all of life's questions can be discovered by sitting and listening to the sounds that emanate from nature which is in perfect balance.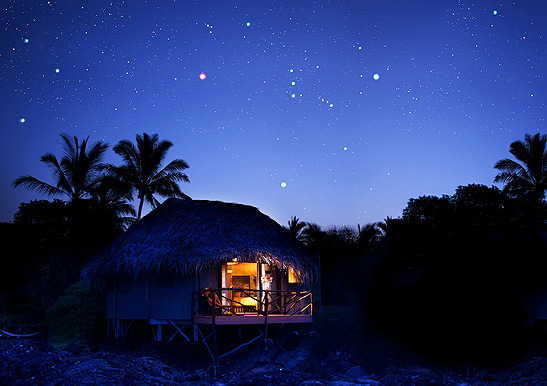 Sitting outside by the ocean of my ocean view hale (hut) watching the strength of the ocean waters hitting the steadfast rocks, my internal energy became balanced as well. I had come to Kona with a bit of restlessness in my heart and a subconscious question which I didn't know was pervading my being. I wanted to know if my health/wellness writing career was indeed the direction I was supposed to be on. With my eyes closed and breathing in the luxurious Hawaiian air, I heard a message from the ocean. It said, "Your spirit is soothing to others much like the ocean waters on a hot day. Have faith and believe that you will be able to survive and make a living from that knowledge."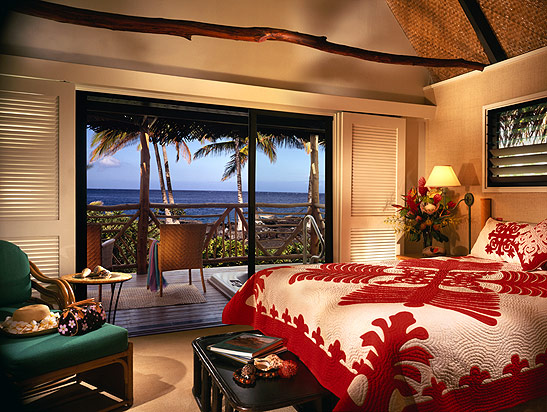 I'm not the only one who senses the magical allure of Kona Village Resort. Ulrich Krauer, the General Manager, said, "I have learned that what makes a place stand out among others is the ability to provide and if you follow this motto, guests gain respect." He has learned this from the Hawaiians themselves who as a culture are very giving. In fact, in the Hawaiian language, there is no word for "I". Instead there is only, "we." Krauer states that his responsibility as the General Manager is to keep the incredible Hawaiian culture alive. And that that is why everybody at the resort is treated like family. An intrinsic part of Hawaiian culture, the word "Ohana" means family in an extended sense of the term including blood-related, adoptive or intentional. It emphasizes that family are bound together and members must cooperate and remember one another.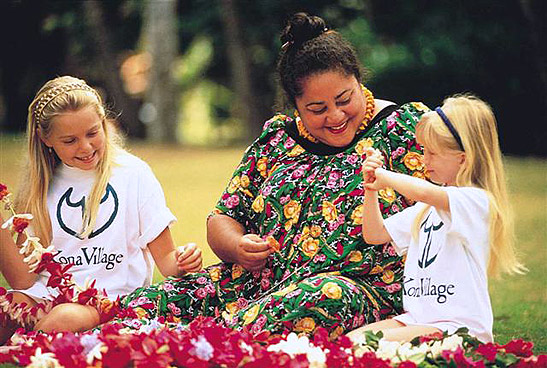 This warm and inviting atmosphere can be found throughout the Kona Village resort property and there is a reason why it is such a destination spot for weddings, honeymoons and couples. There are no TVs or Internet access in the 125 units set on 82 acres of land surrounded by hardened black lava rock, expelled from the nearby Hualalai Volcano. This lava rock reminds guests that nature is more powerful than anything humankind could ever conceive of building. In my opinion, this reality creates the magic of Kona and why I met so many people from the mainland who have a second home in Kona.
On the Big Island, we are reminded of how insignificant we really are and that anything we do build in our lives ultimately is washed by the sea tide of our mortality, just like a sandcastle gets swallowed by the tide. Although this may sound like a frightening thought, it is actually pretty liberating to me because it allows us the opportunity to stop putting so much pressure on ourselves to get so much done, and instead affords us the luxury of simply "being".
No spa trip is complete without body work and I was not disappointed. In fact, I ended up having the massage of my life. When looking at the spa menu at the resort, I decided to go with an authentic Hawaiian Lomi Lomi massage, which is a sacred Hawaiian massage where the energy of the heart chakra of the practitioner is sent through the hands to the body and activates the mana or chi of the guest. Trained by the Kahunas, my masseuse, Cynthia, had a gentle spirit and almost seemed like an angel to me.
Besides the massage, I relaxed on the beach by snorkeling, kayaking and joining the island's historian, Auntie Lani (as she is affectionately known) at the bar for Talk Story Hour. What I find fascinating about the Hawaiian culture is not only their generous and nurturing spirit but the importance they place on connection and intimacy. Talk Story ('Olelo Kama'ilio) is known as sharing ideas, stories, history and opinions. It is two or more people taking the time out of the day to slow down and talk. In Hawai'i it is just the normal way or interacting with their neighbors. Through our talking, I learned of an ancient and secret Hawaiian spiritual healing technique called Ho'oponopono, which helps you to release resistance, remove blocks and improve energy flow. This information alone was worth the trip!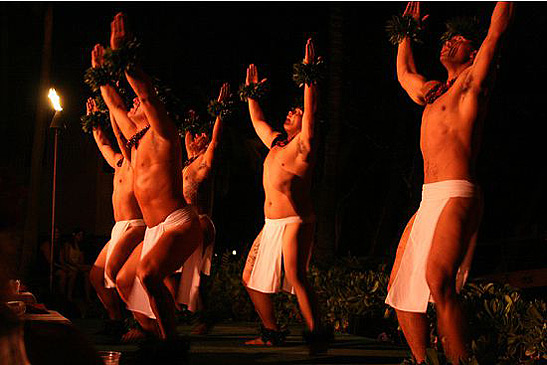 Auntie Lani and others are just some of the resort staff who lead daily activities offered to resort guests. These range from lei making classes, stargazing walks, ukulele playing, dancing classes, basket weaving, petroglyph tours, jewelry making and more. The theme woven throughout always seems to be that connection with nature is the source of strength, creativity and inspiration. My favorite event at Kona Village Resort was the authentic luau where the pig was cooked in the ground and was followed by a live show which began 42 years ago and is now known as the biggest luau show on the island. The fire dancer is a gardener on the property and the chief musician is the bellman.
There is one word that sums up my time in Kona and that is the Hawaiian word "Malama" which means: To take care of, care for, to serve, honor, as God; care, preservation, support; fidelity, loyalty; custodian, caretaker. Why is this so fitting? Because, this is what Kona Village Resort does for all its guests. The resort is not only a spiritual travel destination but also a portal to another world where the land and its people embrace you with an open heart and welcome you to their breast with only one goal, to nurture and revive you back to harmony.
For more info on Kona Village Resort, log on to www.konavillageresort.com
The Process of Ho'oponopono (as excerpted from www.ancienthuna.com):
Bring to mind anyone with whom you do not feel total alignment or support, etc.


In your mind's eye, construct a small stage below you.


Imagine an infinite source of love and healing flowing from a source above the top of your head (from your Higher Self), and open up the top of your head, and let the source of love and healing flow down inside your body, fill up the body, and overflow out your heart to heal up the person on the stage. Be sure it is all right for you to heal the person and that they accept the healing.


When the healing is complete, have a discussion with the person and forgive them, and have them forgive you.


Next, let go of the person, and see them floating away. As they do, cut the aka cord that connects the two of you (if appropriate). If you are healing in a current primary relationship, then assimilate the person inside you.


Do this with every person in your life with whom you are incomplete, or not aligned.



The final test is, can you see the person or think of them without feeling any negative emotions. If you do feel negative emotions when you do, then do the process again.



NOTE: Due to the earthquake in Japan last March, the resort has been temporarily closed on account of damage sustained from the tsunami. Our hearts go out to the families of the tsunami victims in Japan and to the staff of Kona Village Resort who have been loyal employees for decades. Please check their website regularly for an update on when the resort will open its doors again.
Related Articles:
Kaunakakai: Small Town, Hawai'i, Kaua'i Garden Island, Oahu North Shore, Holistic Connection at Warner Springs Ranch