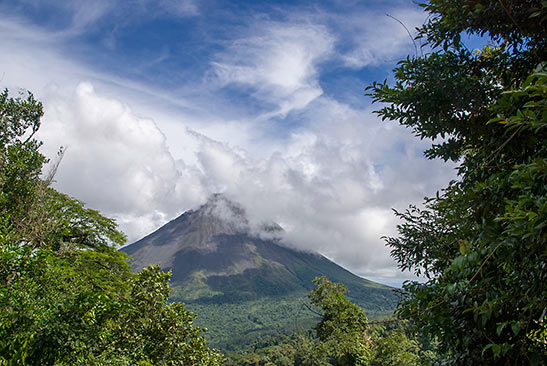 Costa Rica has 112 volcanoes that can be seen throughout the country
Costa Rica's Green
By Richard Carroll
Photos: Halina Kubalski

itting at an umbrella table in downtown San Jose overlooking the Plaza de la Cultura is like a page out of Hemingway's "The Sun Also Rises." The plaza is laid out in a maze of stalls where passive vendors sell sparkling silver jewelry by the trayfull, hand-carved clay masks, colorful Guatemalan belts, area rugs, and hammocks perfect for a midday siesta.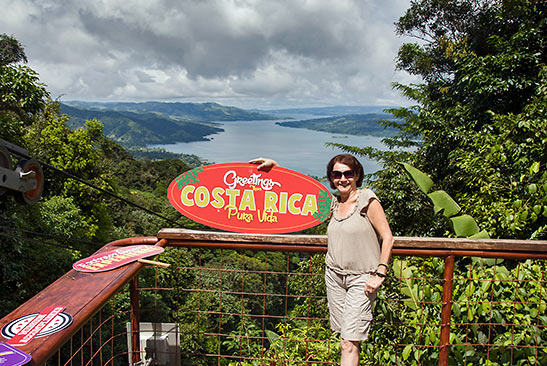 Greetings from Costa Rica. The essence of the country is preserving nature and an organic lifestyle.
Three men play an old wood marimba over the buzz of the crowd while a steaming plate of Gallo Pinto (rice and beans) is served to an elegant lady who was performing with her guitar and who is chummy with everyone from the shoeshine man to the waitresses. Attractive Tico (Costa Ricans) couples, dressed to the "nines" chat over coffee, somehow ignoring a talented mime performing a few feet away.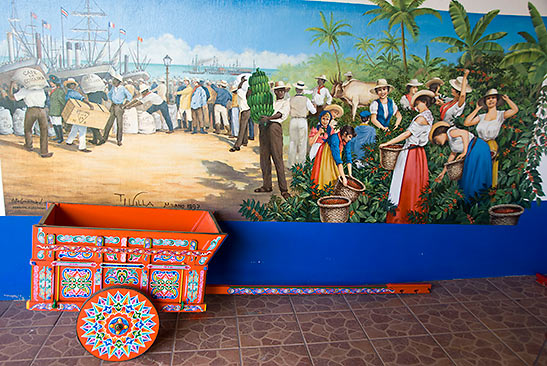 Costa Rica is noted for its colorful arts and crafts.
The pulse is passionate and vibrant, much like the sidewalk cafes of Pamplona, Spain, before mass tourism. Papa's presence is felt, along with the international crowd that hangs out here discussing the charms of a dazzling little country with an oversized green thumb that offers a marvelous opportunity to experience nature at its best.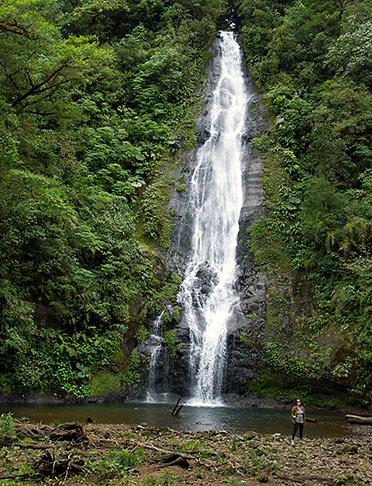 Visiting Costa Rica is the opportunity to enjoy a wide-ranging variety of nature.
Laced with steep-sided mountain ranges that are covered with coffee fields, the tiny country boasts of 112 volcanoes, nine of which are active, thousands of acres of gorgeous rain forests, and 600 miles of beaches. Costa Rica has designated 25 percent of the land to a National Park System, vigilantly preserved with 39 parks and reserves. There are 11,000 native plant species, 12 distinct climactic zones, butterflies galore, and more species of trees and birds than one can experience in a lifetime in a country only about the size of West Virginia.
A photographers dream, Hemingway would have to leave his rifle in Africa and replace it with a long-lens camera, since Costa Rica, which avidly practices ecotourism and cherishes wildlife, realized years ago that it would be far better to protect their abundant wildlife in order to share it with the world.
A bridge to South America with Nicaragua to the north and Panama to the south, Costa Rica is independent and proud. Visitors feel welcome here thanks to the friendly Ticos who are primarily of Spanish descent, embrace peace and democracy, and who have no standing army, a low crime rate, a higher literacy rate than the United States, and some of the best health care services in Latin America.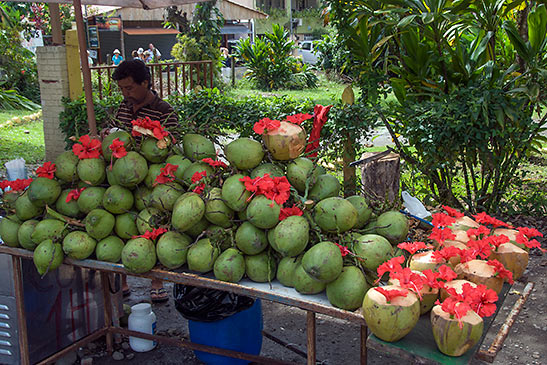 For a quick refreshment fresh coconuts are offered for sale throughout Costa Rica.
The country's gracious personality is long standing. Vivacious Rosemary Dexter and her husband the Reverend Rollin Dexter commonly referred to as Reverend Dex were missionaries in Costa Rica for five years and with brilliant memories, Rosemary explains, "We arrived in San Jose in 1965 and lived there for one year while we were in language school and then in Alajuela for four years and what a lovely place to live in. It's truly the land of eternal spring. The weather was never cold or too warm, and the views were wonderful, lots of mountains and volcanoes, coffee plantations, busy markets and picturesque farms. But the most endearing part of Costa Rica was and still is are the people. They are friendly, easy going and industrious, and beautiful in person and in spirit. I would chose Costa Rica as the perfect place for a vacation and would go in a minute if I had the opportunity even at my age of 92."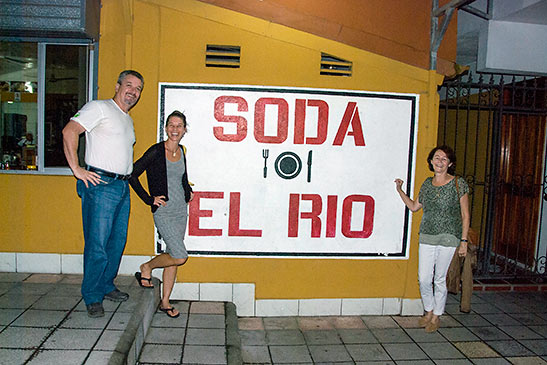 Soda's, popular mom and pop cafe's, are found throughout the country and a great place to meet the Tico's and enjoy authenic Costa Rican cuisine.
Now some 52-years later the folks at Disney couldn't have done a better job than the current tourism infrastructure, Rosemary would be proud. Exhilarating nature excursions from San Jose, the capital, or from any location within the sprawling Central Valley are available, which include excursions to the Highlands, the Poas Volcano, the Valley of Orosi, Cartago, the submerged rainforest at Tortuguero, and the Irazu and Tuirrialba Volcanoes. Turrialba is ranked among the world's most spectacular volcanoes with trails leading to five giant craters often ablaze with wild flowers, and views of the Caribbean.
Swim in the Caribbean Sea in the morning and the Pacific Ocean in the afternoon. Hike till your feet scream, book bird-watching tours in search of 901 bird species, or lounge the days away in a hammock made for two. You'll never feel so free-spirited. It's the time to grow a beard, put your hair in a ponytail, and slip on shorts, sandals and sunscreen.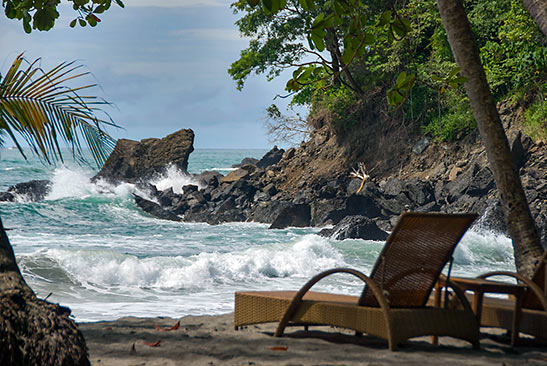 Costa Rica with 600 miles of beaches visitors can swim in both the Caribbean Sea and the Pacific Ocean.
For those with time on their hands, the 27 national parks alone could take months to explore since virtually all of them offer extensive hiking trails and nature preservation. Five representative forests teeming with bird life and hundreds of varieties of orchids and ferns are found within the Braulio Carrillo National Park alone. Corcovado National Park has the last remaining virgin rain forest in Central America with more than 100 species of trees found on a mere one acre of land. Scientists from throughout the world with notebooks in hand work on passionate research projects and make up a huge percentage of the park's visitors.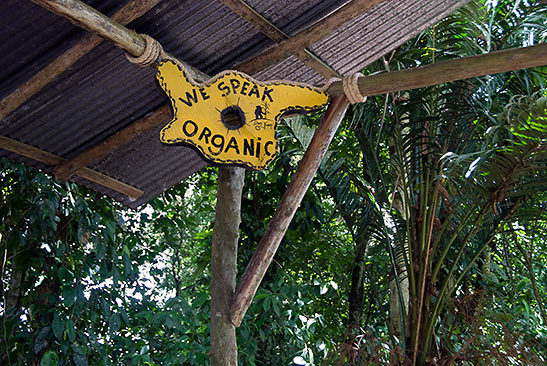 Costa Rica is far advanced enforcing an organic lifestyle that helps to protect their 39 parks and reserves.
IRAZU VOLCANO
The two-lane road to Irazu, heading southeast from San Jose, winds slowly up the side of the highest volcano in Costa Rica, towering 11,259 feet into the clouds. From the summit, the city of Cartago below is a tiny checkerboard. The colonial capital until1823, Cartago is home to the Cathedral of the Virgin of Los Angeles, Patron Saint of Costa Rica. The road makes its way past crusty, tin-roofed homes, carpets of hilly green grass, and forests of fern, through farming villages and over a one-lane bridge affording vistas of the Central Valley as beautiful as any in the Swiss Alps.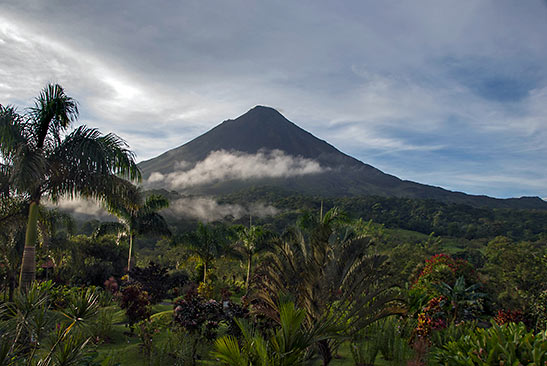 The volcanoes that dot the Costa Rican landscape, some of which are active are responsible for the country's rich, verdant soil.
Here amongst the drifting clouds Ticos are working on the side of the volcano where only mountain goats should be. The volcano itself is a moonscape of two sheer-sided craters, startlingly barren amidst all the Costa Rican greenery, and with a yellowish lake smelling faintly of sulfur. The drive down the volcano heads into the Orosi Valley past fields of coffee to the town of Orosi and the oldest colonial church still in use built in 1735. The town is so engulfed in greenery, lush plantations, and ancient cloud-covered volcano peaks, that it looks as if it's waiting to be gobbled up by vines on the move.
MANUEL ANTONIO PARK & RAINMAKER NATURE REFUGE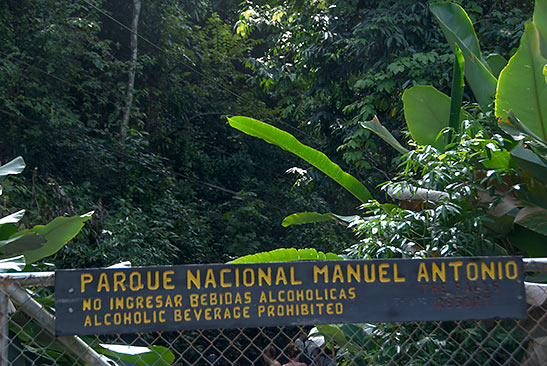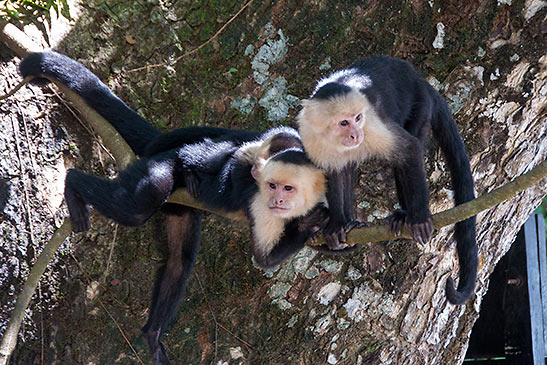 Manuel Antonio National Park is home to white-faced and the rare squirrel monkey, and splendid bird watching opportunities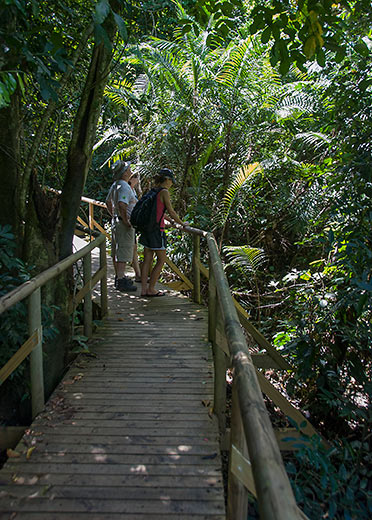 Manuel Antonio National Park has extensive organized hiking trails with or without a naturalist guide.
Manuel Antonio National Park near Quepos on the Central Pacific Coast is a splendid grouping of tropical forest and sandy beach where visitors walk the trails to spot white-faced and squirrel monkeys to hear the eerie screams of the howler monkeys and birds singing their songs somewhere high in the canopy. A short drive from Manuel Antonio is the RainMaker Nature Refuge, ensconced in an exquisite rain forest canyon. A nature guide leads visitors up mossy steps to hanging rope bridges dangling across the canyon, where far below is a fast-moving, rock-strewn river where one seems to be suspended in space in the middle of a misty rainforest with robust textures and contrasting shadings tickling the senses.
Adjoining Manuel Antonio and a short drive from RainMaker is the award-winning 56-room Si Como No. Opened in 1992, energy efficient, televisions banned, conversation okay, it's the perfect place to book in for a few days to enjoy romantic dinners overlooking the ocean, and to be surrounded by the spectacular natural splendor of the area.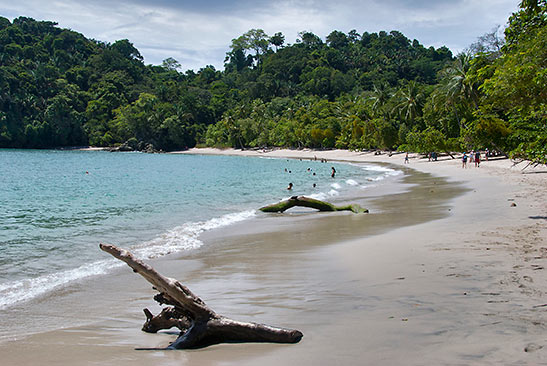 Manuel Antonio National Park also has miles of gorgeous beaches, coves and inlets.
Not unlike Si Como No, the essence of sustainable and organic living is also found via a spectacular 90-minute drive from the San Jose International Airport to the El Silencio Lodge and Spa, tucked away on 500-acres in a private cloud forest reserve. Located in the Central Volcanic Range with the Juan Castro Blanco and Poas Volcano National Parks accessible, the Relais & Chateaux lodge also bans television, and tobacco is left at the gate.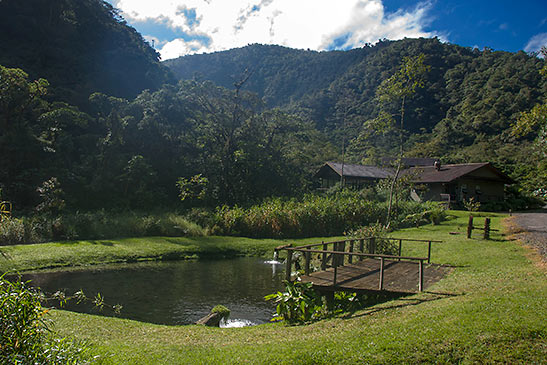 The El Silencio Lodge and Spa is located on 500-acres in a private cloud forest reserve in the Central Volcanic Range and is almost completely self-sustaining.
From the moment you enter the lodge grounds, the energy of the setting, the tumbled boulders strewn about, the massive surroundings of the mountains, the rain forest with 20 shades of green, and the low-hanging misty clouds swirling about creates a marvelous disconnect from reality and where stress-free moments capture the soul.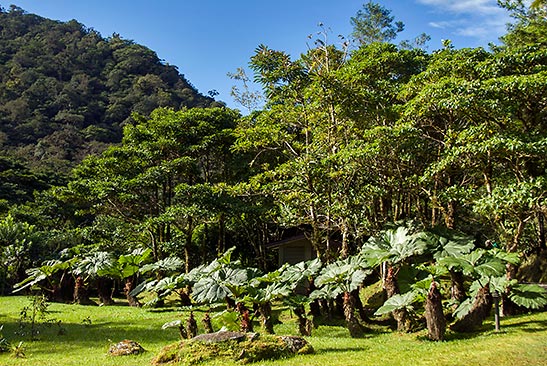 The El Silencio Lodge and Spa, a Relaix & Chateau property without television and bans tobacco, but is surrounded with 20 shades of green, extensive hiking trails, and creative organic cuisine.
Costa Rica will catch your fancy and incredibly the friendly welcome is unchanged from 1965 when Rosemary and Reverend Dex fell in love with the country. According to Rosemary, "All one needs is a big heart and some precious holiday time."
WHEN YOU GO
With an area of 19,700 square miles, Costa Rica is one of the smallest countries in Central America. Three fourths of the country's population lives in the Central Valley anchored by San Jose at 3,870 feet. While in San Jose use the buses and taxis, which own the roads. Rent a car only when heading out of town or better yet book a tour. Specific directions are important. Costa Rican road signage is not up to par. When you ask Ticos why they don't have road signs, they say, "Because we know where we're going."
Scattered throughout the country are the delightful mom and pop cafes called Sodas offering traditional fare that includes rice, beans, salad, vegetables and fish or meat. Also along the roadways are stands of refreshing coconuts, freshly cut and served alfresco. Alaska Airlines, a major carrier to Mexico and Central America, serves San Joe and Liberia with a range of Vacation Packages. www.visitcostarica.com
Related Articles:
Monteverde Cloud Forest; Costa Rica: Factoids Edition; Amazonia: Not Your Typical Tourist Destination; Las Alamandas Awaits; Belize: A Central American Country that Doubles as a Caribbean Island