Relaxing at The Inn
At Laguna Beach
Story and photographs by Greg Aragon

here is nothing like sleeping in an ocean-front room and awakening to the sounds of waves crashing against the sand. It is one of the finer things in life. And it is exactly what I experienced recently on a memorable getaway to The Inn at Laguna Beach.
The adventure began when a friend I pulled off the 5 Freeway in Orange County and took SR 133 south nine miles through winding lush hills and wilderness areas to the ocean. Here the road ends at Highway 1, where we turned right and found The Inn at Laguna Beach.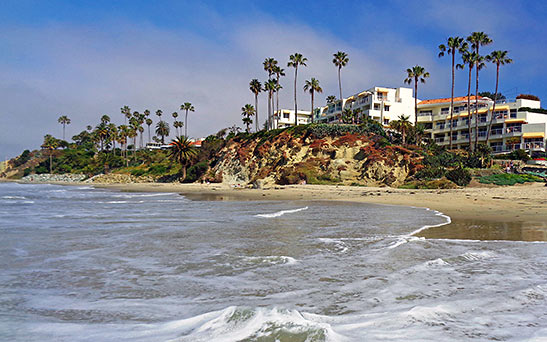 The Inn at Laguna Beach is a paradise on the cliffs above the ocean
Perched on the cliffs overlooking the Pacific Ocean in the city of Laguna Beach, the boutique hotel features 70 well-appointed guest rooms, a roof top terrace with a fire pit, newly renovated swimming pool and modern meetings facilities. Our gorgeous 4th-floor room oozed with beach-side charm and came with a plush pillow-top king bed with 250 thread count linens, twin bathroom sinks, and shower and tub.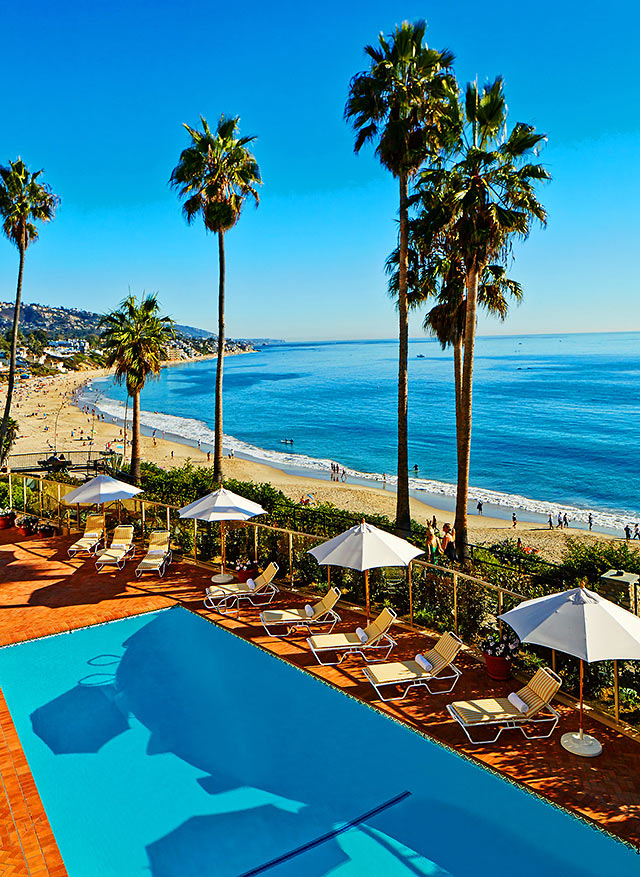 The hotel offers memorable views and an ocean-front pool (photo by Inn at Laguna Beach)
The room also featured a desk area, with free Internet, flat screen TV, a big comfy sofa, and best of all, a large balcony with table and chairs overlooking the beach. From the balcony we could see the sunbathers, paddle boarders, swimmers, and boats in the ocean in front of us. To our left we saw the luxurious Laguna Beach coastline, with miles of sandy beach and ocean-front hotels. And to the right there was a small rock island inhabited by birds, and the Laguna Beach Tide Pools.
When not taking in the picturesque view on the balcony, we were laying on the beach or strolling around town looking for new places to eat. For lunch, we discovered The Greeter's Corner Restaurant a block from the hotel.
At the restaurant I enjoyed a fresh crab and avocado sandwich stuffed with coleslaw on a French roll. My friend had crispy fish and chips with white cod, coleslaw and French Fries. While eating we sat on the patio next to the beach and absorbed the memorable atmosphere.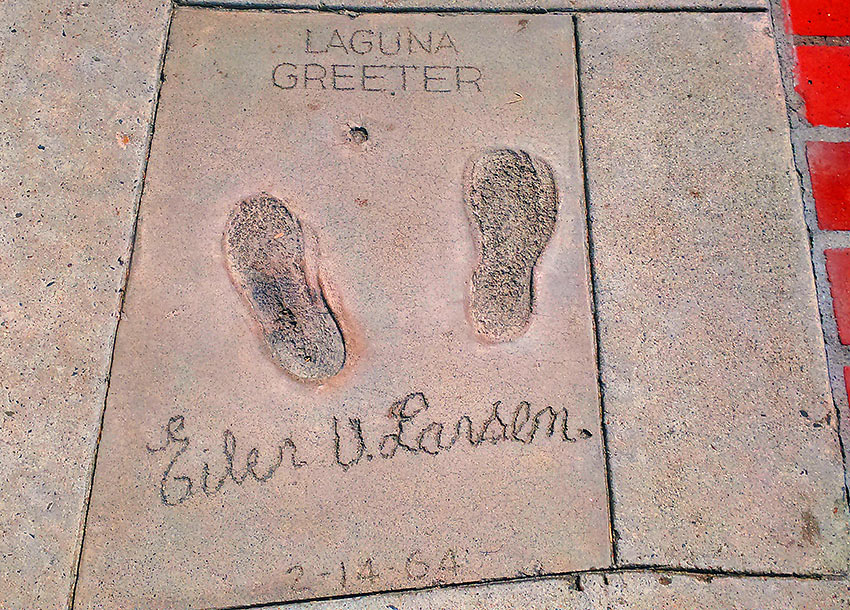 Eiler Larsen, also known as The Greeter, was one of Laguna Beach's
most beloved residents
The cafe is named after Eiler Larsen, who for 40 years stood on a corner in town and waved to all those who passed through town. A native of Denmark, Larsen came to be known as "The Greeter" and in 1963, the city proclaimed him to be Official Laguna Greeter. He was such a part of town that they even put his foot-prints in the sidewalk. My mom, who used to come to Laguna Beach as a child remembers his long hair and cheerful smile.
After lunch, we walked along the beach and followed a walking path in front of the hotel to Heisler Park. Stretching about a half-mile along coastal bluffs, this oceanfront park has walking trails, gardens, a marine refuge with tide pools, picnic tables, barbecues, lawn bowling greens, stunning vistas, and a bunch of awesome sculptures, such as blue whale, giant time pieces, and mariners of the sea.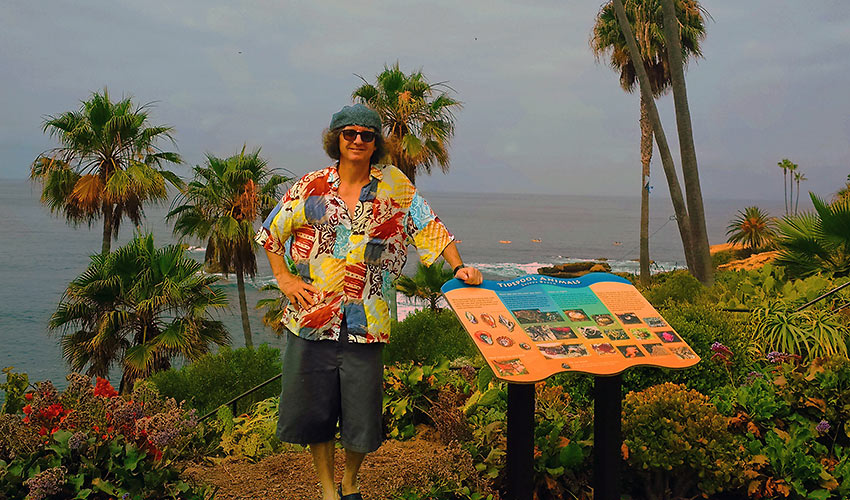 The hotel is located right next to great beach trails like Heisler Park
Back at the hotel we joined other guests for the complimentary Wine Hour, held each day between 5pm and 6 pm. Located on the 4th floor terrace, overlooking the ocean, the event is a lovely way to spend an afternoon. A server comes around with complimentary wines, the views are spectacular and there is also a full bar with drinks for purchase.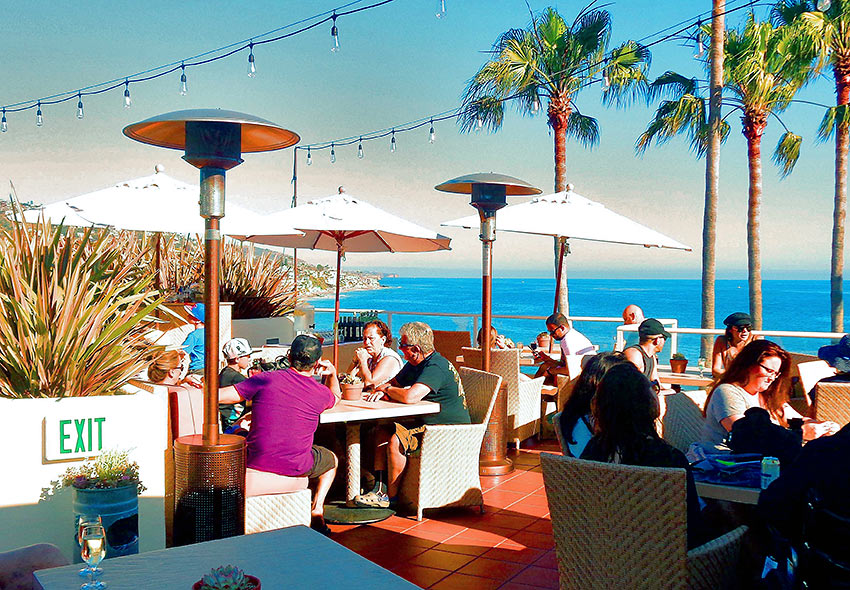 The complimentary daily Wine Hour at the hotel is great way to spend an afternoon
After Wine Hour, we headed to the lobby for complimentary milk and cookies, offered each day at 6 pm. From her we walked a block to C'est la Vie Restaurant and Bakery for a delicious French dinner.
A local favorite since 1982, the bistro serves authentic, freshly-baked crepes, croissants, macarons, and cronuts, along with sandwiches, espressos, house-made desserts, and aged port wines. For our meal, I devoured beef Bourguignon. Marinated 24 hours, these tender, braised short ribs were served with pearl onions, mushrooms, and garlic mash in a Burgundy wine reduction. My friend had Chilean sea bass with harissa oil ratatouille and beurre blanc sauce.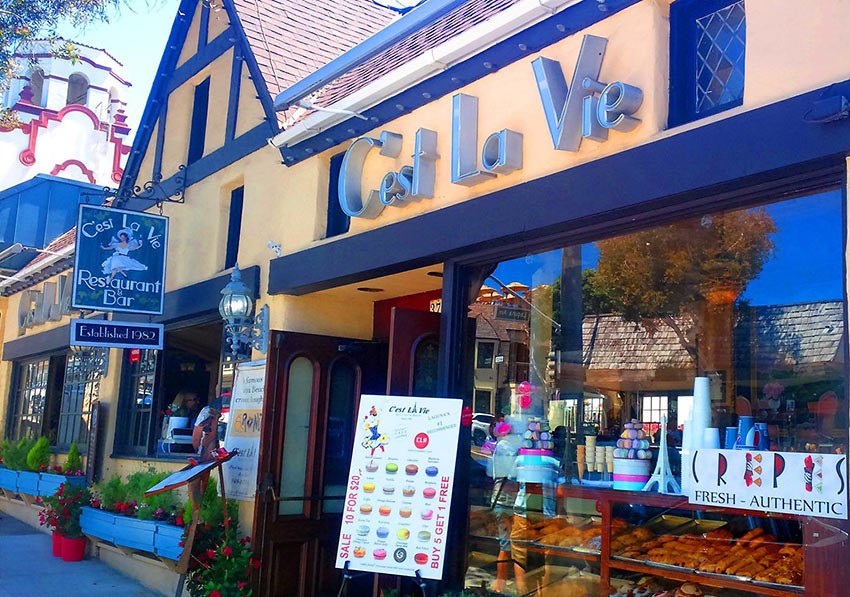 C'est La Vie serves awesome French food by the beach
We concluded our evening with a moonlit walk along the sand and a glass of wine on our balcony.
The Inn at Laguna Beach is located at 211 N Pacific Coast Highway, Laguna Beach, CA 92651. For more information on staying at the hotel and current specials, call 800 544 4479 or visit: www.innatlagunabeach.com
Related Articles:
A Picture Perfect Getaway to Laguna Beach; Laguna Beach "State-Cation"; Images of Laguna Beach; Searching for Blue Whales at Long Beach; The Queen Mary; Winter Escape to Redondo Beach