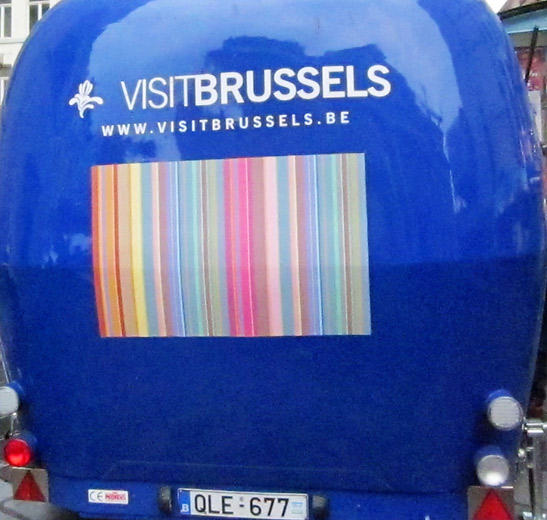 Belgium: A Gastronomical Delight
Eat, Drink, And Be Merry
Text and Photos by Beverly Cohn
Part 2: Food, Glorious Food:
A Pleasing Adventure For Every Palette

ust to recap, Part 1 focused on Li Cwerneu, a restaurant located in the town of Huy, whose "Cuisine Intuitive" earned owner/chef Arabelle Meirlaen a Michelin star, the only woman chef in Belgium to be so honored. Part 2 is a general overview of some of the most famous, mouth-watering taste experiences of Belgium.
Spring is definitely here and many folks are in the midst of planning their European vacations. Not to be missed is Belgium, an extraordinary blue white diamond of a tiny country, not much bigger than Maryland. Jammed packed with culinary delights that will satisfy food lovers, from fine dining to street food, including, of course, those famous Belgium waffles, or frites that you can enjoy while strolling through one of the many open-air markets. The food has been described as "French quality with German portions." Treats abound for lovers of chocolate and beer connoisseurs, as well as lovers of music, art, outdoor adventures, or someone who just wants to kick back at a spa with a good book or a good friend. More on the culinary delights to follow, but first some factoids.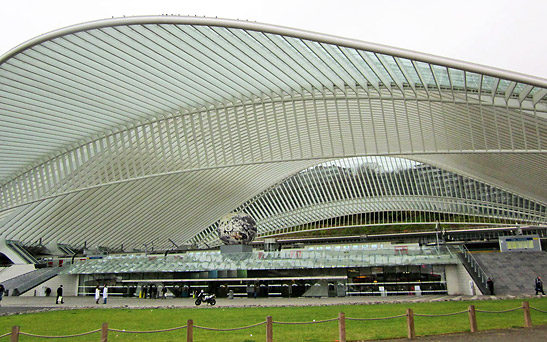 An architecturally stunning building, the new ultra-modern Liege-Guillemins Station, designed by Spanish architect Santiago Calatrava,is your pathway
to other European cities.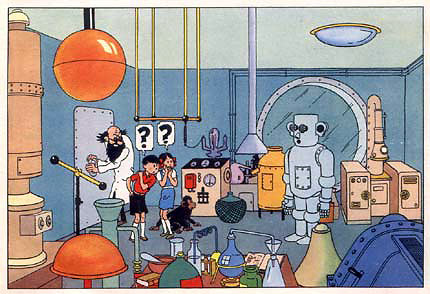 One of the thousands of cartoons on display at the Musée Hergé. Courtesy photo.
Centrally located, Belgium lies between France, Holland, Germany, and Luxembourg and with the high-speed rail, you can be whisked to Paris in a little over an hour and under two hours to London. Brussels, the capital of Belgium, is headquarters of the European Union and NATO and although the official languages are French, Dutch, and German, English is widely spoken so communication is never a problem.
The attractions are endless in this tiny country as it is home to 35 UNESCO World Heritage Sites, 28 castles, and 200 museums, including the fabulous Magritte Museum, which houses 200 works by surrealist painter, René Magritte, making it the largest collection in the world. The exhibit includes archival material, letters, photographs and drawings.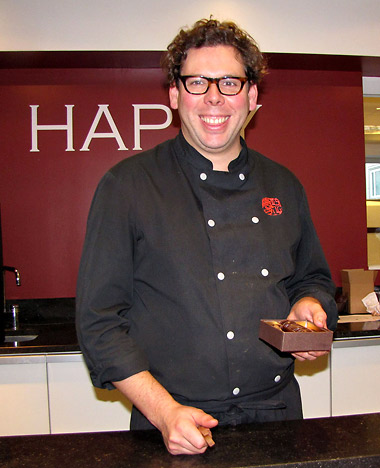 Chocolatier, Laurent Gerbaud in his "happy" shop.
For fans of the ever-popular Tintin, there is the new Musée Hergé (Hergé Museum) located outside of Brussels in the town of Louvain-la-Neuve. This iconic comic strip character has generated the sale of over 230 million comic books worldwide in 80 languages. The inviting museum is packed with original drawings and exhibits in a timeline of his remarkable career, which began in 1929, and spanned over 50 years.
Regarding its architecture, Brussels has the distinction of being considered the capital of Art Nouveau as over 500 of its buildings have received that certification, another feather in its tiny, but mighty cap.
Now to the yummy part…
Belgium is not only home to the infamous Godiva chocolates, it also boasts over 2000 chocolate shops, one of which belongs to famous Chocolatier, Laurent Gerbaud.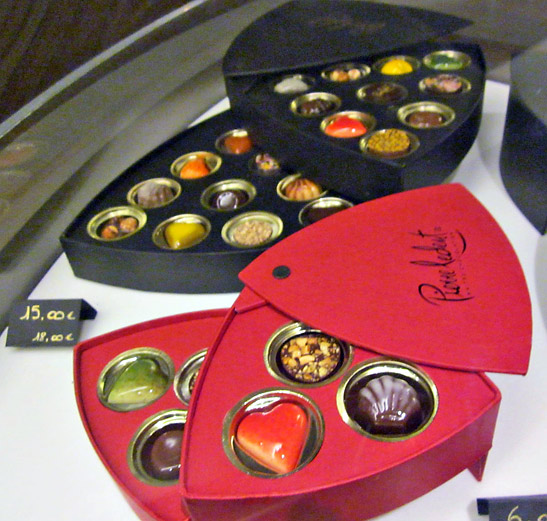 A beautifully packaged assortment offered by another famous Chocolatier,
Pierre Ledent.
For a seriously divine chocolate tasting, swing by his shop and prepare to be dazzled, not only by his wonderfully amusing personal stories, but by the amazing variety of his hand-made chocolates, with no added butter, sugar, or alcohol, that he combines with fruits and spices from all over the world, among which are cranberries, figs, orange peel, truffles, nuts, ginger, gingerbread, and hazelnut crème.
Considered the best chocolate in the world, just how much chocolate does Belgium produce annually? How about a delectable 172,000 tons, enough to satisfy the sweetest of sweet teeth anywhere in the world. Oh yes, if you want to go to chocolate heaven before you die, Brussels will be celebrating Chocolate Week in November 2012. In case you're wondering, most Belgium chocolate is still made by hand in small shops, using original equipment.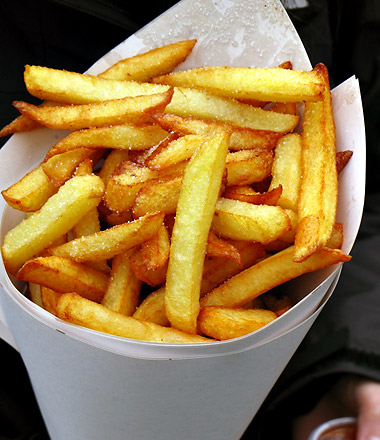 The famous Belgium frites are thicker, twice baked, and twice as delicious.


Belgium frites (fries,) invented in 1781, are thicker and twice baked and are different from fries from other countries such as the U.S. They are served in sheets of paper rolled into an upside down cone. This popular food either accompanies meals or is eaten as a snack. But beware, no ketchup can be seen as the traditional sauces are mayonnaise, tartar sauce, Russian dressing or béarnaise. This is a Belgium favorite and with over 5,000 stands through the country, an average of 165 pounds per person is consumed yearly.
For a totally different taste sensation, head over to La Maison du Peket in Province of Liège. It's a charming restaurant/ bar/ café that offers Pekets, a delicious, locally brewed, unique gin-like liqueur.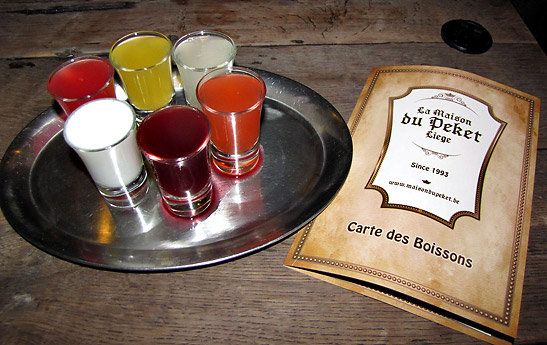 Pekets - A unique taste experience.
Available in 200 flavors, it is the traditional drink of Liège festivities as well as being served daily in many bistros. The slide-down-your throat, savory drink comes in a variety of flavors, including lemon, coconut, strawberry, melon, and fruits des bois or wild berries, a favorite of younger people.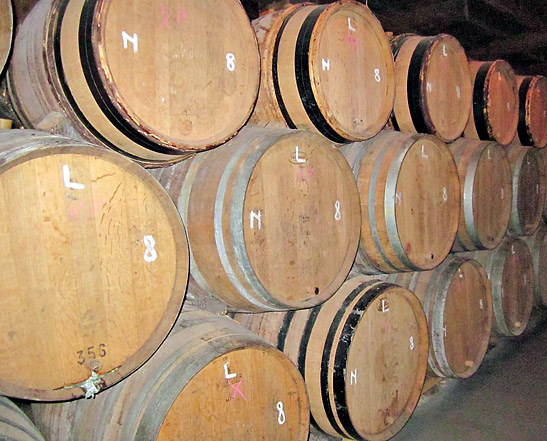 Beer barrels abound in this land with a selection of hundreds of beers.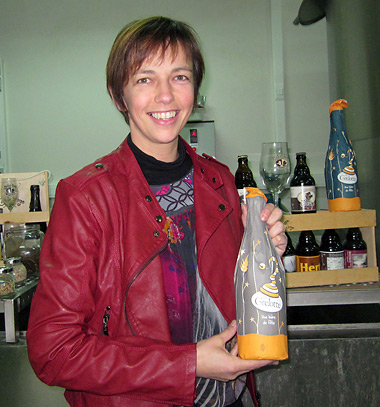 Vivian Johnen holds the wine especially brewed for this past Christmas holiday season.
With over 500 varieties of beer currently being brewed in Belgium, running the gamut from white to raspberry, the list is too long to include, but you can access that information by doing a Google search for "Belgium Beers." An interesting note is that most beers have their own glass in which only that specific beer may be served.
For an up-close look at a microbrewery, you might want to a visit Brasserie Grain d'Orge. Located in Hombourg, it is owned and operated by Vivian Johnen and her husband Benoît, who is the Master Brewer. In an interesting tour of their brewing facility, that included a peek at their bottling machine, which produces 1,100 bottles per hour, Vivian talked about the ingredients they use and explained that they also do private label blends and brew a special blend for Christmas.

To keep peace between the"warring" labor groups,
separate labels have been created.
Because of two warring separate societies, similar let's say to the Lions Club vs. the Rotary Club, the tradition was to have separate labels - one for Brice and one for Joup.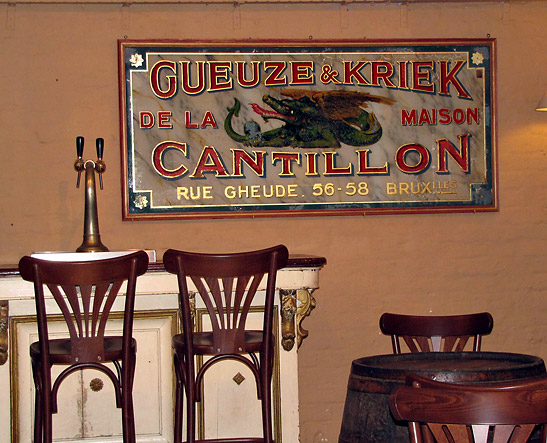 The cozy tasting room of Cantillon Brewery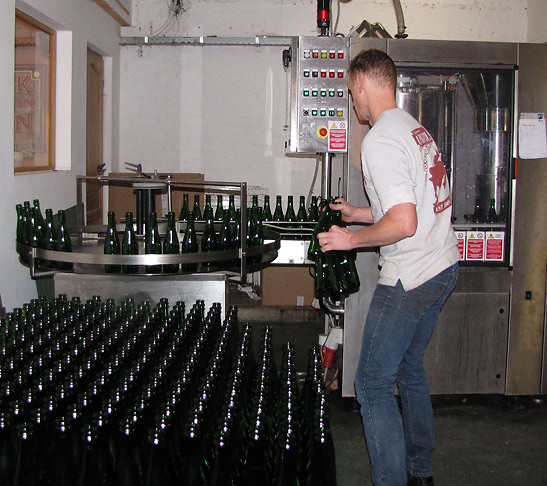 A worker supervises Cantillon's bottling machine
Another interesting beer outing is Cantillon Brewery. Located in Brussels, they have been brewing traditional Lambic like Kriek and Gueuze since 1900 and is the only remaining Lambic brewery in Brussels. The brewery offers an interesting tour of its facility that can be booked in advance.
For a trip down beer memory lane, consider the Museum of Belgium Beers in Lustin. Filled with beer-themed historical collectibles, including thousands of bottles, glasses, and vintage advertisements going back to a century-old tradition, this is a fun visit for any beer lover. For those of you planning a fall vacation, check out the Belgium Beer Weekends that begin in September. By the way, there are beer festivals throughout the year, with four this summer. Check it out on www.visitbelgium.com.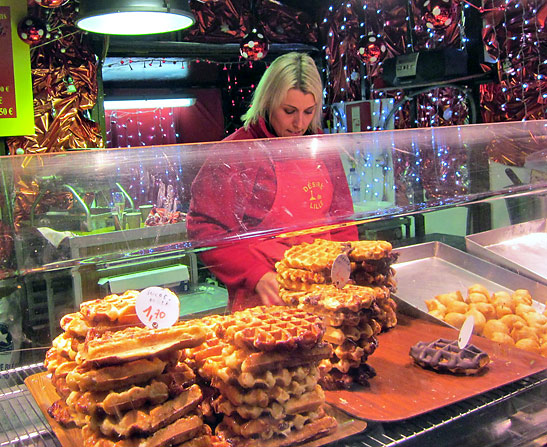 A waffles vendor at one of the many outdoor stands sprinkled throughout the country
No Belgium gastronomical adventure would be complete without having one of their famous waffles. Not strictly a breakfast food, there are two types of waffles or gauffres - the Brussels and the Liège. The Brussels is rectangular in shape with a light golden brown exterior and is served either with powdered sugar or whipped cream. The Liège waffle, is the most popular street waffle and is prepared with sugar that caramelizes and forms a crisp, crunchy coating. Either one will be a delicious taste experience.
With over 25 restaurants in Brussels and Wallonia having been awarded one or two Michelin stars, the highest per capita in Europe, you will not be disappointed with any of your meals and will be able to find restaurants to fit your budget.
If you are a music lover, all genres are available as music can be heard every day and ranges from jazz, to rock, to classical. Concerts are performed in churches and castles during the Festival of Wallonia that takes place from June to October.
Need to relax after all that eating and drinking? Head to the charming town of Spa, a municipality located in the Walloon Region of Liège. Housing Roman baths and mineral springs, it is described as "the mother of all spas. Once the meeting place for royals and the rich and famous, Spa is a perfect destination to pamper yourself, eliminating any possible lingering stress.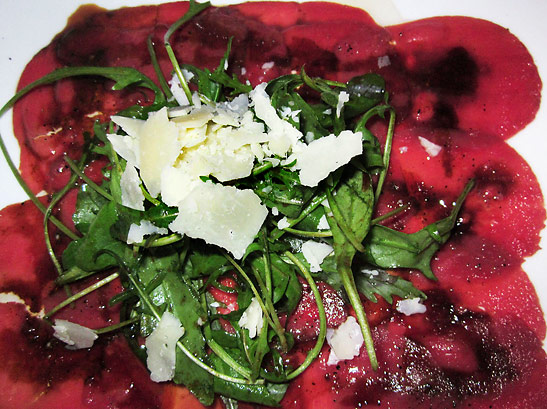 No knife needed here for this fabulous venison carpaccio topped with mixed greens and fresh parmesan cheese
After pampering yourself, you might want to cap off your visit to Spa with another spectacular meal at the nearby L'Art de Vivre restaurant located in the center of town. The faire included a tangy mango sorbet soup, venison carpaccio and an unusual dessert of crème brulee with mushroom soup and mussels. The cordial service, coupled with the gourmet food, will leave you smiling yet again.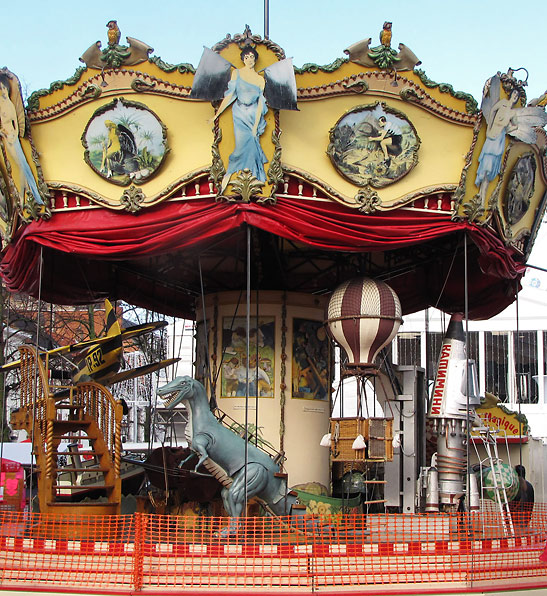 This most entertaining carousel is further testament to the wit and whimsey of the Belgium people
Adding to the allure of Belgium, this small country with enormous attractions, Brussels is more affordable than let's say Paris, London, or Amsterdam and offers a wide range of accommodations with up to a 50% discount on hotel rates on weekends, and daily in July and August. You might want to plan your visit around the many festivals and special events that take place throughout the year. If you need help or further information, contact the Belgium Tourist Office who will gladly guide you in orchestrating an unforgettable vacation experience.
For Travel Information:
Belgium Tourist Office
220 East 42nd Street, Ste. 3402
New York, NY 10017
212-758-8130
Fax: 212-355-7675
www.visitbelgium.com