Up Close and Personal
With Benjamin Bratt

Beverly Cohn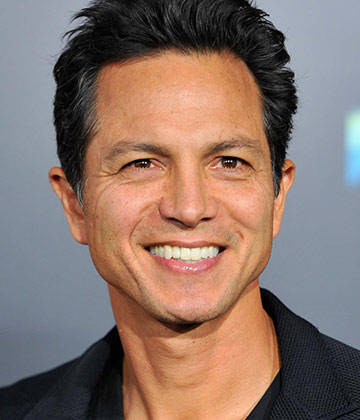 Award-winning actor Benjamin Bratt co-stars with
Bryan Cranston in "The Infiltrator." Courtesy Photo

Benjamin Bratt has been a successful actor for over two decades, winning a Spirit Award for his work as producer and star of "La Mission," written and directed by his younger brother Peter. The film also earned a Best Indie Film nomination from the NAACP and GLAAD, as well as multiple Imagen Awards for Best Picture and Best Actor. His work in Piñero received high praise while "Traffic" received five Academy Award nominations and a Screen Actors Guild Award for Best Ensemble Cast. Bratt has over 25 films to his credit some of which include: "The River Wild," "Blood In, Blood Out," "Clear and Present Danger," "Miss Congeniality," "Love In The Time of Cholera," "Snitch," and did the voice of Manny in "Cloudy with a Chance of Meatballs." Bratt first became most recognizable when he co-starred with the late Jerry Orbach in the iconic "Law & Order" series. Other television credits include: "The Cleaner," "Private Practice," "Modern Family," and "24: Live Another Day."
Bratt, the son of a Peruvian mother and a father of English, German, and Austrian descent, grew up in San Francisco where he attended Lowell High School, continuing his education at the University of California at Santa Barbara and received theatre training at the American Conservatory Theater in San Francisco. He is married to actress Taliso Soto, has two children, Sophia and Mateo, and resides in Los Angeles.
A most charming and fun, and might I add very handsome Bratt recently sat down with a select group of journalists to discuss his latest film, "The Infiltrator," along with other very personal topics.
The following has been edited for content and continuity for print purposes.
Bratt: I see some familiar faces here.
We never leave. (Laughter)
Bratt: You've been here for a lot of years. (Laughter)
Server brings in cup of coffee.
Bratt: This is nice. Who's picking up that tab? (Laughter)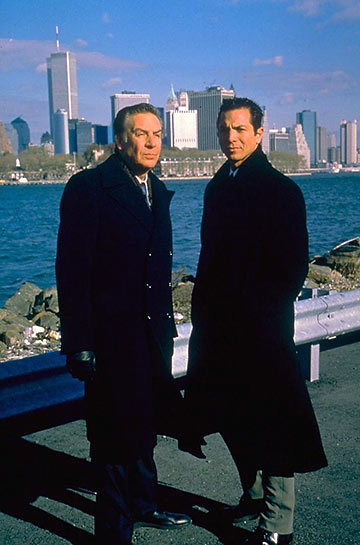 L-R: The late Jerry Orbach with Benjamin Bratt in the iconic "Law & Order" series. Courtesy photo
How did you get involved with "The Infiltrator?"
Bratt: I was surprisingly quite unfamiliar with the story. I think most of us are, which is shocking if you consider that it is one of the largest drug busts ever put on record. Brad Furman is a long-time friend of mine. I knew Brad when he was a kid. He was the 19-year-old assistant to my agent at ICM in New York when I was working on "Law & Order" back in the 1990s. He use to run scripts down to me and was kind of wet behind the ears, but very enthusiastic. Who knew that he would grow up into this very insightful, skilled, thoughtful director. I'm super proud of what he's accomplished as a director, obviously starting with "The Lincoln Lawyer." He's still young and has clearly demonstrated to all of us that he has so much more potential that is still untapped.
Did you have to audition for the role of the drug lord Roberto Alcaino?
Bratt: (Laughing & Joking) Yes. Can you believe the bastard made me audition? (Laughter). No, of course not. One of the many things I appreciate about Brad is that he is deeply loyal and that is one of the themes we explore in the film. He's worked with Yul Vazquez quite a few times as well as John Leguizamo and, of course, Bryan (Cranston) who was in "The Lincoln Lawyer." So what you have is a pattern of mutual respect and loyalty playing out in a professional scenario. Who doesn't want to work with people you respect and like?
What is the advantage of having a tribe of actors who have the director in common?
Bratt: Comfortability is certainly an aspect of the desire to create such a tribe, but you also have to be entirely trusting of what their abilities are and have a firm belief that they can deliver what is expected of them. It's not like he gave me the role because he thought I was a nice guy or due to our personal history.
Did you have any trepidations about accepting the role?
Bratt: In a way Brad courted me. I had done a number of jobs where I walked in similar territory and I was reluctant, on some level, to step into a role of yet another cartel leader. But, the thing that convinced me to take on the role was that he was very interested in showing an aspect of the humanness of a person like that. In fact, although my character sees his business from the prospective of the mere practicality of supply and demand, his individual actions have consequences, and we see that for Bryan's character of Bob Musella, as well. While you're achieving your agenda of taking down a criminal, there's fallout all around you. In both cases, I think on some level these men are mirror images of each other. They are both family men and while their business life is a separate entity from their personal life, there's potential danger for their respective loved ones.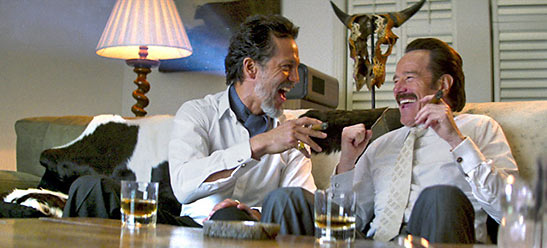 Benjamin Bratt's character of drug lord Roberto Alcaino begins to form a close bond with Bryan Cranston as the undercover government agent Bob Musella. Photo: Courtesy of Broad Green Pictures
What are their similarities?
Bratt: They expect of themselves, and seek within others that they want to have in their social circles, a kind of integrity or kind of principle, which begins with trustworthiness. That's why they're drawn to each other. But, through their actions, through their choices, how they conduct themselves, there is often times collateral damage.
What kind of research did you do in preparation?
Bratt: Well for one, you start with the book, which the screenplay is based upon. It's kind of a bible of actual information on what really went down. The real Bob Mazur is a fantastic raconteur. His memory is practically photographic. The way he tells it, it could make for very dry reading. You're reading about all the bureaucracy and the hoops they have to jump through, but when you get right down to the nitty gritty of what he did, how deeply undercover he went to pull off this operation, it's nothing less than thrilling. I think the book came out in 2010 and it seemed like such an obvious choice to translate to film, it's surprising to me that it took so long because it's so cinematic in nature. When you actually see it rendered in the film, it's almost unbelievable.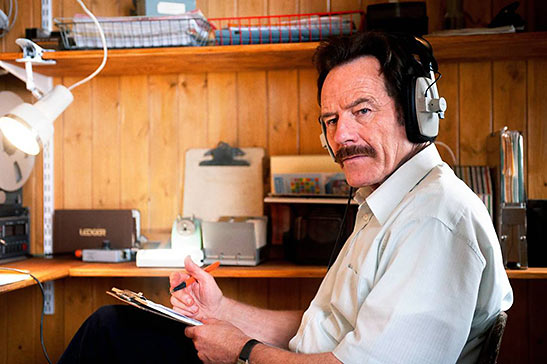 (Bryan Cranston as undercover agent Bob Mazur listens to secret recordings) Bratt on developing the character of Roberto Alcaino: "Although I didn't have access to any of the photographs, I got a clear picture of how I wanted to play him from listening to his voice." Photo: Courtesy of Broad Green Pictures
How much character direction did you get from Brad?
Bratt: Beyond his sharing his feelings on how he wanted to bring an honesty and humanity to the character, what I found incredibly helpful, in addition to the material I sourced from the book, were the personal stories that Bob shared with me. But the real ace in the hole were the actual secret recordings he gave me of meetings he had with Alcaino. Although I didn't have access to any of the photographs or video images of what this man looked like, and to this day I don't really have a solid idea of what he looks like, I got a clear picture of how I wanted to play him from listening to his voice, the gregariousness of his nature, to the inherent charm of how he communicated about anything – from something as mundane as the meal he had the night before to when the "baby" is going to be delivered in Philadelphia. His girlfriend is about to deliver the "baby." Of course, that's all secret code talk for the drug shipment that's going to arrive any day. So, that proved invaluable to me. For all the charm, sophistication, and worldliness that he exhibits, Brad and I wanted to make sure that there was always the presence of danger because, for all of his charm, this man is truly dangerous.
How dangerous was he?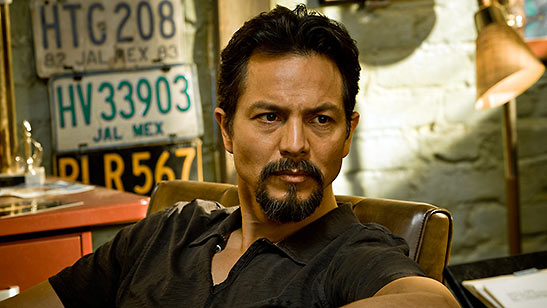 Despite his charming social demeanor, Benjamin Bratt's Roberto Alcaino is a very dangerous man. Photo: Courtesy of Broad Green Pictures
Bratt: He was one of the top lieutenants within Roberto Escobar's Medellín Cartel. What I do know is that he had direct contact with board members of the cartel and one can only imagine some of the things that went on during those meetings.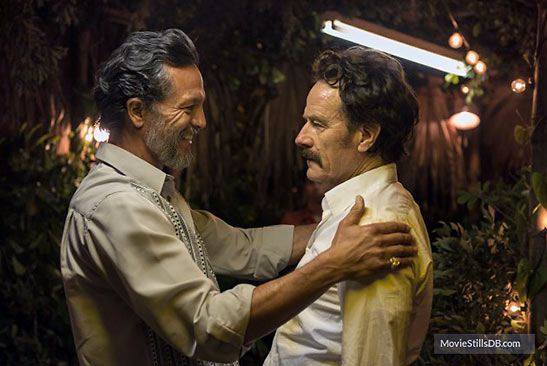 L-R: Benjamin Bratt's Roberto Alcaino forms a close friendship with undercover federal agent Bob Mazur. Photo: Courtesy of Broad Green Pictures
Was it your intention to make this bad guy really likeable and what were the character choices you made?
Bratt: Well it was a bit of a conundrum because his actions in his kind of business had a real ugliness. It's power and violence and murder and mayhem and menace. And yet, I thought it was a mistake as an actor to predetermine or prejudge whether he's a good guy or a bad guy. You can't go into any characterization with that opinion or attitude or approach because it's sudden death. What it will convey ultimately is a one-dimensional character – the figure in the black hat that you've you seen countless time. What I was more interested in, and it fell in line obviously with what Brad's desire was as the director, was to make him far more complex and that's there on the page thankfully. I thought it would be more interesting to highlight those human qualities. I had to find something lovable that I could appreciate in this person. What we all discover, as we watch the film, is that he possesses a slew of qualities that we all wish for ourselves and actually seek out in our social circles. He's a loyal friend. He's a man of faith. He's a devoted family man. He's a loving husband and father. He's a very successful and charming businessman. What's not to like? Yes. He's engaged in criminal activity and is quite dangerous, but he has a twisted logic in how he rationalizes his world. He sees it as an issue of supply and demand. "I wouldn't be what I am unless America made me this way. I didn't force drugs on anyone. You all want drugs? I'm the man to supply them." "I could be sweating my balls off in a restaurant somewhere," he says, "but this is a smarter choice for me." So, that's his twisted logic that justifies his work.
Was there a particularly difficulty in making the film?
Bratt: Not actually. The one thing that I'm really happy about, having seen the film now only once, is that it does have a very international, grand feel to it, but that being said, it's likely that it's no secret that we had limitations in terms of budget, location, and various other challenges that accompany independent film making so time was not a luxury and that's what actors need more than anything – time and space to create. But oftentimes you're thrown right into it and you have to sort of do it on the fly because there's not a lot of rehearsal time. The good news is when you're working alongside someone like Bryan or Diane Kruger or Amy Ryan or Yul Vazquez or John Leguizamo, these are folks at the top of their game. The best advice Brad gave me before we started shooting was that I was going to meet Bryan and you're going to be charmed by how kind and how sweet he is and he is all of those things. He's probably one of the nicest men you're ever going to meet but don't be lulled into it because he is a heavyweight fighter and he's going to come out swinging so do not show up and think it's going to be a cakewalk. It's not. I really took that to heart. It maybe even scared me a little bit. The result is something that I'm actually pretty proud of.
Was there one seminal moment when you knew you wanted to be an actor?
Bratt: I just remember the first time I got on stage. At my dad's encouragement, I auditioned for a high school production and got cast as the devil in "The Devil and Daniel Webster." I have to confess that the moment I stepped on stage, I felt a surge of energy and creativity and an electricity that I never felt before – not from sports, not from academics, not from anything else, and thought I should check this out. Incidentally, I don't know if there's a connection, but my grandfather, George Bratt, was in the "Grand Street Follies" which opened on Broadway in 1924. He also worked with James Cagney. So, it was part of the family lore that acting is in our blood, but no one really bought that. (Laughter)
Family lore or not, just keep on doing what you're doing!
Bratt: Thanks everyone. This was fun.
Stay tuned for Part 2 in which, among other topics, Bratt talks about family matters and the most outrageous thing he's ever done on film.