Jeremy Saulnier and Macon Blair On "Blue Ruin" –
A Cautionary Tale on Revenge
By Beverly Cohn

irector, writer, and cinematographer Jeremy Saulnier and Macon Blair, who has the starring role in "Blue Ruin," are childhood friends who grew up in Alexandria, Virginia, both of whom were drawn to the world of film since they were youngsters. Each has racked up a few Indie films but have scored big time in this well done variation on the theme of violent family feuds resulting in revenge killings, the most notorious one being between The Hatfields and The McCoys, which began in 1865 and resulted in around one dozen deaths.
This story centers around Dwight Evans (Macon Blair) an unkempt vagrant living on the streets of eastern Delaware, getting his meals out of garbage cans. He finds out that the man who was sent to prison for killing his father has been released and worrying about the fate of his sister and her children, he literally cleans up his act and heads back to his hometown. Revenge is on his mind and although soft-spoken and sometimes having the look of a deer frozen by headlights, he plans to settle the score. He is not quick witted and has difficulty putting sentences together but despite what looks like moments of equivocation, he is determined to fulfill his mission.
Saulnier's narrative, directing, and cinematography are spot on and under his direction, Macon gives a fascinating portrayal of a man pushed into violent action. "Blue Ruin" is a fascinating, slow moving, moody, film with Saulnier's camera work capturing the real as well as almost surreal landscapes in which Dwight moves. The supporting cast is excellent and includes, Devin Ratray, Amy Hargreaves, Kevin Kolack, Brent Werzner, and Eve Plumb.
Jeremy and Macon recently sat down for an exclusive interview with your reporter and the following has been edited for content and continuity for print purposes.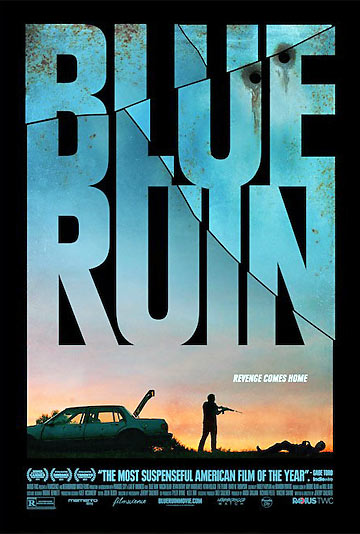 Written, directed, and photographed by Jeremy Saulnier, "Blue Ruin" won multiple awards including the prestigious Directors' Fortnight at the Cannes Film Festival. Courtesy photo.
Could you explain the meaning of the title?
Jeremy: There's no real grand idea behind it. We had forty titles at one point. At least eight of them were good but they seemed too aggressive for me. I thought we were tipping our hand that this is an exploitation movie, a genre film. The film gets dark so I didn't want any aggression or testosterone in the title. I was researching the word debacle and thought that was the best word to encapsulate what this film was. I also came across this term "blue ruin." It had several meanings, including a hair dye in the "Eternal Sunshine of the Spotless Mind." For me, between debacle and blue ruin, the connection was there and what it evoked was perfect for the opening sequences – a melancholy beach tone.
Why did you want to tell this story?
Jeremy: It was a very personal story. It had all these emotional undercurrents and the drive was pure, but the other half was strict pragmatism in trying to be savvy about the marketplace and what I wanted to see as an audience member. I've been in the industry for quite some time. I've done corporate videos and commercials, primarily getting to serve as a cinematographer, which was my artistic outlet. I was making Indie films and going to festivals and seeing twenty films at Sundance one year and fifteen another year, but what I saw was a real void in the marketplace between really solid character-driven narratives and genre films that had skewed more towards what I would say were superficial and textural. It was like found footage of massacres that were just dreadful to watch. I thought am I going soft? Am I losing my affinity towards genre filmmaking? I grew up in the era of John Carpenter movies. I loved the mystery and the atmospheres and that feeling of being immersed in what he created. I thought I could try to bridge that gap. I thought I could do a genre film and stay true to my roots and my love of high-stakes, visceral filmmaking, but also inject real characters into it, making it primarily and character study.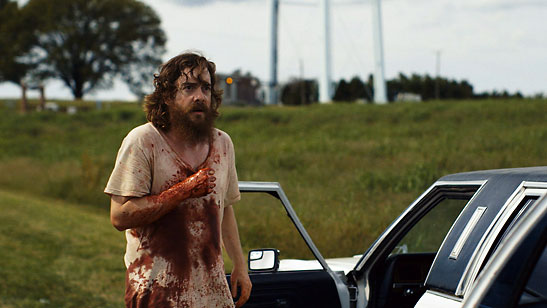 Macon Blair gives a riveting performance as Dwight, whose mission is to avenge the killing of his father. Courtesy photo.
Where did the character of Dwight come from?
Jeremy: I had this character swirling around in my head for years – a beach bum character in the Delaware shore where Macon and I both grew up vacationing there. It was a very familiar place and had a lot of nostalgia but when we bridged this character and thrusted him into this dark, stark genre world, that's when we knew the time was right. So many things were dictating to us. We had babies on the way and our careers were almost over or they were going to begin. Either way we had to make one last effort.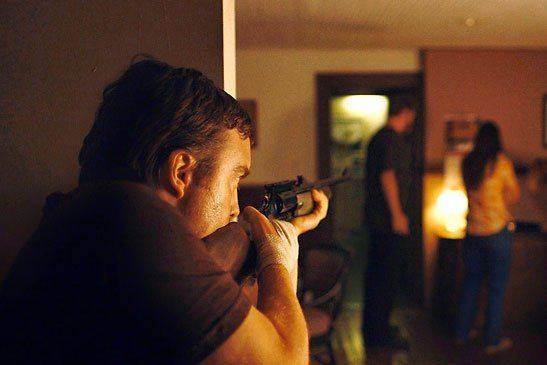 Macon Blair as Dwight takes aim at members of a family who he believes are responsible for his father's murder. Courtesy photo.
How have people reacted to the film?
Jeremy: Our film has gotten a lot of attention for its violence but if you compare it to other films, the body count is very low. One time, we premiered the night before "White House Down," with a body count of probably in the hundreds but in forty-five seconds, you have my entire body count. No one talked about the violence in that movie because it is celebrated. It is taken for granted that it is part of the genre so the discussion about the violence and gun play in "Blue Ruin" is a testament to its success in that it affects people and is not that easily digestible.
Your acting in this film is riveting. I don't know where you studied but your technique is very much in the Actors Studio tradition.
Macon: That feels amazing to hear. I cannot thank you enough. I actually went to school for screen writing. I have no extensive acting training.
You're kidding! (Laughs) It's all instinctive?
Macon: When I got to New York, I took acting and improvisation classes, along with some voice lessons, but I don't have extensive training other than the fact that growing up I became friends with a lot of filmmakers and they kept putting me in their movies. As far as technical training, I really don't have any and sometimes that's a deficiency, especially when there's a lot of verbal content to get through, which is more difficult than the purely physical stuff.
When you're preparing for a character, do you prepare a back-story and do you work inside out or is the make-up and costume your jumping off point?
Macon: A little bit of both. Jeremy had a very detailed back-story. We had a long time before we started shooting so we had the luxury of being able to sit around and talk and that's when a lot of that formative stuff happened. Jeremy and I were very much in tune with each other as far as what this guy was doing and why he was doing it. Every minute little moment was discussed down to when he's going to tie his shoe, or when he's going to stand, or where he should look.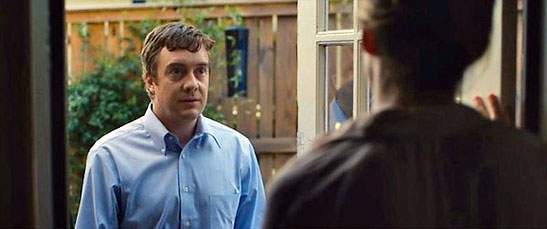 After years of living on the streets, Dwight reconnects with his sister. Courtesy photo.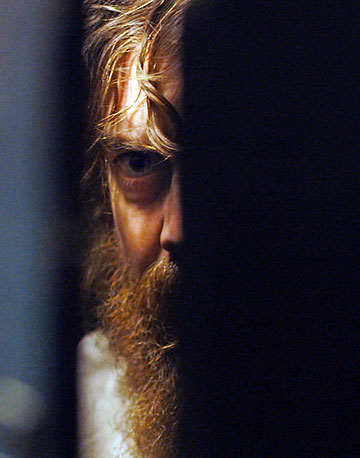 Dwight (Macon Blair) in his days of being a street
person. Courtesy photo.
Did you still have traces of the street person in your character after he gets cleaned up?
Macon: He's still the same guy. He's checked out of the world when you first meet him and then through this mission he goes on, he is forced to join the human race. He reconnects with his sister, who he hasn't seen in years, and his old best friend, who he also hasn't seen in years. He starts participating in the world again and goes back in time to how he was before this family tragedy derailed him, sending him off to live in hermit world.
What was your reaction when you finally shaved off your beard?
Macon: It was great getting rid of that beard. It had been there for the better part of a year. We had to schedule the shoots around the beard and make sure that we had every shot that was needed because once the beard was gone it wasn't coming back. We took a day off from shooting so Jeremy could look at all the footage to make triple sure that he didn't need anything else and then we went up to his room, shaved it off, and had a little beard party.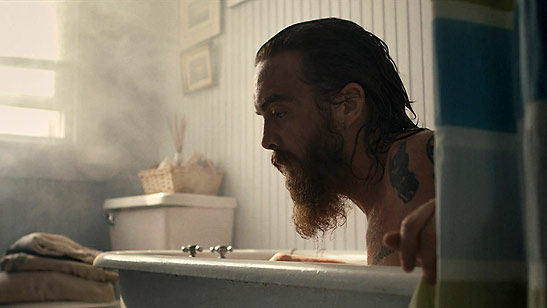 Dwight breaks into the home of a family away on vacation and is surprised by their early return. Courtesy Photo.
Was there one scene that just wasn't working?
Macon: (Laughs) The very first one. We had a location that was set up for the opening scene that was going to be this cat-and-mouse sequence where Dwight is this house of a vacationing family. When we showed up, the location we had paid for, in fact, did not exist, so we were scammed. Jeremy, very quickly, and cleverly, rewrote the whole scene to take place in the house where the crew was sleeping and instead of it being a complicated shoot, it was a single shot across the front of the house and it ended up being a much better introduction to the character. It was much cleaner, more efficient, and it looked pretty. So, what seemed like a disaster, ended up being a blessing in disguise.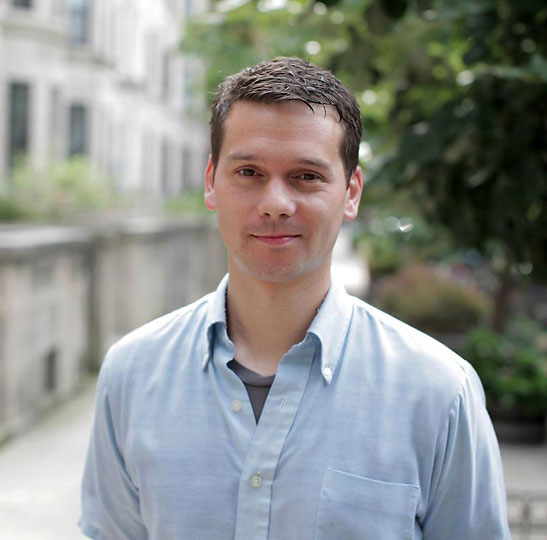 "This was a last-ditch effort and we put all our resources into this film and were going to sink or swim." Jeremy Saulnier. Courtesy Photo.
You are writer, director and cinematographer. Was there one aspect that you especially enjoyed?
Jeremy: Writing was an absolute pleasure and I really enjoyed the process. The film really took shape and Macon's input was infused into the script. I had it all pre-visualized and knew where we were going to shoot. Now, the production for me, in looking back, was magical. But that said, before I knew the context of where we'd premiere, the script was not yet completed so it was highly stressful and terrifying.
I didn't sleep more than two hours a night and I've never had such an excruciating experience in my life.
Macon: You have to keep in mind that he and his wife invested their entire savings account and a massive credit card bill in order to fund this movie, so it wasn't just like I hope this movie is good because the stakes were very high.
Jeremy: It was professional life or death. It really was. We didn't make those inroads we had hoped to make into the industry and didn't have a lot of momentum. This was a last-ditch effort and we put all our resources into this film and were going to be sink or swim. Despite all the pressure, we didn't want to compromise our vision or leave anything out because this film would re-define our careers either on the way out, or on the way to new horizons and if it was our last film, we would at least be happy that we were able to keep this vision pure.
"I really want to just keep working with people I like as people and as filmmakers." Macon Blair. Courtesy photo.
Was it difficult to shake off your character at the end of the shoot?
Macon: No. The way I ended up working was when we rolling, I'd put myself into him or him into me as much as I was able to and follow Jeremy's directions. I didn't internalize Dwight in a way that was painful, but I tried to get myself to those places when the camera was rolling. But, afterwards it was back to the hotel and talk about the day and it was very much like a bunch of friends in high school making a movie again, but with better cameras and better resources. I didn't have my net worth locked into the movie so it was a lot of fun for me to get to do this with my friend. There was pressure on me because if it didn't work, a lot of that responsibility would be mine.
What was the reaction at the premiere?
Jeremy: Our premiere was a fairy tale – an absolute dream for the both of us. We hadn't seen the finished film at that point. It was slapped together at the last minute and we did this crazy push to get it ready for the premiere at the Directors' Fortnight in Cannes. Being on that stage with 800 people in the audience was amazing. There was Q & A and as Dwight was winning the audience over, you could just feel it in the air. There were cheers and applause and the response when we finished, was just beyond all expectations. We were all dressed up and they put the spotlight on us. It was surreal. That experience was perfection.
One more question: Jeremy, who's your favorite director and Macon who's your favorite actor?
Jeremy: I would say the Coen Brothers are my favorite team behind the camera.
Macon: I like a lot of those contemporary guys, but lately I like a lot of the classic actors like Robert Ryan, Oliver Reed, and certainly Buster Keaton.
What kind of character would you like to play next?
Macon: That's a good question. I'd like to do something that's more overtly funny or maybe something that's even darker than Dwight. I really want to just keep working with people I like as people and as filmmakers.
What's next?
Macon: Jeremy and I are working on scripts, both separately and together. Our theory is to keep as many balls in the air as possible because you never know which one is going to land.
I wish you the best of luck and look forward to seeing your next project.
Jeremy & Macon: Thank you so much.