Charles S. Cohen
Of the Cohen Media Group
To Host Film Series on KCET and Link TV
Beverly Cohn
Part 1: The Film Series

he Cohen Media group is synonymous with producing, directing, or distributing high-end, award-worthy foreign films. Although there are American films in their vast library, it's the foreign films that have received the most critical acclaim. Among the films that have been submitted for Best Foreign Language Academy Award consideration are: "Timbuktu," "Marguerite," (four César Awards) "Rams," "Mustang," "The People vs. Fritz Bauer," "My Old Lady," "Le Chef," "Breathe In," and the wonderful documentary, "Deli Man."
In yet another exciting project, Cohen has partnered with KCET, and will host a series of ten films he curated from his vast library of over 700 films, many of which have been restored to their original condition. The series, which kicks off Friday, January 27th, consists of a cross-section of genres, from documentaries and musicals to comedies and dramas and will air Friday nights at 10:00 pm.
Cohen recently sat down with a select group of journalists to discuss the new series as well as his fascinating background. Part 1 of this 2-part interview will focus on the upcoming KCET series, and the following has been edited for content and continuity for print purposes.
Before we talk about the series, what is the genesis of the Cohen Media Group?
Cohen: Cohen Media Group began in 2007 when I was fortunate enough to get together with the filmmaker responsible for "Frozen River." We went to Sundance and won at Sundance. We licensed our film through Sony Pictures Classics. We went to the Oscars and were nominated in two major categories and also won some Spirit Awards. (More about the creation of "Frozen River" in Part 2) In 2010 we became a distributor of "Outside the Law," which I licensed from StudioCanal.* We went back to the Oscars for Best Foreign Language Film. We've been there three times and received five nominations in total. We're anxious to continue our run this year with "The Salesman," Iran's 2016 submission for the Best Foreign Language Film Oscar. This is a powerful film, which has already racked up three wins and six nominations. We have our fingers crossed and hope we win.
Please talk about the upcoming Cohen Film Classics series you will be hosting on KCET-TV beginning in late January.
Cohen: I am so thrilled to be with KCET and to be able to present these films through our collaboration. I'm a great PBS customer from the East Coast and I've heard the most wonderful things about KCET here in Los Angeles. It's really a dream for me to sit here and talk about something that I have been so connected to throughout my whole life. You know that they are the largest independent public television station and play a vital role in the cultural fabric of southern California. They are non-profit award-winning programmers. I would like to partner with them on other projects.
Why did you want to do this series?
Cohen: Well, I'm not in this for the profit. I'm in this for the prestige and the association. There are ways that you, as a successful man, can give back. You can write checks, which is ok. But, I'd rather see where the money goes and do something that will affect the lives of others for the long term. I like the idea of preserving these films and making them available to people who remember them as well as also finding new audiences who have not seen these iconic films before.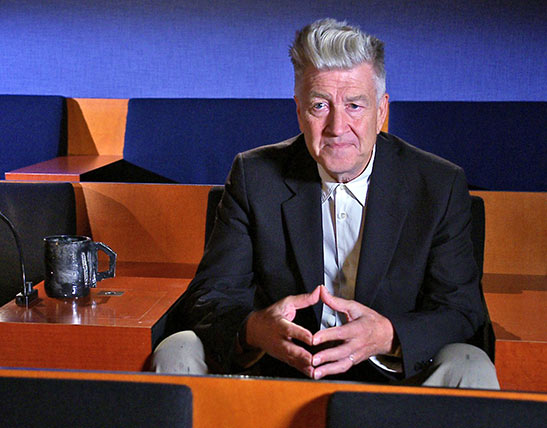 David Lynch was one of the directors interviewed for "What Is Cinema?" which kicks off the KCET series hosted by Charles S. Cohen of the Cohen Media Group.
Courtesy photo
It would be helpful if you could give a capsule description of what the KCET audiences will be seeing.
Cohen: The first film that kicks off the series is "What is Cinema?" directed by Chuck Workman. I knew him through the fabulous editing on the Academy Awards. He did all those montages in the days when there was no digital editing. He did it the old fashion way, by splicing film together. For "What is Cinema?" Chuck interviewed some compelling auteurs including, Michael Winterbottom, Akira Kurosawa, David Lynch, Mike Leigh, Robert Altman, Costa-Gavras, and Michael Moore. He also interviewed a number of critics. What came out of those interviews is a very interesting take on cinema – the role it plays in society, and how and why people respond to it.
Cohen: The second film in the series is "Sudden Fear" which was made in 1952 and stars Joan Crawford and Jack Palance. The story revolves around a successful Broadway playwright (Joan Crawford) who initially rejects a young actor (Jack Palance), but later falls in love and marries him. When the young actor learns that she plans to leave her fortune to a charity when she dies, he conspires with an old girlfriend to have her killed. I recently watched the film for the second time. What a great movie and what a beautiful Joan Crawford. I think it was Jack Palance's first co-starring role of a major note. He is spooky in his own way. What a terrific little thriller and it will air on February 3rd.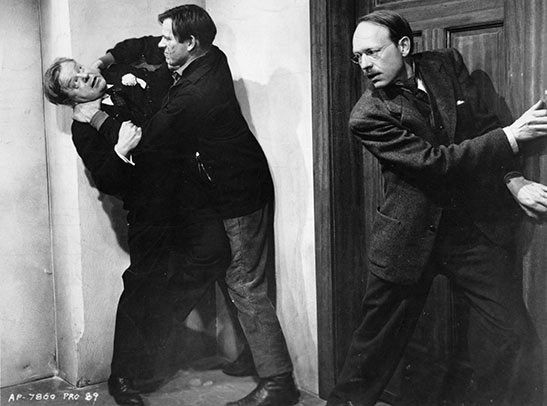 A scene from "Hangmen Also Die," a 1943 noir war film directed by Austrian director, Fritz Lang. Courtesy photo
Cohen: The third film, which will air on February 10, is "Hangmen Also Die," a 1943 noir war film directed by Austrian director Fritz Lang. The film was written by John Wexley and Fritz Lang from a story by Bertolt Brecht, and co-stars Walter Brennan and Brian Donlevy. It's an espionage thriller set in occupied Czechoslovakia. The story revolves around a successful plot by the Czech Resistance to assassinate Deputy Reich-Protector – "Hangman" – Reinhard Heydrich – and the hunt by the Gestapo to track down the killers.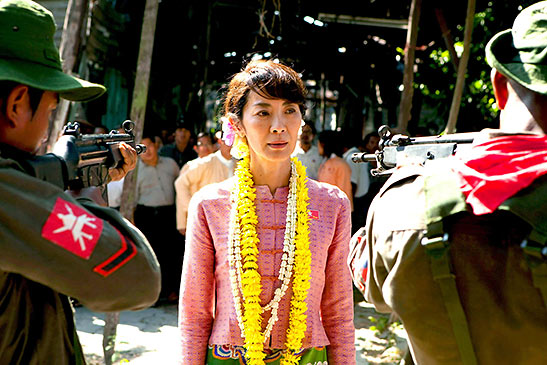 Michelle Yeoh stars in "The Lady," the story of Aung San Suu Kyi, the woman who was at the core of Burma's democracy movement. Courtesy photo
Cohen: As a matter of fact, there are a few espionage thriller films in the series. "The Lady," airing on February 17, is a film I licensed from the Toronto Film Festival when it premiered a couple of years ago. I became friendly with Luc Besson who I thought was a fabulous action filmmaker. It was an unusual departure for him to embrace the story of Aung San Suu Kyi, played by Michelle Yeoh. I had no knowledge of this woman. I didn't know she was at the core of Burma's democracy movement. I didn't know about this woman's courageous incarceration in her house for years and the situation with her husband, writer Michael Aris (David Thewlis). I got to know Luc and his wife who produced the film. I also spent time with Miss Yeoh who is a fabulous actress. This is a great movie. You can see the director's work in some of the action scenes. I always thought he did what Hollywood did best, but in his own French way.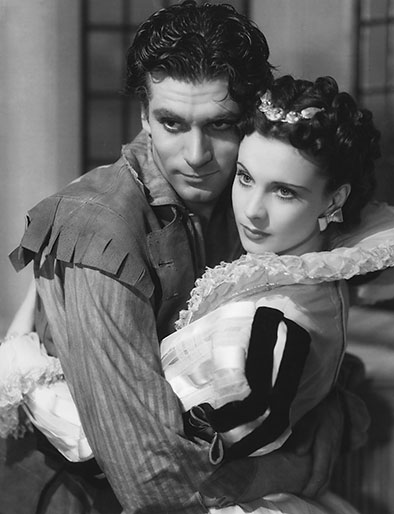 Laurence Olivier and Vivien Leigh co-star together for the first time in "Fire Over England." Courtesy photo
Cohen: Next up from our collection is the February 24th screening of the 1937 film "Fire Over England." Directed by William K. Howard, it was one of Vivien Leigh's first films and was the first time she met Laurence Olivier, who co-starred in the film. Also co-starring Raymond Massey and James Mason, it is a love story that takes place in 1588 during the reign of England's Queen Elizabeth I. Olivier plays a young naval officer who discovers Spain's plans to send the Armada against England. The Queen's Lady-in-Waiting, played by Leigh, falls in love with the heroic naval officer as he takes the British fleet into battle.
Cohen: "Dark Journey" airing March 3rd, was directed by Victor Saville and stars Cecil Parker, Conrad Veidt, and Vivien Leigh, who plays an Allied double agent living in Stockholm in 1915. Chief of Intelligence, played by Veidt, is assigned the task of catching her, but they fall in love with each other.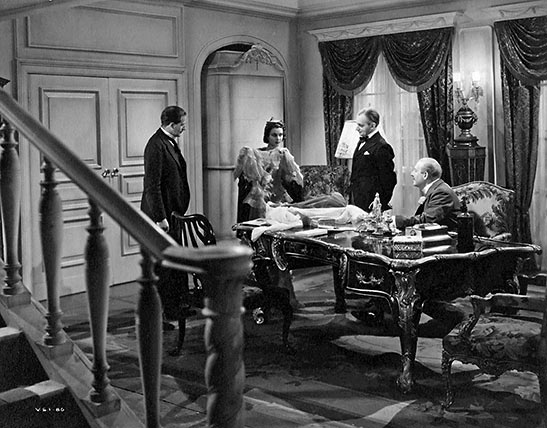 The cast from "Dark Journey" which includes Cecil Parker, Conrad Veidt and Vivien Leigh who plays an Allied double agent. Courtesy photo
Cohen: "The Beauty of the Devil," based on the Faust legend is directed by the very successful French director René Clair who came to America and made such films as "I Married A Witch." But, he eventually fell out of favor. "The Beauty of the Devil" stars Gérard Philipe, Michel Simon, and Nicole Besnard and tells the story of a prominent professor of alchemy who makes a bargain with the Devil that grants him youth, fame, and riches in exchange for his soul. This film is scheduled to air on March 10th and to my knowledge, it has never been aired on television.
Cohen: Next up on March 17th is "The Thief of Bagdad," an adventure fantasy directed by Raoul Walsh and stars Anna May Wong, Douglas Fairbanks, Julanne Johnston, and Snitz Edwards. It's a silent movie based on Arabian Nights. Fairbanks plays the dashing Ahmed, the thief who wins a princess. The film cost more than one million dollars to make, which was an extraordinary amount of money in 1924. It's interesting to note that the silent black and white films of that era were not shown in black and white. They were shown with colored lenses that would alternate during different parts of the film and were accompanied by a live performance of an orchestral score. We went back and had a new score done.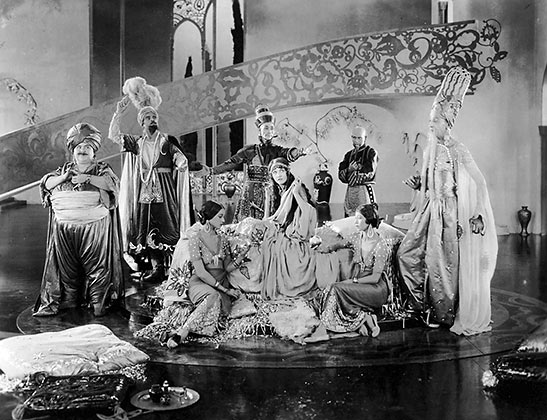 "The Thief of Bagdad," a silent film which starred Anna May Wong and Douglas Fairbanks as the swashbuckling Ahmed, the thief who wins a princess. Courtesy photo
Cohen: "Jamaica Inn," story by Daphne du Maurier and screenplay by Ed McBain, was Alfred Hitchcock's last British-based film before he went to Hollywood to make "Rebecca." He made a total of three du Maurier films, the last being "The Birds." "Jamaica Inn," will be shown on March 24th and stars a very young Maureen O'Hara, Charles Laughton, and Robert Newton. The O'Hara character discovers that her uncle heads a gang of ship wreckers and murderers who work for the local squire, wonderfully played by Charles Laughton. The film played well last year at the Film Forum.
Cohen: The last film in the series is "Chasing Madoff." Directed by Jeff Prosserman, it's one of the first films I licensed in the English language. The original title was "Fox Hounds" which I thought was a terrible title, so I changed it to "Chasing Madoff." It is the fascinating story of Harry Markopolos, the original whistle blower, and his team of investigators during the ten-year struggle to expose the harrowing truth behind the infamous Madoff scandal. He had written a book called "No One Would Listen" in which said that no one would look at what was going on while it was happening because there were a lot of tell-tale signs. The film was made within a year of Madoff being busted and vilified. I think that's a great way to end the series with a contemporary film.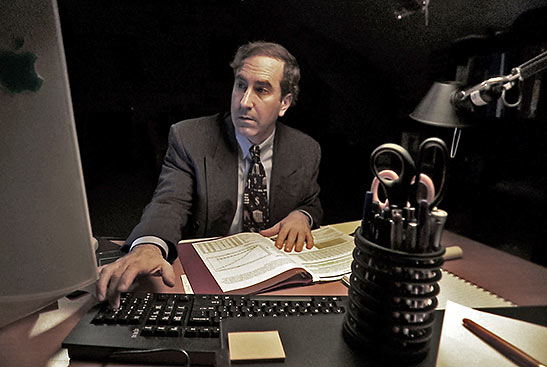 "Chasing Madoff" is the fascinating story of Harry Markopolos, the original whistle blower on the Bernard Madoff scam. Courtesy photo
The line-up of films is fascinating. What is your big attraction to older films?
Cohen: A lot of the older films had important things to say. They were well made. They were well written. They were well directed. They had great performances and they may have been overlooked. Buster Keaton was a genius. Hitchcock was a genius. There are a lot of wonderful films that we like.
Will you be having guest speakers before showing the films?
Cohen: Yes. For the first film we will be doing an interview with Chuck Workman. As far as the rest of the films, we'll decide as we go along.
This is a very exciting series and certainly keeps within KCET's history of presenting excellent programming
Cohen: Thank you...
*StudioCanal is a French film production and distribution company that owns the third-largest film library in the world.
Stay tuned for Part 2 in which Mr. Cohen tells his personal story, beginning with his childhood, which marked the beginning of his fascination with film, and the circuitous route to becoming the Cohen Media Group and amassing his extensive Cohen Film Collection.