Up Close & Personal With...
Charles S. Cohen of the Award-Winning Cohen Media Group
Beverly Cohn
Part 2 - Charles Cohen's Personal Odyssey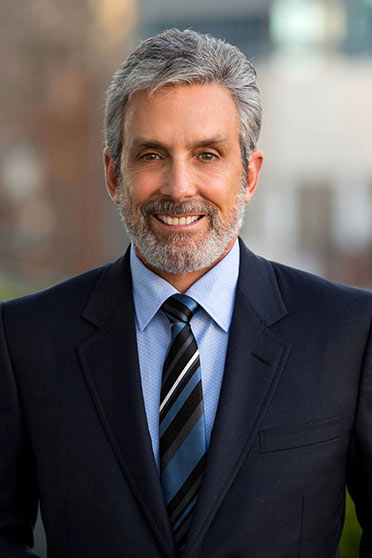 Charles S. Cohen heads the Cohen Media Group and is President & CEO of Cohen Brothers Realty Corporation. Courtesy Photo

harles S. Cohen's Cohen Media Group has established the reputation of acquiring, producing, and/or distributing some of the finest foreign films, many of which have been submitted for the Best Foreign Language Academy Award.* His ability to build his vast film library stems from the wealth acquired through his real estate family business. President and CEO of Cohen Brothers Realty Corporation, he helms one of the country's most important commercial real estate companies. The portfolio of office buildings and design centers are located throughout the country including New York, Texas, and Florida. He also owns southern California's Pacific Design Center on Melrose Avenue. Referred to as the "Blue Whale," the center is a multi-use facility which houses the West Coast's top decorators in the approximately 130 showrooms. It is also the home of The SilverScreen Theater, which hosts many screenings, exhibitions, lectures, meetings, special events, as well as receptions for the design, entertainment and arts communities. The firm's portfolio spans twelve million square feet.
Cohen's personal wealth, estimated at 2.8 billion dollars, has given him the opportunity to become an influential patron of the arts. He serves on the Board of Trustees of the Museum of Contemporary Art (MOCA) in Los Angeles, The Cooper Union for the Advancement of Science and Art, The Lighthouse International Theater, The Public Theater, the Stella Adler Studio, and The Film Society of Lincoln Center. Cohen is married to his second wife, Clodagh "Clo" and lives in their primary residence in Manhattan.
Cohen recently sat down with a group of select journalists to discuss, among other topics, his, Cohen Film Classics, a new film series on debuting on KCET. That segment of the interview was covered in Part 1. The following Part 2 has been edited for content and continuity for print purposes.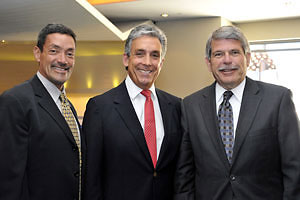 (L & Far Rt.) John Duran, City Councilman West Hollywood, and Supervisor Zev Yaroslavsky with Charles S. Cohen, (center) recipient of the Alliance for Quality Construction for his Red Building, the newest addition to the Pacific Design Center.
Courtesy Photo
Tell us about your background
Cohen: I grew up outside of New York City in a small town called Harrison. My family was in real estate. It was an opportunity for me and I am an opportunist. It has given me the capability to invest in this library and, as a private person, build a great collection of films. There are people who collect art. I collect art films.
Speaking of real estate. How did you acquire the Pacific Design Center?
Cohen: I came out here for a designer marketplace and was knocked out by the blue and green buildings and in 1999 bought them from the mortgagee. The Red Building was built on the site of a parking lot. It took twelve years to complete construction. I think you'll agree that I have one of the most dramatic offices a human being can have. We have a terrace with a barbeque. Unfortunately, it's a little chilly for a barbeque. We can do that another time.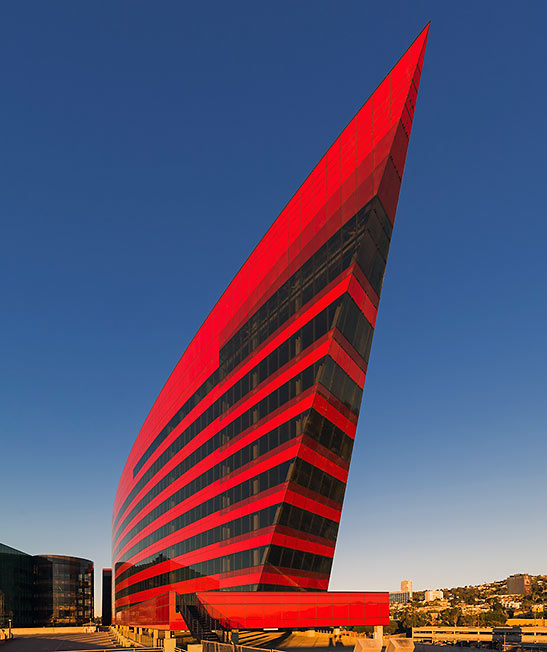 Charles S. Cohen's award winning Red Building, the newest edition to the Pacific Design Center. Courtesy Photo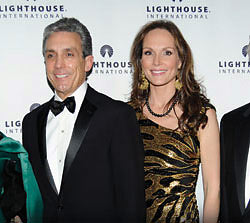 Charles S. Cohen with his wife Clo attended the Lighthouse International Volunteer Recognition event. The Cohens donated the funds needed to build a new Lighthouse Theatre, as the old one had fallen into a state of disrepair. Courtesy Photo

Let's go back in time. What was the earliest influence on your love of film?
Cohen: I was a film fanatic from an early age. I use to go into the city and spend time with my grandparents. When I was three years old, my grandmother took me to see Walt Disney's "Cinderella." We sat through it twice and I was never the same. (Laughter)
When you went to the movies as a kid, what did they screen?
Cohen: I would see the coming attractions, cartoons, newsreels, and a double feature. It was truly an all-day affair. I actually tried to buy the British Pathé News library, but it was too expensive.
How did you educate yourself about film?
Cohen: When I was growing up, there were no film schools where I was living. There was no video then. NYU was just starting the Tisch School of the Arts in 1965. I would go to my local public library or I would go into Manhattan to the Gotham Book Mart on West 47th where you could buy publications from the UK. I watched movies on television like the "Million Dollar Movie" series or "Saturday Night at the Movies." When I attended NYU, I wrote film criticism, which I also did at Tuffs University, where I was an English major. I reviewed concerts, plays, and movies. When I was in college "The King Of Hearts" with Alan Bates was the big anti-war film and I'm excited to say that we've gained the worldwide rights to the film's restoration. After college, I decided I wanted to be an attorney and a producer in the film industry, so I went to Brooklyn Law School.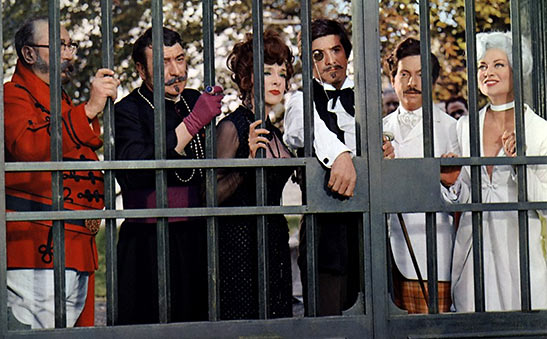 The cast of "The King of Hearts," an anti-war film made in 1967. It starred Alan Bates and has been acquired by the Cohen Media Group. Courtesy Photo
Why did you choose Brooklyn Law School?
Cohen: I wanted to be in New York and I didn't get into NYU. (Laughter) It's the one school in the New York area that really trains you to be well versed in New York State law. The other schools have more of a federal and national approach. Also, I couldn't get a job in New York City. I didn't have the right contacts and I didn't want to leave my family roots. But, obviously I got to follow my passion for film in a different way. Maybe that was better and I didn't have to give up my day job. (Laughter)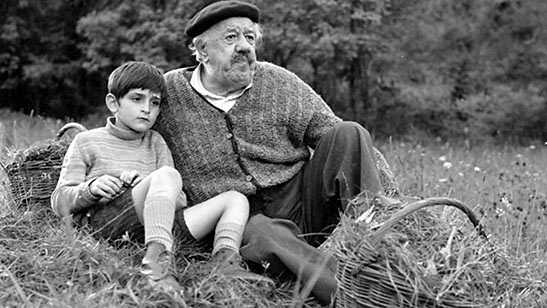 One of Charles Cohen's favorite foreign films is the tender "The Two of Us," which starred Alain Cohen and Michel Simon. Courtesy Photo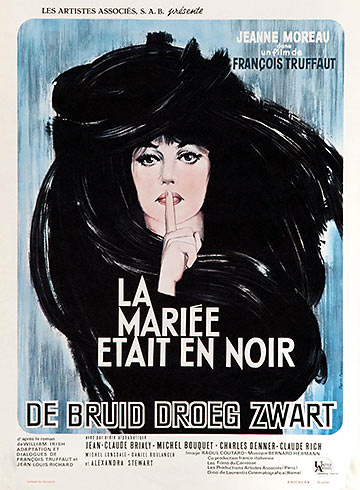 Another film that captured Charles S. Cohen's young imagination is Truffaut's "The Bride Wore Black," which starred Jeanne Moreau. Courtesy Photo
How did you discover French Films?
Cohen: Good question. When I was growing up in Harrison, New York I would take the bus for sixty cents to a theatre in White Plains and watch double features. But they didn't run French films. I found them right in my little town's independent theatre called the Harrison Cinema. The first French film that I really loved was "The Two of Us." The story is about an anti-Semitic older man who takes in a young Jewish boy whose family sent him during the occupation of Paris. The narrative reveals how this older man overcomes his anti-Semitism. I had not been to Europe so to me it was a window on the world. I would see films like "The Bride Wore Black" and "Fahrenheit 451" and Renee Clarmont's "Rider on the Rain." I was very attracted to films by François Truffaut and Roger Vadim, as well as Federico Fellini and the other great Italian filmmakers.
What qualities did you find in French films that were missing from American films?
Cohen: That's a great question. What I connect to in French films is the embrace of universal themes such as family. Most of the films we have distributed deal with families, and issues involving family members – issues they have to overcome together or apart.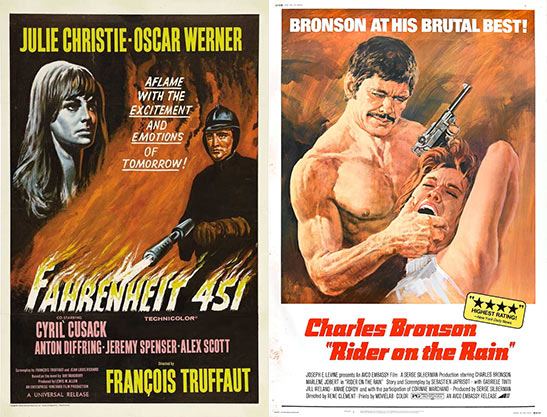 "Fahrenheit 451" (left) and "Rider on the Rain" (right) are two films that led to Charles S. Cohen's fascination with film. Courtesy Photo
What was the genesis of "Frozen River," which was the first film you produced?
Cohen: "Frozen River" was originally a short film that had been developed by the wife of a landlord/tenant attorney who did work for us. You know occasionally there are people who don't pay their rent. (Laughter) It played the New York Film Festival and was well received. Then one day the attorney showed up at my office and threw the film on my desk saying, "Here's the film, the prospectus, and the final script. Give us some suggestions of how to turn it into a full-length feature. My wife and I read it and made some suggestions and then set about raising two million dollars to help finance the film. Eventually we licensed it through Sony Pictures Classics. We went to the Oscars and were nominated in two major categories and also won some Spirit Awards.
"My Afternoons with Margueritte" starring French actor Gérard Depardieu and Gisèle Casadesus, was acquired by the Cohen Media Group from the StudioCanal library. Courtesy Photo
What happened after that?
Cohen: We made a few deals with StudioCanal, a French film production and distribution company that owns the third-largest film library in the world, which included a beautiful movie with French actor Gérard Depardieu called "My Afternoons with Margueritte." One thing led to another and at this point we've licensed and released sixty-three films, separate from the library titles, and at least another thirty to fifty from the library. We have had over 200 films in circulation and we continue to grow. I was fortunate to be able to use my real estate work experience to make a deal to acquire the Merchant Ivory library of twenty-one films. Using the same idea of restoring and re-releasing films, we had a very successful launch of "Howard's End." The restoration premiered at Cannes and Vanessa Redgrave and Jim Ivory were there. The film has played nationwide and grossed a few hundred thousand dollars, which we think is great considering the movie is twenty-five years old.
What is the biggest challenge of being a distributor?
Cohen: The biggest challenge a distributor has for limited release films is finding screens. The highest and best use of real estate in New York City is not movie theatres. So, there are very few screens and the real estate for screenings is very tight. We have done very well with the current screens, but I wanted my own screens so I could insure that I could play the films that I feel strongly about that might not otherwise find a home. I tried years ago to buy the Walter Reed chain, but that didn't work out. So in 2014, I acquired the Quad Cinema on West 13th Street, in New York City. It's going through massive renovations. It originally had 570 seats, but will open in April with four state-of-the-art screens, with 430 seats each.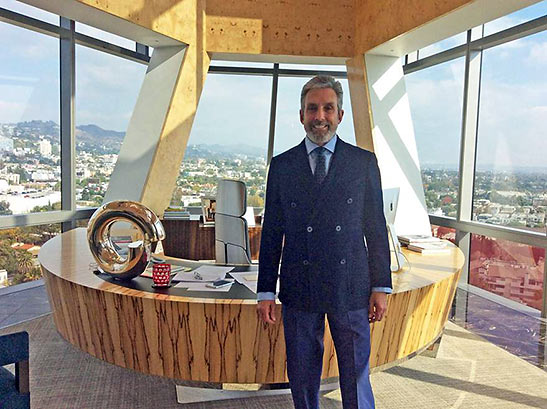 Cohen: "I think you'll agree that I have one of the most dramatic offices a human being can have." Photo: Beverly Cohn
What words do you associate with France?
Cohen: What does France mean to me? It means romance. It means perfume. It means fine dining. It means beautiful architecture. It means beautiful art. It means a beautiful language. It means beautiful women. I mean that with great respect and admiration for beauty.
This is off topic, but what was your involvement with that popular game "Trivial Pursuit?"
Cohen: I had a tenant in one of our buildings who was a publisher of the largest
mass-market paperback joke books. I had this idea about doing a book on trivia. He said, "That's a ridiculous idea. Stay in real estate and leave the rest to me." Six months later, he invited me to his office to play a new game called "Trivial Pursuit." We played it and it was a lot of fun. He asked me to write five books on different subjects like movies, television, sports, history, and current events. I said, "Wait. I got a job." (Laughter) I said, "I'll do a book on movies and write 1,000 questions and 1,000 answers." He gave me a $13,000 advance and on Memorial Day 1985, the book was published and subsequently sold 185,000 copies. He asked if I would do a sequel. I said, "I'm sorry. I don't do sequels." (Laughter) He told me that I sold more books than Mark Twain did in his lifetime.
I read you wanted to be a circus attorney. What was that about?
Cohen: (Laughs) I never wanted to be a circus attorney. Somebody put that in Wikipedia. (Laughter) Who would write something like that? How do I get it erased? (Laughter) I wanted to be an entertainment attorney. Trust me. There's no Jewish guy who wants to run away and join the circus unless he wants be the accountant. (Laughter)
*For a list of these films, see Part 1 of this interview.