Christopher Meloni
On Acting and Balancing Career
With Family Life
By Beverly Cohn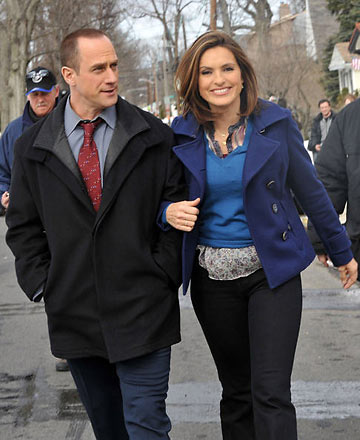 Christopher Meloni as Detective Elliot Stabler with Mariska Hargitay who played his partner Olivia Benson on Law & Order: Special Victims Unit. Courtesy Photo

hristopher Meloni cut his teeth on episodic television beginning with his breakout role on "NYPD Blue." Following that series, he had a recurring role on HBO's "Oz" where he played a bisexual serial killer. Doing a '360' in the character he portrayed, he then co-starred with Mariska Hargitay in "Law & Order: Special Victims Unit" where he played Detective Elliot Stabler for twelve seasons, leaving the show in 2011. He also had a continuing role on the popular "True Blood" series where he was a vampire named Roman Zimojic.
Moving seamless from television to film, Meloni has racked up a number of credits including, "Man of Steel," "Fear and Loathing in Las Vegas," "Twelve Monkeys," "Runaway Bride," "Nights in Rodanthe," "Wet Hot American Summer," "Harold & Kumar Go to White Castle," "Harold & Kumar Escape from Guantanamo Bay," "They Came Together," "Man of Steel," "Small Time," "42," and "Sin City: A Dame to Kill For." His latest film, "The Diary of a Teenage Girl," hasn't been released yet.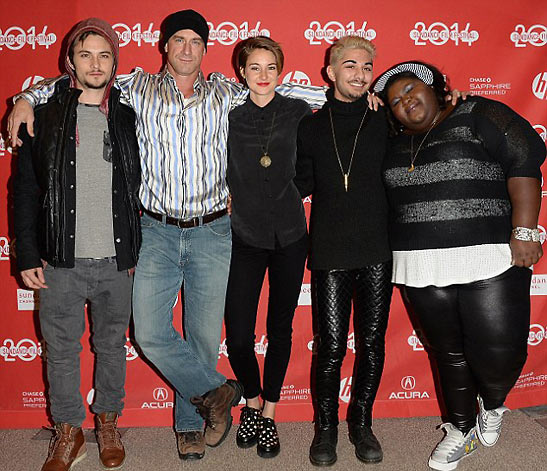 White Bird in a Blizzard cast L-R: Shiloh Fernandez, Christopher Meloni, Shailene Woodley, Mark Indelicato, and Gabourey Sidibe. Courtesy Photo
One of his latest films is "White Bird in a Blizzard." Written and directed by Gregg Araki, the film is a familiar tale covering teenage angst, (Shailene Woodley) an alcoholic mother (Eva Green) and a milque-toast of a husband (Christopher Meloni.) The cast also includes Shiloh Fernandez, Gabourney Sidibe, Thomas Jane, and Angela Bassett. The film received mixed reviews and had a limited run.
Meloni sat down with your reporter for an exclusive interview and the following has been edited for content and continuity.
If you don't mind, I would like start off topic before we talk about "White Bird in a Blizzard."
Meloni: Fire away.
I've been asked by a lot of people to tell you that you are very missed on "Law & Order: Special Victims Unit" and that it's just not the same without you.
Meloni: Thank you for saying that.
The first episode of "Law & Order" was aired in September of 1990 and has been continuously successful for almost 24 years, spinning off several other shows. To what do you attribute the success of this franchise?
Meloni: I think it's the genius of Dick Wolf who came out of advertising and had a clear idea of what pushed people's buttons. You have to get your message across in thirty seconds and you have to make things snappy so people recognize them. It's almost like a jingle that brings people back. I think he brought that concept into the series. But you have to have great story telling and his process was to make it intellectually stimulating. The stories were ripped from the headlines, which the audience instantly recognized. I think that's what drew them in.
You move seamlessly from television to film to stage. Which discipline is the most difficult?
Meloni: Without question the stage is the most difficult so it better be a project that you truly love because it's a tough grind. When I did the Dublin gig, my family came to visit. We had plans to explore Ireland, but I couldn't do it. I needed my off day to rest. I felt bad, but I couldn't help it. (He played Eddie Carbone in Arthur Miller's "A View From the Bridge at Dublin's Gate Theatre)
Was there a pivetal point in your life when you knew you had to be an actor and did you parents support you career choice?
Meloni: My parents were surprisingly cool. They always encouraged me to make my own decisions. As I got through my teen years it was "What college do you want to go to?' Your decision." "What do you want to major in? Your decision." "I want to be an actor. Your decision." When I graduated college, I denied that acting was a viable career. I called a friend on a lark and asked him what he was doing with his life. He told me he was going to New York to study acting. I said, "Me too." Where are you going to study? "The Neighborhood Playhouse." I said, "Great. What's the number?" Once I committed, that was it.
You studied with the famous Sandy Meisner. What was the one thing that stuck in your brain?
Meloni: I just remember the simplicity of it. As an actor, when you're starting out, they throw so much at you that you become "angsty." Meisner would say answer. "Just answer." If you say but I'm not feeling it, he would say "who gives a shit. Just answer." Then all of a sudden you realize it's action, reaction, action, reaction.
When you're developing a character, do you have a specific technique or is it different for each character. Inside out? Outside in? A physical life?
Meloni: It's always different within an underlying structure behind it. You have to find out what strikes you about the character. For example, Robert Duvall was trying to figure out his character of Mac Sledge in "Tender Mercies." He found himself on the set on the first day, still clueless as to how to play this guy. He slipped on the cowboy boots and went "ohhh." That always struck me and I've come to realize that's the way it is for me. What strikes you is the small things and off of that you try to make connections. Where is he from? Why this? Why do you think this right for the character?
Do you do a back-story?
Meloni: Yup. Very often I do it more almost as an exercise of comfort because very often it gets thrown out and just kind of gets in the way of freedom.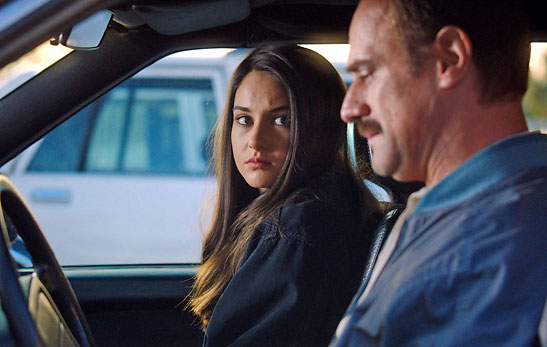 Shailene Woodley as Kat with Christopher Meloni as her henpecked father Brock in Gregg Araki's "White Bird in a Blizzard." Courtesy Photo
Let's talk a bit about "White Bird in a Blizzard." How did you become attached and what drew you to the character of Brock.
Meloni: I was sent the script and had a meeting with Gregg Araki. I knew his work and was a huge fan. I thought the script was fantastic from the first page to the last. I had a lot of ideas about Brock and what he meant to me and how I felt he operated in this story and in his world. What appealed to me was that he was a departure from how I think people see me. I don't think I naturally give off a sense of being henpecked or being bowled over by another person.
What was the hardest part of Brock's character to get a handle on?
Melon: The hardest part was the sense of loneliness. I was lonely that whole shoot because of him. He didn't have the tools to connect honestly. Everything was very superficial.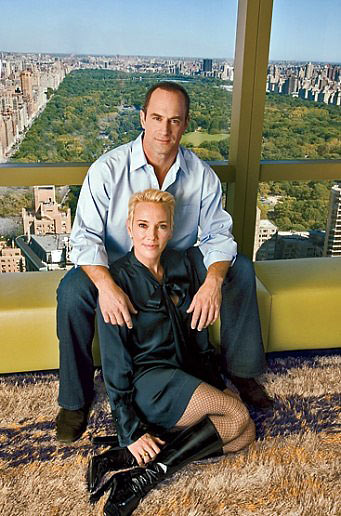 Christopher Meloni with his wife Sherman.
Courtesy Photo
You've got this incredible career. You're married and have three children. How do you balance husband, father, and your profession?
Meloni: Ahh. Keep breathing and appreciate. It's very Zen and I often fail at it, but I do believe that the tenets are there for a purpose and are right and true. Just keep breathing. Appreciate the moment. Be in the moment.
Are you a hands-on dad?
Meloni: Yes. I'm assistant coach of my son's football and basketball teams. I also go to my daughter's swim meets and her acting gigs. It's taken me a while to be calm and take in the moments I have with my children, but I'm very clear how important it is.
I was under the impression that you live on the East Coast. Did that change recently?
Meloni: I've been here a year.
You didn't call me to tell me? (Laughs)
Meloni: Sorry. You didn't pick up. (Laughs)
What's on tap for you?
Meloni: I want to pick a good next project so that requires that I just don't take anything that comes across my desk, and that's difficult for me.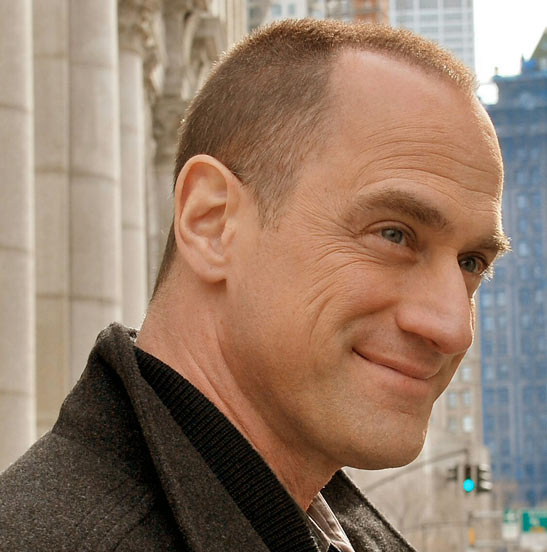 "It's taken me a while to be calm and take in the moments I have with my children." Courtesy Photo
I've got one more question. Is that true that you're a card shark?
Meloni: (Laughs) Nope. It's a lie. It's floating around and it's a lie and you can put that in print. I'm actually the guy you want to play cards with because I have no feel for it. (Laughs)