Islands of Croatia
Sanctuaries of Beauty, Grace & Rejuvenation
Abroad With... Beverly Cohn
Text & Photography by Beverly Cohn
Part 1: Getting There and Croatian Hospitality

y family and friends are quite accustomed to me flying off somewhere on a press trip. However, when I mentioned that I was invited to Croatia, the reaction was quite universal: "I hear that it's a beautiful country." They also assumed I would be covering the capital city of Zagreb and as well as Dubrovnik. I mentioned that the select group of journalists invited on this trip would be covering Lošinj, one of the more than 1,000 islands located along the eastern coast of the pristine Adriatic Sea. Everyone said they had never heard of that island. Indeed, I must confess, neither had I. What awaited us was the discovery of a truly pristine, non-commercial setting of remarkable beauty, elegance, and tranquility. The island is known for the purity of its air and is a center for wellness and rejuvenation.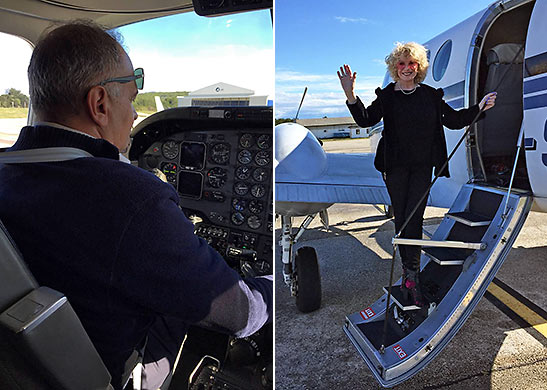 Left: Alan Horvat, the pilot of the tiny plane that flew us from Venice's Marco Polo airport to the Lošinj Airport. Right: Bev arriving in Lošinj to begin her Croatian adventure.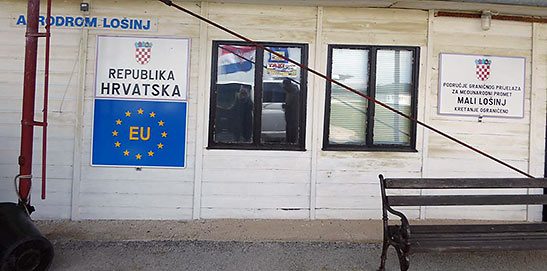 Croatian Customs is in this tiny building located in the Lošinj Airport.
Day 1:
The trip began with a flight out of Los Angeles Airport with a connecting flight at JFK to Venice's Marco Polo Airport. At the present time there is no direct way of getting to Lošinj, which is currently accessible by ferry or small plane. For me, that was part of the adventure. With ample time between flights, I was able to hang out at the Delta lounge and before I knew it, I was boarding the flight to Venice. When I arrived, I was met by Alan Horvat, the pilot of the tiny King Air plane that would fly me to the Lošinj airport in thirty-five minutes. On arrival, I was checked through by Croatian customs. It's a tiny building and unlike any port of entry I've experienced. Subsequently, we learned that plans for an expanded airport was in the works, which would accommodate larger planes and enhance tourism.
The charming Lošinj, a well-kept secret, has a population of 10,000 and is as close to paradise as you can get. With its pure air, moderate climate, flora and fauna, and over 200 sunshine-filled days a year, this beautiful resort has been a mecca for therapeutic vacations going back centuries. There are over 1,000 plant varieties, with approximately 200 used for medicinal purposes, with special emphasis on respiratory diseases and allergies. Some of these healing plants include, lemon, palm, aloe, eucalyptus, magnolia, and myrtle.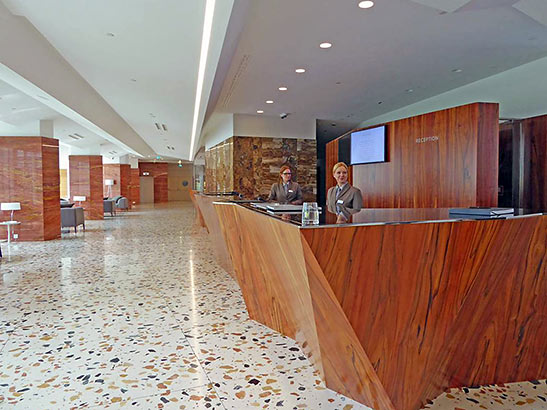 The ultra-modern spacious lobby of the Bellevue Hotel with a courteous, helpful staff ready to answer all your questions.
Our home for the next week was the spectacular Bellevue Hotel, which has earned the coveted five stars. The single rooms, junior suites, and the lavish presidential suite are all impeccably designed and include every amenity imaginable from hot tubs and heated bathroom floors, to elegantly furnished terraces overlooking the blue green Adriatic Sea or the verdant pine forest. A sumptuous breakfast is included in your stay and for those guests who take the ferry with their cars, parking is free. If pampering is on your agenda, you've come to the right place as the hotel also has a state-of-the-art spa that offers many treatments. Additional amenities include a private beach, indoor and outdoor saltwater pools, tennis courts, and a gym.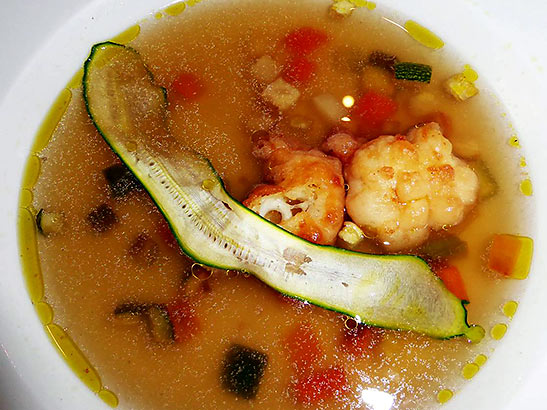 Rustic soup with mashed vegetables and goat cheese donut is a Croatian specialty.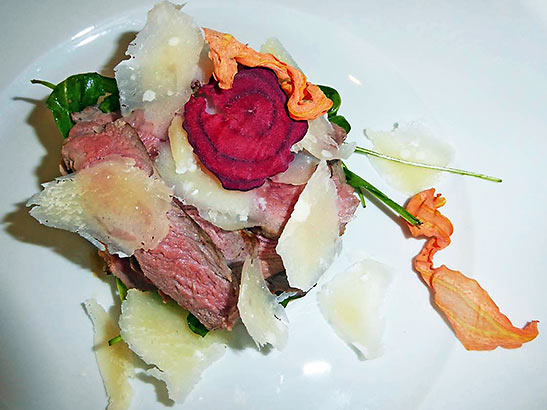 The entrée was a delicious Boskarin Tagliata (Eastern Ox) which was so tender, you didn't need a knife.
Having spent many hours traveling, lunch in the hotel's restaurant Pin & Oli was quite appreciated. The meal began with a rustic soup, followed by eastern ox, a meat dish with parmigiano reggiano cheese. Dessert was a luscious cream of white chocolate with raspberries and pistachio crocante – small crunchy squares of caramelized pistachio – and a gracefully placed scoop of pistachio ice cream completing the plate.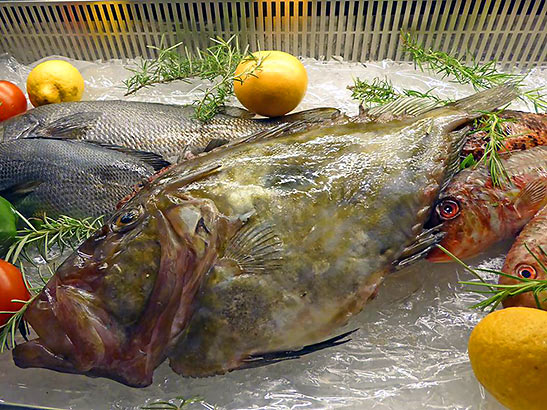 As we entered the restaurant there was a display of fish, which would soon become a fabulously prepared dish.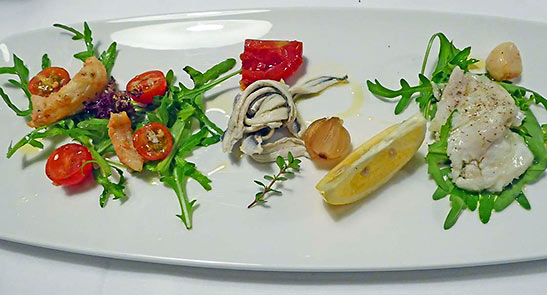 A mouth-watering appetizer plate served on rocket greens.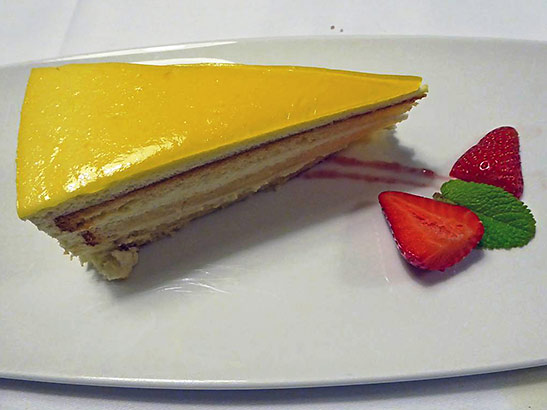 Calorie counting had to be tucked away for the week as the desserts, such as this lemon cake, were too tempting to worry about "a minute on your lips,
six months on our hips."
We settled in for the rest of the afternoon and before we knew it, we strolled off for dinner at the Veli Žal restaurant, which was a short walk from the hotel. The meal started with hot buns and a cold appetizer of marinated fillet of sea bream (fish,) anchovy fillets, shrimp salad, and cherry tomatoes, followed by dentex (fish) on fennel risotto. The meal was topped off with a deliciously light lemon cake. Of course the wines flowed freely and by the evening, California seemed like a far away planet.
I might point out that in addition to the Bellevue Hotel, there are eight other four or five star hotels on the island, which are part of group owned and operated by the Lošinj Hotels & Villas, a hotel brand of Jadranka Hotels.
Day 2: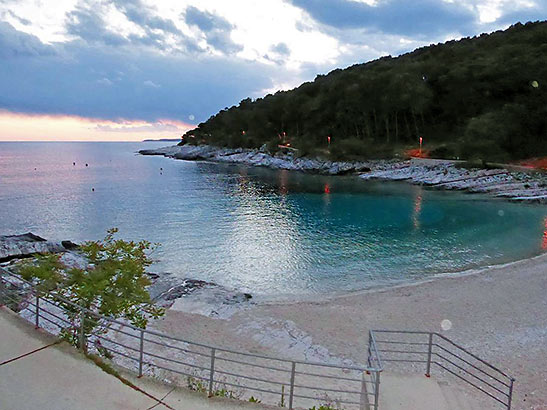 The promenade encircles the island and is perfect for an early morning or
after dinner stroll.
Because of the convenient location of the hotel, there are lovely walking opportunities. The only hindrance was occasional rain and wind gusts called "orda," which, according to our guide, was quite unusual for late April. But even the blustery winds created a kind of beauty, rearranging the accumulation of water on the promenade into interesting geometric designs. Luckily, the gusts subsided after a day or two so we were able to enjoy walks along the sea.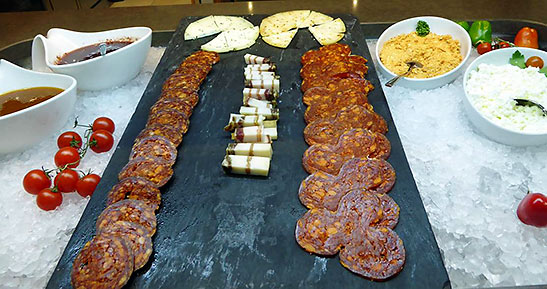 The sumptuous breakfast buffet at the hotel is a veritable feast – offering myriad appetizing selections to jump start your day.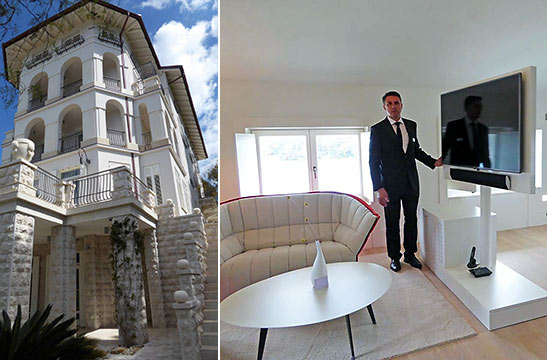 Left: Villa Hortensia is a totally restored historic building that maintained its original architecture and almost glistens against the azure blue sky dotted with white cumulus clouds. Right: William Zuklic, Villa Hortenia's resident butler, introduced us to one of the ten ultra-modern, elegantly furnished bedrooms.
After a satisfying breakfast in the hotel's Bava restaurant, we strolled along the promenade to Villa Hortensia, which is located in Čikat Bay, a charming cove on the island, and redefines the meaning of luxury. For those of you who are fortunate enough to stay in this spectacular villa, your every wish will be granted by the resident butler, William Zuklic. Besides being movie star handsome, he is a historian sharing that this restored residence dates back to the La Belle Époque period of the Austro-Hungarian era, which was the largest political entity dominating Europe. It existed from June 1867 to October 31, 1918 when it was officially dissolved. A tour of this beyond-luxurious villa revealed ten elegantly furnished bedrooms with state-of-the art bathrooms, a dining room with views of the sea, a heated salt water pool, and a sauna. What is quite noticeable is the blending of old world elegance with ultra-modern conveniences. You couldn't ask for a more idyllic, private setting for relaxation and restoration of the mind, body, and spirit.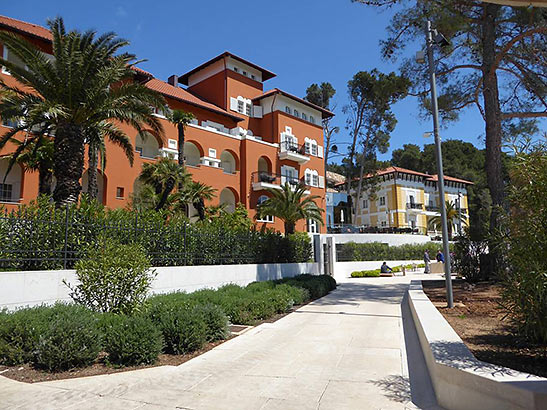 With the yellow exterior of Villa Augusta off to its left, is the lovely Alhambra Hotel.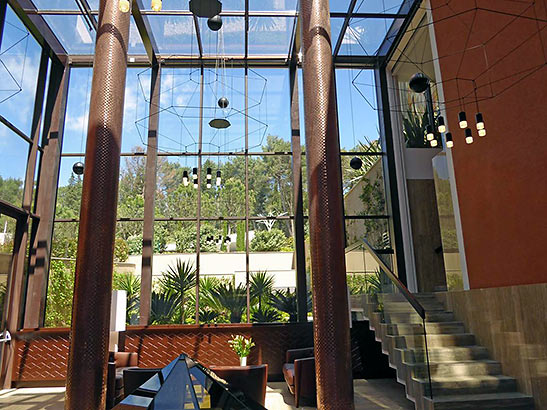 With its soaring lobby and fine appointments, the Alhambra hotel is one of only three Small Luxury Hotels of The World (SLH) in the Republic of Croatia.
We were never allowed to go hungry and each lunch or dinner seem to top the last one. The cuisine throughout the island is delicately prepared with pure, fresh ingredients from the land and sea. No preservatives are used and each course is meticulously prepared with the presentations mirroring still-life paintings. So, ready to have our palettes once again embraced, our next stop was for lunch at the gorgeous Alhambra Hotel. With its soaring lobby and luxurious appointments, the hotel is one of only three Small Luxury Hotels of The World (SLH) in the Republic of Croatia. This is yet another perfect spot for your pampering vacation. It's no surprise that Alhambra hotel, along with Villa Hortensia and Villa Augusta, were frequented by Austrian nobility.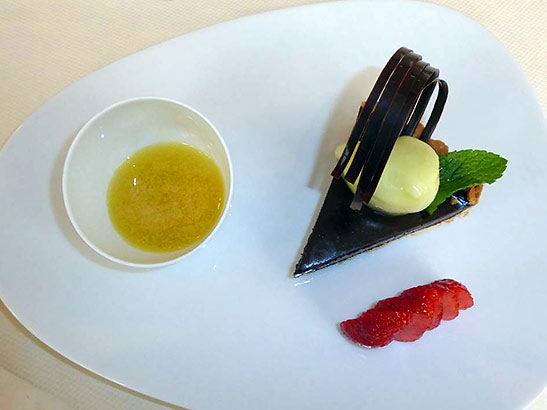 Dark chocolate tart with yuzu sauce and green apples sorbet.
Each one of us was assigned our very own server who, in almost military precision, marched in carrying trays of food. The meal started with a small salad, followed by veal fillet au jus with roasted vegetables and topped off with a dark chocolate tart with yuzu sauce and green apple sorbet. The finishing touch to this splendid meal was an elegant dessert wine, Tasel-Clai 2012.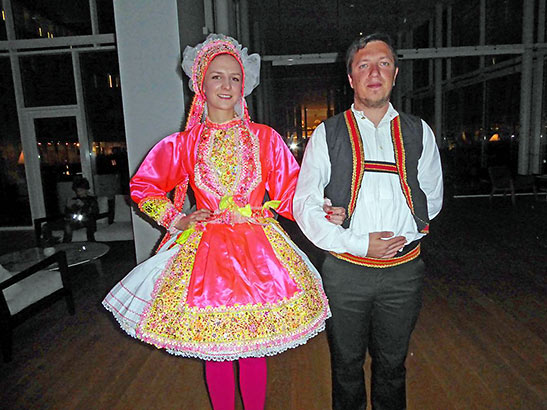 Young Croatian folk dancers dressed in traditional costumes.
What could better than to have the rest of the afternoon for a massage in the Bellevue's spa? I would have to say that it is at the top of the list for sublime indulgences and puts a capital "L" in luxurious. In early evening, while enjoying a cocktail before dinner in the comfortable lounge, we were introduced to folk dancers dressed in traditional Croatian costumes. On another evening, we were treated to guitarists playing Flamenco music as well as an all-female string quartet. Life doesn't get much better than this.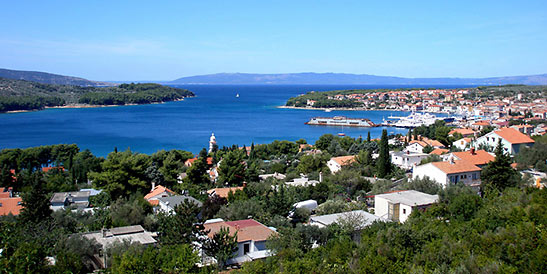 Cres is an ancient island dating back to the Stone Age.
Day 3:
Fresh from our relaxing treatments and fortified with new energy, we were off to the unspoiled island of Cres, which is said to be eco-tourism at its absolutely best. There are over 25 tiny villages on the island, some of which are not inhabited although there seems to be trend of people returning to some of the islands and restoring vacant homes. One notable fact is that there are no poisonous snakes on the island, although they can be found in the Kvarner area. The island has its own fresh water source from the pristine Lake Vrana, which is said to be the deepest fresh water lake in Eastern Europe, averaging roughly 243 feet at its deepest point. To protect its purity, fishing or swimming is forbidden. It is said that Cres is one of Croatia's best-kept secrets. Beautiful beaches abound with romantic coves and caves yours to explore.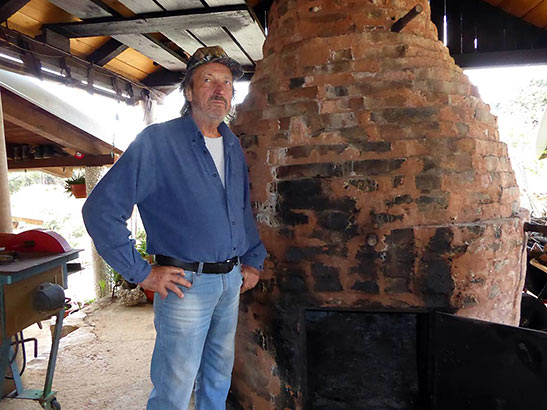 Kucic Guarino, owner of the herb distillery that he started 30 years ago, demonstrates how various herbs are processed.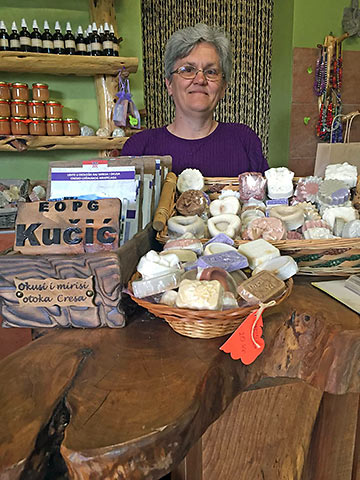 Irene Kucic is owner of this store that produces
essential oils.
We next headed toward Martinšćica, a charming fishing village with a history going back to the 1st Century BC. There we visited an herb distillery where owner Kucic Guarino gave us a demonstration of how the herbs, such as sage, lavender, rosemary and juniper, are processed. It's always fascinating to see how products that we buy off of shelves are produced.
Another fun stop along the way was to a small shop that produces a variety of essential oils. The aroma from the different oils filled the air with delicious scents. Some of us dabbed a little bit on our wrists and behind our ears, the light fragrances lingering for the rest of the day.
Driving along, we stopped next at Lubenice, a 4,000 year-old village overlooking the Adriatic and boasts a population of only nine, yes nine, residents. With its history going back to biblical times, it is one of the oldest towns on the island. With the gusty wind at our backs, we moved along rather quickly. Next we were off to Valun, a small seaside town within seconds to secluded beaches. This refreshingly non-commercial area is famous for stone plates on which the story of the community is chiseled, recording significant events over the centuries. There are stones that also are used as burial plates, much like a tombstone.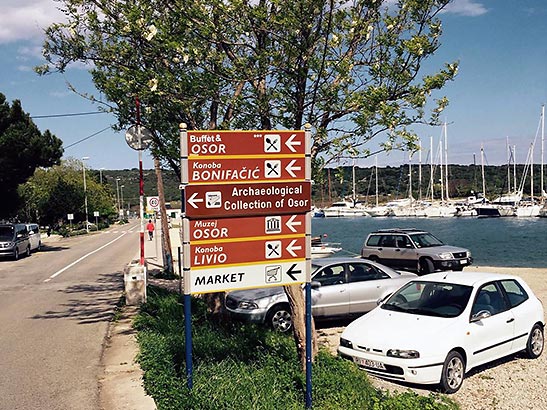 With fishing and sailboats in the background, a street sign points the way to some of the Osor's attractions.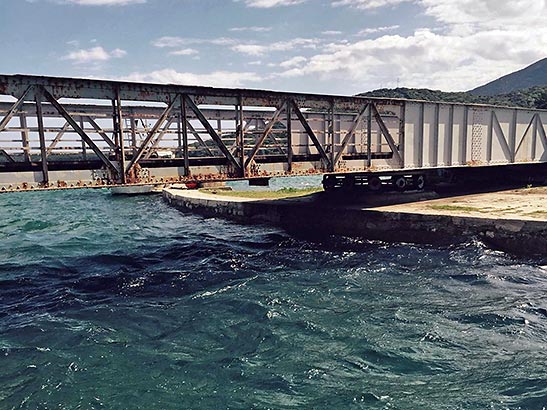 The quaint Osor Bridge, a drawbridge which opens twice a day, at 9:00 am and 5:00 pm, connects the Islands of Cres and Mali Losinj.
Still on the island of Cres, our next stop was to the very quaint village of Osor, a small port with a population of under 100. Built by the Romans to make sailing possible, it sits at a narrow channel that separates islands Cres and Lošinj. Here, we visited the Archaeology Museum, the cathedral and the site of a medieval excavation. On a sad note, it is said that once upon a time, when Osor was a walled city under the Austro-Hungarian empire, a malaria epidemic broke out, killing over 20,000 people or every third person living on the island. Ultimately, in order to try to control the spread of this disease, the wall was demolished to allow the entry and circulation of fresh air.
It was a full, fascinating day and in typical Croatian warm hospitality, we were treated to yet another massage in the Bellevue spa. Tomorrow promised to be another fascinating day in our exploration of this enchanting island called Lošinj.
Stay tuned for the Part 2, which will discuss the healing aspects of Lošinj, sailing on the Adriatic Sea, the unveiling of an ancient Greek statue, and a few other surprises.
Lošinj Airport
Address: 51564, Ćunski, Croatia
Phone: +385 51 231 666
Bellevue Hotel
Address: Čikat ul. 9, 51550
Mali Lošinj, Croatia
Phone: +385 51 679 000
Villa Hortensia
Address: Čikat ul. 9, 51550
Mali Lošinj, Croatia
Phone: +385 51 669 300
Boutique Hotel Alhambra
Address: Čikat ul. 16, 51550
Mali Lošinj, Croatia
Phone: +385 51 260 700
Villa Augusta
Čikat ulica 9
51550 Mali Losinj
Phone: +385 (0)51 661 111
or +385 51 669 300
Related Articles:
Destination: Bosnia and the Dalmatian Riviera; The Czech Republic: A Little Jewel
Part 1; The Balkans: Lovely States of Mind and Meanderings; A Moment in Montenegro; An Assumption in Bled