Jack Black and James Marsden:
Up Close & Personal
Beverly Cohn

ack Black is a Santa Monica boy who made it to the top. He attended the Crossroads School for Arts & Sciences, followed by enrolling in UCLA where he became a member of Tim Robbins' acting ensemble. Since then, Black has racked up a number of film credits including Bernie, for which he won Golden Globe and Independent Spirit Award nominations. He had the lead role in Nacho Libre and in Gulliver's Travels and one of the leads in Tropic Thunder. Also a familiar face on episodic television, he appeared in such series as Tenacious D: The Complete Master Works and more recently Welcome to Sweden and The Brink. Black has also been the voice in a number of animated features including the Kung Fu Panda series, Shark Tale, Ice Age, and television's The Simpsons.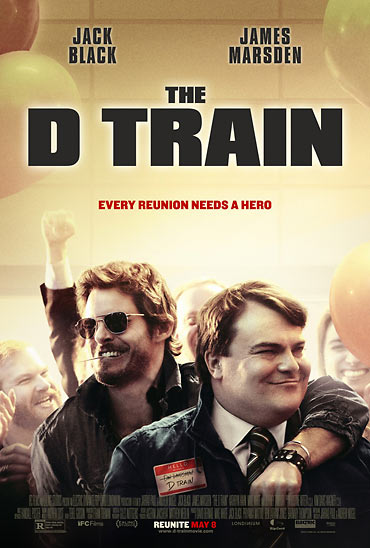 James Marsden hails from Stillwater, Oklahoma and received his theatrical training at Oklahoma State University. After one year, he decided to move to Los Angeles to pursue an acting career. He cut his professional acting teeth by working in episodic television, including such series as The Nanny, Blossom, Party of Five, Touched by an Angel, and Ally McBeal. Among his film credits are: X-Men, Sugar & Spice, Zoolander, The Notebook, Hairspray, Death at a Funeral, and 27 Dresses.
Black and Marsden co-star in their latest film, The D Train. Lest you think it's a story revolving around the New York City subway system, let me assure you, that it does not. Written and directed by Jarrad Paul and Andrew Mogel, the story revolves around two main characters – a loser by the name of Dan Landsman, wonderfully played by Jack Black, and a very popular high school classmate by the name of Oliver Lawless played by James Marsden, who crawls into the skin of his character, creating a very complex, tormented man. Plans are being made for a high school reunion and Landsman is head of the committee, most of whom make fun of him behind his back. Advance sales are not good so after seeing Lawless in a cheesy commercial for a sun tan lotion called "Banana Boat," he think Lawless is at the height of his career and tells the committee he can get him to attend the festivities. The committee mocks him but Landsman is determined to convince Lawless to attend. Thus Landsman sets into motion a series of duplicitous actions that cause him to sink deeper and deeper into a morass of deceit and lies. Other members of the cast include Kathryn Hahn as Landsman's wife, and Jeffrey Tambor as his technology-challenged, trusting boss.
| | |
| --- | --- |
| Luckily Jack Black's toothpick didn't venture into dangerous territory. Photo: Shutterstock | Before I launch into the actual interview, which was conducted by a select group of seasoned journalists, I have to say this one was quite unique in its scope and character. It began with Jack Black walking into the pressroom chewing on a toothpick. During the entire interview, he kept moving it around inside his mouth. I was terrified that he was going to swallow the darn thing and realized that I didn't know the Heimlich Maneuver. What would we do if that unthinkable accident happened? While I did ask a lot of questions, my focus was split between an impending need to call for the paramedics and asking questions germane to their film. All ended well, I'm happy to say, and the following interview has been edited for content and continuity which, by the way, was one of the most fun ever. |
Have you attended any of your class reunions?
Marsden: I've missed my reunions. I wasn't against going but I was out of town working and couldn't go. I still keep in touch with the people I was friendly with in high school.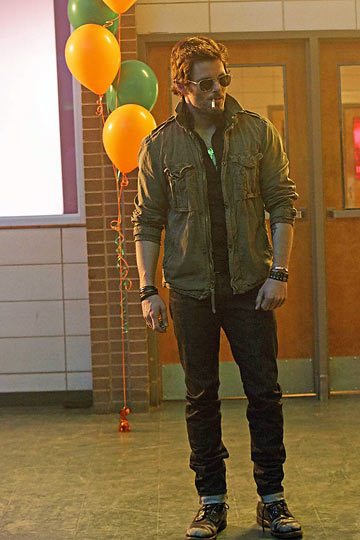 Oliver Lawless (James Marsden) is not the successful Hollywood star his old classmates think he is.
Photo: Hilary Bronwyn Gayle
Black: I went to my 20-year reunion at Crossroads in Santa Monica and had a good time. But there was some anxiety. Some of those old feelings came rushing back and suddenly you're a teenager again.
Let's talk about the film. What attracted you to your particular character?
Marsden: I love that both of these guys have their own form of desperation. Jack's character of Dan looks at my character of Lawless as a super cool, James "Deaney" success story in Hollywood. But he's actually pathetic. He's been run ragged by an industry that hasn't been favorable to him. I like that element of it. Like the guy who's not Colin Farrell or James Dean, but he still desperately wants to be that guy. That's what we do as actors, I guess. Everyone is looking for his version of validation to feel relevant. Then Dan comes into his life and makes him feel that way. He brings him back to the days when he was the hot shot at school so as odd as we are as a couple, we both provide something for the other person. Whether or not that's catastrophic or combustible, makes for good comedy. I like my character because he's cool and obviously clearly flawed as well.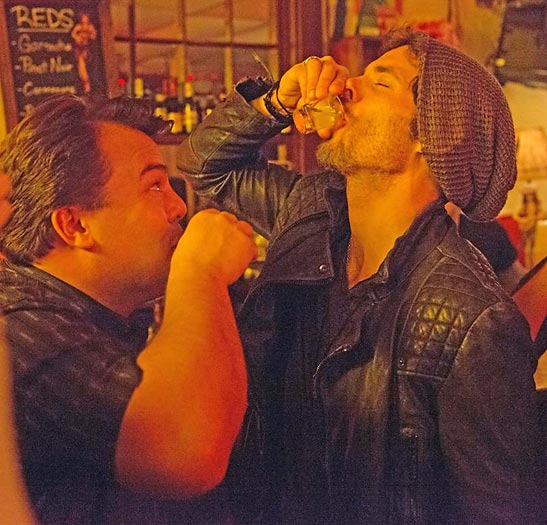 Marsden: "Jack's character of Dan (left) brings me back to the days when I was the hot shot at school." Photo: Hilary Bronwyn Gayle
Black: I like my character because he isn't really likable and that was an interesting thing to see in a comedy. I hadn't read anything like that before. Usually the formula is you root for your hero, but this guy is kind of a turd so you don't root for him and you don't even like him. Sometimes it's difficult to watch him because scenario after scenario are cringe-worthy situations where he's so desperate to be liked and loved. There was something very interesting about that to me that I wanted to play. I've always been intrigued by the least popular people. Maybe there's something in me that I am working out. I found a movie about that guy very fascinating. That guy doesn't usually have a movie made about him. (Laughter)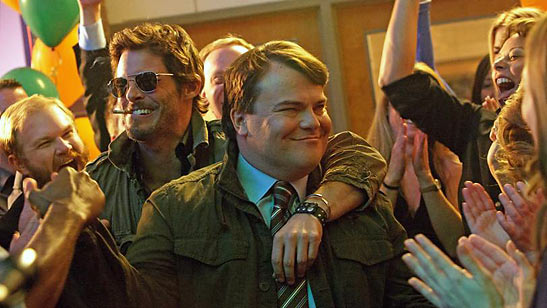 (Center L-R:) Oliver Lawless (James Marsden) is treated like a star and for a moment, Dan Landsman (Jack Black) gets accolades from the reunion committee for getting the Hollywood "star" to attend the party. Photo: Hilary Bronwyn Gayle
People seem to like Lawless, but he's not necessarily deserving of all the attention he gets. What do you think of that?
Marsden: In the movie he only gets attention from Dan and the people from high school. But he has to be transported back in time to get attention because Hollywood hasn't been good to him. It's not like he's that charismatic. He's just too cool for everything. But Dan brings me back to that world and reminds me of my strengths. He remembers me as being the greatest thing. Everyone wants his ego stroked and he gets caught up in that. He would have never thought about going to reunion until Dan showed up. He tells me I'm a superstar now because I'm in a "Banana Boat" commercial, but I obviously don't feel that way. He can be kind of unlikable actually, but he just trying to figure out his way and for a moment, Dan makes him feel good.
Has it ever been a burden to be good looking?
Black: Let me tell 'ya. (Much Laughter) Yes it has! (More Laughter)
Marsden: I've dying for that question. (More Laughter) The cross I bear. (More Laughter)
Even before you became an actor, you were probably very popular, but now you're competing with other good-looking actors. Have you… (Marsden cuts off question.)
Marsden: I can't…
Black: (Raising both hands in the air.) Dude, before you answer that (Laughter) I should warn you that this is a very dangerous question. It's going to be very hard for you to come up looking good no matter how you answer that question. (Laughter) It's a real 'gottcha' question. (Laughter) I say next question.
Marsden: I feel like you're talking about someone else.
You don't know you're good looking?
Marsden: Ok. Forget it. Next question. (More Laughter)
Black: I told you. Let me be your publicist just for a second. Let me cover the mike. (Laughter)
Marsden: I guess I could say something like I'm so super grateful to be this good looking. (Laughter) You don't know what it's like to wake up every morning with these cheekbones. (Laughter)
Black: Also, you can never complain about being famous either. You know, how hard it is to sign autographs and take pictures with people. That's also a bad bad way to go. (Laughter)
Can you talk about the chemistry between you during that kiss and was it difficult for you?
Black: I don't know if we even want to talk about that. Did they talk about the penis in the Crying Game junket? (Laughter)
Marsden: We had chewing tobacco and pepperoni for lunch. (Laughter) That was the last scene of the movie that we shot.
Black: We were very professional. We had powerful mints. What are those curiously strong mints?
Marsden: Altoids.
Black: Altoids and barbiturates. (Laughter)
Marsden: I wasn't ready for the sensation of what stubble felt like. (Laughter) To me, when I read the script for the first time, it was one of the funniest moments. Like this is how far this guy would go to win someone's affections. So you kind of have that in mind. Like we have the audience at this point and what's their response going to be? It could be like: 'Oh my God, this is awful!' or 'This is hilarious.' We had no idea. But Jack and I were on board from the beginning. This is not something you can do half-assed. You gotta' go for it and it's funnier because of that.
Black: It's only funny if it's real. If it's sort of silly, than it turns into something dumb that you've seen before. It would be like Will Ferrell kissing Jimmy Kimmel on a "Saturday Night Live" sketch. We have to really believe that these guys are in that situation.
What was your the first acting job that made you feel like you actually might have a career?
Marsden: I did a date rape episode on Blossom.
Black: Oh my God. Dude. You played some bad guys early on. (Laughter)
Marsden: You see? It's tough being good looking. (Laughter) Good looking with an edge. I did two lines on The Nanny. You know, you just do anything that comes your way.
Black: The first one that gave me the taste was a commercial when I was 13 years old – 1983. It was for an Atari video game called "Pitfall." The kids at school saw me in the commercial, which was my whole mission – so it was mission accomplished. They recognized me and I was super famous and popular for about two days and then it magically went back to the way it was before – not so popular. (Laughter) That's when I got the bug and I knew I had to get more. It was like a little taste of crack. (Laughter)
How was it working with two directors? Did they direct simultaneously?
Marsden: Yes they did. They wrote the script together. They directed together. It was interesting to see their dynamic as they really did speak as two people, but with one voice. They complemented each other well. I didn't know what to expect because I never worked with two directors before.
Is there a character you would like to play that you've never played before?
Black: There's a couple that I have cooking that I'd like to make but I can't tell you because sometimes those things get stolen. I wanted to make a film so badly and I was flapping my gums all over town. I know that's why he got the idea. He stole it and he shall remain nameless. I'd like to make a real scary movie.
Marsden: Like psychological scary like Kubrick's The Shining or The Silence of the Lambs?
Black: Yeah. I'd also like to do a rock opera. That would be cool.
Marsden: What's an example of that?
Black: Tommy, the Who Rock Opera. I loved the album but I didn't really like the film. There was something clunky about it. Jack Nicholson was just plain bad at singing. I know he's a great actor but you can't act your way through a song. (Laughter) You have to be able to rock a song. He was using all his acting powers to make up for the shitty singing, but it wasn't working. (Laughter)
Let's not talk about Russell Crowe in Les Miserables.
Black: Exactly. He has a temper I heard.
It's been too much fun. Best of luck with the film.
Black & Marsden: Thanks a lot…