A Moment With Dennis Quaid
By Beverly Cohn
Editor-at-Large



ennis Quaid has the 'right stuff' and has been an award-winning film star for decades. Some of his most memorable films include The Right Stuff, Enemy Mine, Wyatt Earp, Dragonheart, In Good Company, The Rookie, The Day After Tomorrow, Great Balls of Fire, The Express, The Horsemen, Flight of the Phoenix, Traffic, Any Given Sunday, Vantage Point, Yours, Mine and Ours, The Big Easy, G.I. Joe: The Rise of Cobra, Far From Heaven, The Alamo, Cold Creek Manor, Switchback, and The Parent Trap.
His latest film, "Soul Surfer," is the true story of Bethany Hamilton, a teen surfer who lost her arm in a shark attack and how she overcame her extreme handicap through faith and determination to become a champion surfer. Directed by Sean McNamara and co-starring Helen Hunt, Carrie Underwood, AnnaSophia Robb and Lorraine Nicholson, Quaid plays Bethany's real life dad, Tom Hamilton.
No stranger to overcoming personal challenges, Quaid and his wife Kimberly almost lost their infant twin daughters who were admitted to Cedars-Sinai hospital for treatment of a staph infection. Someone blundered and instead of giving the infants a pediatric blood thinner called Hep-lock, they were given the adult version of the drug which almost killed them. Quaid has been an outspoken advocate of hospital safety since then using his celebrity status to appear on talk shows and before Congressional committees.
The following interview, conducted at a recent press conference, has been edited for print purposes.
Q: Are you tired from all these press conferences?
Quaid: This is the easiest part. (Looks at the assembled journalists) Wow. There are so many of you here. (laughter)
Q: Are we intimidating you?
Quaid: No, I can handle this. Actually, I prefer it this way.
Q: How are you kids?
Quaid: They're doing great. You know, there's soccer and ballet and all that stuff.
Q: You are had pretty bad scare with the twins.
Quaid: No kidding, but I think it was the power of prayer that had a lot to do with their survival. We had a happy ending to what could have been a major tragedy.
Q: You turned your potential tragedy into something positive. What changes have you caused to be affected?
Quaid: Although a good part of me says 'you're an airhead actor,' and the stereotype is usually true, (laughs) I wanted to be taken seriously and did my research and educated myself. I was invited to speak on Capital Hill about the incident and joined forces with experts in patient safety. These are people who know how to get things done and know the mechanics, just like I know my acting. They can't get on talk shows, but I can and assumed the role of spokesman to raise awareness on hospital procedures, some of which have been changed as a result of that near tragedy with my twins.
Dennis Quaid as Tom Hamilton and AnnaSophia Robb as champion surfer Beth Hamilton. Photo by Mario Perez, Courtesy of FilmDistrict and TriStar
Q: Speaking of a near tragedy, when did you first hear about Soul Surfer?
Quaid: I had a dim memory of the Bethany Hamilton story from the news accounts when it happened. Then a couple of years ago, about three days before Christmas, I was sitting on the couch with my one little boy at that time and Bethany was on television promoting her book, Soul Surfer. I was about the change the channel, but there was something about her that was so very special and inspiring that I welled up. (He wells up) She hit me right in my soul. Three days after Christmas, my agent called to tell me they wanted me to play her father. I said ok immediately.
Q: Did you identify with the religious aspects of the film?
Quaid: Very much so because I believe strongly in the power of prayer and I think that's what got Bethany and her family through what could have been tragic circumstances. They walk the talk, but it isn't as though they beat anyone over the head with their beliefs but it's a very integral part of who they are and I'm glad that was portrayed in the movie.
Q: Were there any concerns that because of the strong religious element in the film that it might not be "mainstream?"
Quaid: It was a question at first and a fear of theirs that the powers that be might try to extract that element from the story for marketing purposes, but I think the studio made the right decision as it was really important to tell Bethany's story from that point of view. As a matter of fact I think it's a marketing asset. People are afraid to talk about religion or feel uncomfortable talking about, but I think it's something people want to see more of.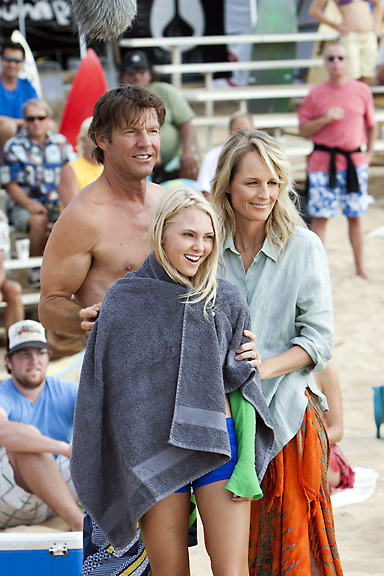 Champion one-arm Surfer Bethany Hamilton's onscreen family: Dennis Quaid as her dad, Helen Hunt as Bethany's mother Cheri, and AnnaSophia Robb as Bethany. Photo: Mario Perez - Courtesy of FilmDistrict and TriStar
Q: We understand that her father was really happy that you were playing him and it looks like you're really good at surfing. Are you?
Quaid: (laughs) Tom and I bonded really well. We both play golf and he helped me out with the surfing because I didn't surf at all before this film. I would get out in the water with him and got to know who he is as a person. It was a great experience, but I'm still not very good at surfing.
Q: Is there additional pressure on you when you play famous people?
Quaid: I've played a lot of real people and I've been lucky enough to spend time with the ones who were still alive. I think it's important to try to capture their spirit and also tell the story from their point of view. Playing someone like Tom is not that difficult. We don't look alike and he's not a famous figure so there's no comparison. Playing someone like Bill Clinton, however, who's probably the most famous and smartest man in the world, is different because everyone has an opinion about him so that when I portrayed him, it gave me pause.
Q: What was the most challenging scene in "Soul Surfer?"
Quaid: The shark attack and hospital scenes. Those were tough because the whole family was there on the set and I kept thinking oh my God, they're reliving this horrible experience all over again and I'm sure it had to be difficult for them.
Q: After seeing how this family handled a tragedy, did that affect your outlook in any way?
Quaid: I grew up with my own faith. You have to turn to some sort of higher power or whatever you want to call it. You have to understand that you have no control over the outcome and have to just surrender. That's why this story touches people so much. We all get barriers thrown up at us, and sometimes unfair things just happen. It's how you handle it is that counts. Do you just give up or do what Bethany did and turn it into a bump in the road and make something positive out of it.
Q: Some people might feel that if you want a sermon, you should go to church. Do you think that might apply to this film?
Quaid: I completely agree that you don't need to beat people over the head and proselytize, but like I said, this is a story about this family and I don't think we beat people over the head with it. If you were to do a movie about Billy Graham, what would you leave out? (laughs) I mean you know where you're going before you go there.
Q: How does religion play a part in your next film?
Quaid: Oh you mean "Footloose?" I'm the party-pooper preacher. It's a little darker than the first version that starred Kevin Bacon and John Lithgow because it's built around the tragedy of these kids who die in an auto accident that spurs the laws in that town.
Q: Why do you think so many films from the 80s are being remade?
Quaid: They're even remaking films that I was in. (laughter) They've been doing revivals of plays for centuries so why can't you do that with films? Movies also speak to the times in which they are made and how many new stories are there really? It's always a new twist on an old tale.
Q: What's your #1 most recognized movie?
Quaid: "The Right Stuff." People come up to me no matter where I am from Nepal to France and say 'You're the space guy!'
Q: Are you moving to Texas?
Quaid: I already did.
Q: Why did you leave Pacific Palisades?
Quaid: I had a fantastic place in the Palisades but I dreamed of living in Austin since I was six. My little brother lives there and we've moved my mother, who's getting along in age, from Houston to Austin. Also my wife's family all live there and it's just a great place to raise kids. It's a different lifestyle and I'm really ready for something different. It's one of the best music towns in the United States and I have a lot of friends there so it's a natural fit. I just love it.
Q: Has living away from Los Angeles placed some career challenges on you in terms of being immediately available?
Quaid: I've already flown in twice as a matter of fact, so I don't see that as being a problem.
Q: You have a fabulous body of work going back decades. Is acting different for you today?
Quaid: I enjoy acting more now than I did in my 20s and 30s. I have more enthusiasm and less angst and certainly as apprentices and journeymen go, I would say I'm at the master's level, but still feel like I'm a student. That's what makes it fun and interesting for me - the idea that I can learn something new.
Q: Do you have a specific technique for developing your characters?
Quaid: My technique is a gathering of different things I've picked up over the years and that changes. I found that as time goes by, I really kind of let go of a lot of what I considered to be my technique or method and just let things happen.
Q: Is it easier to combine your wonderful career and family living away from Los Angeles?
Quaid: I think it's the same. It's all about your focus. I'm around more of my family in Austin then when I was living in Los Angeles. One of my regrets is that my son didn't get to see his grandmother all that much - maybe twice a year. I saw my grandparents a lot growing up. Now my kids will be able to see both sets of grandparents anytime. I think it's important.
Thanks for a great interview.
Quaid: It's been fun talking to you guys.