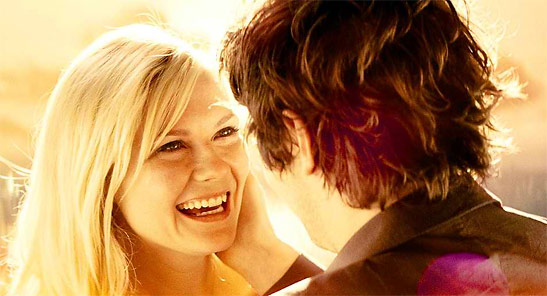 Kirsten Dunst and Jim Sturgess co-star as lovers from two different worlds in Juan Solanas' "Upside Down." Photo: Courtesy Millennium Entertainment
Kirsten Dunst & Jim Sturgess
Are "Upside Down"
By Beverly Cohn

irsten Dunst and British actor Jim Sturgess are co-starring in "Upside Down," a science fiction, futuristic love story written and directed by Juan Solanas. It is the story of two people from opposing worlds – one right side up, the other upside down. The planet is divided into two parts by gravity – the lower, where poverty and decay reign and the upper, where success, beauty, and splendor reign. So, in the "Romeo & Juliet" style of story telling, this is primarily a fable of how the determination of a man and a woman ultimately manage to bridge the great gravity divide. "Upside Down" is a layered story as not only does it focus on the star-crossed lovers, but also comments on corporate greed and illuminates the ends to which women, especially, will go to find that fountain of youth.
Dunst is probably best remembered for her role as Mary Jane Watson in
"Spiderman," with that famous upside down kiss but appeared in other major roles including Justine in "Melancholia" for which she was awarded the Best Actress prize at the 2011 Cannes Film Festival as well as a similar award from the National Society of Film Critics. Some of her other films include "How to Lose Friends and Alienate People, "Wimbledon," "The Cat's Meow," "Bring it On," "The Virgin Suicides," "Little Women," "Wag The Dog," "Eternal Sunshine of the Spotless Mind," and "Interview with the Vampire."
Sturgess has been a familiar face both on television and the big screen appearing in such films as "Across the Universe," "The Other Boleyn Girl," "21," "Fifty Dead Men Walking," "Cross Over," "Heartless," "Cloud Atlas," and Peter Weir's epic "The Way Back."
The two actors recently sat down with a select group of journalists to discuss "Upside Down," and the following has been edited for content and continuity for print purposes.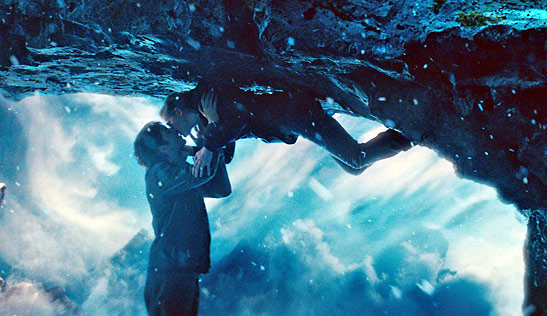 Jim Sturgess as Adam defies gravity to kiss Kirsten Dunst's Eden in "Upside Down." Photo: Courtesy Millennium Entertainment
How did you manage the upside down aspect of the film?
Kirsten: I was okay, but Jim got the brunt of it.
Which was more challenging – hanging upside down or trekking with Peter Weir in "The Way Back?"
Jim: There were different challenges. In the Peter Weir film there was no acting required at all actually. We were in those landscapes and it was as grueling as it looked on the screen. You just kind of live it for the reality whereas a film like this is total fantasy, so it's a completely different acting challenge.
What was your first reaction when you read the script?
Kirsten: I didn't know what it was going to look like when I first read it. I thought it was a very beautiful fairy tale and then when I met Juan (the director), I was so impressed by this poetic small story and the way his effects were done. It was beautiful and romantic. There's something magical about Juan and he's definitely a visionary director and I wanted to be a part of it.
Jim: My first reaction was confusion I think, but confused in a good way where you wanted to find out more about what this story is about and the world they were trying to create. When it's just words on a page, you have no sense of what it's going to look like visually. So I was intrigued. It's great when you read a script and you want to find out more about it.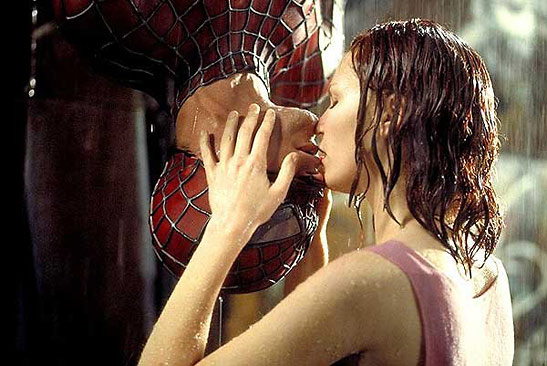 Kirsten Dunst in the famous upside down kiss she gave to Peter Parker's Spiderman played by Tobey Maguire. Courtesy photo
How many times have you been asked about kissing him upside down as you did in "Spiderman?" (Laughter)
Kirsten: It's been the question of the day. (Laughter) But it actually wasn't upside down. I was lying face down but strung to a piece of rock and Jim was below me, so it was face to face really, not upside down. (Laughter)
Would you like to be the new "Spiderman?"
Jim: I was offered the chance to be in the "Spiderman" musical on Broadway. I know Julie Taymor really well and did some workshops just to help with the project so I spent a few weeks with Julie and Bono from U2 as they were developing the idea so for me, as a musician, it was a really interesting to spend time with Bono and help write songs about "Spiderman."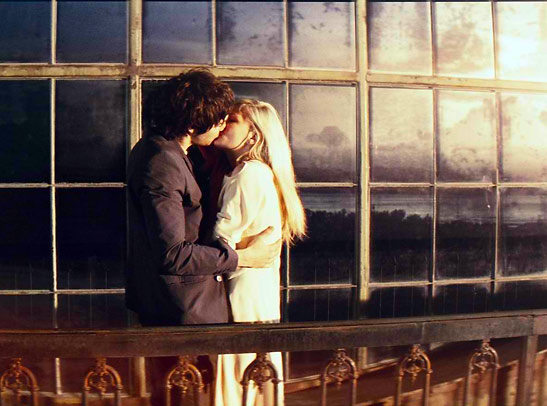 The love story played out by Jim Sturgess and Kirsten Dunst is just one layer of this multi-layered, complex film. Photo: Courtesy Millennium Entertainment
Getting back to "Upside Down", what was the first scene you guys shot together and what was that like?
Jim: It was the scene where we meet each other for the first time and Juan claims that we both asked for that. But I don't remember that at all.
Kirsten: You know we shot the film three years ago, but I do remember that I asked for that.
Jim: So it's your fault. It was a big scene to shoot the first day working together.
You're almost a pro at wirework. What kind of wisdom did you share with Jim?
Kirsten: He handled it like a pro. After a take you can unleash yourself, but sometimes it hurts more to loosen it and then tighten it again, but there were times I decided to just keep it on tight even though there were hours where you didn't have to.
Jim: You do get used to it and then after a while, you realize that you can't feel your legs any more.
You've done very interesting work in other worldly type films – "Cloud Atlas" and "Across the Universe." What is it that attracts you to these kinds of films?
Jim: I shot this before "Cloud Atlas," so really it was my first experience doing a fantasy film. "Across the Universe" was to a certain extent but there was no green screen* in that film that I was involved in. I had just finished shooting "The Way Back" so I guess I was kind of subconsciously craving a fantasy film.
What is the most important thing to you in deciding to take on a role?
Kirsten: For me it's the director. They're the ones running the show.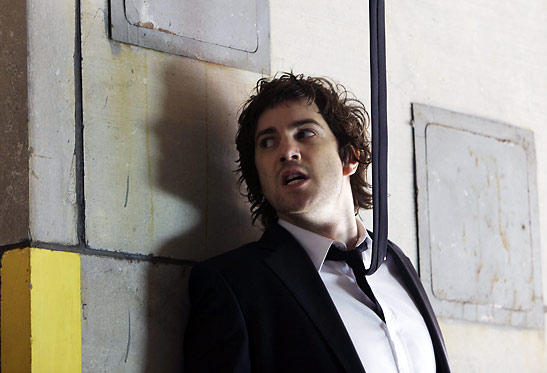 Adam (Jim Sturgess) manages to defy gravity and sneaks into the up world to
find his love. Photo: Courtesy Millennium Entertainment
What was the most difficult scene for you?
Jim: For me physically, it was the scene where I flip up to the upside world for the first time when I'm in the storeroom where I take off the weights. The room was in the middle of the studio and was basically on a wheel. The room actually spun 180 degrees and I was loose in the room and had to do a flip and land on my feet on the other side. So, I was pretty proud of that. I'm glad they caught that on film. (Laughter) There were many takes that I landed on my head. (Laughter)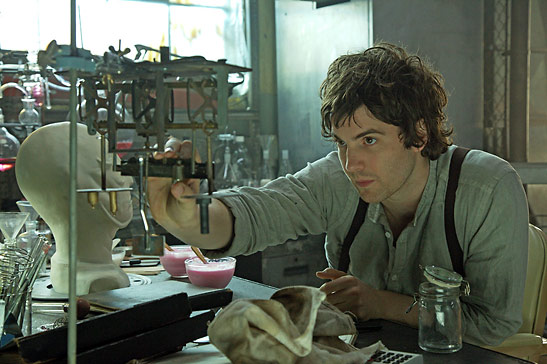 Jim Sturgess as Adam, a young scientist who has perfected an anti-aging cream. Photo: Courtesy Millennium Entertainment
Could you comment on the anti-aging scenes?
Kirsten: Those scenes are some of my favorites where the women's faces go all crazy. It was so fascinating and a great commentary done in a very fairy tale and cool way.
Would you ever try the anti-aging formula depicted in the film?
Kirsten: Ask me in about 30 years. (Laughter)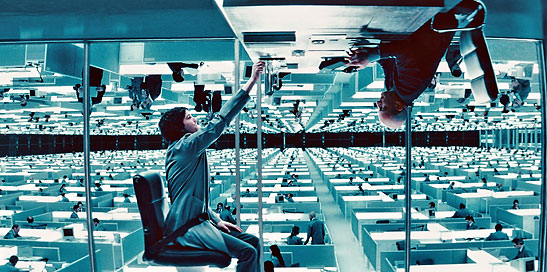 Adam (Jim Sturgess) befriends up top corporate employee Bob Boruchowicz played by British actor Timothy Spall. Photo: Courtesy Millennium Entertainment
You have some great scenes with Timothy Spall. How was it working with him?
Jim: I grew up with Tim Spall being present on the screen my whole life and I'm a big fan of his work. I was lucky enough to work with him in a British film called "Heartless" where I played his son for all of five minutes. When it came to casting the character of Bob Boruchowicz, I suggested Tim to Juan and said he should really look at him. We were getting close to shooting and he hadn't finalized the casting for that part.
How difficult is it for you to affect an American accent and did you have a dialect coach?
Jim: For me, the more you do it, the easier it gets. It's hard enough being on set and playing a character, especially with all this other stuff that's going on. You almost want the accent to disappear and not even have to think about it. So, I spent a period of time just talking in an American accent as much as possible and stayed in the accent throughout. By the time you shoot, you're not even thinking about it. I had a dialect coach for about a month or so in the rehearsal period before we started shooting. It's amazing. After doing it all day, every day, you train your brain to speak in that way. It takes about two weeks to convince yourself that that's how you actually talk. So when I'm on the phone to my mum, she says I should speak properly and that I'm freaking her out. (Laughter)
Your Tango dance sequence was quite charming. Was it difficult?
Kirsten: Yes because it's the man who leads and you go have to go with the flow and have the right footing. Some of the moves are harder than others, but it was fun learning the Tango. I did take a lot of dance classes in New York and some in Montreal.
Is Dancing With The Stars in the your future?
Kirsten: Really? Not. (Laughter)
Jim: If she doesn't do it, I'll do it. (Laughter)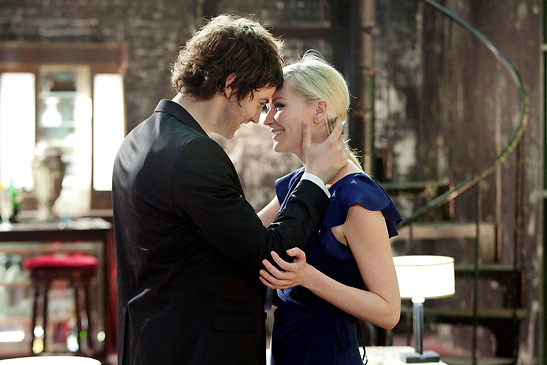 Jim Sturgess and Kirsten Dunst star in a fairy tale story with a fairy tale ending. Photo: Courtesy Millennium Entertainment
One element of this complex film is definitely an exploration of the upper and lower classes. What are your comments on that?
Jim: The great thing about the film is that it's very much Juan's reality. He's from Argentina, a third-world country and in England, we certainly have a very definite class structure, more so than in any other country. So it was very real to me. There's the down below world that is getting kind of screwed by the up-top world and the up-top world is thriving more and more as the poor are getting poorer and the rich are getting richer.
What do you think about the new technology that gives greater access to independent films and how do you think it affects box office?
Kirsten: The thing with independent films is that now they can be seen more because of iTunes and Netflix. I see myself watching so many documentaries or movies that I haven't seen through these new venues. If this film were in a studio's hands, it would be a huge movie. It's like a big fantasy film. Kids can see it. Teenagers can see it. You know what I mean? It's the type of film that if I had kids, I would take them to see it. So with a film like this, it is a shame a little bit that it is independent, but if the word gets out there and people want to go see it, it will obviously spread and become bigger, but I do think that this is a film that a studio could have done a lot with.
Is there one moment in your life that you wouldn't want to forget?
Jim: Her character is the one with the memory loss so this is a good question for Kirsten. I can easily duck out of this one. (Laughter)
Kirsten: Thanks Jim. I don't think about this stuff. If you ask me this question ten years from now, I might say the moment my child was born. But I'm 30, and I don't really feel like I have an answer to that question. It's important to live in the moment. I don't hold on to past memories like that will never happen again, or something. You know? That said, I never want to forget the day I graduated high school because I never wanted to go back. (Laughter)
*A special effects film technique involving filming actors against a green screen on which effects such as computerized graphics can be added later and integrated into a single sequence.