Ed Harris – A Hollywood Treasure
By Beverly Cohn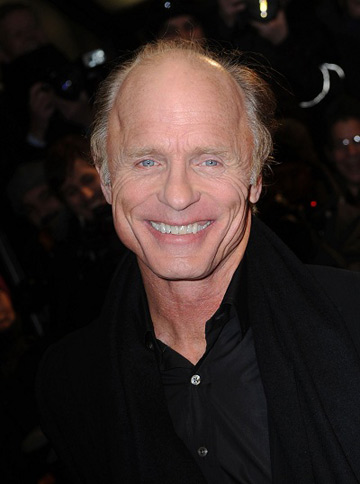 Photo Credit: Zak Hussein/WENN.com

d Harris is recognized as one of the most gifted actors of our time. His body of work includes some of Hollywood's most memorable films, three of which are on the American Film Institute's "100 Most Inspiring Movies of All Times:" "A Beautiful Mind," "The Right Stuff," and "Apollo 13." His work encompasses the entire media spectrum including television, which has been airing his beautifully textured western "Appaloosa," which he co-wrote and directed. His award-winning stage work continues to hit the mark as evidenced by his recent riveting performance in Neil LaBute's one-man play "Wrecks" at the Geffen Playhouse.
Harris' latest film is the haunting "The Way Back" directed by Peter Weir. Based on a novel by Slavomir Rawiez, "The Long Walk: The True Story of a Trek to Freedom," is the story of a small group of prisoners in a Siberian gulag in 1940 who escaped and walked thousands of miles over the most brutal terrain to reach India. Harris plays Mr. Smith, an enigmatic American prisoner.
The following interview, edited for print purposes, originally appeared in the January 14th edition of the Santa Monica Mirror, and is being reprinted as a courtesy of that publication.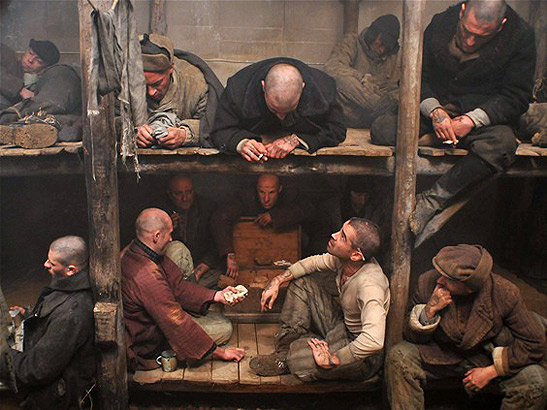 Harsh life in a Russian gulag. Photo Credit: EPK.TV
Q: What is the first thing you look for in a script and what attracted you to "The Way Back?"
Harris: Generally, it's an instinctive response to the material and is it going to be worth my while. Either some part of my gut says that I want to do this or it says I don't want to do it. A lot hinges on who's involved in the project, other actors, the character, a new territory to explore. In this case it was Peter (Weir) who I had worked with on "The Truman Show," and had hoped to work with him again. So I was very excited when I was told he was doing this movie and was interested in me playing one of the characters.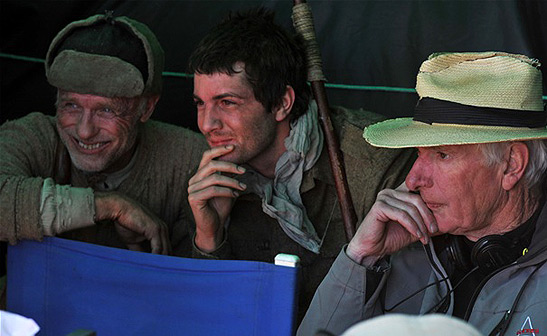 L-R: Ed Harris, co-star Jim Sturgess and Peter Weir on location. Photo Credit: EPK.TV
Q: What is so special about working with Peter?
Harris: Words like thorough, specific, passionate, committed, intelligent come to mind. Peter is the consummate filmmaker in the sense that he decides to make a film about a specific subject and literally puts blinders on and that's all he thinks about. He'll research the hell out of it, talk to people if it's a historical situation to get their experiences. He'll work on the script and gets designers involved who can bring his project to life.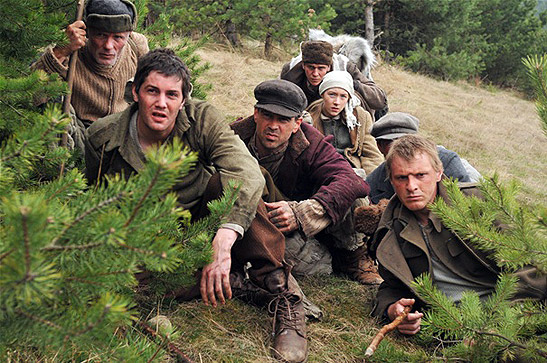 The escaped prisoners avoid capture by locals who get rewards for turning them over to the authorities. Photo Credit: EPK.TV
He's specific and pays attention to every aspect of the filmmaking – whether it's the sets, props, costumes, make-up, or hair. He's totally attentive and thorough and as an actor, you know he's a guy who's going to make a film that works. Whether everyone likes it or not is not the point as the film is going to come to fruition and what's on the page will take place in a way that make sense and works as a film. Also, he was an actor and understands our process and communicates well with us.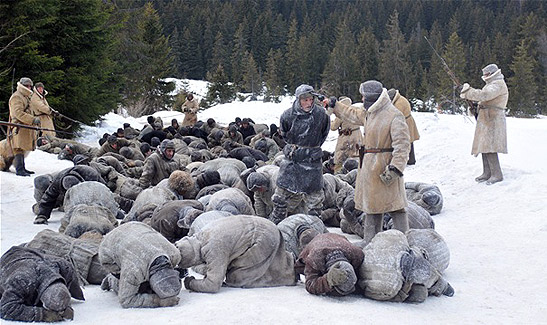 Prisoners are forced to lie face down in the snow. Photo Credit: EPK.TV
Q: Unlike many films that are shot either on a sound stage or at one location, this film was shot on multiple locations including Bulgaria, Morocco, and India. Did that make it more interesting for you?
Harris: Well yes. I was looking forward to the fact that once we got out of the gulag, we were going to be outside in the elements. I like challenges of physical work. We did shoot on a sound stage early on as a forest had been created so Peter could control the snow as well shoot some of the close-ups in the earlier part of the story. I couldn't wait to get out of there because the story is about being outside. Once we got outside, we pretty much stayed there for the rest of the shoot.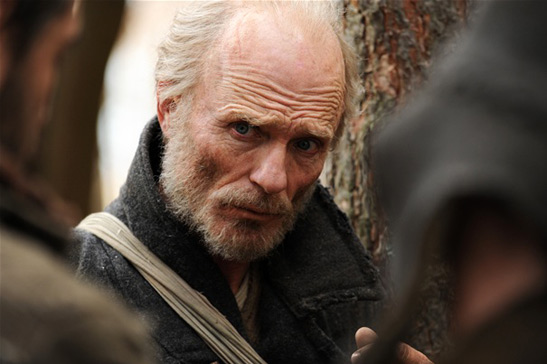 Ed Harris as the escaped American prisoner, Mr. Smith. Photo Credit: EPK.TV
It was a great four months and a memorable experience for me and as difficult as it got at times, I enjoyed every minute of it. It's nice to feel you have perseverance because this story is all about that.
Q: This was an incredibly demanding role physically. How did you prepare for it?
Harris: I dropped some weight before we went on location and did some physical labor to get callouses. Also, I worked on finding a real personal center and quiet place because in this situation, where you are thrust into a gulag or a concentration camp, the only thing that's going to keep you alive is yourself and you have to find an internal core where you can do that. It allows you to take it moment by moment and do things you have to do to live. I'm sure any survivor of these camps would talk about how they ended up being with themselves to get through it.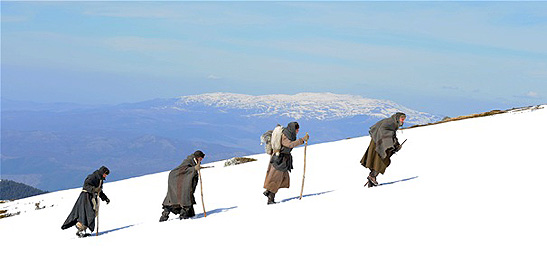 The trek from Siberia to India continues over relentless terrain. Photo Credit: EPK.TV
Q: What were the most difficult scenes physically?
Harris: The scene where we're walking across this field of very deep snow was one. There was no trail and we're trying to walk through it. That was tough.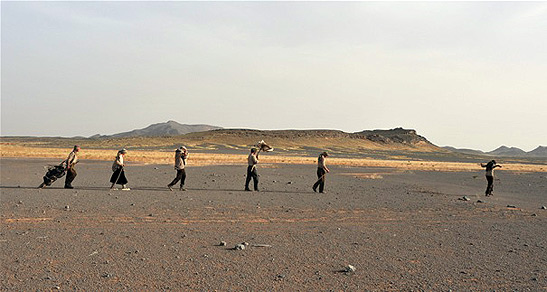 Trekking through the desert. Photo Credit: EPK.TV
But I think the hardest day for me was when we were in the desert with these big sand dunes. I had an intestinal problem and couldn't move a finger – I mean I was just dead. We had to drag this thing up a mountain of sand and I was thinking give me a f……break and couldn't wait to hear 'cut!' 'It was very cold when we started shooting and very hot when we finished. It was like the harsher and more challenging it was, the more you felt like you were doing a good job.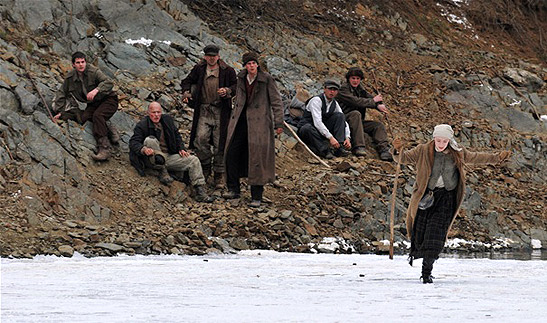 Irena (Saoirse Ronan) leads the way across a frozen lake. Photo Credit: EPK.TV
Q: Was there a strong bond amongst the cast?
Harris: I probably spent more time alone in solitude than I had in a long time because I have a family. But yes, we spent a lot of time together as a group and we depended on each other for sharing the experience. Everyone had a good attitude and no one was ever a problem. Peter was very careful in his casting to make sure we would work well together and there wouldn't be any divas. We got together a few weeks before we started filming to get to know each other and ultimately we really did pull together.
Q: Were you familiar with this period of history?
Harris: Vaguely. I was aware of the gulags and that millions of people had perished under Stalin's rule, but there was a lot I didn't know. For example, I was totally unaware that thousands of Americans had gone to Russia during the Depression to find work. The Russians would advertise in the United States for workers and in the first eight months of 1931, 100,000 people applied for jobs, 10,000 of who got jobs. Part of the deal was when you arrived in Russia, you had to give up your passport and when Stalin's Reign of Terror began, they couldn't get out. The American Embassy wouldn't help the workers because they didn't have passports and were told they were stuck there and that's how my character, Mr. Smith, winds up in a gulag.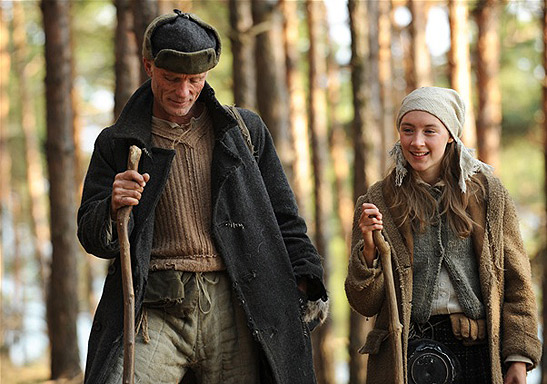 Ed Harris' Mr. Smith forms a bond with the young Irena who is also seeking freedom.
Photo Credit: EPK.TV
Q: How did the introduction of the female character, Irena, played exquisitely by Saoirse Ronan, affect your character?
Harris: Mr. Smith's humanity had been pretty much shut off in the camp and this young woman brings back to life the shred of humanity he has left. The scene where Irena washes my feet was unscripted, but after we did a few scenes together, Peter realized something was going on between these two characters and was important to the story.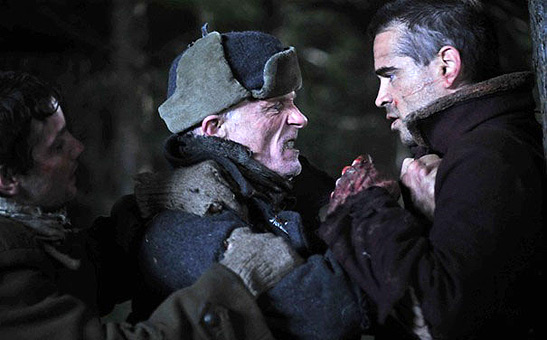 Ed Harris (Mr. Smith) in a confrontation with fellow prisoner Valka (Colin Farrell).
Photo Credit: EPK.TV
Q: How much character direction did you get from Peter?
Harris: Peter encouraged us to keep exploring our characters. He wanted us to create back-stories and to find actions that were not necessarily scripted that we would be doing to survive the journey. We knew we were pretending, but we were also very immersed in the reality of what these people were going through.
Q: You mentioned family before. What is the biggest challenge in juggling your career with being a husband and a father?
Harris: We kind of worked it out over the years. Unfortunately, I have a lot more opportunities to work than Amy (Madigan) who's a wonderful actress so I spend more time away from home than she does. Other than this project, which was four months in Bulgaria and Morroco, generally the first question I ask is how long is the shoot and where is it? I didn't want to be an absentee father and haven't been, so it's weighing one against the other. I don't feel like I've sacrificed my career for my family or vice-versa. It's been a pretty good balancing act.
Q: Your body of work is awesome. It's been a real pleasure.
Harris: That's very kind. Thank you.