An Exclusive Interview With Edward Burns – Up Close & Personal
Part 2
Beverly Cohn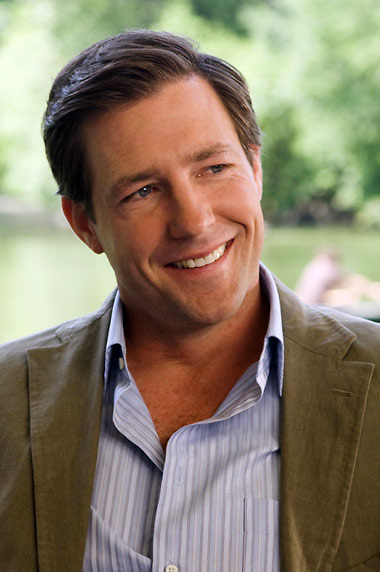 Actor, writer, producer, director, and filmmaker, hardcore New Yorker, Edward Burns. Courtesy Photo

n Part 1, a most charming Edward Burns talked about how his career was launched with his film "The Brothers McMullen," which he wrote, directed and starred in. The film received much critical praise and Burns went on to make his small, character-driven independent films some of which included "Sidewalks of New York," "She's the One," and "Life or Something Like It," and "Newlyweds," just to name a few. But it was his really his memorable role in "Saving Private Ryan" that catapulted Burns into a bankable movie star and since then he has appeared in many films including "27 Dresses," "Sidewalks of New York," and "Man on a Ledge" in which he played a detective. He is once again playing a detective in his latest film, "Alex Cross," in which he co-stars with Tyler Perry.
In Part 2, Burns talks about his "Alex Cross" experience, career choices, his marriage, his family, changing values, and the influence Woody Allen had on him as a youngster going to the movies with his mother. For the record, Burns and his wife, supermodel Christy Turlington, are hard-core New Yorkers who would probably have to be offered the sun and the moon to ever leave.
The following exclusive interview has been edited for content and continuity for print purposes.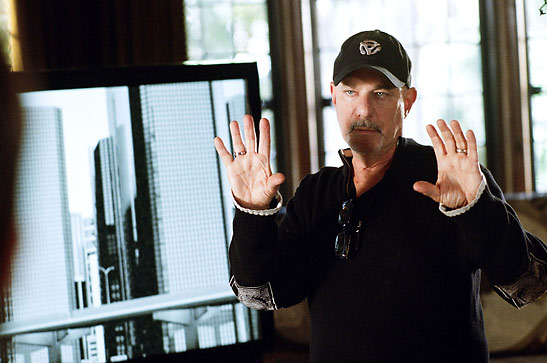 "Alex Cross" director Rob Cohen setting up a shot.
Photo: Courtesy of Summit Entertainment. Photo by: Sidney Baldwin
You style of acting is different from Tyler Perry's. How did that work out in terms of developing your relationship?
Burns: You know, it didn't really need to be worked out. Rob (director, Rob Cohen) let us kind of play with our scenes and allowed us to find our own take and versions on them. We both enjoyed doing that and Tyler is very good at it. I think that's why people seem to buy us as being friends for a long time. There are different types of scenes in the movie. There are the scenes that are more about the police work, the tactical, the procedural, where essentially you're banging out exposition in order to move the story along and there's only so much you can do in those scenes. In a handful of those scenes though, based on what Tyler and I found earlier, there was a little more repartee and joking in the sense that these guys are life-long friends. They're going to play with one another a little bit. There's one scene in particular where he and I are driving and we are kind of goofing off one another about our history, girls we dated, and stuff like that.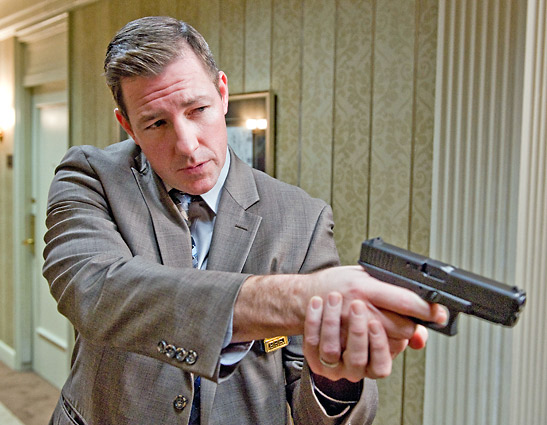 Edward Burns as Detective Jack Dougherty in "Man On A Ledge." "Anytime I get a script that calls for me to have a gun in my hand, I get excited." Photo: Courtesy of Summit Entertainment. Photo by: Myles Aronowitz
It's kind of ironic that you come from a family where most of the men are policemen and in "Man on a Ledge" you also play a detective. Are you concerned about being typecast?
Burns: It's funny. Anytime I get a script that calls for me to have a gun in my hand, I get excited. Those roles are always a lot of fun to play and I don't get to do that in the films that I make as a filmmaker, so I'm always telling my agents that if there's anything with action, send it my way. I only hope that they continue to call me and ask me to show up.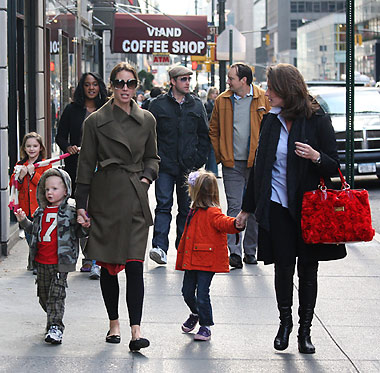 The Burns family on the streets of New York. Courtesy Photo
You're a big star and have a family. You write, produce, direct, and act so how do you balance your very busy career with your home life? Also, is living in New York easier on a marriage?
Burns: How do you balance it? Well, New York is certainly a part of it. By choosing to stay in New York, I've chosen to keep myself surrounded by my family and my life-long friends and at least for me personally, and Christy, that's the right environment for our kids. As far as being able to juggle these careers, you just have to recognize that you can't do it all. So, sometimes there are jobs that you have to say no to because you can't go to Prague for six months to be in a film unless you want to move the family to Prague. When the kids were younger, that was certainly possible, but not now. So there are those kinds of decisions that you have to make.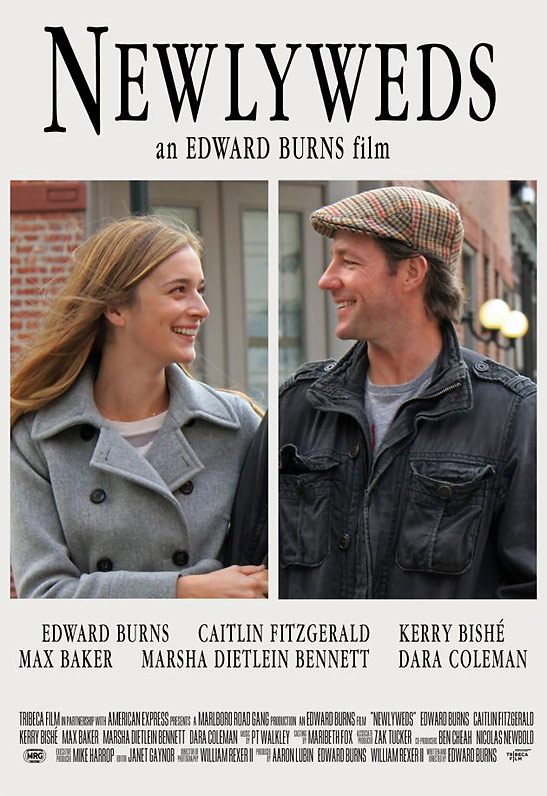 One of Edward Burns' character-driven films shot in New York. Courtesy Photo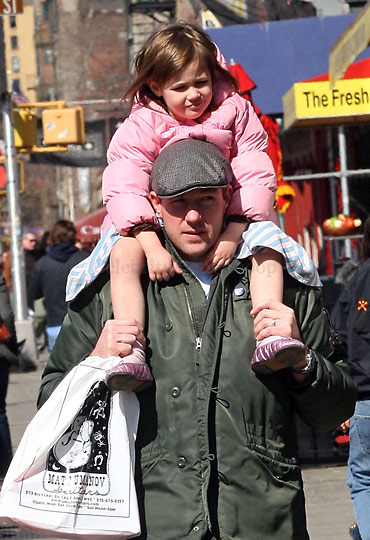 Edward Burns with his daughter Grace. Courtesy Photo
As a guy who loves to make his small, independent films, there are times where I have to say I have an opportunity to be in a movie that's going to pay me a nice chunk of change and that my movie, that I thought I was going to do in the Fall, I gotta' put that off for a year. There's the flip side. The same thing could happen the other way. I haven't made a movie of mine in two years so I might have to tell my agents that I'm not available this Spring because I gotta' go make this new movie so an offer might come in that I'd have to pass on.
Do you think many actors with young families face this dilemma?
Burns: Any actor/filmmaker has to deal with some version of this. I think those that have some longevity have figured out a way to find the right balance. But it's hard. I feel fortunate that I'm still doing it, seventeen years later.
The last time we talked you said you like to do these films so you can raise money to do your own films. Have you gotten the funding together for "The Job?"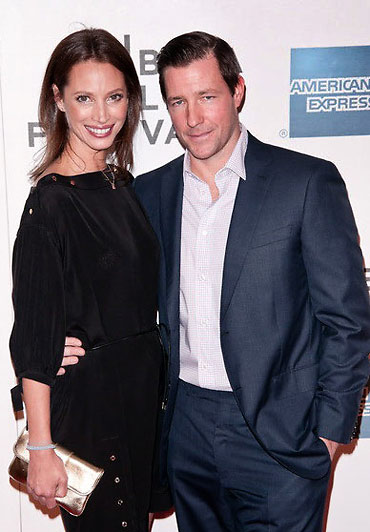 Edward Burns with his wife, supermodel Christy Turlington: "...one of the great things about being married is just having someone that supports our dreams."
Courtesy Photo
Burns: I did not get the money for that yet. The problem with that film is it's a big period movie so anytime financiers see a period film, they're hesitant to cut that check. I did another rewrite of the script since I saw you, so we'll see. But, it's not the right time to go out with it yet.
What are the advantages of being married and do you think having a stable home life is a big factor in your success?
Burns: I think I'm lucky enough to have kids who are now nine and six and there's nothing better in the world. It puts everything else into perspective and all those things you use to really worry about career wise have all fallen into second or third or fourth place. Certainly you hope you're successful and you want your films to get good reviews and make money, but you kind of know it's all insignificant when you think about what's really important, your family. For me, one of the great things about being married is just having someone that supports our dreams and things that you're trying to do that a lot of times feels kind of crazy or like a long shot, like there are easier paths and why don't I just go and direct that kind of movie. I get the support which is really nice. Also, at a certain point, when you're in your forties, you do want a different type of structure to your life.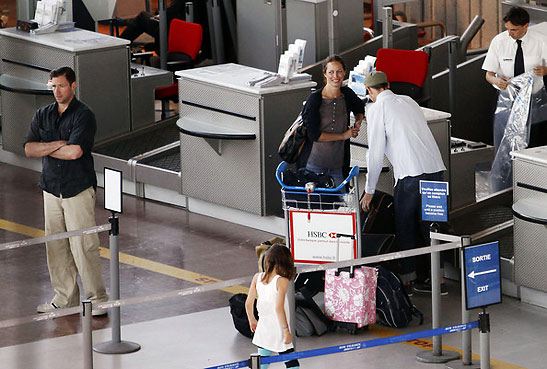 The Burns family on their way to Nice for a holiday. Courtesy Photo
Do you get to travel together as a family?
Burns: Yes. We make sure we do about two trips a year.
Do you think when you were a younger actor, you were more of a narcissist since you didn't have a family and everything is about you?
Burns: Yes. Everything is about you. You are going out a lot. You are partying a lot. That doesn't necessarily mean you're drunk and high. You're out doing it. And you absolutely should be doing it. I'm so glad that I had the opportunity and it was fun and I wouldn't trade it for anything. But, I think as you get older, your needs change, your desire change.
When you didn't follow in the family tradition of joining the police force, did your parents recognize your talent and support you in your decision to take a different path?
Burns: My dad who was a cop definitely supported me. I showed some interest in writing when I was in junior high and the minute he saw that, he jumped on it and was always pushing me to pursue it. When I was in college as an English major, and took this first film studies class, I thought maybe I should forget about novels and write screenplays. I called him up immediately and three days later in the mail a book on how to write screenplays shows up. So his whole thing was if we had wanted to become cops, he certainly would not have stood in our way and would have made sure that we were placed in the right precinct and all of that. But it's funny. I've now played a cop in a handful of movies and my brother writes for the show "Blue Bloods," so we get to be part of the world without having to get our asses shot off.
When you were a kid, do you go to a lot of movies?
Burns: I did. I went to the films that most kids were going to, like sports movies and action films and stuff like that. But, I got lucky. My mom was a Woody Allen nut. So when I was in the seventh or eighth grade, she starts turning me on to things like "Take the Money and Run," and "Sleeper," the early comedies, and when I get into high school, it's "Annie Hall" and "Manhattan." I was friends with a kid named Charles Klein. We were diehard New York Knicks fans and then diehard Woody Allen fans. None of my other friends would watch a Woody Allen movie except Charles. For me and CK, on Friday night, if nothing else was going on, we'd go rent "The Purple Rose of Cairo" for example. But, I never gave any thought to a career.
When did you decide to become an actor?
Burns: I didn't think about being an actor, quite honestly, until I was already in film school. In the first film directing class I took, the professor asked how many of us wanted to be directors? Everyone raised their hands. "How many of you want to be actors?" No one raises a hand. "How do you expect to be able to communicate with an actor if you have no idea what it is to be an actor?" So what he did was every day he would pick four kids. "You're the writer. You're the director. You two are the actors. You need to put on a five-minute play and we'll see you next week." The first time I got picked, I was one of the two actors and stood up in front of the class. People talk about getting the bug and I'd say that halfway through those four minutes, I absolutely got the bug and I was like, that was fun. Maybe I'll put myself in my student films and that eventually led to "The Brothers McMullen," and that led to us here today.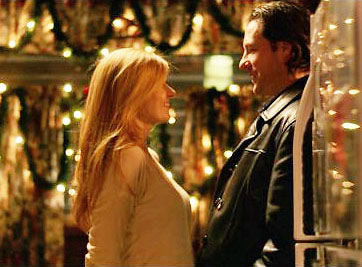 Connie Britton co-stars with Edward Burns in his film "The Fitzgerald Family Christmas." Courtesy Photo
In my opinion, "The Brothers McMullen" is one of the best independent films ever made.
Burns: Thank you. I'm working on a sequel. I want to write and get it done for the 20th Anniversary, which would be 2015. My character has not gotten married. He comes out to L.A. and becomes like one of those middle-aged assholes – still running around chasing young girls. Mike McGlone's character has gotten married and has a new set of McMullen boys.
Speaking of marriage, is the myth true that Irish men get married later in life?
Burns: You know there's this thing about the momma's boy - Irish men who stay at home with their mothers. The new film that I have coming out in November is called "The Fitzgerald Family Christmas" and my character plays one of those guys who has stayed home to take care of mom. He has reasons for that but I certainly play one of those stereotypes.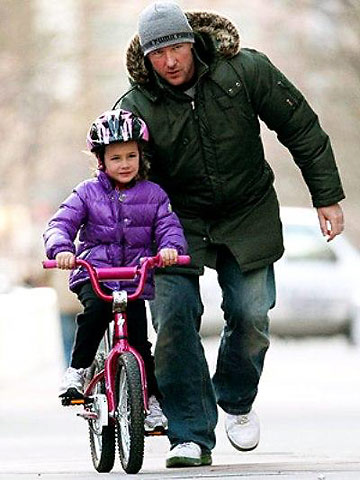 Edward Burns enjoys a "daddy" moment with his daughter Grace. Courtesy Photo
This is a little delicate. I recently reviewed a play called "The Irish Curse" which is about a 12-step program for Irish men who are "under endowed." Are you familiar with that myth?
Burns: I haven't heard of the play, but I have heard of the myth. I'm thankful that I'm one-quarter Swedish, as well. (laughter)
I have just one more question. How do you and your wife deal with being high-profile celebrities?
Burns: We are so fortunate that we've always stayed at the perfect level of celebrity. We're rarely bothered, but we get to enjoy a lot of the perks that come along with it.
It's always a pleasure seeing you and I look forward to your next film.
Burns: It was a pleasure seeing you, too.