Emilio Estevez on Career and His Latest Film "The Way,"
Starring His Dad, Martin Sheen
Beverly Cohn
Editor-at-Large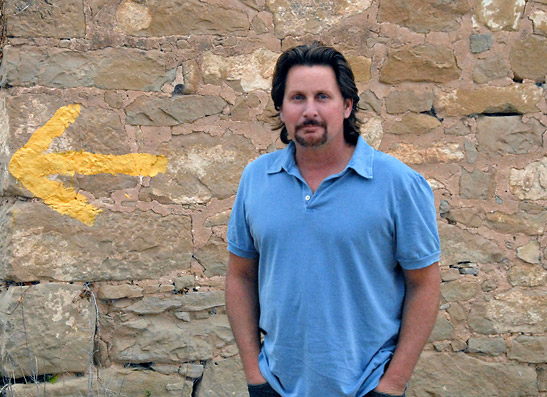 Director/Writer Emilio Estevez on location in Spain where he shot "The Way" co-starring his dad, Martin Sheen. Photo: David Alexanian


milio Estevez is the eldest son of movie icon Martin Sheen. He has three siblings, one of whom is Charlie Sheen. Estevez has piled up a long list of acting, writing, and directing credits that go back to 1980. Although he really lit up the screen for the first time as the punk rocker Otto in the cult classic "Repo Man," one of his most memorable roles is that of Andrew in John Hughes' seminal film, "The Breakfast Club" in which he co-starred with his fellow "Brat Pack" members Rob Lowe, Judd Nelson, Molly Ringwald, and Ally Sheedy. In that same era, Estevez co-starred in Joel Schumacher's "St. Elmo's Fire" with other fellow brats," Demi Moore and Andrew McCarthy. "The Brat Pack" was a nickname given to a group of young actors who appeared together in teen-oriented coming-of-age films in the 1980s. As a result of his work, Estevez was listed in Screen World Magazine as one of twelve "Promising New Actors of 1985."
Since those early days, Estevez has co-starred in a bunch of films including "Young Guns" (I and II,) "Stakeout," and "The Mighty Ducks." He also appeared in many television shows including "Two and a Half Men," "The West Wing," and "The Wonderful World of Disney." Estevez has become a respected writer/director having written and directed the award-winning film "Bobby," a portrait of Robert Kennedy. The film starred Anthony Hopkins, Demi Moore, and William H. Macy. Following the screening at the Venice Film Festival, "Bobby" received a long, standing ovation. He also wrote and directed "Men at Work," in which he co-starred with his brother Charlie.
Estevez's latest film is "The Way," an inspirational, poignant film, beautifully written and directed, and stars Martin Sheen as Tom, an ophthalmologist who lives a very cushy, insulated California life. While playing golf, Tom receives a call that his son, played by Estevez, has been killed in the French Pyrenees while attempting the famous walk - The Camino de Santiago. Also known as "The Way of Saint James," this historical pilgrimage has a number of starting points including beginning in the France and ending in Spain at the Cathedral Santiago de Compostela where a certificate of completion is issued. Tom goes to Spain to claim his son's body, but instead of returning home, decides to honor his memory by doing the trek, leaving his son's ashes along the way. Estevez assembled a wonderful cast including Deborah Kara Unger, James Nesbitt, and a most delightful Yorick van Wageningen as the young trekker from Amsterdam.
The following interview was conducted in the Tavis Smiley Green Room and has been edited for print purposes. The fascinating Martin Sheen portion will be published separately.
How much did you know about Spain before your movie and how did the locals react to your filming?
Emilio: It's interesting in that we don't know that much about the culture in Spain. We know a lot about the Italian and French cultures - their food and wine and even the Greek and British cultures, but Spain has remained somewhat of a mystery. Probably thanks to the reign of Francisco Franco, they kind of built a wall around themselves. When we were filming, we tried to get support from local businesses by telling them that we were making a movie and were going to put their bodegas (stores) in the film showing their food and a bottle of wine on the table. Since they don't understand marketing, they would respond by saying that people already loved their food and why would they want to be in a movie. It's really beautiful when you think about it because they're not exploiting themselves.
What's the genesis of "The Way" and why did you want to make this movie?
Emilio: It started in 2003 when my son was working as my father's assistant on "West Wing." He went off to Spain with two other people, including Matt Clark, a long-time friend of my father's. They were woefully unprepared to do the pilgrimage - no backpacks, no walking sticks, no proper shoes, and no sense. They arrived in a town called Burgos, a beautiful city on the Camino. They checked into a pilgrim's bed and breakfast and sat down for supper. A gal came in, took a look at my son, and they fell madly in love. Eventually they married and my son has been living in Spain for over eight years. We like to call that the first miracle on the Camino. I thought that if I wanted to spend time with my boy, I'd better figure out how to work in Spain because it didn't look like he was coming home any time soon. That's when my dad and I began a dialogue on what a movie could look like. We tossed around some ideas, none of which were particularly interesting. Then it dawned on me that I kind of lost my son in Spain and that was the hook that the story needed. It became the impetus that my dad's character needed to go to Spain and reluctantly immerse himself in that country and have a "stranger-in-a strange-land, fish-out-of water" experience. So that was the beginning and I began to write and create the character of Tom for my dad.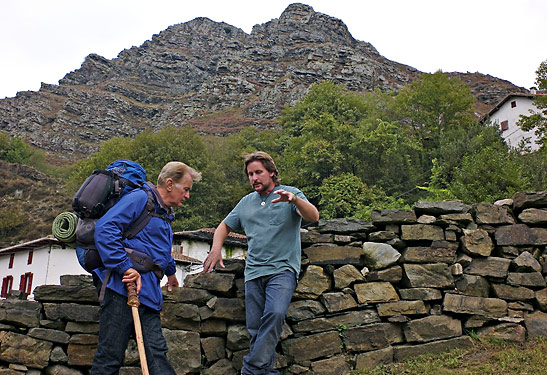 L-R: Martin Sheen takes direction from his son Emilio Estevez during the filming of "The Way" on location on The Camino de Santiago walk in Spain.
How closely did you work together in developing the screenplay?
Emilio: It was a real collaboration between the two of us. We worked together around seven times in the past and this is the third time I've directed him, but this is the first time we've worked together from the beginning. I wrote the first 15 pages and gave them to my dad. He said he thought the movie should open on a golf course and I agreed.
What were some of the difficulties in shooting and getting financing?
Emilio: You talk to your agents and managers, but with a movie like this, you just see their eyes glaze over. They really couldn't get their minds around it because there's no CGI (computer-generated imagery) or overt sexuality, and there wasn't a bunch of young people. The story wasn't doing something that was particularly interesting to the "suits" in this town. My dad and I both have Irish citizenship so we can work as EU citizens. So my producer, David Alexaney, and I went to Spain to try to find some believers and found a Spanish partner. We hired an entirely Spanish crew. When we interviewed them, we asked two questions: Are you fit and how is your English? They all said "fine" to both, but when we started filming, we found that wasn't necessarily the case. However, it turned out to be one of the most extraordinary film crews I've ever worked with.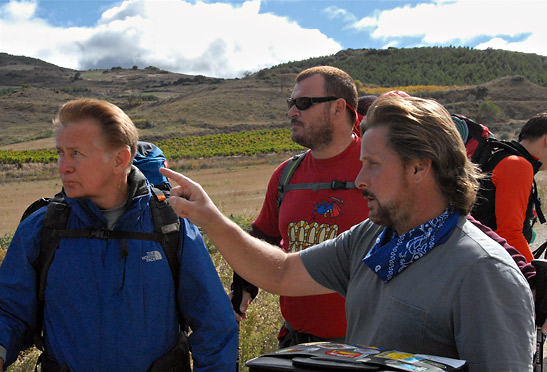 L-R: Martin Sheen and Yorick van Wageningen, take direction from Emilio Estevez.
What was your shooting schedule like?
Emilio: We shot in sequence starting in France and shot 900 kilometers along the way? We wanted to honor every single region and really you could point the camera in any direction and get something gorgeous. There was truly an embarrassment of riches.
Did you actually do the entire walk and how long did it take?
Emilio: The shoot was 40 days and that's about what it takes the average person to complete the walk and that's moving at a good pace. That's averaging 25-30 kilometers a day, which is very fast. In the interest of budget and shooting schedule, we had to drive most of the way.
What kind of reaction have you been getting to the film?
Emilio: We've screened the film for around 40,000 people, with some audiences as small as 250 and some as big as 3,000 and are encouraged by what we're seeing. The reviews, particularly for my dad, have been lovely. Our challenge now is to get people to the theatres.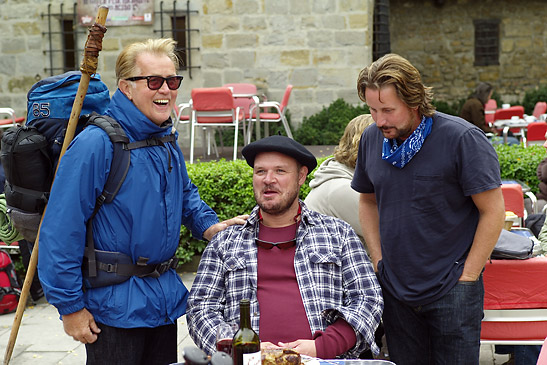 L-R: Martin Sheen, Yorick van Wageningen, and director Emilio Estevez take time out from one of the many wonderful eating scenes.
After seeing "The Way" I'm sure people will be moved to do that walk, but the idea of carrying a very heavy backpack might be daunting. Is there another way of making that pilgrimage from the Saint-Jean-Pied-de-Port to the final destination in Spain?
Emilio: A guided tour with a group is available in which you carry a light daypack filled snacks and water. The heavier gear is sent ahead in a van. You get to experience the wine and the food and all the other stuff without the burden of carrying a heavy backpack. It's really fabulous.
I know you have to leave so we'll talk about your role as a vintner at your vineyard, Casa Dumetz another time.
Emilio: Quickly, we just bottled our Syrah and our Grenache and my gal made a pink sparkling for the first time called "Sonja's Suds."
I look forward to a tasting. I have just one more question. You were quoted as saying that you wanted to become successful through drive, ambition, and hard work and not because of your bloodline. Since your days as a member of The Brat Pack you've built up an impressive string of acting, writing, and directing credits. What are your thoughts about your work?
Emilio: I started out as a storyteller. When I was seven years old I submitted a story to NBC-Universal. It was a movie-of-the week I had handwritten in pencil. It was rejected, of course, which it should have been, because it was awful. Then in the sixth grade I wrote a play about George Washington and the school put in on for Washington's Birthday. I played the narrator. When I was at Santa Monica High School, I couldn't get cast in any of the school productions so I thought the hell with it, I'm going to write my own play, which I co-wrote with my friend Lee Arenberg. So in terms of ambition and drive, that has a different meaning for me. It's always been about the work and that's something I learned from my father. The money will come, although I'm still waiting for that, and the stardom will come. All if it will come if you dig in and just do the work.
You've used your genes well.
Emilio: Thank you so much