EDITORíS NOTE: The following interview originally appeared in the March 11, 2010 edition of the Santa Monica Mirror and the edited version is being reprinted as a courtesy of that publication.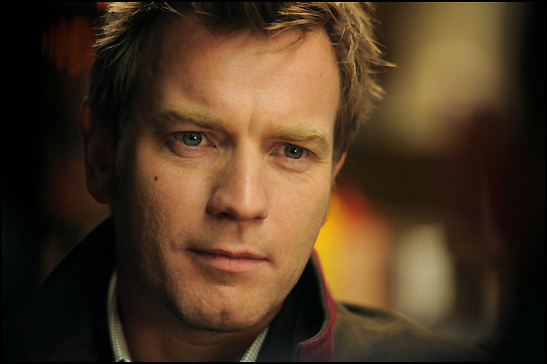 Ewan McGregor stars in Roman Polanski's The Ghost Writer.
Photo Credit: Summit Entertainment

Ewan McGregor
Art Imitates Life in His Latest Film
By Beverly Cohn


n case you haven't read the newspaper ads or watched the trailers being aired on television promoting Roman Polanski's latest film, The Ghost Writer, starring Ewan McGregor, here's a tip: Go see the film for despite the fact this is not a perfect film, the performances. given by McGregor and the rest of the cast, including Pierce Brosnan and a surprisingly different Kim Cattrall, more than forgives the fact that Polanski failed to create the kind of dramatic tension we've come to associate with his work
Q: Martha's Vineyard was so authentic, that it's surprising to learn that the film was actually shot on an island off the coast of Germany. Did you visit Martha's Vineyard to get a feel of the location?
McGregor: I've never been there. I would like to go very much. I hear it's very nice. But I think they spent a lot of time finding the right place to shoot the film that would represent it well and have the right feeling. More than looking exactly like Martha's Vineyard, I'm sure Polanski was looking for a setting or a place where the characters are isolated and claustrophobic-sized, if that's a word. It's quite a good word to say, but I don't know if it's really a word. Maybe that was more important than actually shooting on Martha's Vineyard. But I believe we accomplished that.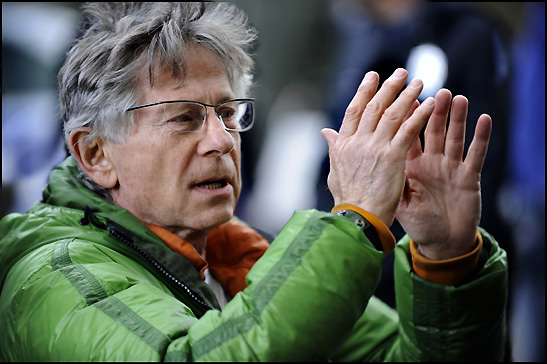 Roman Polanski. Photo Credit: Summit Entertainment
Q: Were you familiar with Polanksi's films before this project?
McGregor: The films of his that I knew very well were Chinatown, Macbeth, Rosemary's Baby, Papillon, and The Fearless Vampire Killers. Of course, once I knew I would be working with Roman, I went off and watched most of his films, including The Tenant, Cul-de-sac, Knife in the Water, and Repulsion. Sitting down and watching these films was a nice job to have.
Q: How did his directing style differ from other directors with whom you worked?
McGregor: He's very brusque when you're on set, and very direct. I think it's fair to say he doesn't sugar coat his direction in any way. So you're left with no doubt with what he wants. Occasionally, he'll act out for you or take the script out of your hands and read it to you. For actors, we never like to be given line readings. It's just not a good way to be directing and we certainly don't like to have a scene acted out for us because then you're copying someone else as opposed to finding it and making it your own. However, he's Polanski and you can't take that out of the equation. He's an iconic, legendary director and his direction is extraordinary.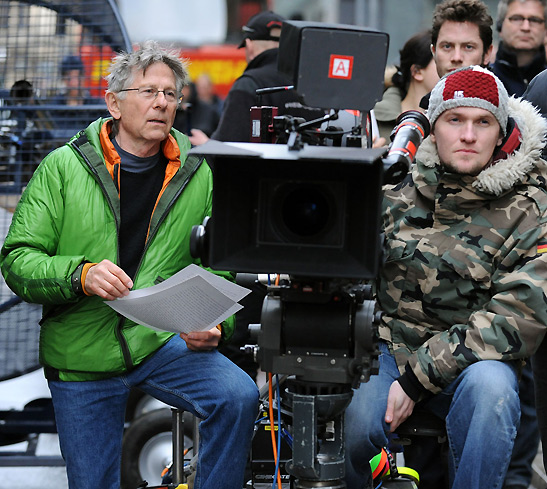 Roman Polanski given direction on the set of The Ghost Writer.
Photo Credit: Summit Entertainment
Q: You're an incredibly gifted actor so how did you handle his style of directing?
McGregor: We're sensitive souls as actors and we don't like to feel like what we tried is wrong, but you soon realize this is just the way he is and is like that with everybody. I was on all the time and had the luxury of watching him from the first day of shooting to the last and saw how he directed the crew and technicians. He's the same with everybody; there's nothing personal. He sees it in his head and wants it to be the way he wrote it. If it's not the way he sees it in his head, then it's not right. So, he works everyone until he gets what he wants.
Q: How much of him do you think is in the story?
McGregor: I think there's no question that all filmmakers are depicting something of themselves in their characters. It's their art and their comments and the entire film is filtered through their heads. That said, we never felt that Polanski was making a comment about his own life. There's a scene where the British Prime Minister becomes aware that he is now going to have to stand trial and defend himself in The Hague for war crimes and his lawyer tells him that as long as he stays in America, he's safe because America doesn't recognize the International Criminal Court. His attorney rattles off some other countries where he would be safe and it's a very small list. Of course we know Polanski has lived in that situation since the 70s where he's been able to travel only to a few specific countries where he won't face extradition to the States.
Q: Do you think the novel written by Robert Harris had Polanski in mind?
McGregor: It seems like it was written as a comment about Polanski's life. However, Harris wrote the book long before anyone dreamt that Polanski might direct this film. Because we know about Polanski's life, it seems like a loud comment, but on set, he never personalized anything to us. He never said, 'this is a bit like my life.'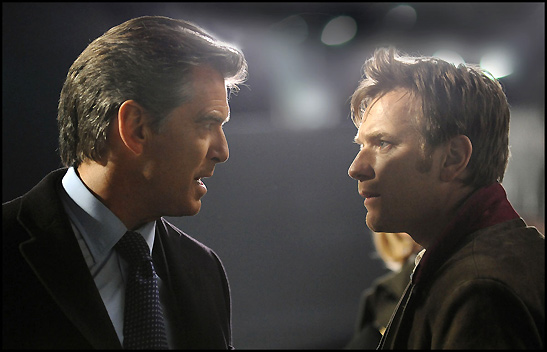 Pierce Brosnan as former British Prime Minister Adam Lang in a confrontational moment with his ghostwriter played by Ewan McGregor in Roman Polanski's The Ghost Writer. Photo Credit: Summit Entertainment
Q: The British Prime Minister, as played by Pierce Brosnan, bears a striking resemblance to Tony Blair. What are you thoughts on that?
McGregor: I think there's no question that it's resoundingly like Tony Blair. However, Pierce asked Polanski how much like Blair he should be and Polanski told him that he shouldn't think that he was playing Blair and should not try to mimic him. However, all the facts point to that character being Blair.
Q: How about recent parallels in the UK?
McGregor: In terms of British politics, some of the themes in the film have been reflected in the real world. In our movie, the former Prime Minister is accused of war crimes and in real life, Tony Blair had to sit in front of a panel a few weeks ago and try to explain his decision making about taking Britain into the Iraq war. There's lots of talk in the news about Britain's involvement in rendition flights and questions about did they or did they not touch down on British soil, and were British forces involved in torturing or interrogating prisoners on behalf of the American government, all of which would be considered an illegal act. So there are many things in the film that seem to be reflective of real life events.
Q: What do you think will be the outcome of Blair's testimony?
McGregor: I don't know what will happen as a result of his testimony. I don't know if will make any difference and certainly not to the families who've lost kids over there and certainly not to all the people lost in that war, but maybe it's right that he still has to answer hard questions. Here in America, it seems that former President Bush is never going to have to be accountable for his decisions and will probably never have to appear before a panel.
Q: Ghostwriters are unsung heroes as they don't get any credit for their work. Did you research the psychology of this breed of writers and was it reflected in your character?
McGregor: In a conversation I had with the author of the book, Robert Harris, he talked about the ghostwriter as having an inherent sense of failure as his name is not attached to his words. I think it rings true in the way I played "the ghost." He's kind of given up a little bit. I didn't think I had to do any research because it was quite clear in both the novel and the script. Also, I published a couple of travel books that were written from diaries so I had worked with two ghost writers, both entirely different from each other, and that gave me insight into the interview process.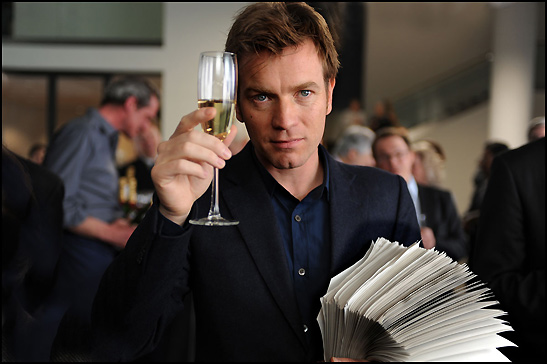 The Ghost Writer, played by Ewan Mc Gregor with the book.
Photo Credit: Summit Entertainment
Q: Looking back on your career, was there a pivotal moment in your training?
McGregor: Acting is very instinctive and you're always learning but it would be very difficult for me to put my finger on a certain thing. My path is something I'm very glad of. I left school when I was just 16 and started working in the theatre. For six months I was part of the stage crew and was in the world I always wanted to be in since I was a kid, when I first saw Star Wars with my uncle. After that I did a one-year theatre arts course in Scotland followed by a three-year acting course in London's Guildhall School of Music and Drama. That, for me, was a perfect way to enter the business and all of that learning is part of my acting.
Q: Was there one scene that was particularly difficult in this film?
McGregor: No, I don't think so. I don't ever find acting difficult. I try to make it as uncomplicated and as natural as possible. I like very much for my characters to be real people. Because I was in all of the film, I was able to underplay my character. Sometimes in acting, it's not the scene you imagine is going to stumble you or you find difficult on that day. It's very often not the big emotional scenes because usually they take care of themselves. You come on set and the atmosphere is set for you.
Q: What is the message of the film?
McGregor: Ultimately the film is showing a situation where our politicians, even those who hold the highest seats in government, have to be accountable for their actions and their decisions. I think that's a very strong message and one that's as clear as day to me.
Ewan McGregor is a screen icon in his own right, beginning with his break-out role in Trainspotting, followed by a long list of amazing performances in such films as Emma, Angels and Demons, Cassandra's Dream, and his most dazzling performance as the smitten writer in Moulin Rouge. Perhaps the most fascinating aspect of his career is when he came full circle to play Obi-Wan Kenobi in Star Wars, the film that launched his dream of becoming an actor when he was six years old.