Ewan McGregor Interview –
Up Close and Personal
Insights Into Acting, Taking Direction,
And Relationships
By Beverly Cohn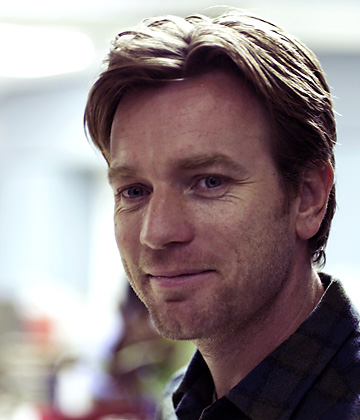 Ewan McGregor. Photo Credit: Focus Feature.

hen the award-winning actor Ewan McGregor was a young boy of six, he watched wide-eyed with amazement the dazzling performance by Alec Guinness in the role of Ben 'Obi-Wan' Kenobi in "Star Wars: Episode IV – A New Hope." Little did this young lad dream that some day he would grow up and play that very same role and get his own lightsaber.
McGregor, one of the most sought after film stars, was voted ninth in Channel 4's "Greatest Movie Stars of All Time," and ranked eighth in the 2001 Orange Film Survey of "The Greatest British Actors." Audiences first became familiar with McGregor in his breakout role in "Trainspotting" and since then have enjoyed his compelling performances in such films as the riveting "Black Hawk Down," "Angels & Demons" in which he played the enigmatic Camerlengo Patrick McKenna, "The Ghost Writer," with Pierce Brosnan, and "Cassandra's Dream" a tale of two brothers (Colin Farrell) with a scheme to make money that goes awry. McGregor's poignant characterization in "Moulin Rouge," as the young writer in love with the Nicole Kidman character, coupled with his beautiful singing voice, earned him the Film Actor Award at The Variety Club Showcase Awards.
McGregor's latest film is Mike Mills' "Beginners," which co-stars Christopher Plummer, Melanie Laurent ("Inglourious Basterds") and Goran Visnjic ("ER.") It's a tender story about a 75-year-old man, played by Plummer, who decides to come out of the closet and how it changes the lives of people around him.
McGregor recently sat down with a select group of journalists to discuss the film and other subjects. The following interview has been edited for print purposes.

How did you first find out about "Beginners?"
McGregor: Mike's (writer/director) agent told me the story, which I found fascinating, while we were going up a chair lift at Sundance. I read the script and met Mike. I was very interested in finding out more details about his life and his real story. I wanted to know how he felt when his father came out and what his childhood was like. We didn't discuss the script very much or the film itself but I realized I was really invested in the story already and I'm lucky to have been able to see it through with him.
Was it very emotional for you playing the scenes from his life?
McGregor: It was emotional sometimes, but it was never a burden or pressure to play Mike. He never wanted me to do an impersonation of him or to feel like I had to mimic his voice or his movements. But I wanted to feel like him and to portray what Mike is like so I had him record all of my dialogue and had it on my laptop. It was like a script read that he did with his assistant. Occasionally, I could hear him in the background saying 'oh no, I really screwed that up.' It was very amusing.
There's a real stillness to your character and long stretches without dialogue. How did that read on the page?
McGregor: I wasn't aware that it was sparse in dialogue because the script is so cleverly written and is pretty much what we see on screen. I loved the structure in that we moved back and forth between the two stories – the father and son story and the love story between the Anna character, played by Melanie Laurent, and me.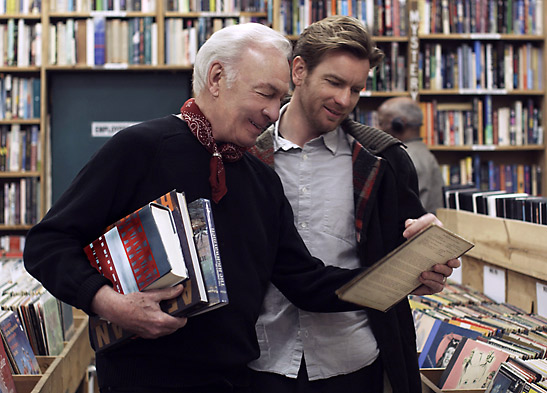 Academy Award® nominee Christopher Plummer (left) and Ewan McGregor (right) star as father (Hal) and son (Oliver) in writer/director Mike Mills' "Beginners."
Photo Credit: Focus Feature.
Can you talk about the different relationships explored in the film?
McGregor: It is an interesting exploration of relationships beginning with the parents and how that affects your ability to successfully have your own relationships or not, as in my character of Oliver's case. His father has always been gay and at age 75, after his wife passes away, he finally comes out and tells his son. Oliver has to then look back at his childhood and it's interesting because in the film, as a child you only see him with his mother. I suppose he's (Mills) exploring those scenes because his mother is not around to ask questions, whereas he had a few years with his father after he came out to ask questions about his childhood.
What was it like working with Mike and were any scenes particularly challenging?
McGregor: He created a beautiful place for the actors to explore and it felt like a second reality because it felt very real. He gave us complete freedom and the spaces were lit in such a way that we didn't have to worry about marks. We were given everything we needed to make the scenes as special as I think they are. I don't remember any scene being particularly challenging but that said, the scene where Christopher Plummer, as my father Hal, passes away was a devastating moment. Try to imagine what that was like for Mike, who was watching from the monitor the re-enactment of his father's death. That was clearly very upsetting for him and the emotional level on the set was really high because everybody was reflecting on the passing of a parent or a loved one.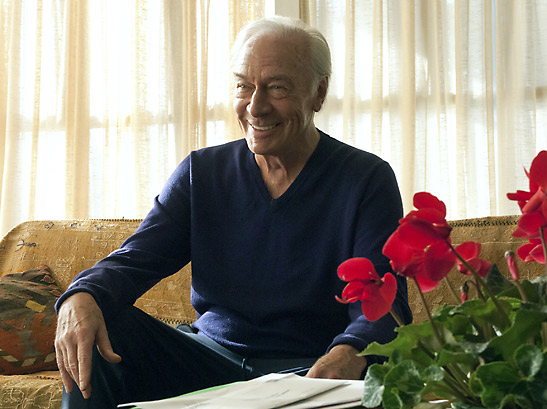 Christopher Plummer as Hal who comes out of the closet at age 75.
Photo Credit: Focus Feature.
Your relationship with Christopher is really natural. Did you have a lot of time to rehearse together?
McGregor: We had a week, which is not a lot of time, but it is sufficient when Mike is directing you, because he knows how to use that time. On the first day we met, we had lunch together and then Mike gave me $200 and sent Christopher and me off to Barney's in L.A. to buy Christopher a scarf. I had never met him before but while we were driving, he looked at my jeans and said 'What are those?' I said, 'They're just black jeans Christopher.' He then said, 'They're very tight.' (laughter) I explained that they're what we call 'skinny jeans" at which point he became obsessed in finding a pair. When we got to the store, I tried to show him some scarves, but he was off looking at the jeans. He kept trying them on and I kept saying that I was assigned to buy him a scarf. In the end, since he didn't have his wallet, I wound up putting about $1,200 worth of black skinny jeans on my credit card and as an afterthought, I grabbed a scarf on the way out. By the time we got back to the rehearsal room hours later, we had totally broken the ice and because of that experience, I did get an idea of what it would be like to look after your dad.
What was Christopher's reaction to Mike's somewhat improvisational method of preparation?
McGregor: After a few days of rehearsing, Christopher said rather dryly to Mike, 'You know, not all directors do this.' Mike agreed but gently insisted that Christopher go along with his method. Mike was not a bully but because he's a great director, you know you're in good hands. If a director wants to work in a certain way and you resist it, you're not going to get anything from it. Drama school taught me that if you're going to learn anything, you have to apply yourself, even though at the end of the day it might not be for you. But, if you haven't given it a go, you'll never know. So I always go with what my director wants and in this case his method was enormously helpful for building my relationship with both Christopher and Melanie.
Are stories like Mike's rare in filmmaking?
McGregor: There are lots of filmmakers that go into their own past to tell stories and there are many examples of people going back into their childhoods. But I suppose this is my first experience in someone's personal story and I've never played my director before.
Did your consciousness change in way as a result of playing Oliver?
McGregor: I think you can't go through the scenario of losing a parent without somehow having to look at your own life and your own parents who are both still alive and well. It does make you consider their eventual death, but I try not to linger on that very much.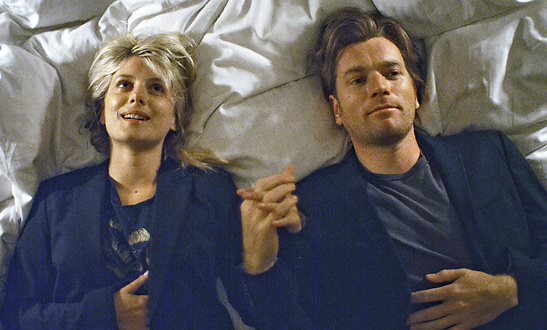 Melanie Laurent (Anna) and Ewan McGregor (Oliver) as the conflicted lovers.
Photo Credit: Focus Feature.
Some of your sex scenes with Melanie are pretty steamy. How did you go about getting comfortable with each other?
McGregor: I had never met Melanie before and the first thing Mike had us do was sit on his sofa and break each other up five times. I was thinking to myself 'Oh God please Mike, don't this. It's so awkward and such a horrible idea.' Melanie said, "What are you crazy?" He was quite strong and insisted that we try it. He would give us different scenarios such as you're breaking up with her because you want to move forward and you feel she's holding you back. The other character would take the opposite position of not wanting to break up. Breaking up is horrible and there I was having to do it over and over with someone I didn't even know. Then we had to stare at each other for five minutes. By the end of these exercises, we were relieved that they were over, but we did learn something and felt like we knew each other much more.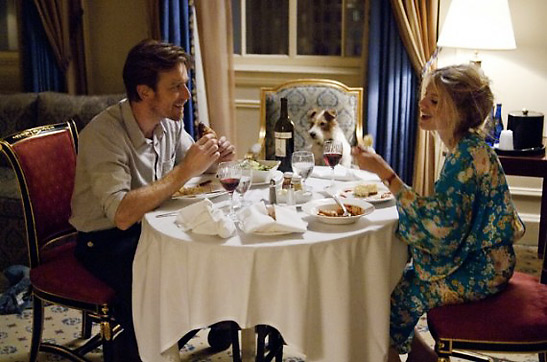 Melanie Laurent (Anna) and Ewan McGregor (Oliver) with the talking Jack Russell terrier Cosmo played by Arthur. Photo Credit: Focus Feature.
What would you like the audience to take away with them?
McGregor: That's a very difficult question. I think it's the kind of film that everyone will experience differently and will have their own take on it. It's very much about our relationship with our parents and how it affects who we are and how we fall in love. Because of their baggage, we see the struggle between Oliver and Anna, both of whom are reluctant to fall in love and find it difficult to make the relationship work. I imagine we can all relate to that a little bit. Ultimately, the film deals with acceptance of people for who they are and falling in love. I'm familiar with both of those things.
You have a wonderful relationship with the Jack Russell terrier (Arthur) who plays Cosmo. Are you a dog person?
McGregor: I love dogs and have replaced Cosmo with my own little version of him. On the very last day of the shoot I found my Sid in a rescue center on Sepulveda called the Lange Foundation. I realized that having spent a couple of months with Cosmo that I was really missing having a dog. I grew up with dogs but the problem was my wife is allergic, but Sid is a mixed-breed poodle and doesn't seem to cause my wife allergy problems.
Can you comment on Star Wars coming out in 3D?
McGregor: I suppose it's nice for the fans to have a really sharp colorful version, but I don't know what it means more than that.

Melanie Laurent (Anna) and Ewan McGregor (Oliver) as a new couple facing commitment problems. Photo Credit: Focus Feature.
Would you like to take a crack at directing a film?
McGregor: I would love to. I've been slightly nervous about it because it's such a big idea. I also never wanted to do it just to be a director but rather to do it because I want to tell a particular story and I'm still waiting for that story to find me. But the real reason I would like to direct is so that I can turn up at work and not take off my clothes. It seems like every day I turn up for work I have to take off my clothes and put on someone else's clothes so it would be quite nice to just wear my own clothes all day. (laughter)