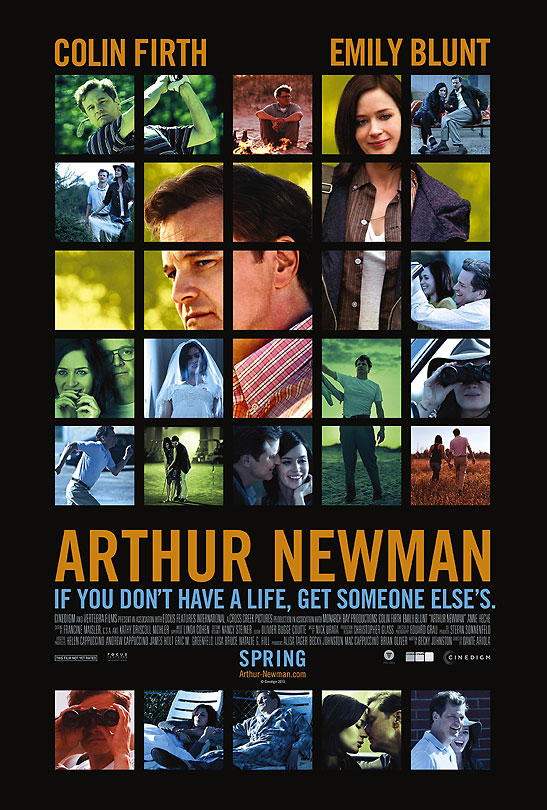 Photo Courtesy of Cinedigm
Colin Firth & Emily Blunt
Discuss "Arthur Newman," Obsessions
And Other Personal Revelations
Beverly Cohn


hen Colin Firth walks into a room, he fills it with his delightful presence and charm. Having won every conceivable award for his riveting performance as King George VI in "The King's Speech," one wondered could he shake off that strong association. Indeed he has in his subsequent films that includes "Tinker Tailor Soldier Spy." He does it again in his 360-degrees different character of Arthur Newman in the film of the same name. Co-starring Emily Blunt, the film explores the quest for life-changing decisions and takes the viewer through that odyssey. Firth is a good-luck charm for in addition to "The Kings Speech," two of his other pictures have won the Academy Award for Best Picture – "The English Patient" and "Shakespeare in Love."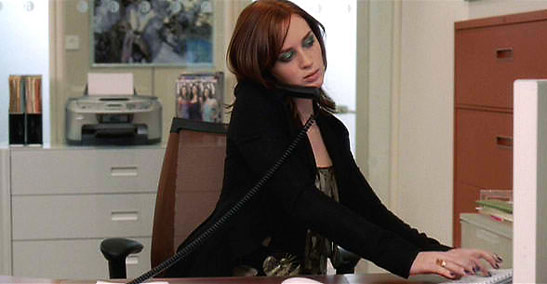 Emily Blunt as Emily, assistant to Meryl Streep's Miranda Priestly in "The Devil Wears Prada." Courtesy Photo
Who could ever forget Emily Blunt's performance as the bedraggled assistant to Meryl Streep's hard-hearted Miranda in "The Devil Wears Prada" as well as her performances in subsequent films including "The Young Victoria," "The Adjustment Bureau," "Salmon Fishing in Yemen," "Your Sister's Sister," "The Five-Year Engagement," and "Looper." Directed by Dante Ariola, Blunt plays Michaela (Mike) who hooks up with Colin Firth's character of Arthur Newman.
Firth and Blunt recently sat down with a select group of journalists to discuss their latest film and the following has been edited for content and continuity.
Is it easy to develop an American Accent?
Firth: No. But you focus on the character and that's his voice. It's not negotiable after a while. It's who you hear and it's not anybody else.
Did you go in and out during the shoot?
Blunt: We did unfortunately because we're both Brits. Normally when I do an accent, for example when I did "Looper," I was working with this little boy so I kind of stayed in the accent so he didn't get confused, but I didn't have a chance with Colin because we're so completely British.
Firth: Your speech pattern changes. It's not unlike working with a stutter in a way. It starts to find its way into your speech. Again, everybody's stutter is different. It's not a generic stutter. It's this particular guy and how he expresses himself.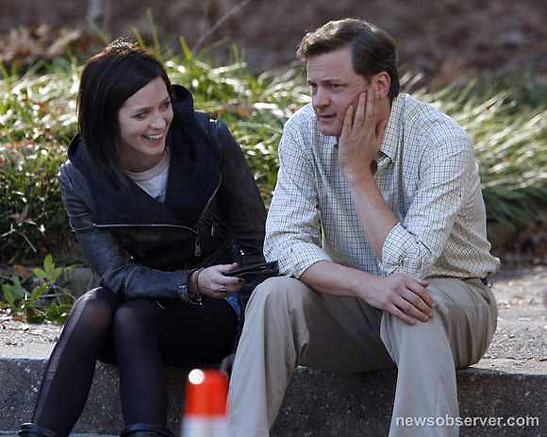 Emily Blunt as "Mike" and Colin Firth as Arthur Newman, two people trying to escape from their lives. Photo Courtesy of Cinedigm
What did you find in the script that made you want to play the character?
Firth: It had a lot of unknowns for me. I read it and had a lot of questions. I liked the idea and was fascinated by the notion of ordinariness or apparent ordinariness; people who you could dismiss as ordinary or boring; people whose lives seem to be a series of disappointments and the potential for drama in what seems to be an unremarkable quiet life. That is something that I found fascinating – heroism not written on a big super hero stage.
Blunt: The script in general terms was just completely refreshing in how original it was. It was pretty uncompromising actually and didn't want to conform to being any genre or anything I could sum up in a one-liner pitch, but I liked the idea of the more we mask ourselves, maybe the freer we are able to be within ourselves. I think the idea that at some point everyone wants to escape or run away or take on a different identity is something we've all felt. I don't particularly think that these characters are necessarily crazy. I think they are just acting on that impulse. But, I just couldn't put my finger on quite why I was so drawn to the script. I think that's quite a good way in if you feel there's some ambiguity there to play with.
You have played a cross-section of characters. Do you play them because you identify with them and can escape or because you do it for a living, do you have less need to escape?
Blunt: We have less need to escape, I think, because we do it all the time. We go away for a few months to a year and you get to be someone else in this strange, insular nether-land like experience.
Firth: My challenge is how to get back to Kansas. (laughter)
Blunt: Dorothy. How do we get home? (laughter)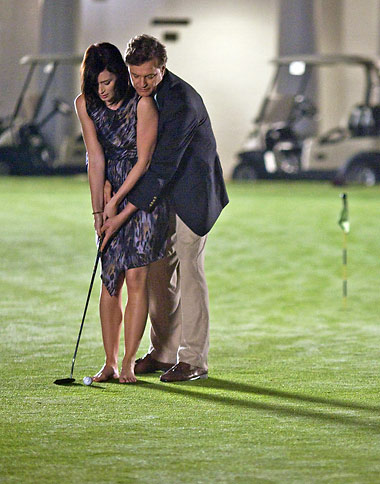 Former golf pro, Wallace Avery, now Arthur Newman, gives Mike a brief golf lesson. Photo Courtesy of Cinedigm
The Arthur character is supposed to be golf pro. Is either of you avid golfers?
Firth: I have never watched a single golf swing in my life so it was a foreign language to me.
Blunt: I like playing golf. I'm terrible. I'm really, really bad, but I like whizzing around in the golf cart.
Firth: I have enough weaknesses without needing another that's going to suck up my time. I've seen what's happened to friends of mine getting lost in golf. (laughter) I've always been a little bit of afraid that I would get lost.
Blunt: It's a bottomless pit. (laughs)
How did you prepare for that aspect of your role?
Firth: There's a driving school in London with an indoor driving range. In the film, I didn't have to be seen playing a whole game of golf. There were just a few swings so I tried to get some lessons to see what that looks like. I never got further than hitting a small object 300 yards. It sounds sweet when you hit it and I could actually see that becoming an addiction. There is something that happens. There's a thrill that runs through you when it works.
Is there a sport that you are obsessed with?
Firth: I watch a lot of football. Our football. And yes, that could become an obsession. I actually had a season ticket and use to go very regularly. I still do and take my kids three or four times during the season. We live far away now. I don't know if it's an obsession, but it's something I have strong feelings about off and on.
You're secret is safe.
Firth: I know. We're amongst friends. (laughter)
How do you approach developing characters who are not actors but are acting out different characters?
Blunt: It's quite fun actually, acting other parts badly. It wasn't that challenging because it wasn't like we were playing actors who were really good in taking on these different personas. There was awkwardness and a sweetness to it that was really fun.
Did either of you know people even close to these characters?
Blunt: I grew up with someone like Mike.
Firth: I realized that I based my character entirely on somebody. I don't think I realized it until towards the end that's what was happening. That person doesn't know this.
Blunt: They'll never know because no one ever knows themselves. That's what I'm convinced about.
Was this a close friend or a relative?
Blunt: A friend.
Does her name start with a "D?"
Blunt: D? (lots of laughter)
Firth: That's what the rest of the interview is going to be about. (more laughter)
Blunt: Exactly. (more laughter) You wouldn't know her but she was someone I grew up with.
At the end of the film Arthur has gone through a transformation and also is dressing differently.
Firth: That was an immense relief. (laughter)
Blunt: As sexy as those salmon polo shirts were.
Firth: I have to say there was a sigh of relief on the entire crew when I showed up with something that was not salmon or pink. (laughter)
Blunt: And, you didn't have trousers hiked up to your nipples.
Firth: The trousers came down below the belly button. (laughter)
Blunt: Oh they were so lame. I remember that first costume fitting you had. You were like really is this embarrassing?
Firth: The costume goes a long way in forming the character.
Where do you think Arthur goes from there?
Firth: You mean after the end of the film?
Yes.
Firth: It's interesting actually. One of the things I like about the story is that question does come up. Could something flourish? Will his son accept him? Will Mike's sister accept her? All the issues they've been discussing throughout the film leave a lot of unanswered questions.
Blunt: But I like that. Sometimes a tidy resolution can be really unsatisfying. I think it's more exciting to just not know sometimes.
Your characters only have sex when they are in disguise. What do you think that's about?
Blunt: Because intimacy was terrifying to both of them so I think they had to pretend to be other people in order to allow one another to touch each other, to laugh together, to do anything that resembled any kind of connection.

Firth on his character's behavior: "He feels uncomfortable, but badly needs sex." Photo Courtesy of Cinedigm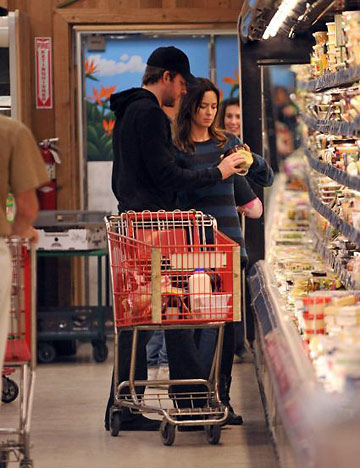 Emily with husband John Krasinski at a local supermarket. Courtesy Photo
Firth: They both have major issues and she doesn't want to be touched, but if she's not Mike, then maybe there's another way.
Blunt: I think Mike desperately wants to be touched. She just doesn't know how to.
Firth: And Arthur doesn't want to play this game. He's rather Boy Scoutish, but he badly needs to break down a few barriers and that's the beginning of the transformation for him. He doesn't think he should be doing this. He feels uncomfortable but he badly needs sex and just needs to be close to somebody so if this is how it has to be, he'll do it. He finds out this is a way that makes it easy, but obviously it's not sustainable.
When you're not working, do you like to cook a lot at home?
Blunt: Yes. I do. Colin likes to cook out of tins. That's how he makes dinner. (laughter) I really do love cooking.
Any specialties?
Blunt: I'm quite good at Thai food, actually. We just went to Thailand and I picked up some more tips. I like cooking Italian food and Thai mainly.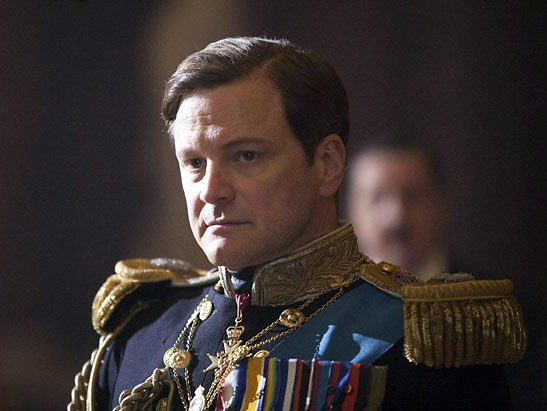 Colin Firth in his award-winning role as King George VI in "The King's Speech." Courtesy Photo
Colin Firth on the Red Carpet with his wife Livia Giuggioi. Courtesy Photo
What was life like after winning the Oscar for "The King's Speech?
Firth: The first thing I did after "The King's Speech" was to take quite a lot of time off. I thought it would be kind of nice to take six months of not doing this. Then there was a whole thing about "temporary retirement" or he's going to take a sabbatical. So I took almost a year out after "The Kings Speech."
What did you do during that year?
Firth: It was time to reconnect with the more permanent aspects of my life.