Andy Garcia & Danny Pino
Talk About Their Latest Film
By Beverly Cohn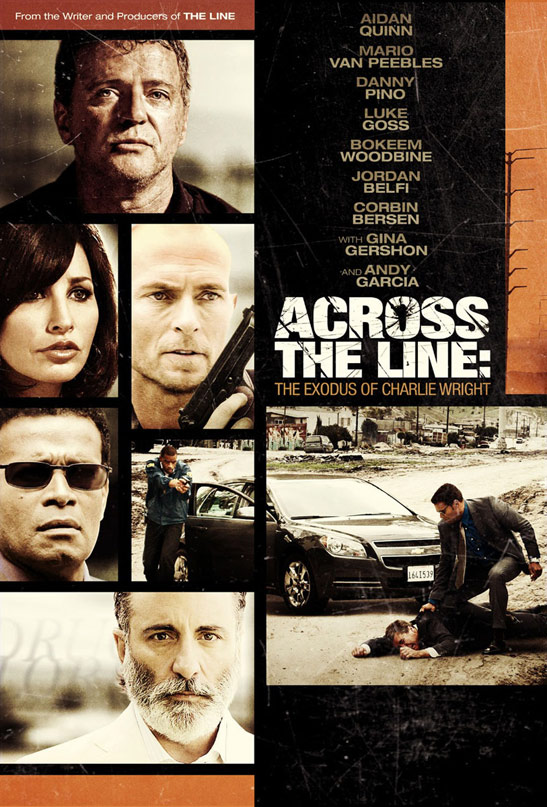 Photo credit: Exodus Distribution


ndy Garcia is one of Hollywood's most respected and talented actors having starred in an array of successful films including The Untouchables, Stand and Deliver, Black Rain, Internal Affairs, The Godfather: Part III, When a Man Loves a Woman, For Love or Country: The Arturo Sandoval Story, Ocean's Eleven, Ocean's Twelve, Ocean's Thirteen, Smokin' Aces, the critically acclaimed City Island and his latest film, ACROSS THE LINE: The Exodus of Charlie Wright. Danny Pino, who co-stars in the film as Garcia's younger brother Gabriel Garza, is probably best known for his recurring role on TV's "Cold Case."
The following interview, which has been edited for print purposes, took place at a press conference. It originally appeared in a recent edition of the Santa Monica Mirror and is being reprinted as a courtesy of that publication.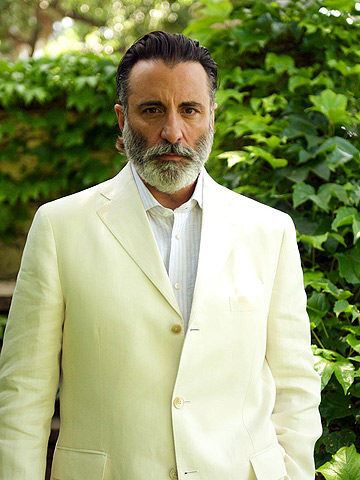 Andy Garcia as Tijuana drug king, Jorge Garza.
Photo credit: Exodus Distribution
Q: What attracted you to this role?
Garcia: In every part, you have an initial reaction to the material. I had worked with Ellis (R. Ellis Frazier, the director) on La Lina - The Line, co-starring Ray Liotta. Ellis writes very nicely and I had a good time working on that film. So, when I read the piece, I had an idea about my character. Co-incidentally, I was actually growing a beard for another part I was going to do in Mexico and when I read the part of Jorge Garza, I had an immediate image of this bearded man.
I saw him walking around Mexico always dressed in white. So that was my first impression. The sub-conscious elements of why you are attracted to a character begin peeling away as you start concentrating on the role and you discover the character's faults and where his pain is. I also liked the relationship with the younger brother.
Q: What was the deciding factor in taking the role?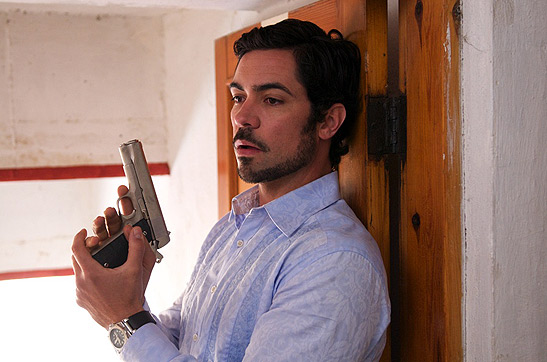 Danny Pino as Andy Garcia's devoted younger brother. Photo credit: Exodus Distribution
Garcia: I talked to Ellis about having Danny (Pino) play my younger brother, but I didn't commit right away. At that time, Aidan (Quinn) was not involved and I told Ellis that he had to have an actor who would compel you to watch the story and when he found that guy, I would do it. Movies are about the protagonist. The other characters are there to create obstacles for them and to contribute to the story, but you're really following this one man and his interaction with the other characters.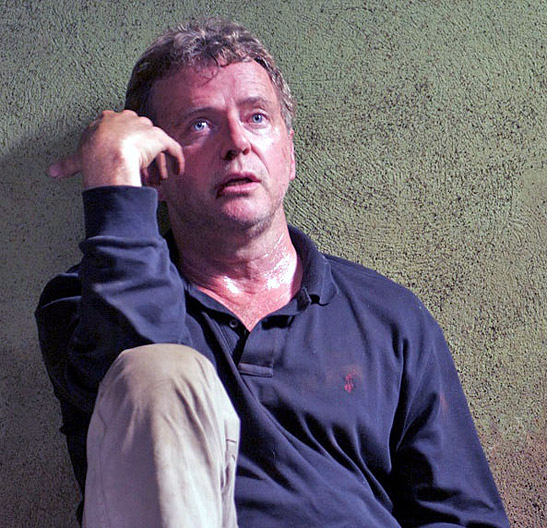 Aidan Quinn co-stars with Andy Garcia as the tormented super crook.
Photo credit: Exodus Distribution
Q: Aidan said the only reason he did the part was because you were attached to the film.
Garcia: It's mutual. When Ellis called me and said Aidan was doing the part, I said 'I'm in.' I have great deal of respect for him. He's a great actor and we're friends.
Q: You've directed films as well. Did you give input and did you receive a lot of character direction?
Garcia: Directors always collaborate with their actors about what's going on in a scene. Actors come in with a certain energy and we're all interested in film making so it becomes a collaboration. I did give some suggestions. It's was hard sometimes as Ellis had such little time to finish the movie because of the way it came together and the budgets, etc. Sometimes you get locked into this little world and you need someone to say, 'Hey have you thought about a cheeseburger instead of a club sandwich?' Sometimes it takes someone over your shoulder to point something out.
Q: How did that actually manifest on the set?
Garcia: Ellis wrote the material and he let us play. He'd say 'What do you want to do?' So we would talk about it and then he just stepped back. To me the greatest directors trust their actors. They want to see what the actors have developed. They might have a specific idea about a shot, but most of the time it's kind of worked out as far as the staging that generally begins to build in an organic fashion. Hal Ashby was one of the first guys I worked with in that way and one time he said, 'As a director when you give an actor a piece of direction, 99% of the time you're doing him a disservice.'
Q: What was the most difficult scene and were there any special challenges in shooting?
Garcia: We shot all my stuff in Los Angeles so you have to ask Danny about that.
Pino: You're dealing with a language barrier sometimes. I speak Spanish so I was in my element, but your contending with the weather, the sun, the clouds, etc., so in working with a director like Ellis, who has an improvisational approach to his work, you also have to work with the elements in the same way. The most challenging scene was the market sequence where we're trying to capture Charlie (Aidan Quinn) before anyone else does. We only had around 50 background artists who had to make it look like a populated, legitimate Tijuana marketplace. The sun was coming down and I remember saying under my breath 'we're never gonna' get this.' But we did.
Q: Were you ever worried about your safety?
Pino: Not really. Every actor had a shadow the entire time and the set was pretty much blocked off. I stayed across the border in San Diego so it felt safe.
Q: You had to go to some pretty difficult dark places as the character. How did that work for you?
Garcia: There are certain doors you have to open as an actor. When you go to those places, sometimes they open easily and are available to you, especially when the gods of inspiration might be on your side that day. Those scenes are painful and to get there you have to think about personal things, use substitution, and live emotionally in an imaginary circumstance and make it very real for yourself. It's not easy, but it's part of the craft that we are trained to do.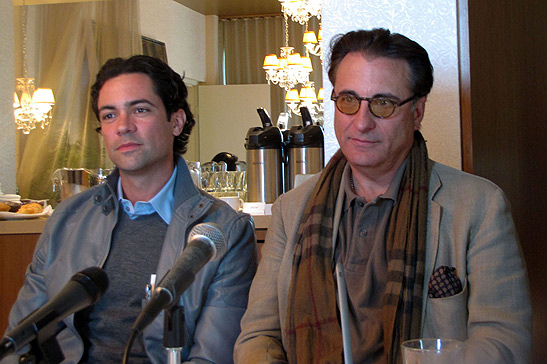 Danny Pino and Andy Garcia at a press conference. Photo credit: Beverly Cohn
Q: The relationship between you and Danny as the brothers was beautifully developed. Did you spend a lot of time together off the set?
Garcia: We watched football games together. (laughter) Usually, you have to cultivate a relationship or use substitution, but in the case of Danny, he's like a brother to me so I knew he would make me look good.
Pino: I knew all I had to do was to link my train to his and go along for the ride. He's always been someone I've looked up to and that's what my character does.
Q: Did you ever want to do anything else beside act?
Garcia: No. This is what I trained to do. I could certainly do other things, but I'm not interested in anything else other than acting, filmmaking, and music. I don't think I could make a living playing golf or fishing so I had to do something where someone was actually willing to pay me. (laughter)
Q: This film is going straight to DVD and VOD instead of a theatrical release. Did you know that when you entered the project and did you have any qualms about it?
Garcia: No. The project is the thing for me. That's like saying are you willing to work on cable as opposed to network television. It's very difficult to get a distributor these days. You have to go where the material is and what stimulates you. I hang my hat on a quote I once read by William Saroyan. He was asked if he cared if his plays are successful and he said, 'The fact that my plays exist is success enough. I think that's why I make movies because I want them to exist. Not to say that you don't want them to be successful, but it's more of a curiosity. It's a piece of art. You know Modigliani died broke and now his paintings sell for fifty million dollars. The point is you create something you care about and then throw it out there and see what happens.
Q: Do you think there's a moral message to the film?
Pino: I think there's definitely a message of redemption. The character bilked billions of dollars out of his investors and is trying to make things right, both personally and professionally.
Q: What are you doing musically?
Garcia: I started my band and we played three weeks ago. I do want to make a recording, but I'm a little sidetracked right now as I'm trying to get financing on a movie I wrote about Hemingway which I plan to direct. Sir Anthony Hopkins is attached to it so I'm kind of in the fund-raising mode right now. You have any cash? (laughter)
We'll take up a collection.
Garcia: Thanks…(laughs)
The next installment is Beverly Cohn's exclusive up close and personal conversation with Andy Garcia covering the private life and times of this gifted actor.