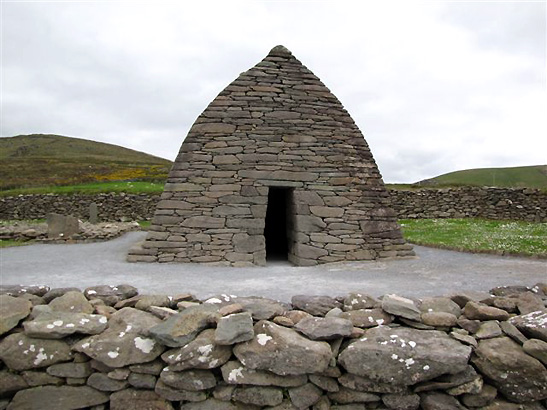 Gallarus Oratory, an early Christian church build 1300 years ago.
Ireland – Land of Smiling Irish Eyes
Words & Photos by Beverly Cohn


reland. There is something quite magical about the name and when you say you are going to visit the Emerald Isle, people smile and say how lucky you are to be going. Ireland conjures up many wonderful images. Beautiful blue-eyed colleens and mythical leprechauns, lively music and dancing in neighborhood pubs, a rich archeological and literary heritage, and friendly, oh so friendly people, are all part of the Irish mystique.
The trip began in Limerick and yes, it is the home of the limerick which was created as a code to fool authorities. Only a 15-minute drive from Shannon Airport, this charming city is one of Ireland's main tourist attractions, some of which include King John's Castle, Limerick Museum, and St. Mary's Cathedral. For pure entertainment, check out Dolans Warehouse where you can catch some lilting traditional music.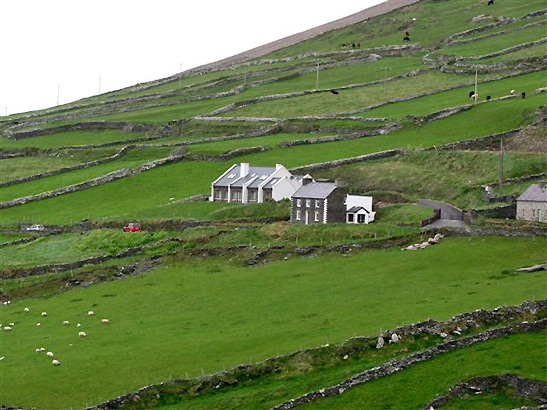 The landscape is dotted with brightly-colored, beautifully maintained homes, reflecting Irish national pride.

Driving along the country roads, the lush green landscape, which is dotted with a bright yellow weed called gorse, is filled with grazing sheep and cows. An agricultural society, Ireland is said to have extremely fine beef, 90% of which is exported to Europe. There are strict feeding guidelines as set by the European Union and Department of Agriculture, and the cows are virtually hormone free. Prized Kerry lamb is among the finest in the world.
Our group was fortunate to have assigned to it Will Collins, a fabulous guide, who regaled us with historic facts as well as his Irish wit and witticisms. Laughter was the order of the day and this is no blarney. For example, explaining the verdant countryside, Collins said, "It only rained twice last year, once for seven months and once for five months."
Picturesque stone walls can be seen throughout this southern region. During the 1845-1849 Great Potato Famine, which destroyed Ireland's main food crop, over a million people died, while another one to two million immigrated abroad. Britain, who was thought to be quite supportive of the famine, forbade the landlords to feed their tenant farmers who then "hired" them to build these stone walls paying them a penny a day, plus a piece of bread and a bowl of soup. This is how the wealthy landowners were able to provide for their people, without breaking Britain's ominous restrictions.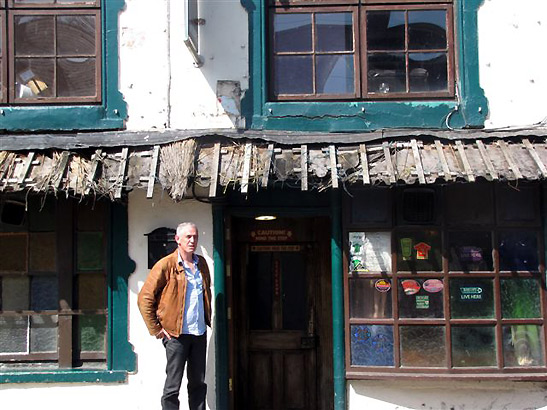 Guide Will Collins in front of Johnnie Storan's Bar, established in 1868
in the city of Croon.
What Irish adventure would be complete without visiting its famous pubs. The first stop was Johnnie Storan's Bar, established in 1868 in the city of Croon. It was early in the day, but not too early for some of the local gentlemen to gather on old, well-worn stools, a pint in hand, to watch a game of Irish football, a rugged form of soccer and according to our amusing guide "The best time to rob a bank is during a match."
Historically, the pub is the central meeting point and the hub of society. However, being the first European country to ban smoking, coupled with a more vigorous enforcement of drunk driving, pubs are feeling the pinch. Collins quips, "The new going out is staying home." That said, we saw no evidence of a sparse attendance in any of the pubs we visited. Delightful music and dancing abounded wrapped in the ever-present Irish charm and an empty seat was hard to come by. By the way, the Irish speak Irish, not Gaelic.
The drive to the Dingle Peninsula took us through an assortment of little towns where our van squeezed its way though tiny, winding, picturesque streets. Framed by majestic mountains and beckoning sandy beaches, the scenery is stunning, decorated with beautifully maintained, brightly painted homes. There is a wealth of archaeological remains thought to date back to 7000 BC, and, of course, the very famous Conor Pass, the highest mountains pass in Ireland.
Of particular interest is the 1300-year-old Gallarus Oratory, an early-Christian church. An excellent example of medieval stone work, it was built without mortar, using a technique called "corbelling," dating from Neolithic times whereby stones are laid at a slight angle allowing rainwater to run off. Despite being buffeted by Atlantic gales for centuries, the structure remains waterproof to this day. If you're planning a fall vacation, this year's Dingle Food and Wine Festival will be held October 2-4.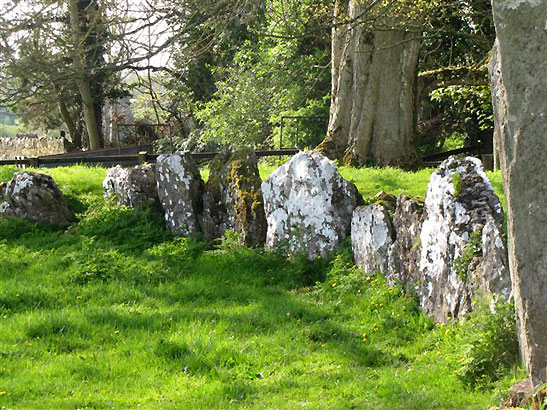 Ancient rock circle.
One of the most popular destinations in Ireland is the Ring of Kerry. With its panoramic views offering incredible photo opportunities, the circular drive can be taken in one day. However, with its narrow, winding roads, unless you are very skilled at driving "on the wrong side of the road," it is recommended that you take one of the guided tours, most of which depart from Killarney. The drive will take you along the banks of the river Laune until Killorglin, the home of Puck Fair, offering you astonishing views of the beach at Glenbeigh and the Blasket Islands at the mouth of Dingle Bay. If you stop in Caherciveen, take the elevator to the top of the former barracks and see miles and miles of countryside.
Valentia Island is worth a visit. Waterville and Derrynane are known worldwide for their beaches, walks and angling, as well as their archaeological sites. From here, your route takes you to the most picturesque village of Sneem, and to Kenmare. The journey takes you back to Killarney from Moll's Gap.
The town of Killarney is filled with craft shops, galleries, museums, cafes, and restaurants and offers opportunities to buy your souvenirs or special gifts. Free concerts are offered at St. Mary's Church of Ireland featuring traditional Irish music and dancers as well as story telling. A must do while in Killarney is a ride on a horse-drawn jaunting car through the 25,000 acre Killarney National Park. A peaceful refuge from cars and people, but if your driver is Billy Tagney, prepare yourself for side-splitting Irish humor which will leave you gasping for breath. The park also houses one of Ireland's most impressive waterfalls and hiking trails.
Another very interesting Ring of Kerry attraction is Kells Bay Gardens which is an extraordinary collection of sub-tropical plants and trees. The guide at this tropical paradise walked us through the various sections including River Walk, the Walled Garden, the awesome Primeval Forest which houses a huge selection of giant tree ferns, and the Palm & Succulent Garden, home to the largest palm tree in Ireland.
Castles, hotels, and quaint B & B's are abundant and with tourism down because of the world-wide depressed economy, a vacation in Ireland is more affordable than ever. Several exceptional hotels will be listed at the end of this article, but one in particular stands out because of a unique characteristic.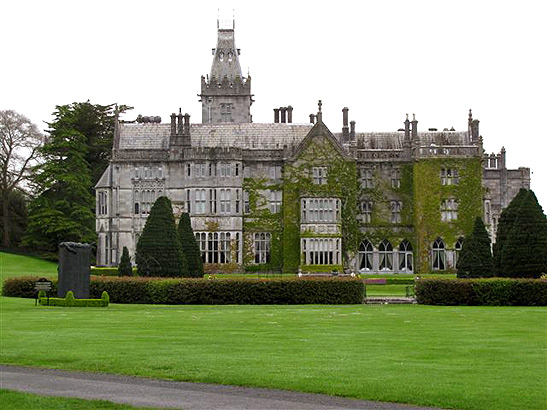 The most elegant Ashford Castle.
Right out of a storybook Ashford Castle, located in County Mayo, is a magnificent structure dating back to 1228 when monks began its construction. It became a summer home of the Guinness family until it opened as a hotel just before the start of World War II. Some rooms are tucked away in turrets and the 350 acres provides a range of country sports from horseback riding to fishing to clay pigeon shooting.
One of its most distinguishing features is that it is home to Ireland's School of Falconry and offers you a hands-on experience of actually flying a hawk. Trainer Debbie Knight explained that the females are bigger and more efficient than the males and that the falcon is the fastest living thing as it can dive at up to 246 miles an hour in pursuit of its prey. As far as being warm and fuzzy, Knight said, "They are not like pets and there is no loyalty or affection. The falconer does everything to please the birds, building a trust that once betrayed, cannot be restored." Lest anyone be concerned about these magnificent creatures being in captivity, their life expectancy in the wild is seven to eleven years, while they live 20 years in this protected environment.
The southwestern part of Ireland abounds in treasures and athletic activities from mountain climbing, hiking, kayaking, cycling, to surfing, or golf, as Ireland is home to 53 world-famous links and champions, including Tiger Woods, have played there. For those wanting a non-athletic experience, there are countless tours available and the best resource would be discoverireland.com where you can access information on the enchanting Irish experience that awaits you.
Recommended Hotels

All hotels listed have excellent, friendly service, lovely rooms with Fine amenities.
No. 1 Pery Square, Co. Limerick. Combines its historic Georgian roots with elegance and luxury.
Adare Manor, Limerick. A breathtaking castle hotel and golf resort. Amenities galore.
Dingle Benners Hotel, Co. Kerry. Charming, old world décor.
Killarney Park Hotel, Kerry. 5-Star hotel with elegant rooms, full service spa, and gracious service..