Ireland
Magical, Mystical, Delightful, Enchanting
Story and Photos by Beverly Cohn
Part 1: Days 1 -3


t is safe to say that one cannot visit Ireland too many times. This was my second trip and I was just as deeply taken by the beauty of the landscape, as well as the wonderful, joyous, fun-loving spirit of the Irish people. This two-part feature is a sketch of the tour organized by Tourism Ireland for a group of intrepid travel writers to share with our vacation-bound readers. Part 1 will cover days one-three and Part 2 will cover days four-six. I hope you enjoy coming along for this incredible ride, one that you might consider taking for yourself.
Day 1:
After a comfortable flight on Aer Lingus, several of us were met at the Dublin Airport and were whisked away to the Merrion Hotel, the only hotel to win the Gold Medal Award for Excellence twice. It is located in Dublin's City Centre, with a vast selection of restaurants, pubs, and museums within walking distance, including the pedestrian-friendly Grafton Street, a shopper's paradise, and Stephen's Green Shopping Centre.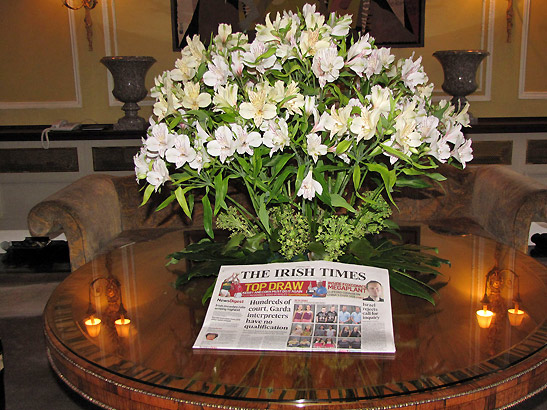 Welcoming lobby of Merrion Hotel
The hotel staff was friendly and made our brief stay very comfortable. The rooms are spacious, bright, and tastefully decorated and exquisite artwork is on display throughout the hotel. Oh yes, for those of you who have had difficulty getting the "this side up" slide room keys to always work, the Merrion offers magnetic, non-slide keys that you simply touch to the lock and presto…the door opens.
With several castles on our itinerary, this would be a good time to say a few words about them. It is estimated that there are over 4,000 castles in Ireland, ranging from ruins and castle towers to the regal castles of Irish chieftains and the very lavish castle hotels such as the elegant Adair Manor or Ashford Castle. Filled with fascinating history, according to legends, many of the castles come complete with a resident ghost or two. It should be noted that originally Irish castles were designed primarily for defense purposes and tended to be less ostentatious than their British counterparts. Generally the architecture in Ireland is a mix of Victorian, Georgian, and Medieval styles.
Dublin Castle
Following a light lunch of tea sandwiches of smoked salmon and cream cheese or turkey and pesto served with delicious coffee, our charming guide extraordinaire Will Collins, who beguiled us with facts and fiction and amazing folklore throughout the trip, scooped us up for a visit to Dublin Castle, which was originally built in the 13th century on a site settled by Vikings. The castle functioned as a military fortress, prison, treasury, courts of law, and the seat of English colonial rule in Ireland for 700 years until 1922, when it was handed over to the new Irish State. It is interesting to note that Dublin got its name from the Black Pool harbor, or Dubhlinn, which occupied the site of the present castle gardens.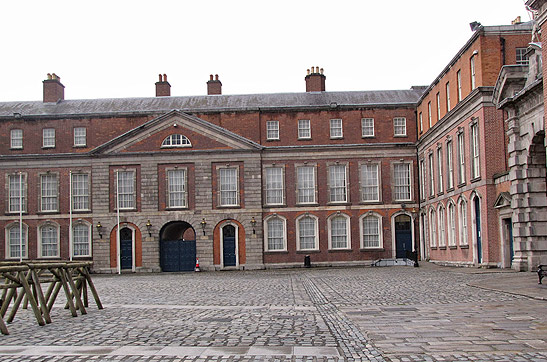 Dublin Castle Upper Yard
The Dublin Castle has been transformed into a place of national prestige and hosts State functions, including presidential inaugurations. The meticulously preserved historic rooms, a fascinating look at the opulent days of yesteryear, include The Throne Room, James Connolly Room, the King and Queen's Bedrooms (separate), The Drawing Room, and St. Patrick's Hall.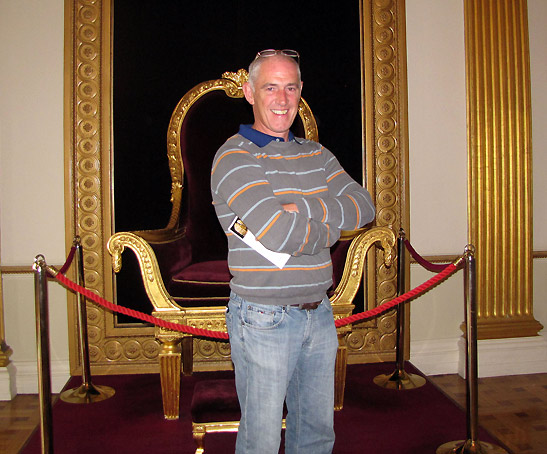 Our quick-witted guide, Will Collins, in the Throne Room.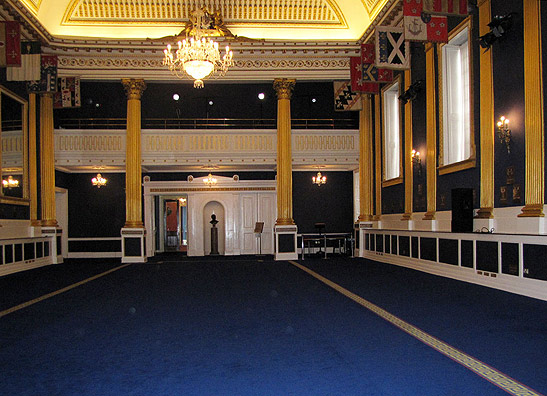 St. Patrick's Hall - the most important ceremonial room in Ireland.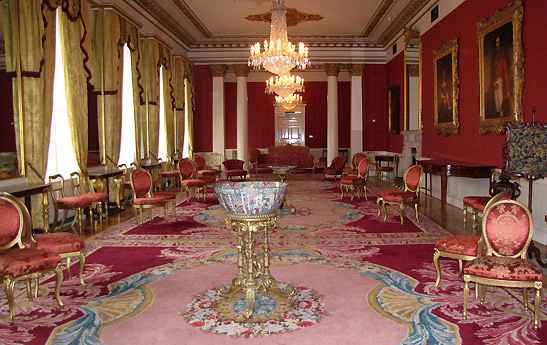 Each room, like this Drawing Room, is exquisitely appointed with ornate furniture, Waterford Crystal chandeliers, and famous paintings.
Hugh Lane Gallery.
A short jaunt from Dublin Castle, the gallery was started by Hugh Lane as Dublin's Municipal Gallery of Modern Art and for his "services to art" in Ireland, was knighted in June 1909 at the young age of 33. He became one of the foremost collectors and dealers of Impressionist paintings in Europe, obtaining such works as La Musique aux Tuileries by Manet, Sur la Plage by Degas, Les Parapluies by Renoir and La Cheminée by Vuillard. We had a fascinating private tour and our guide took great delight in revealing insider gossip on how the museum acquired many of its paintings that, "sometimes bordered on guile and trickery."
Dinner was scheduled for 7:00 pm and our very hungry group headed over to Bleu Bistro Moderne, owned by restaurateur and award-winning chef, Eamonn O'Reilly. This airy, bistro-style restaurant, located in Joshua House on Dawson Street, has floor-to-ceiling windows, comfortable dark brown leather banquettes, and wooden furniture. The menu is comprised of European dishes with an Irish twist and includes such delectable selections as Fermanagh Free Range Chicken with Mushroom Risotto, and Red Wine Reduction, and Beef Bourguignon Pie, housed in Crisp Puff Pastry, with Creamed Potatoes and Glazed Carrots. For a starter, I tried the mouth-watering Warm Roast Aubergine and Goat Cheese, Tomato Fondue with Pesto and for dessert, the sinful Apple Crème Brulee, but the Lemon Rice Pudding with Blueberry Sorbet and Biscotti would also be a yummy choice.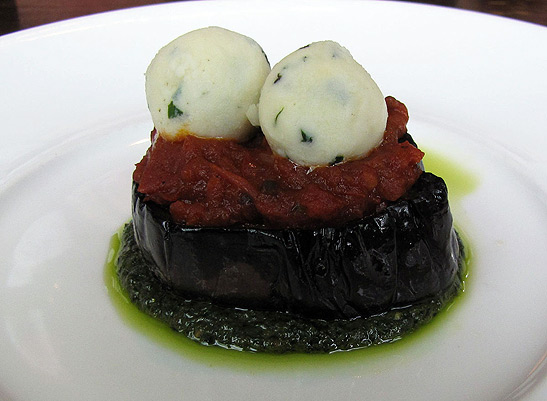 Warm Roast Aubergine and Goat Cheese, Tomato Fondue with Pesto
It was a long day and after our delightful dinner, we headed back to the Merrion Hotel for our first night's sleep in Dublin.
Day 2: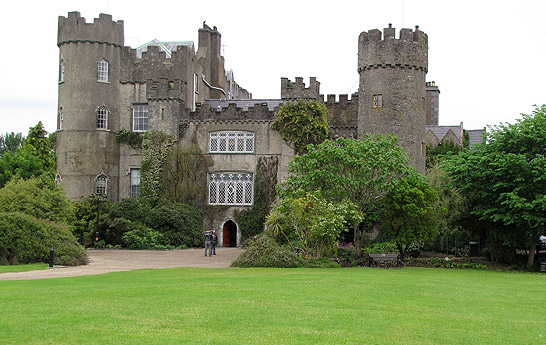 Malahide Castle, one of the oldest and most historic castles in Ireland.
Malahide Castle.
Set in the lovely seaside town of Malahide, on 250 acres of lush parkland, Malahide Castle is one of the oldest and most historic castles in Ireland. Owned by the Talbot family for almost 800 years, the home is furnished with authentic period furniture, complimented by a large collection of Irish portrait paintings. If you're lucky, you might get a glimpse of Puck, said to be the resident, but elusive ghost.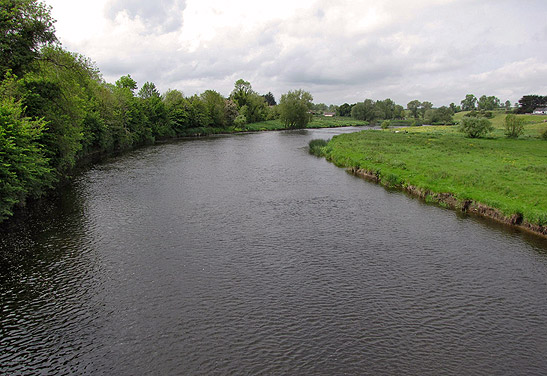 The contours of Malahide's lush grounds have not been altered very much for the last 800 years and are peaceful and perfect for strolling.
Newgrange
Our next stop was the famous Newgrange Megalithic Passage Tomb, the most famous of the three great Irish passage tombs of the Bru Na Boinne complex. Built around 5,000 years ago by Neolithic farming communities to house the remains of the dead, modern research suggests that Newgrange is probably the oldest known astronomically aligned structure in the world, predating Stonehenge in England and the Pyramids of Giza in Egypt. It is estimated that it would have taken a work force of 300 people 30 years to complete construction. It is likely that this was a place of astrological, spiritual, religious, and ceremonial importance and according to Irish mythology, it was the home of Oenghus, the God of Love.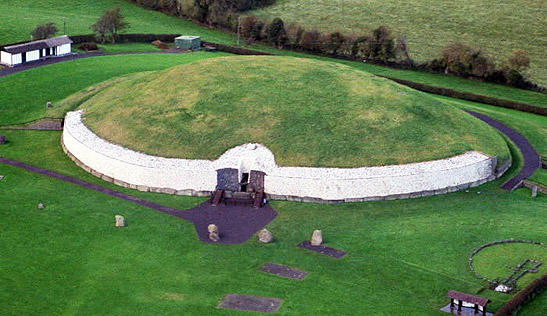 Newgrange predates Stonehenge in England and the Pyramids of Giza in Egypt.
Photo Credit: Knowth.com
One of the most famous aspects of Newgrange Megalithic Passage Tomb is that at dawn on the Winter Solstice, a shaft of sunlight enters the chamber through an opening in the roof-box and the beam broadens as it moves down the passageway. This remarkable event lasts for about 17 minutes on the Winter Solstice, as well a few mornings before and after. This site is a definite must-see. To learn more about Ireland's amazing history visit www.heritageireland.com.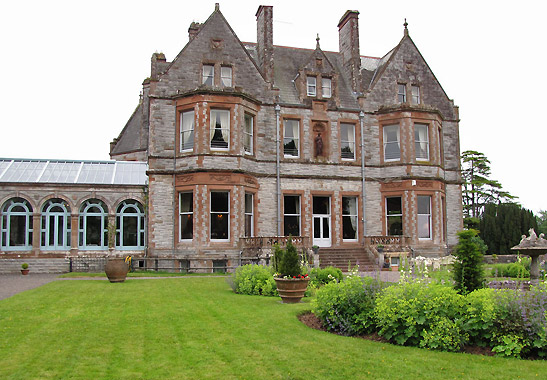 Castle Leslie has been home to the Leslie clan since the 1660s.
The Castle at Castle Leslie Estate.
By the time we arrived at Castle Leslie, a bit of relaxation was in order. I was treated to a Victorian Back Massage in the Organic Victorian Spa, followed by a steam in a Victorian Steam Box. Shaped like a vertical coffin, the panels on either side enclose your body and only your head sticks out, allowing the rest of you to be bathed in a gentle stream of soothing steam. Ah yes.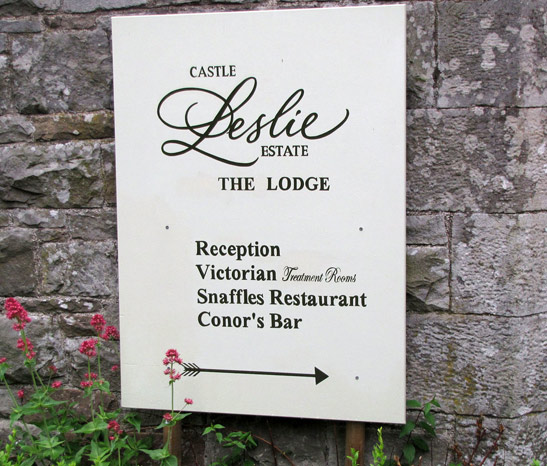 This way to the spa.
Following our pampering, we were given a pre-dinner special guided tour of the Castle Leslie by Sir John Norman Ide "Jack" Leslie, 4th Baronet, also known as Uncle Jack. Tall and stately, Uncle Jack looks like he's straight out of central casting and clearly enjoys sharing the history of his home in which his ancestors have lived since the 1660s.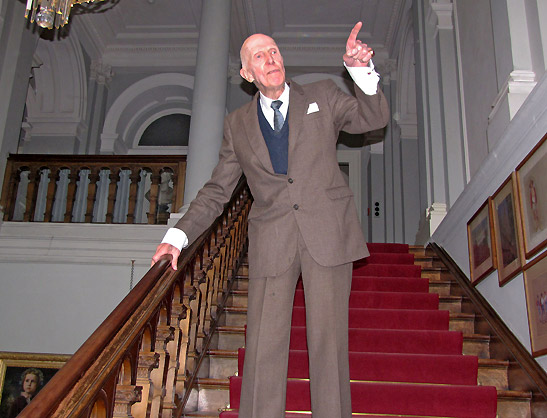 94-year-old Uncle Jack moves quickly and gracefully up down the stairs and in and out of the various rooms.
This 94-year-old gentleman moves quickly and gracefully up and down the stairs and in and out of the various rooms, never missing a beat in his story telling about the castle's history and some of its famous visitors, which included Winston Churchill, Mick Jagger, Marianne Faithful, the Duke of Wellington, the Roosevelts, Wallis Simpson, and was the site of Sir Paul McCartney's ill-fated marriage to Heather Mills.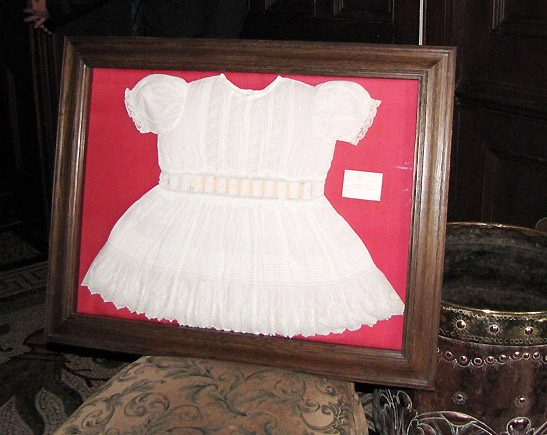 Sir Winston Churchill's christening robe is on display in the castle.
Perhaps one of the things that keeps Sir John young and engaged is the local night life and he can frequently be seen enjoying himself at the Squealing Pig pub or disco dancing at The Forum. Only 80 minutes from Dublin, Castle Leslie is one the last bastions of family-run castle hotels in Ireland. Nestled on 1,000 acres of rolling, lush countryside, dotted with rural woods and lakes, the setting is perfect for an afternoon or evening stroll through beautiful gardens and wandering paths and do stop and sit in one of the gazebos for a few moments of peaceful bliss.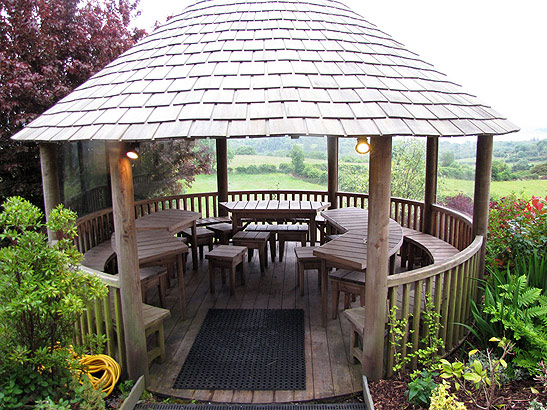 Timeout for a tranquil stop at one of the property's gazebos.
Following our delightful visit with Uncle Jack, dinner was served in Snaffles Brasserie located in the Hunting Lodge. The food is classic Irish cooking based on the Leslie clan's recipes dating back centuries. Fresh ingredients are sourced daily and by the way, the fresh-baked breads, scones and homemade preserves are simply divine.
Day 3:
Ulster American Folk Park.
The Ulster American Folk Park, in Castletown, just outside Omagh in Northern Ireland's County Tyrone is a sprawling outdoor living museum comprised of around 29 restored original cottages, each depicting the life and times of the immigrants who emigrated from Ulster to America in the 18th and 19th centuries in search of a better life. The sparse furnishings in each of the cabins, from the lamps to the chairs to the occasional bric-a-brac, reveal how difficult life was.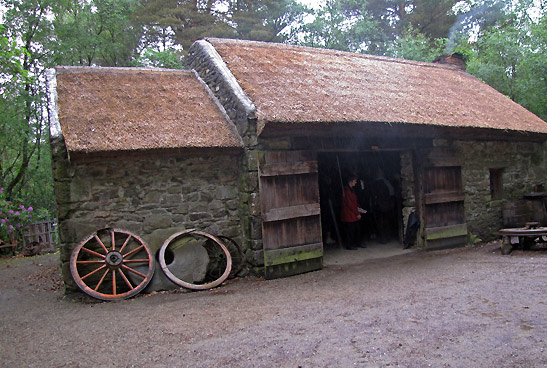 A blacksmith's forge of the 19th century, one of the restored original cottages.
The period costumed re-enactor in each cottage demonstrates how daily tasks were executed, such as bread making, cooking, arts and crafts, embroidery, forging, spinning, and printing and shared "personal" tales about their lives.
One particularly interesting demonstration was in the candle-lit Weaver's Cottage, one of the few that had glass windowpanes, a sign of wealth in those days. A young woman sat at the spinning wheel and told stories of how she learned to sew as a child and that women produced the yarn and the men were the weavers. As she turned the wheel, she sang an Irish folk song about the monotony of life and told of the origin of the word "spinster," which came from unmarried women who filled their time spinning. She showed us miniature replicas of adult clothing and talked about the natural dyes derived from a moss-like plant called "lichen."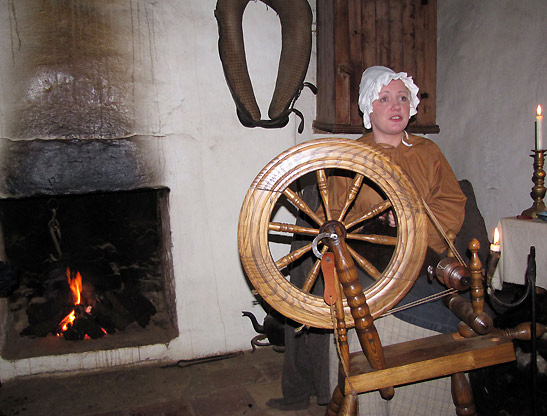 With peat burning in the fireplace, a costumed re-enactor talks about the origin of the word "spinster" which came from unmarried women who filled their time spinning.
Perhaps the most visceral experience was walking through the life-size replica of an emigrant tall ship that has re-created the harsh living conditions that had to be endured for up to the twelve weeks it could take to reach America. Rows of wooden bunks housed up to 200 people and with the lack of proper food and sanitation, death was an everyday occurrence, with up to 50% of the passengers not surviving the journey. Despite these horrendous conditions, the promise of a new life compelled tens of thousands of people to take the risk. Once in America, Ulstermen, who played a vital role in the history of the United States, would build cabins similar to the ones they left behind in Ireland.
Farm animals roam freely around the park and perhaps the only negative for an untrained nose is the intense smell of burning peat, used for heating, which permeates the park. Most Irish people like the smell because it's familiar, but for the unfamiliar nose, it can be overwhelming.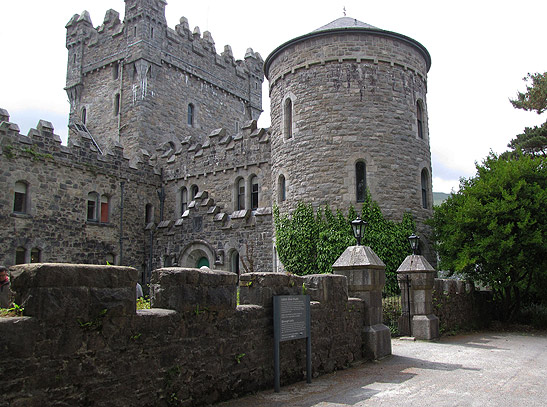 Scottish-style Glenveagh Castle.
Glenveagh National Park.
Following a light lunch at the Folk Park's Visitors Centre, we were off to Glenveagh National Park, one of six national parks in Ireland, for a tour of the romantic Scottish-style castle and one of Ireland's most famous gardens. Located northwest of County Donegal, the park is a sprawling 40,873 acres of gorgeous scenery made up of mountains, lakes, glens, and woods. If you're lucky, you might run into a herd of resident red deer, one of two large herds in Ireland. Adding to the beauty, is a stunning array of flowers splashing over the hillsides, creating a dazzling carpet of vibrant colors.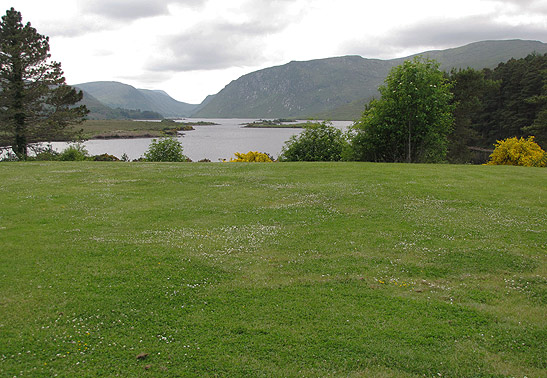 The park is on 40,873 acres of gorgeous scenery made up of mountains, lakes, glens, and woods.
John George Adair built Glenveagh around 1870 and lived in it until his death in 1885. Subsequently, the castle was occupied by the IRA in 1922 but retreated when the Free State Army appeared. Filled with well-preserved original furnishings, the 30-minute guided tour will give you an in-depth peek into the lifestyle of a more elegant era.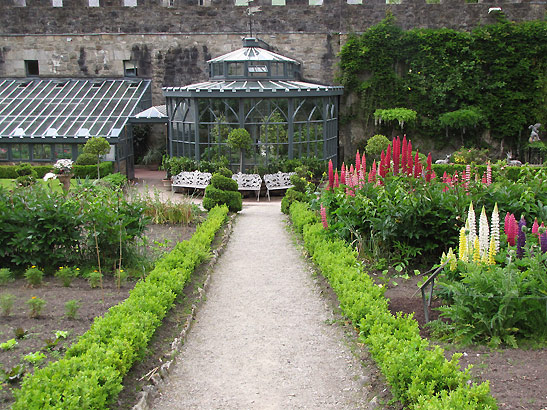 Created over a hundred years ago, the gardens are filled with a vast number
of exotic plants.
The Mill Restaurant.
After a full day of sightseeing and absorbing the awesome experiences, more sensual sensations were to follow as we headed over for dinner to the Mill Restaurant, owned and operated by Susan Alcorn and her husband/chef Derek. Located in Figart Dunfanaghy, Letterkenny Co. Donegal, the former flax mill was purchased by her grandfather who was a famous watercolor artist, and the property was his studio and home until he died in 1990. Since then, the mill has been modernized and expanded to house a restaurant, six en-suite bedrooms, and living quarters for the Alcorns.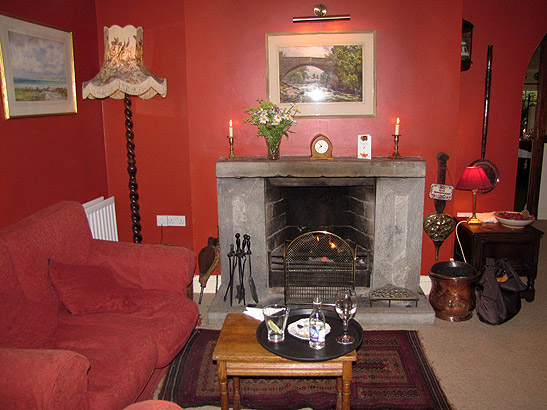 Mill Restaurant's living room
Susan greeted us warmly upon our arrival and invited us to relax in the tastefully furnished living room, set off by a stone fireplace, where we were served cocktails and given a menu.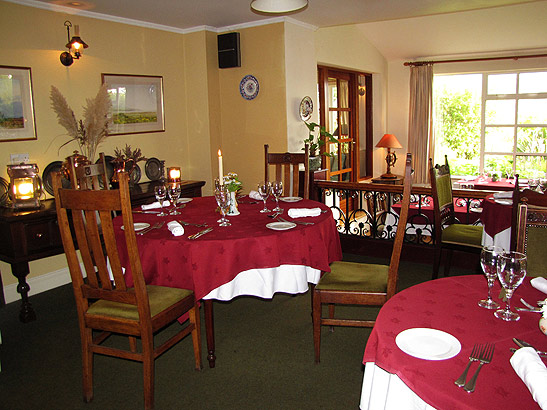 The restaurant's beautiful split-level dining room.
The dining room is split level encased by many windows allowing an unobstructed view of the vista. Fresh flowers sit on the tables and the room is enhanced with soft lighting, with antiques adorning the little nooks and crannies scattered about the room.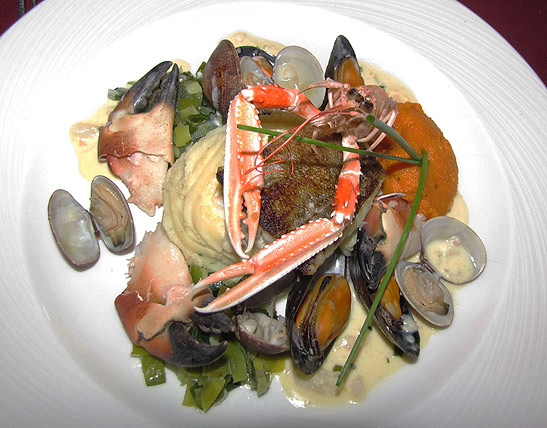 The amazing Horned Head Crab with Avocado.
The restaurant has an extensive, mostly organic seasonal menu. I selected the Horn Head Crab with Avocado and Sweet Corn Sorbet as the starter, followed by Monaghan Chicken - Lemon and Garlic Free Range Chicken with Sweet Pepper Risotto and a Tarragon Emulsion, followed by a luscious Puree of Pea, Apple and Curry Soup with Natural Yogurt. My meal was topped off with a refreshing Pink Grapefruit and Gin Sorbet. What a scrumptious end to a scintillating day and time to check into our next hotel.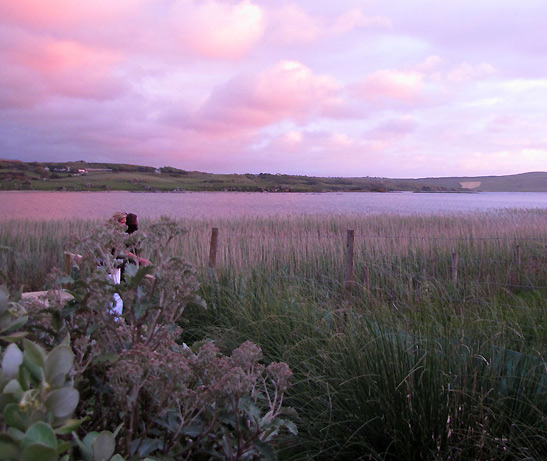 Before leaving the restaurant, we got to enjoy a spectacular sunset over New Lake.
Our evening was capped off by a stay at Arnolds Hotel, family-owned since 1922 in Dunfanaghy, County. Donegal. With the Sheephaven Bay serving as its backdrop, we were welcomed by a friendly staff and were escorted to each of our rooms. If you like horseback riding, their riding stables have the seal of approval from the Association of Irish Riding Establishments, the British Horse Society B.H.S., and the Irish Tourist Board. Weather permitting, you can take a stroll along Killahoey Beach to work up an appetite for dinner and then celebrate the end of the day with a pint in the Whiskey Fly Bar where you can relax, unwind, and listen to traditional music.
Stay tuned for Part 2 of "Ireland - Magical, Mystical, Delightful, Enchanting"