James Patterson Interview
The Man With A Big "Cross" (Alex) To Bear
By Beverly Cohn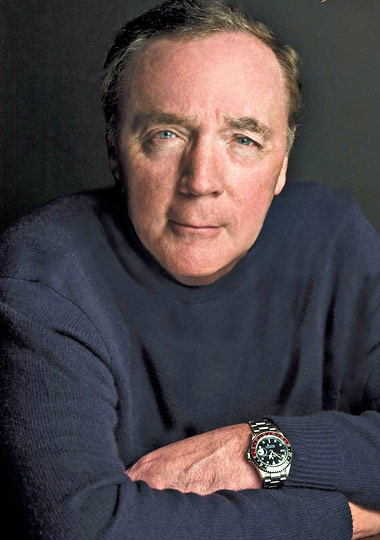 World-famous, best-selling author James Patterson, is the creator of the iconic character Alex Cross. Courtesy Photo

orld-famous novelist James Patterson has created one of the most iconic characters in the detective thriller genre with Alex Cross as the central figure in the Alex Cross series including "Kill Alex Cross," "Cross Fire," "I, Alex Cross," "Cross Country," "Double Cross," "The Big Bad Wolf," "Four Blind Mice," "Roses Are Red," "Jack & Jill," "Kiss the Girls," and "Along Came a Spider," to name a few.
A number of Patterson's books have been adapted for the screen including "Kiss the Girls," "Along Came a Spider," "Miracle on the 17th Green," and "Child of Darkness Child of Light." Patterson's Alex Cross is yet again on screen in "Alex Cross," starring Tyler Perry as the "new" Alex Cross, the character that Morgan Freeman portrayed in several films.
Written by Mark Moss and Kerry Williamson and directed by Rob Cohen, the film co-stars Edward Burns, Matthew Fox, Rachel Nichols, Cicely Tyson, Carmen Ejogo, Giancarlo Esposito, John C. McGinley, and Jean Reno. Patterson wrote other novels under the banner of "Women's Murder Club," and another iconic character, Detective Michael Bennett.
Patterson recently participated in a press conference to promote "Alex Cross" and the following has been edited for content and continuity for print purposes.
Are you pleased with how the film turned out?
Patterson: I thought it turned out great. Once this thing got going in terms of production, it moved really quickly and smoothly. I thought Summit (Summit Entertainment, an film studio and a subsidiary of Lions Gate Entertainment) was fabulous to work with. They don't get in the way. They're helpful. They're supportive in every aspect.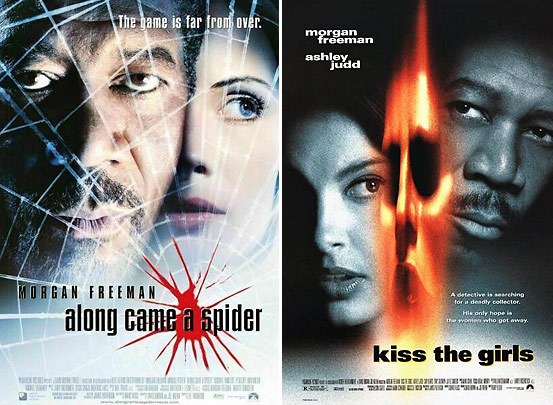 Left: "Along Came a Spider" starred Morgan Freeman as Alex Cross.
Right: Morgan Freeman as the iconic Alex Cross. Courtesy Photo
Do you think Morgan Freeman will be missed as the lead character? ("Kiss the Girls", "Along Came a Spider.")
Patterson: You know, Morgan is Morgan and he's kind of irreducible, but Tyler is much closer to the character in the books. The character in the books is bigger and he's physical and he's bright. I think everyone in the film did a great job, especially given the budget, which was not enormous - a quarter of what he's used to. (Rob Cohen, director.)
Is there a responsibility when a book is adapted to a screenplay?
Patterson: I can't do that much about that. Hollywood does what they do. Here comes "War and Peace" and somebody might say: 'Here's my take on "War and Peace." Here's "Madame Bovary." And, here's "Anna Karenina"' and they're going to turn it into whatever they're going to turn it into whatever they're going to turn it into, so I can't complain about that and I certainly was involved in this. I actually co-wrote the first script which was changed radically, and that's ok with me. The book is the book and nobody can mess with it and the movie is the movie and I'm comfortable with that.
When you first began to develop the character of Alex Cross, what did he mean to you and in view of your success, do you just love that character?
Patterson: I'm not a big success guy. I don't think about it. One of the nice things about the people I grew up with is they tell me I'm still the same asshole you always were. I like that. Success just doesn't move me one way or the other.
Patterson: Did your younger years have any influence on creating Alex Cross?
Patterson: Actually, Rob and I grew up in the same town, Newburg, New York, murder capital of New York State, and it's very mixed, sort of half and half - black and white. I played a lot of basketball and if you wanted to play basketball, you kind of went into the neighborhoods. I felt for a long time that the way a lot of movies were portraying African- Americans was kind of stupid. I wanted to create a hero who really was a hero. An African-American guy who's bright and anti all the stereotypes - the kind of man who won't take care of his family. So, here's a guy who's taking care of his family. Not so much in this movie, although in this movie he's involved with the family more than the first two. He's taking care of these kids. He's cool with his grandmother. (Cicely Tyson) He's well educated, Johns Hopkins, etc. etc. So I just wanted to go against the stereotypes. I think it works and that's what I'm happy about. It's an iconic character so I'm happy. When the publisher says that I've created more enduring characters than any modern writer, I think that's probably true and that's my strength. I have many weaknesses, which I don't care to go into at this time.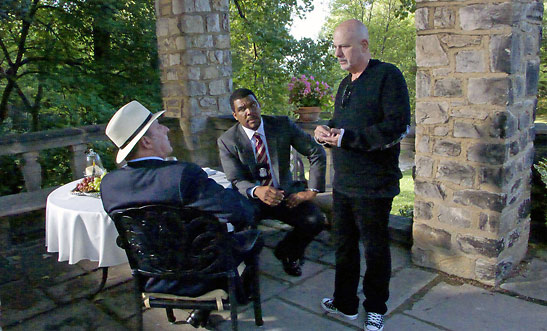 L-R: Director Rob Cohen (far right) gives direction to French actor Jean Reno and the new Alex Cross, Tyler Perry. Photo: Summit Entertainment. Photo by: Sidney Baldwin
Were you on set during the shoot and did you have input?
Patterson: I own 40% of the movie. I had a lot of input I think in good ways. I also can step back and stay out of the way which is probably the most useful thing you can do sometimes. I think what's good about the movie is that's it's pretty suspenseful and the action is good. What's a little unusual about this movie is that it's very emotional in parts and something happened on the set twice. You know, film crews can sort of not be into it that much, but twice during this movie, crews were watching the monitor and they were crying. Once when Alex is talking to his daughter and there was more. It was very, very emotional stuff and I think Tyler did a great job getting the emotional stuff right. I think he's is going to blow people's minds with his performance because people have certain pre-conceptions and they're not right.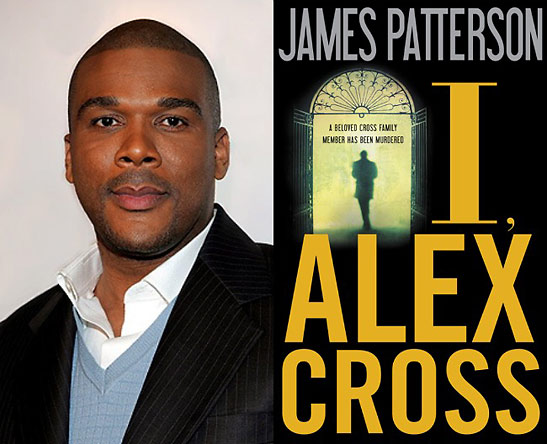 Tyler Perry has some big shoes to fill as he replaces Morgan Freeman as Alex Cross.
Courtesy Photo
Did you have any concerns about having Tyler cast as the lead?
Patterson: When we all went to Atlanta to meet with Tyler, he said to me, 'James, I wouldn't do this if I wasn't sure that I could pull it off and I'm going to give myself over to Rob. I'm not the director here and I'm going to let my ego go by the wayside.' That's what he did. He took off some weight and buffed up. That was cool.
Do you think all the violence depicted in American movies is dangerous?
Patterson: No. Look. The Bible is violent. It's in the world right now. First of all, the readership of my books is 75% women. I don't know what you want to make of that. It's not men. It's not guys. "CSI" is 60% women and I think, to some extent, people like to see solutions in life. They like to see mysteries solved because so much of the world right now we can't get a solution. Problems don't get resolved in a way that's satisfying. What does Obama think? What does Romney really think? We don't get the solutions so the nice thing about mysteries is that for those two hours in the theatre, you get a resolution and that can be very satisfying.
You mentioned that you wrote the first draft of the screenplay. Was it closer to the book than the final version?
Patterson: It was a bit more than the book, but still the fundamentals of the book are there. This thing does revolve around a family tragedy and a killer who is very unusual and who you really do have strong feelings about. One of the nice things about this movie is that everyone who went into it was hungry. Rob wanted a hit. Morgan wanted... Uh. I mean Tyler wanted to do something different. He wanted to show that he had different skills than people thought he did. I wanted another movie. So everybody was hungry and I always think that's great and that does tend to produce a pretty good product.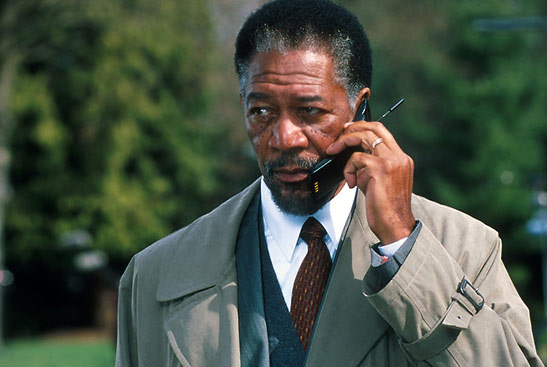 Morgan Freeman as Alex Cross in a scene from "Along Came a Spider."
Courtesy Photo
Have you spoken with Morgan about the younger Alex Cross and do you think he feels an entitlement to the character?
Patterson: I don't know. As I said Morgan, and I'm not going to sit here and wax poetic on Morgan because he's a wonderful actor, but one of the things with Morgan is he's 77 years old now and it's get harder and harder and is he going to be a detective at that age. I don't know if that would have worked. See, with the books it's different. Writers are smart. It may be a year to the next book, but the character only ages a week, so we don't have to worry about age.
This Alex Cross displays a certain lack in his moral character that blurs the lines between the good guy and the bad guy. This seems counter to the Alex Cross we have known and loved. Can you comment on that?
Patterson: I think that to some extent Rob pushed it a bit that way - a bit more than I would have liked so there's a minor disagreement on that. But I think one nice thing about this movie vs. the other two movies is the family. The family is a huge part of the books. That's what keeps the fans involved in the books.
What was your reaction when you saw the final cut?
Patterson: Here's a funny story about the last press junket. I had to prepare myself by watching the movie so here's come the first scene and that wasn't in the book, and then the second scene, and that wasn't in the book. And in the second scene Morgan as Alex is building a ship in a bottle, which isn't the most cinematic thing in the world, but this woman comes in and I don't know who the hell she is. Who's this woman? It's not his grandmother, and it's not his girlfriend and she never comes back in the movie. So a little later, during the press junket, I see Morgan and ask him who the woman is in the second scene of the movie and he says, 'Oh, that's Alex Cross' sister.' I said, 'Oh, I didn't know Alex had a sister.' (Much Laughter)
When you wrote the first Alex Cross novel, did you go in with the intention that you would be revisiting this character and are you hooked on Alex?
Patterson: When I wrote the first novel, I had a publishing company and they said they wanted two and it became a two-book deal so I said ok, I guess I'm going to write another one with this character. Now, you do get hooked into the characters and when you end a character, it's like someone dying in your life so I am hooked into Alex. I like that he keeps growing and changing and I am curious about what's going to happen next and what's going to happen with the kids. I'll continue writing him as baby needs new shoes. (Laughter)
I'd like to go off topic and ask you about your writing career. What was the reason behind your decision to co-write some of your books?
Patterson: I have a very active imagination and am good at creating characters. But, I'm not good at certain other things. I have this huge stack of ideas for books and I just happened to be with a friend once and he said let's try to write a Goth novel ("Miracle on the 17th Green") and I liked the collaboration. People think that's weird, but a lot of movies are written with a couple of writers as well as a lot of television. So it's not that unusual. You start traveling around Europe and you wonder how many painters were involved in that ceiling, etc. I think the good thing for me is that I really believe in teamwork anyway and it allows my strengths, which tend to be plotting and structure and creating the characters, and the initial tone. So they'll write the first draft and I'll write the subsequent drafts which totally f.… everything up.
Do you still do a lot of research?
Patterson: I don't have to do too much now about cops and the FBI because I've done so much of that and have a pretty good feel for that. I don't write realism and sometimes people will say that didn't seem very real and would never happen. I could just see someone looking at a Picasso and saying that's doesn't look very realistic.
One last question.
Patterson: I like this. You know, you write a book you get no journalists at all. This is heaven. (Laughter)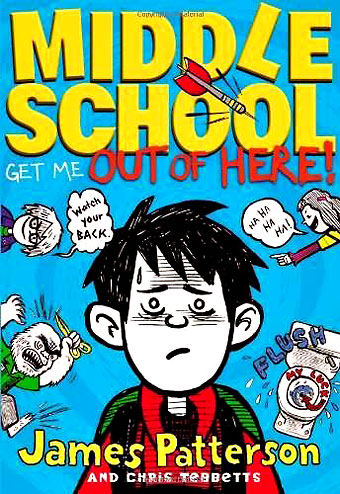 One of the books for children written by James Patterson. Courtesy Photo
What motivated you to write books for young kids? (The Fire, The Gift, Witch & Wizard, Get Me Out of Here! The Worst Years of My Life)
Patterson: I didn't jump on the young adult bandwagon. My son Jack was eight and very bright but wasn't a big reader. That summer we said you're going to read every day and he said, 'do I have to?' We said, 'yes, unless you want to live in the garage.' We said we would find cool books and went out and found a dozen books and by the end of the summer he had read ten books that he loved and his reading skills increased. He just got 800 on his SSAT's in reading and went from being disinterested to being a big reader. That's what really got me into writing for kids. I believe it's the parent's job, not the school's, to get kids to read and you gotta' go out and find the books for them. You have to insist that they read. The other thing is the more kids read, the better they get at it.
Can talk about the state of publishing today and E-Books in particular?
Patterson: It's done deal now. I think the tricky part is I think we are not ready for no bookstores in this country. We're not ready for it and we should never be ready for it.