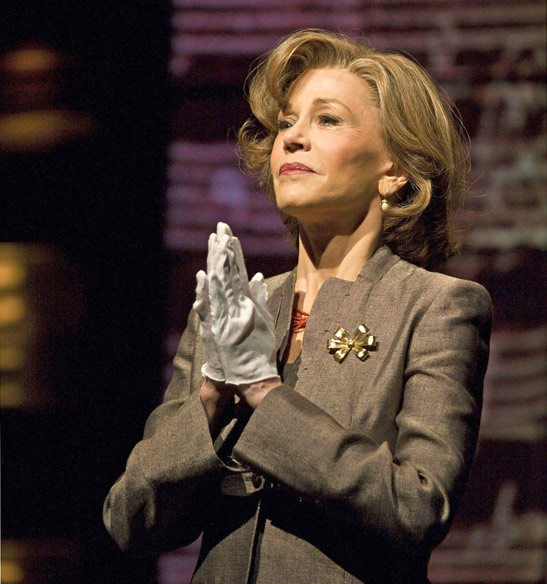 The most elegant Jane Fonda as Dr. Katherine Brandt,a musicologist facing a
grave health challenge.
Miss Jane Fonda Graces the Ahmanson Stage in "33 Variations"
By Beverly Cohn
Photos by Craig Schwartz

here was something extra special about this particular opening night at the Ahmanson. The excitement was palpable as Hollywood stars, including the indomitable Cher, showed up to support one of America's most accomplished actresses – Miss Jane Fonda. The outpouring was well rewarded, as Miss Fonda's performance in "33 Variations," beautifully written and directed by Moises Kaufman, was spellbinding and truly a visual and emotional treat.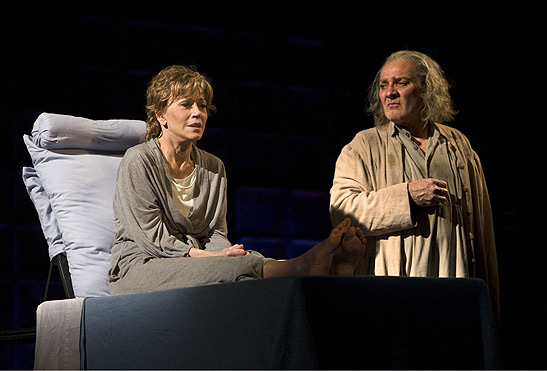 A dying Dr. Brandt's obsession with Beethoven's (Zach Grenier) devotion to a particular waltz.
The most elegant, stunning 72-year-old Miss Fonda plays Dr. Katherine Brandt, a musicologist battling Lou Gehrig's disease, a degenerative affliction that attacks the muscles. She is hell-bent on solving the question as to why Ludwig van Beethoven devoted years to developing variations to a mediocre waltz composed by Anton Diabelli.
The highly skilled Fonda discovered every possible nuance and subtlety of her most complex character, filling the stage with her finely honed theatrical presence. Her physical life is so well developed that you could swear the character is losing weight before your very eyes as her already thin frame begins to shrink as her brain ceases sending messages to her muscles. Her speech becomes labored, as though her tongue has swollen inside her mouth.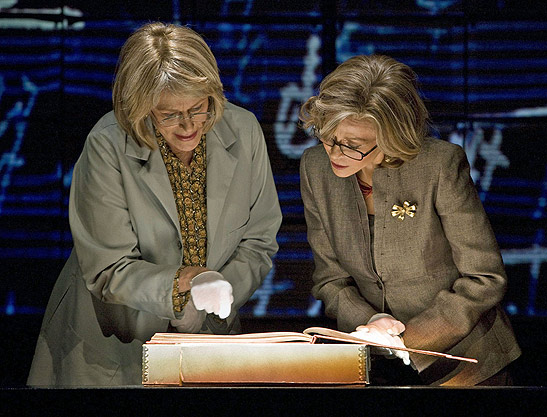 Susan Kellerman as Dr. Gertrude Ladenburger, keeper of the Beethoven archives, assists Dr. Brandt (Jane Fonda) in her research of Beethoven's variations on the Diabelli waltz.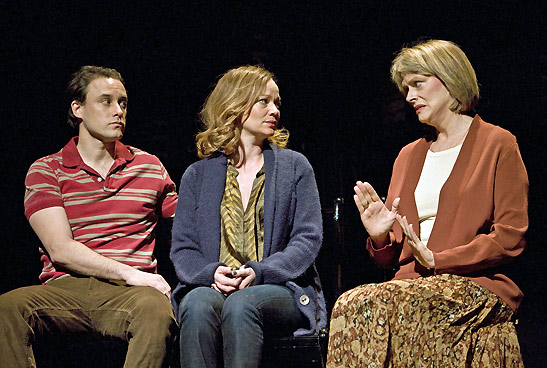 (L-R) Dr. Brandt's nurse Mike Clark, (Greg Keller) Clara Brandt, (Samantha Mathis) and Dr. Gertrude Landenburger (Susan Kellerman) meet to discuss Dr. Brandt's deteriorating condition.
In the waning days of her physical strength, despite her daughter Clara's objections, delicately played by Samantha Mathis, Dr. Brandt heads to Bonn to research Beethoven's papers where she encounters the appearingly stern Dr. Gertrude Ladenburger, well played by Susan Kellermann, who guards the precious archives with a vengeance. Katherine and Clara have a strained relationship that the worried daughter hopes to resolve before it's too late.
In a subtle transition, the very Germanic Ladenburger becomes a wonderful friend to Katherine helping her in her quest for Beethoven's decision. Katherine's theory is that the master thought he could create a masterpiece from the most banal piece of music.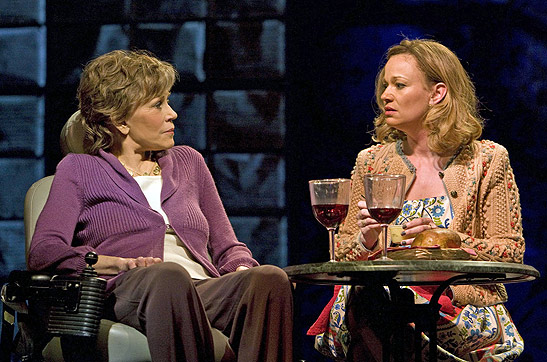 The elusive Dr. Brandt with her daughter Clara who is trying to work on their relationship.
What makes the story particularly compelling is how playwright Kaufman moves the play back and forth between 1819-1823 and the present, drawing parallels between Beethoven's obsessive devotion to finishing the variations on Diabelli's mediocre piece of music and Katherine's obsession to discovering the answer before she dies. He is losing his hearing while she is losing her body.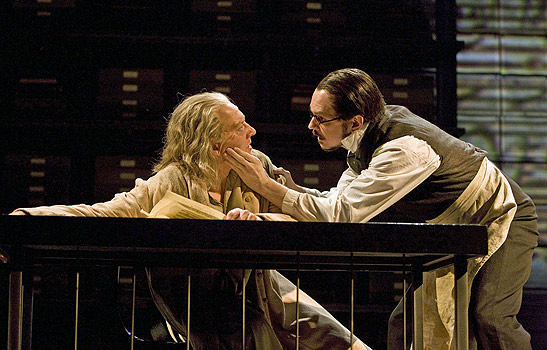 (L) Ludwig Van Beethoven (Zach Grenier) with his devoted assistant Anton Schindler (Grant James Varjas.)
Zach Grenier plays Beethoven with just the right amount of artistic gusto and temperament, while Grant James Varjas plays his unrelenting, caring, devoted assistant, Anton Schindler, who protects his ailing master from creditors and kings alike.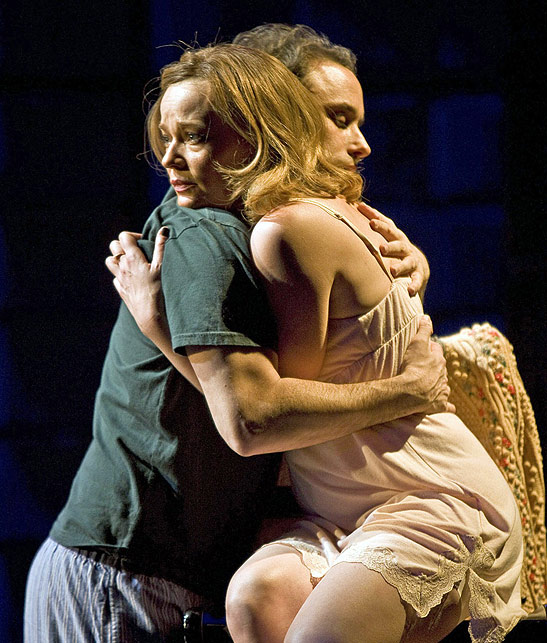 Dr. Brandt's nurse Mike falls in love with her daughter Clara.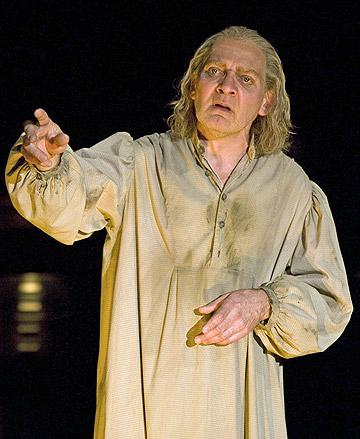 Ludwig Van Beethoven (Zach Grenier) creating music
he hears in his head.
Rounding out this most talented ensemble is Greg Keller's Mike Clark, Katherine's nurse who falls in love with Clara. The Clark character infuses the play with just the right amount of comic relief that the adorable Keller delivers with impeccable timing.
The technical components are top-notch beginning with the Scenic Design by Derek McLane, the centerpiece of which are movable giant racks of sheet music which accommodate the scene changes, magnificently adorned by David Lander's Lighting Design, lavishing the stage with brilliant colors. Especially eye-popping is the golden hue when we first see the precious archives letting us know there really is gold buried in the hundreds of volumes of Beethoven's notes.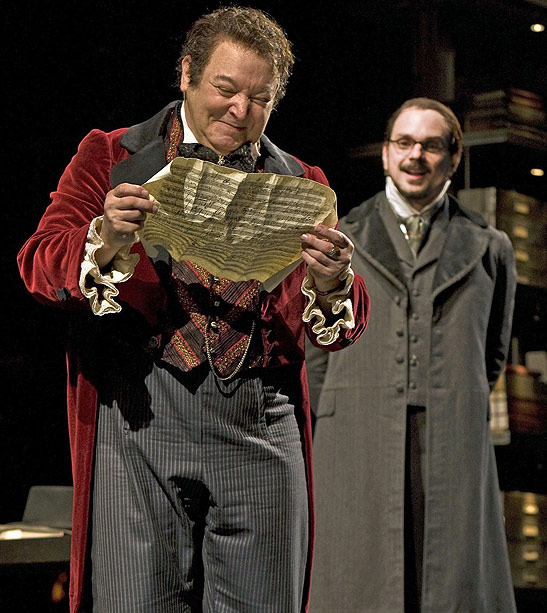 As Anton Schindler looks on, Anton Diabelli (Don Amendolia) is pleased with one of Beethoven's variations on his waltz.
Projection Design by Jeff Sugg lets us experience Beethoven's notes by projecting the sheet music on a rear screen as it is being read by Dr. Brandt or being written by the master.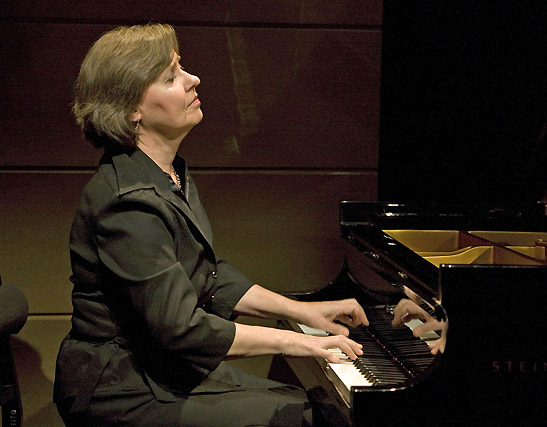 Pianist/Musical Director Diane Walsh's exquisite playing brings the beauty of Beethoven's music to life.
Pianist and Musical Director Diane Walsh, her grand piano sitting off to stage right, plays the corresponding music throughout the evening adding to the enchantment with her virtuosity.
Director Kaufman keeps the action moving at a pace commensurate with the story and although this is an emotional evening of theatre, it is never depressing because it's primarily about two determined people, living centuries apart, struggling to follow their vision while dealing with extreme physical challenges. It is also about the lives these people touch and how they are mutually influenced.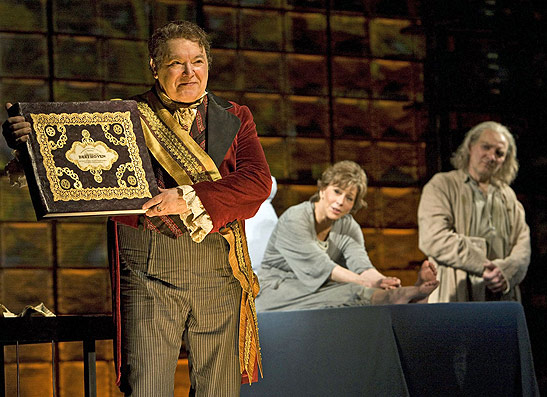 Signifying that they both accomplished their goals before it was too late, Dr. Brandt and Beethoven look on as Anton Diabelli holds Beethoven's 33 Variations on his mediocre waltz.
The standing ovation Miss Fonda and the superb ensemble received opening night, paid tribute to a most memorable theatrical experience.
Related Articles:
Bach at Leipzig, Just 45 Minutes from Broadway