Jennifer Connelly On "American Pastoral" & Being A Working Mom
Beverly Cohn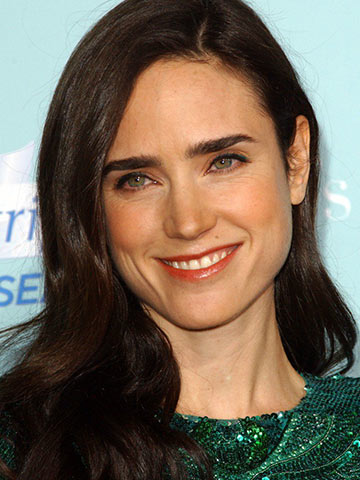 Jennifer Connelly, who has been voted one of the world's most beautiful women by multiple publications, has racked up a list of impressive screen credits.
Courtesy Photo

ennifer Connelly is not only one of the world's most beautiful women, she is an accomplished, hard working actor racking up a list of impressive credits. Her sensitive work as Alicia Nash in Ron Howard's "A Beautiful Mind," in which she co-starred with Russell Crowe, won her an Academy Award, as well as Golden Globe and BAFTA awards.
Born in Brooklyn to an Irish and Norwegian father and an Ashkenazi Jewish mother, her career in show business began as a child model and was featured in magazine, newspaper, and television advertising. While continuing her modeling career, she made her film debut in "Once Upon a Time in America." Since then, she has had starring roles in such films as, "Labyrinth," "Seven Minutes in Heaven," "Étoile," "The Rocketeer," "Mulholland Falls," "Dark City," "Waking the Dead," "Requiem for a Dream," "Pollock," "Hulk," "Blood Diamond," "House of Sand and Fog," "Reservation Road," "The Day the Earth Stood Still," "He's Just Not That Into You," "Salvation Boulevard," and "Winter's Tale." Connelly is married to Paul Bettany, lives in New York and has three children.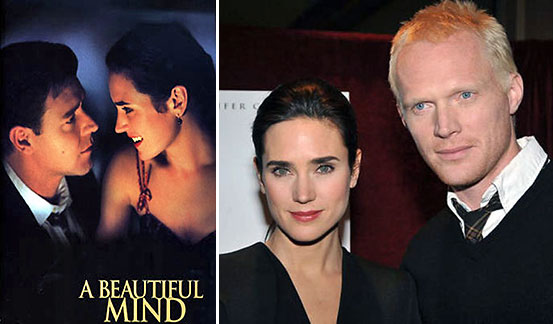 Left: Jennifer Connelly co-starred with Russell Crowe as his wife Alicia Nash in "A Beautiful Mind," for which she won an Academy Award, as well as Golden Globe and BAFTA awards. Right: Jennifer Connelly with her husband Paul Bethany both of whom co-starred with Russell Crowe in "A Beautiful Mind." Courtesy Photo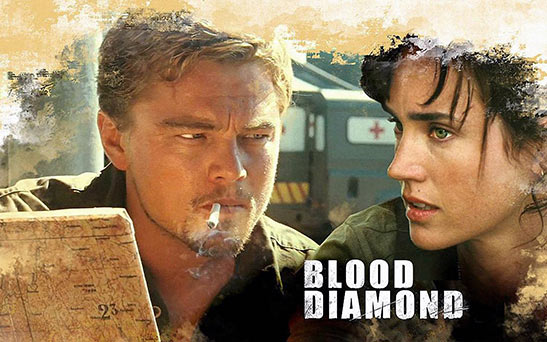 In "Blood Diamond" Jennifer plays a reporter on assignment in Sierra Leone who meets Leonardo DiCaprio's character of Danny Archer, a Rhodesian ex-military and soldier of fortune. Courtesy Photo
Connelly's latest film is "American Pastoral," in which she co-stars with Ewan McGregor who makes his directing debut in this film based on Philip Roth's Pulitzer Prize-winning novel. She plays McGregor's wife Dawn Levov to his character of Seymour "Swede" Levov. The story centers around an American family who has its comfortable middle-class life shattered when their daughter Merry (Dakota Fanning) becomes an anti-war activist and commits an act of terror with irrevocable consequences. While dad becomes obsessed with reconnecting with his daughter who has gone underground, Dawn struggles to maintain her sanity and eventually drifts off into a new reality, which she carefully creates. The film co-stars David Strathairn, Peter Riegert, Rupert Evans, Uzo Aduba, and Rita Cohen.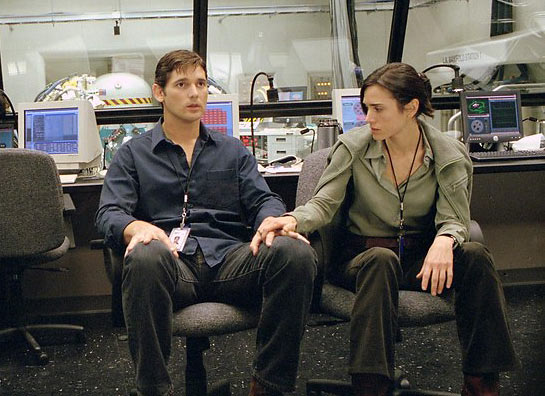 Jennifer Connelly plays Eric Bana's girlfriend in "Hulk." Courtesy Photo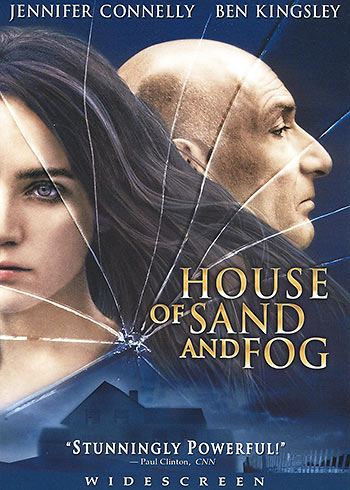 In the moody "House of Wind and Fog," Connelly played Kathy, a depressed, former alcoholic who loses her home to the Ben Kingsley character of of Behrani. Courtesy Photo
A most lovely Connelly recently sat down with a group of select journalists and the following has been edited for content and continuity for print purposes.
What drew you to wanting to play the character of Dawn Levov?
Connelly: I was very moved by her as a character. I had enormous compassion for her and I loved what I read in the novel. I really am a fan of the book and I tried to, as much as I could, to honor the book and what I understood about Dawn.
Why do you think Dawn falls apart after her daughter disappears?
Connelly: She's someone who struggles to find purpose in life and to have a sense of her own meaning and her value in a way that's more authentic than just her looks. I think that she finds that in her relationship with her husband and her daughter and finds it excruciating when Merry rejects her. I think it's very destabilizing and makes her doubt herself. I also think she's very different from Seymour who really avoids confrontation. I also think that she experiences very viscerally her daughter's rejection and her loss. She grieves very differently and literally cannot survive the experience. She's completely dismantled and because she's so undone, goes about tearing down everything that's left standing.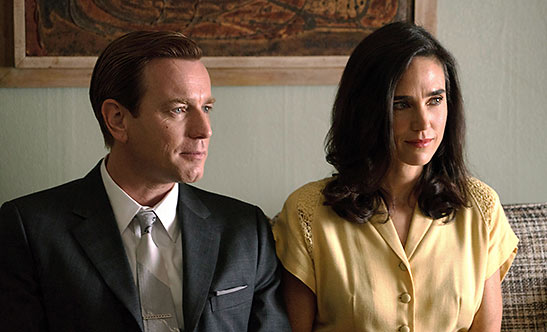 Jennifer Connelly once again plays a wife in "American Pastoral," co-starring with Ewan McGregor who also makes his directing debut. Photo: Courtesy Lionsgate - Lakeshore Entertainment
This is not the only time you've worked with a first-time director. How was Ewan McGregor as the director and your co-star?
Connelly: It was very comfortable. First we had private rehearsals in the morning before we would start shooting. He always had ideas about how he would shoot a scene, but he never wanted to make definitive decisions until he had seen the actors do the scene. If it were just Ewan and I in a scene together, it would literally be just the two of us in a room. We would close the door and we would try some blocking, rehearse the scene, and put it on its feet. So we would do that and show it to the crew and make final decisions on how they would cover it. Then we would shoot the scene and generally after the first take he would look at the monitor, watch the playback and see how he felt about it and maybe make some adjustments. After that, we'd do the scene together and he wouldn't go back and forth to the monitor. It felt pretty fluid.
It seems like so much fell on "Swede." Did you feel bad for him?
Connelly: I felt bad for him, but I felt bad for her too. Frankly, if you look at it from another point of view, which I did, I feel bad for all of the characters as they all struggle and grieve in their own way. But because of the way he handles things, he's kind of stuck in the past and he's not with Dawn – they're not together any more because he's still living in this fantasy that doesn't exist and she can't survive holding onto that fantasy. So I really feel for her when she has that scene toward the end of the movie when she's says, "When are you going to give up on her?" What I think she's really saying is when are you going to be here with me, because I'm fucking being left again. She's alone and I think it's just pain and sadness. So yes. I feel badly for him, but I also feel badly for her.
As the character, you went through many stages of your life. Was that one of the appeals of playing her?
Connelly: It was fun. I mean it was wonderful having a part like that to play. One of the things that was so exciting was being able to represent a woman at so many different stages in her life. I think the choice she made at the end when she redoes her face is pretty startling. While I understand it, at the same time, I found it quite tragic because she is becoming this thing that she never wanted to be – sort of coming full circle. She's not only doing her face, she's doing the house and is rewriting the whole narrative of her life. She needs a new exposure and wants to cut a new window in the house that looks in a different direction, letting the light in from a different exposure. What she's doing is clearly symbolic, which I find quite sad but very interesting.
Did having children of your own inform the development of your character?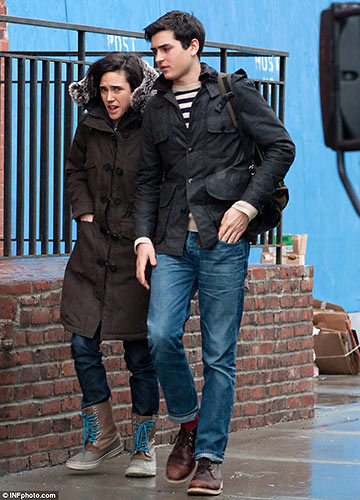 Jennifer Connelly with her son Kai on a cold, windy
day in New York. Courtesy Photo
Connelly: For sure. Being a mother is so much a part of what I do every day and who I am that it informs pretty much everything I do on some level. It's hard for me to separate from that because I've been a mom for so long. I have compassion for Dawn just as a human being and certainly can't fathom anything worse than losing a child.
What's the biggest challenge in combining your very successful career with being a mom and a wife?
Connelly: It's wonderful. I love my kids. I love being a mom. I love everything about it. I love what I do for work and I'm really privileged to be able to do both. I think both compliment each other. They inform one another. I'm fulfilled having my own creative outlet, which contributes to my ability to parent my kids in the way that I parent my kids and having that balance at home impacts my work. As far as how to make it all work, that's just a matter of logistics and looking at calendars, making sure there's time to integrate both things. I was just away doing a press tour in Europe. It was not practical for the kids to come with me. It would have been too disruptive as I went to many cities. Now I'm here for a week (LA) and my kids are with me. They had two days off of school this week anyway so they didn't miss anything.
Where do you live?
Connelly: We live in Manhattan. We use to live in Brooklyn. We moved about eight years ago.
Did you keep a souvenir from the movie?
Connelly: I have a painting of The Count, the bull, which was done for the film. It was hanging in the office and Ewan gave it to me as wrap gift.
Did you have a souvenir from "Labyrinth"?
Connelly: I had some photographs but unfortunately they were lost. My parents had some of my stuff in a storage facility, which caught fire.
Are your kids interested in watching your movies?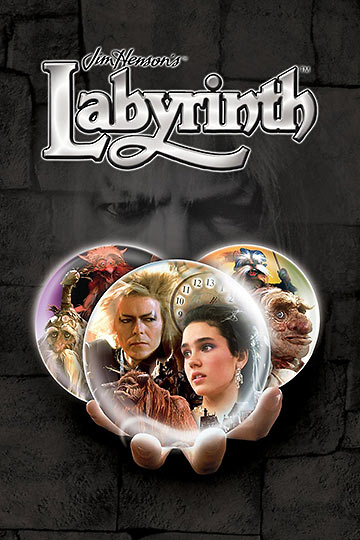 David Bowie and Jennifer Connelly co-starred in "Labyrinth."
Courtesy Photo
Connelly: I think so but frankly most of the movies I've made have been inappropriate for kids, so it really doesn't come up that much. Agnes watched "Labyrinth" not that long ago and she thought it was pretty fun. I wasn't there thank goodness. (Laughter) Kai came down from school and there's a premiere of "American Pastoral" in New York so I asked him if he wanted to come with us to the premiere. He said that he would let us know because he wanted to hang out with his siblings. (Laughter) I said that's cool. Whatever. (Laughter) I'm happy that he's more interested in his siblings than going to see the premiere of a movie. I actually respect that. (Laughter)
Do you think your kids will go into the entertainment industry?
Connelly: I'm not sure that they will, to be honest with you. Kai is my oldest and is in his second year of college. He's studying engineering. My 13-year-old is very interested in music and my little one who is five, is very interested in protecting endangered animals. She wants to adopt a sea otter and we're going to do it at lunch today. We going online and adopt a sea otter. (Laughter)
This was fun.
Connelly: Yes it was. Thank you.