Chinese Star Li Bing Bing and Wendi Murdoch Interview
By Beverly Cohn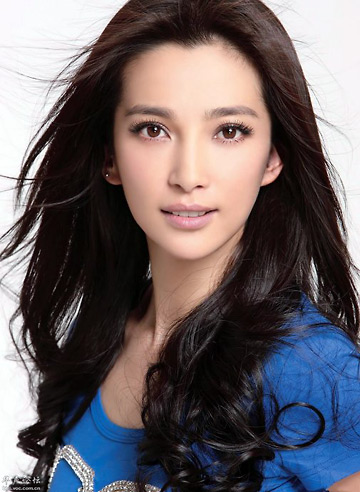 Photo Courtesy Fox Searchlight Pictures

now Flower and the Secret Fan" is a visually stunning, epic film directed by Wayne Wang ("The Joy Luck Club".) The movie is set in both the 19th and 21st centuries and centers on the intense friendship between two women from each of those periods. They are bound together for life by an ancient tradition call Laotong. (Low-tahng – "A lifelong, sworn bond of sisterhood between two female friends, intended to survive all the changes of life, including marriage and childbirth…and never to be broken.")
The film also reveals the hidden language called Nüshu that for 1,000 years was kept a secret from men. To this day it is the only known language created by women for women. It was developed as a means of bridging their isolation and was written in the hidden folds of white silk fans. The film is a stirring exploration of deep friendships that helped women survive some of the unspeakable injustices they had to endure in the past as well as the pressures of modern living in today's Shanghai.
The screenplay by Angela Workman and Ron Bass, and Michael K. Ray was adapted from the Lisa See's best-selling novel and stars Li Bing Bing in the duo roles of Nina and Lily, and Gianna Jun in the roles of Snow Flower and Sophia. In an all-Asian cast, it was an unexpected surprise to see Hugh Jackman pop up in a supporting role.
Bing Bing, along with one of the co-producers, Wendi Murdoch, (Rupert Murdoch's wife) recently held a press conference with a select group of journalists to discuss the film. The following interview has been edited for print purposes.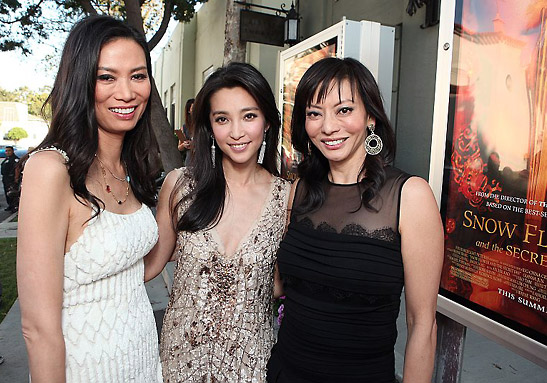 Chinese star Li Bing Bing (center) flanked by co-producers Wendi Murdoch (left) and Florence Sloan. Photo: Courtesy Fox Searchlight Pictures. (Photo by Eric Charbonneau/WireImage)
Q: How did you get involved with this project?
Murdoch: One day I was having lunch with my friend Florence Sloan and started telling her about this book I had read and how much I loved it. It turned out that she had also read the book through her book club and loved it as well. We both thought it would make an interesting movie and that's how it all began.
Q: Did you face a lot of challenges in producing your first film?
Murdoch: There were many challenges that we didn't know we would face and from time to time we had second thoughts about getting involved in the project, but the passion for telling the story kept us going. The most important lesson is to assemble a good team - writers, director, actors, and crew, etc.
Q: What in your background did you find beneficial in co-producing the film?
Murdoch: I provided counsel for China's version of Myspace and was a vice president of STAR, News Corporation's Asian satellite television operation. Also, I grew up around people who made films and would go to film premieres. Now that I've done this movie, I have a lot of respect for what it takes to actually make a film.
Q: Did you shoot the two different characters living in different centuries on the same day?
Li Bing Bing: There were only a few scenes that were shot on the same day but mostly we shot the ancient part first. After we finished the ancient portion, we then shot the modern scenes.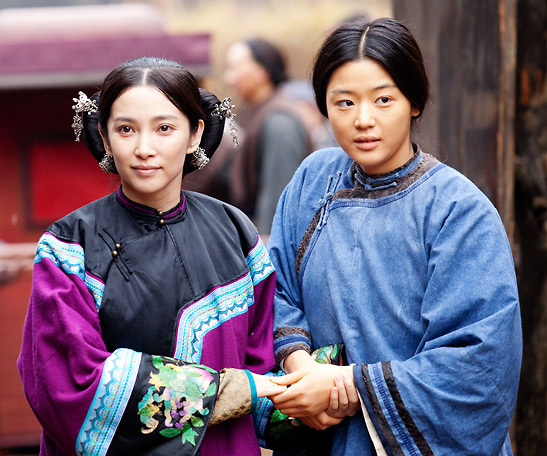 "Snow Flower and the Secret Fan" stars Li Bing Bing as Lily and Gianna Jun as Snow Flower, friends bound for life by the ancient tradition of Laotong.
Photo: Courtesy Fox Searchlight Pictures
Q: You and your co-star Gianna Jun, who plays Snow Flower and Sophia, speak different languages. How did you bridge that gap?
Bing Bing: We used English as our common language, but also tried our best to read each other. I would try to find something from her eyes and to feel her from my heart so when we touched each other, (speaks in Chinese to Murdoch to get the English word she's looking for) it would be electrifying.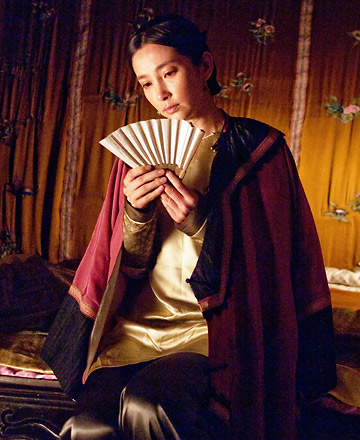 Li Bing Bing as Lily, living at a time when women in China had no rights. Photo: Courtesy Fox Searchlight Pictures
Murdoch: There's a lot of emotion in the film without dialogue.
Q: What will the audience learn as a result of moving back and forth between 19th Century China and modern day Shanghai?
Bing Bing: We see the positions of women from both eras, especially in the ancient part where the woman can only be a wife and has no choices. She cannot be educated or pick out her husband and must listen to her parents who arrange her marriage. She must obey whether she likes their choice or not. China has gone through major changes and I think there is no difference now between China and New York. We have privileges to choose a job, get an education, become a businesswoman, or just be a lady who stays at home.
Q: There's a real intense, physical loving relationship between the characters and at times it looks like it's going to become sexual. Did that element ever come up for discussion? (Murdoch translates the question.)
Bing Bing: (Understands the question and laughs) That's a good question. We are doing big box office in China and I have been asked that question before. Some people thought that I was going to kiss with my Laotong (Snow Flower/Sophia) because we give signs that we are going to kiss. But in this movie, it's a very pure relationship and I know that these kinds of relationships do exist.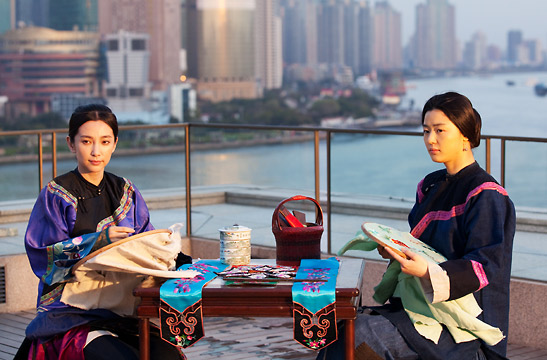 Lily (left) with Snow Flower, best friends for life. Photo: Courtesy Fox Searchlight Pictures
Q: Did you personally experience an intense relationship like the ones portrayed in the film?
BingBing: When I was in college I had a roommate. We were very close and were the best of friends. Sometimes we would quarrel and we would yell at each other. We are still like this. After I graduated, I went to Bejing and she stayed in Shanghai. At that time, I didn't want to leave her and go to Bejing, but all my friends told me I should go because it was a good choice for my career. But I missed her very much and we would have one or two hour conversations on the phone. I had a hard time living in Bejing without her. Like the characters in the film, it is a pure, non-sexual relationship.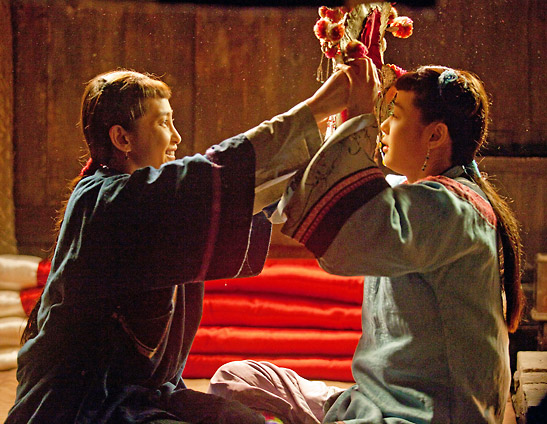 Lily with Snow Flower, friends since they were seven.
Photo: Courtesy Fox Searchlight Pictures
Q: Which of the two characters was more challenging to play – Lily or Nina?
Bing Bing: To play younger and older is really challenging. When I play the younger character, I feel happy. It took me back to age 17, when I was in the Shanghai Drama Institute. I was there for four years so I could relate to Nina's experience a little bit. When I played the older lady, I tried to learn something from old ladies but today, someone who is 60, is not very old in China. But, I still worry about wrinkles. (laughter)
Q: The foot-binding scene with the sound of cracking bones was most difficult to watch. What was the reason for that horrendous practice and what kind of footwear did you wear to replicate the tiny feet?
Bing Bing: The belief was that if you had bound feet you could marry a rich man from a good family. I worried about that when I first read the script because I didn't know how they were going to make my feet so tiny. So the costume designer came up with a shoe design that accomplished that purpose and whenever I had to wear them, it took fifteen minutes to get them on my feet.
Murdoch: Mothers actually did this extremely painful ordeal to their daughters.
Q: The costumes designs are magnificent. Are they originals?
Bing Bing: A lot of the costumes are antiques. For example, the lavish headpiece I wear in the wedding scene is an original.
Murdoch: We had a very talented design team working on the costumes. We did a lot of research and hired an expert in period clothing.
Q: Do you enjoy being a movie star?
Bing Bing: In my mind I never thought that I was going to be a movie star. I don't want to be the focus but just want to be a good actress.
Q: What is your most profound childhood memory?
Murdoch: My mother's auntie, my grand aunt, had bound feet, was always in pain, and didn't know how to read or write. She use to tell me that when she was a young girl she had no choices and how lucky I was that I did have choices about my life. That's why I pursued an education and a career. (Murdoch has a MBA from Yale University's School of Management and a B.A. in Economics from Cal State Northridge.)
Q: How do you balance your roles of mother, wife, and producing a movie that was shot in China?
Murdoch: I'm lucky that I have a husband who is very supportive as well as a good support system. During the shoot, Florence (Sloan, co-producer) and I divided up our duties so we could spend time with our children.
Q: What do you think American audiences will find interesting about this film?
Murdoch: There is a fascination about China and the film lifts the veil for a deep, emotional peek into its past and presence.