Mark Ruffalo Interview:
On Bipolar Disorder, The Art of Acting, & Family
Beverly Cohn

ny time Mark Ruffalo's name appears in the cast of any project, you know he will be giving an absolutely perfect performance. Hence, he is one of the most successful, sought after Hollywood actors. His total credits are too numerous to list, but here are some film highlights: "Fox Catcher," "Begin Again," "Thanks for Sharing," "Now You See Me," "The Avengers," "The Incredible Hulk," "Shutter Island," "Zodiac," "Collateral," "We Don't Live Here Anymore," "You Can Count on Me," "In The Cut," "Eternal Sunshine of the Spotless Mind," and "The Kids Are All Right" for which he received Academy Award, SAG, BAFTA and Independent Spirit Award nominations. Equally at home on stage and television he earned a Tony Award nomination for his performance in Clifford Odets' "Awake and Sing," and for his performance in "The Normal Heart" won an Emmy Award nomination. Ruffalo took a turn behind the camera when he directed "Sympathy for Delicious," in which he also played the role of Father Joe. Ruffalo is married to Sunrise Colgney and has three daughters.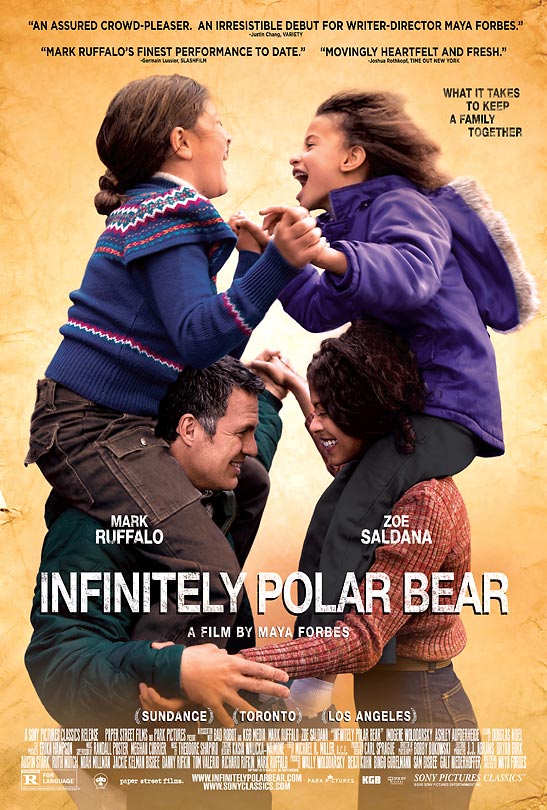 Photo: Courtesy Sony Pictures Classics
Ruffalo's latest film is "Infinitely Polar Bear," in which he plays Cam Stuart, a man with a serious bipolar condition. Written and directed by Maya Forbes, this is a true story based on her father who was actually named Cam Stuart. Once again, Ruffalo gives a riveting, spellbinding performance as this troubled man who becomes the primary caretaker of his children while his wife goes off to New York to get an advanced degree. Zoe Saldana co-stars as his wife Maggie, with Imogene Wolodarsky, the writer/director's real-life daughter playing Amelia, and Ashley Aufderheide as their other daughter Faith.
A most engaging, charming Ruffalo recently sat down with a select group of journalists to talk about the film, as well as very personal subjects, and the following has been edited for content and continuity for print purposes.
How are you?
Ruffalo: I'm a bit jag lagged.
Where did you fly in from?
Ruffalo: New York.
Is that where you live?
Ruffalo: Yes.
Was it necessary for your character to chain smoke throughout the entire film and were they prop cigarettes and were there any after effects?
Ruffalo: Yeah. I smoked a lot. They were props, but herbal cigarettes aren't any safer than regular cigarettes. When I wrapped this, I ended up in bed for two weeks with a terrible upper respiratory infection. When I'd start a scene, Maya would say, "I think it's great. I just have one note. I think you should have a cigarette." I said Maya, "I'm smoking in every single scene. The people are going to go crazy." She said, "I'm telling you, it's right – just trust me," and when I watched the film, I go oh yeah, I get it.
I thought you should go for a chest x-ray.
Ruffalo: (Laughs) I'd probably see that it's quietly killing me. I remember the time when people always had cigarettes in their mouths. My family was like that. It was the 70s. It was everywhere. I remember sitting in a dentist's office and people smoking around me. There were ashtrays in doctors' offices and in emergency rooms. It's not that long ago, but it feels like it never happened.
Your character of Cam is very complex. How did you find the right tone for him, and do you know anyone who is bipolar?
Ruffalo: Hopefully, it's the right tone. I grew up with people who are bipolar and know people who are bipolar. This disorder isn't a person so I felt that the most important thing was to capture who Cam is and then lay the bipolar onto that. Bipolar is really just the extremes in emotions. There is a sliding scale where those emotions go, right? Things just get way out on both sides. A lot of that was written into the script and Maya did a great job of helping me with that.
Did Maya share a lot about her growing up experience with her dad and was that a major part of your research?
Ruffalo: Yes. I was trying to get as much as I could of him. Pictures. Recordings. Letters. Videos. But mostly it was the stories that informed me who he was. There were a lot of funny things he did that didn't make it into the film. I had a piece of video that was probably eight minutes long. It was him hanging out with the girls and then him having breakfast with his mother and father. That became a great tool for me to get an idea of his lifestyle, mannerisms, and the way he carried himself.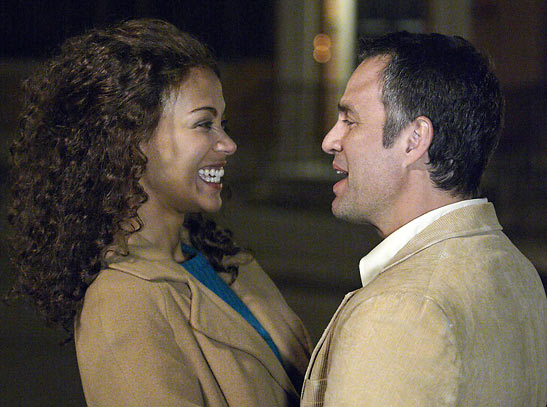 Mark Ruffalo on Zoe Saldana: "She's totally game and not afraid. She's playful and what she has that's so perfect for her character is this kind of indomitable positivity. Photo: Courtesy Sony Pictures Classics
How did you develop your relationship with Zoe Saldana as your wife?
Ruffalo: It took several years to get this movie financed, so Zoe and I were cast in it years before we ever made the film. We did a reading and got to hang out early on and that sort of grows in you. You plant a seed and even if you go away, when you come back, it's still there growing. What you don't normally get in making a movie is the long period of gestation where you become really comfortable with the material and the characters. We had that and it worked really well. So, by the time we got to rehearsal, which was about ten days before we started shooting, we were already very comfortable and understood a lot about each other, including our mutual sense of humor. She's totally game and not afraid. She's playful and what she has that's so perfect for her character is this kind of indomitable positivity. That's really what Maya's mother Peggy had. We got to work with her quite a bit. I think her spirit is what buoyed them through all the difficult times. Zoe and I also happened to live near each other during the shoot and we all hung out together. I would cook for everyone, which was great for the movie.
How would you describe Cam?
Ruffalo: Essentially, Cam is a curious, child-like poetical guy who, I think, had a great appetite for life and was very whimsical. He was the son of this blueblood aristocracy and I didn't understand why that family didn't help him. I didn't understand their rules, including ways of speaking, and all the dos and don'ts that don't have any rhyme or reason to them, other than that was the way they did it. I'm blue collar. I joked with Maya that her family came over on the Mayflower a couple of hundred years ago, while my family rowed over in a rowboat like fifty years ago. (Laughter)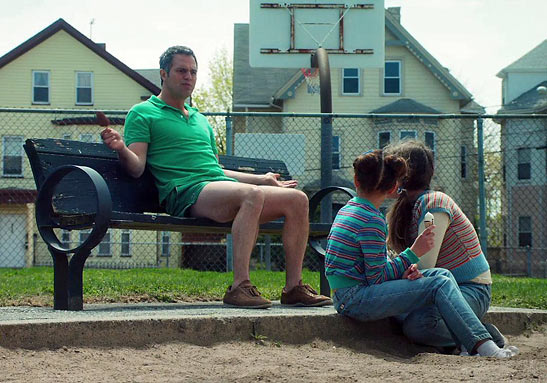 L-R: Mark Ruffalo as Cam Stuart with his girls Faith (Ashley Aufderheide) and Amelia (Imogene Wolodarsky.) Photo: Courtesy Sony Pictures Classics
What was the most fun part of your character?
Ruffalo: The fun part was riding those extremes. It's all grounded in his deep, un-abiding love for his daughters and his belief in his family. What's so touching about him is that while his illness prevents him from being viable as a breadwinner, there's nowhere else he'd rather be than with Maggie and those girls.
Can you explain the difference in Cam's behavior when he was on Lithium vs. when he was not taking the drug?
Ruffalo: A lot of these psychotropic drugs are really dulling and at that time physicians were over-prescribing Lithium. When you see Cam in the hospital, he's heavily dosed, which manifested itself in this deadening and slurred speech, along with the shakes and water weight gain. It flattens everything out so there are no ups and downs. It's an emotional band that's very shallow in its highs and lows. Those were the biggest side effects to that drug.
Why was Cam drinking so much beer?
Ruffalo: The "real" Cam struggled with his bipolar disorder his whole life and he used alcohol. The way my character talks about taking steady sips of beer, isn't a joke. Alcohol, at very low levels, basically does what Lithium does. It has a deadening effect. But if you go over a certain amount, then it starts to hit the same places as mania does. We did a screening for "Psychology Today," followed by a panel discussion with specialists in the bipolar disorder. They talked a lot about how alcohol works with people who are manic-depressive and how they use it to manage it. But, it can eventually cause them to go into deeper mania and disassociation. They mentioned that they loved the way Cam was portrayed.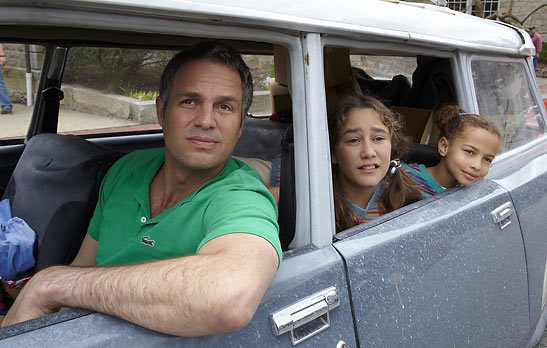 L-R: Mark Ruffalo as Cam Stuart, who despite his bipolar disorder, takes care of his daughters, Amelia (Imogene Wolodarsky) and Faith (Ashley Aufderheide.)
Photo: Courtesy Sony Pictures Classics
What was your first reaction to the profanity in the dialogue from your two on-screen daughters?
Ruffalo: It's shocking but kind of funny when you hear it, but there are much worse things that could happen to kids than to say bad words now and again. I think the journey those girls make is from being helpless to being independent and in a weird way, they also take care of their father as much as he's taking care of them.
What were the most difficult scenes for you with the girls?
Ruffalo: Yelling at them. Getting angry. Another tough scene was running next to the car and getting all my lines out. I didn't want to have to do that more than four or five times. (Laughter) I couldn't do it more than four or five times, especially with a cigarette in my mouth. (Laughter) But I have to say making this movie was a joy.
What do you think the audience take away is on this film?
Ruffalo: That there's a lot of room for all kinds of different families. I really love the theme of family in this work. I think it creates space for people with mental illnesses that maybe films don't generally give them. It allows dialogue and allows them to be people instead of an illness and that ultimately love is the answer. I know for a fact that after Cam's daughters went off into their lives, he had a much more difficult time keeping it together.
How did his girls transcend their crazy upbringing?
Ruffalo: Remember this is a true story and when you look at the by-product of this crazy, dysfunctional family, you have Maya Forbes, who is an incredibly accomplished writer, now director, a great mom, and a great mate. Her sister is China Forbes who is the lead singer of Pink Martini. She, too, has a great career and is also a great mom. So, they're two strong women. I look at them and hope my girls turn out as well.
I interview many actors and when I told some friends that I was interviewing you, they got excited and said things like "I love that guy." You are well loved and respected and your work is always intriguing.
Ruffalo: Thank you. You can never hear that enough. When I go home, they're not like "You're the best." (Laughter)
Thank you for this wonderful interview.
Ruffalo: Thank you Beverly.
In Part 2, Mark Ruffalo talks about his special needs children, the challenge of balancing his successful career with being dad and husband, the acting technique behind his development of memorable characters, the worlds he can visit by virtue of being an actor, plus more personal, intimate revelations.