Mark Ruffalo Interview:
Life As An Actor At Home and The Psychological Challenges of Acting
Beverly Cohn
PART 2: The Up Close and Personal Side of Mark Ruffalo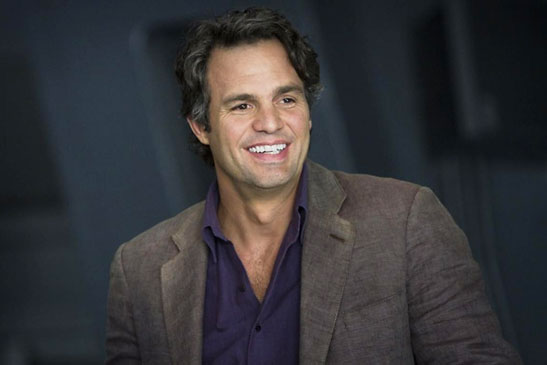 The very talented Mark Ruffalo is one of Hollywood's most talented and respected actors. Courtesy Photo

ny time you mention Mark Ruffalo's name to anyone, the response is always, "He seems like a really nice guy;" or "He seems so genuine and not full of himself;" or "I love his acting;" or "I really love that guy." And so it goes. Those responses are consistent and I'm pleased to tell you that yes, he is all those things. Yes, he is quite accessible, and yes, he's quite unassuming, and yes, he's a really nice guy. As far as his outstanding performances, given his multiple award nominations, that speaks volumes.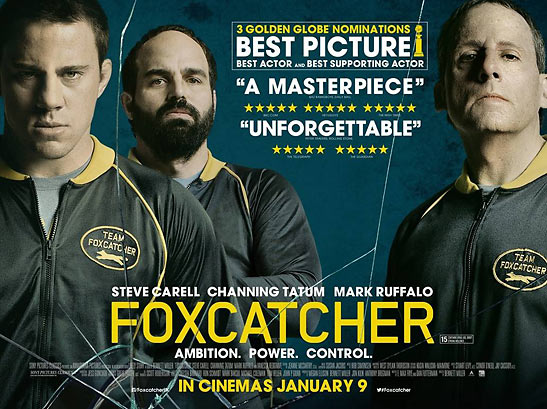 Courtesy Photo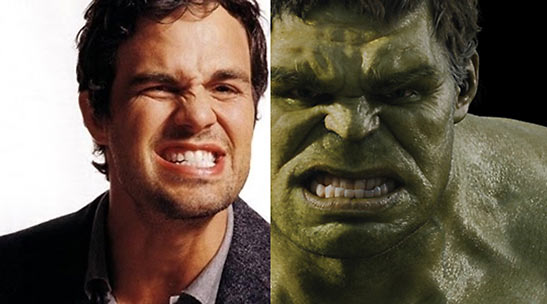 Mark Ruffalo starred as Bruce Banner who morphs into The Incredible Hulk in "The Avengers: Age of Ultron." Courtesy Photo
In Part 1, I listed some of his films, but in case you missed it, here is a sampling of some of his most compelling work, with his current performance in Infinitely Polar Bear, being one of the most powerful roles he's played to date. His films include: Foxcatcher, Begin Again, Thanks for Sharing, Now You See Me, The Avenger: Age of Ultron, Zodiac, Collateral, We Don't Live Here Anymore, You Can Count on Me, In The Cut, Eternal Sunshine of the Spotless Mind, and The Kids Are All Right, for which he received an Academy Award nomination, along with SAG, BAFTA, and Independent Spirit Award nominations. He earned a Tony Award nod for his Broadway performance in Clifford Odets' Awake and Sing, and for his role in the television movie, The Normal Heart, he was cited for an Emmy Award.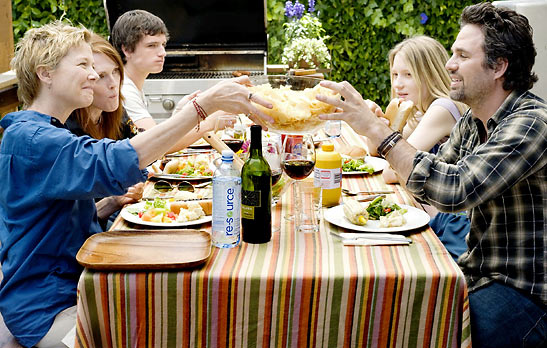 L-R: Annette Being, Julianne Moore, Josh Hutcherson, and Mia Wasikowska in "The Kids Are All Right." Courtesy Photo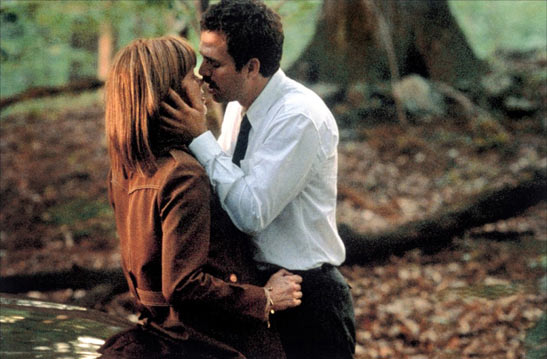 L-R: Meg Ryan and Mark Ruffalo co-starred in "In The Cut," a murder mystery.
Courtesy Photo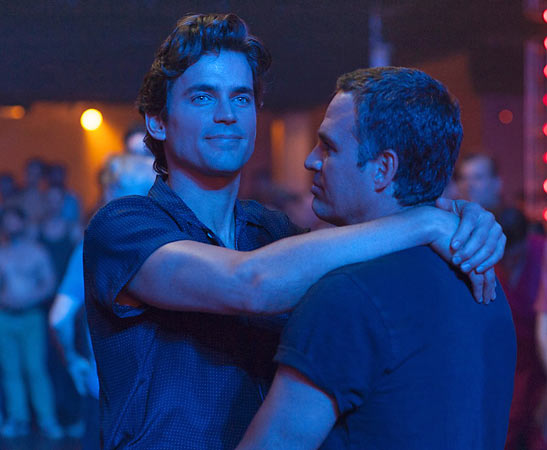 L-R: Matt Bomer and Mark Ruffalo as lovers dealing with AIDS in the powerful television film, "The Normal Heart." Courtesy Photo
Ruffalo took a turn behind the camera when he directed Sympathy for Delicious, in which he also played the role of Father Joe. Ruffalo is married to Sunrise Colgney and has three children – two girls and a boy.
In Part 1, most of the conversation revolved around discussing bipolar disorder and his familiarity with this very treatable problem. In the film, Infinitely Polar Bear, he plays Cam Stuart, a man with a serious bipolar condition. Written and directed by Maya Forbes, this is a true story based on her father. Once again, Ruffalo gives a riveting, spellbinding performance as this troubled man who becomes the primary caretaker of his children so his wife can go off to New York to get an advanced degree. Zoe Saldana co-stars as his wife Maggie, with Imogene Wolodarsky, writer/director's real-life daughter playing Amelia, and Ashley Aufderheide as their other daughter Faith.
It should be noted that Ruffalo recently sat down with a select group of journalists and the interview took place in one sitting. However, because of very fascinating amount of content, the interview has been divided into Parts 1 & 2. Accordingly, the following has been edited for content and continuity for print purposes.
In Infinitely Polar Bear, your character of Cam cooks. Do you cook as well?
Ruffalo: Yes. I can cook and I can fix things. (Laughter) I'm a dying breed of man. Like my kids say, "What's that? Can't we just do an app for it? (Laughter)
What have you fixed? Can you fix a broken sink for example?
Ruffalo: Totally. I also tore apart my motorcycles and put them back together. Most of it came from just being poor and not being able to afford to take my car in for an oil or muffler change. These are things you had to do to in order to survive, especially living in southern California where you can't do anything without a car or a motorcycle or some form of transportation. So, out of necessity I had to learn how to do a lot of stuff. I can change the clutch plates on a 1978 Honda 250. (Laughter)
What's your phone number? (Laughter)
Ruffalo: (Laughs) I don't know if I can fix anything past 1980. (Laughter) I've also done construction, house painting, garden work, and a lot of odd jobs.
Doesn't knowing how to do many things inform your work at times?
Ruffalo: It does. Or those are the parts I've gotten to do, and know how to do.
You commented earlier that the language used by your film daughters surprised you at first. What are the rules in your home regarding bad language?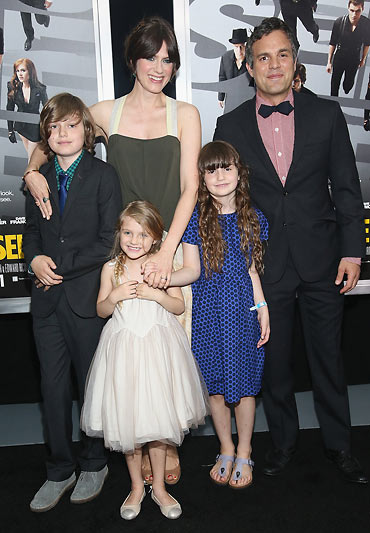 The Ruffalo Family L-R: Keen, Sunrise Colney, (wife) Odette, Mark & Bella (front.) Courtesy Photo
Ruffalo: I like kids who assert themselves and have a sense of self-esteem and are willing to say what they believe is right or wrong. I think that's healthy for a child and that's how I raise my kids. I don't want them swearing at me, but also, I'm not afraid of words. In my family words aren't something we should be afraid to use and to be honest with you, I let them swear but it stays in the house because people get offended. But if they stub a toe and yell "dammit," I think it's funny. We adults use the same words.
What is the biggest challenge in balancing your amazing career with your role as dad and husband?
Ruffalo: Just being away is probably the greatest negative of my great blessings. I don't mean to complain. It's just that movies are being made all over the world. They're rarely made locally so spending long periods of time away from them has been the hardest and most challenging part.
Do they ever come visit you on set?
Ruffalo: Yes. But, I have three special needs children. All three of my kids are dyslectic. They need a very specific kind of schooling and they have a hard time with transitioning. Because of that, it's hard to take them out of school because I don't want to disrupt their lives. Actually, it's hard to pull any kid out of school. But if I'm working, and it's summertime, they come to visit. Last year we were in London, and that was fun. But, most of the year, they are in school. I'm now focusing on how do I work near home, and how do I not work so much. That's kind of where I am right now.
In Infinitely Polar Bear your character of Cam wears a bowtie. Are you a bowtie man in real life?
Ruffalo: No. Not generally. I have recently picked it up because I did learn how to tie a bowtie for this movie, which was a nightmare. I just couldn't understand how to do it, and I had to do a scene tying a bowtie. We were going to do it in one take so I had to learn how to do it. But, how I look at it is that bowties are not bad. As long as you're not Tucker Carlson* you can try to kind of pull it off. What I like about bowties is that they're a little f@##-up and not quite perfect. (Laughter)
L-R: Mark Ruffalo co-starred with Laura Linney in Kenneth Lonergan's award-winning film, "You Can
Count on Me." Courtesy Photo

You seem to prefer Independent films. Could you explain your preference?

Ruffalo: Those were the only jobs I could get for a long time. (Laughter) I love acting and don't really see the difference between the kind of acting you do in a big movie or a small movie. When I started with You Can Count on Me, it was very clear what an Indy movie was and what a studio movie was. Since then, studio movies look more like Indy movies, and Indy movies look more like studio movies, and the characters that you use to see in Indy movies, you're now seeing in studio movies. It's all mixed up and I think it's better that way, personally. What I like about the small films is the energy. When you're doing a little movie in 23 days, everyone is sort of rushing and stumbling. There's never enough money or people to do what you want to do, so everyone is relying on each other. So, that experience is generally a bit rougher.
You studied acting with Stella Adler. Do you always develop your inner life first or do you ever work externally – outside in or inside out?
Ruffalo: I work both ways. Sometimes it's out. Sometimes it's in. Stella use to say that characters are what they do and how they do it. So if you have someone who is... (He demonstrates making a slow crease in the tablecloth) That kind of person says a lot to the inside, just by doing that. You can get a lot inside from the outside and vice versa. It's whatever works. Whatever school of acting you're from, they're all trying to do the same thing – to not be crappy, be interesting, and not be boring.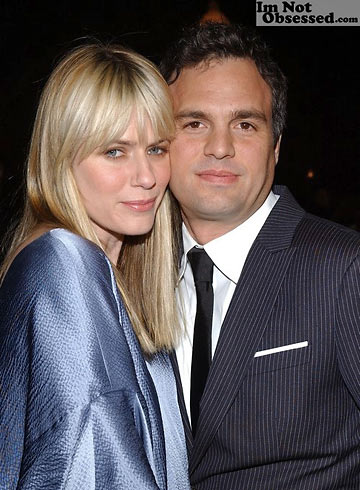 L-R: Sunrise Colgney and husband, Mark Ruffalo.
Courtesy Photo
With your huge body of work, and the wonderful characters you've created, has one lingered longer than any others?
Ruffalo: (Pause) What me and my wife refer to is the re-entry, which is me coming back into the family after walking around with a total stranger. I don't see it, but she says that I totally change with every character. I start walking like them and behave like them, and talk like them, which she says is a pain in the ass sometimes. I don't see it personally. My feeling is though that you can't come into contact with these different people (characters) without having them change you in some way. But to answer your question, none that I can think of have held on longer than another. They're all sort of in there somewhere, which can make you crazy. I'm not going to lie to you. It takes some therapy to work your way around this, but acting has totally enriched my life.
Apart from the obvious monetary gains, how has acting totally enriched your life?
Ruffalo: One great thing about being an actor is you get invited into people's worlds that you don't belong in. For example, I'm doing a movie about south Boston. If I tried to get into a bar in south Boston, they would beat the hell out of me. But, if you tell them you're an actor playing a part in film about a south Boston guy, all of sudden they want to tell you or show you what south Boston is about in a very personal way. I find that to be almost across the board, so you get to see the world in a way that I don't think many people get to see it. What you get to realize, once you get rid of the accents and the cultural things, is that we're not all that different from each other and any limitations we have are imposed on ourselves.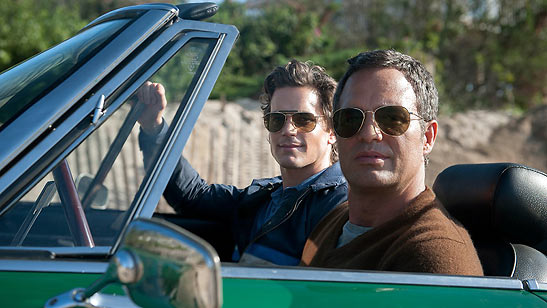 L-R: Felix (Matt Bomer) with his lover, Ned (Mark Ruffalo) in "The Normal Heart."
Courtesy Photo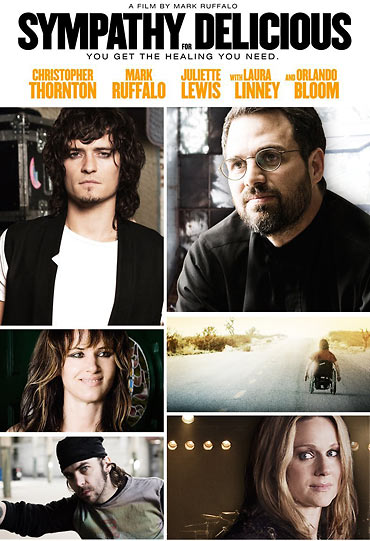 "Sympathy For Delicious" was Mark Ruffalo's directorial debut. Courtesy Photo
How much down time did you have between Infinitely Polar Bear and shooting "The Normal Heart?"
Ruffalo: As I mentioned, I was sick as a dog after shooting Infinitely Polar Bear and I only had two weeks off before starting work on The Normal Heart. The Cam Stuart character was vastly different from Ned Weeks. So, the fact that I didn't have much prep time says to me how facile we are as people – not just in our beliefs, but evening a different physical life and the way we sound.
You directed your first film "Sympathy for Delicious." Are planning on directing again?
Ruffalo: I am planning on going back to directing. I've just been on a run with acting. Directing takes a lot time so right now I just want to spend more time with my family.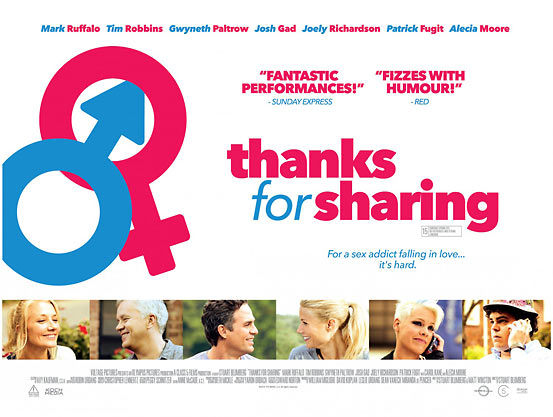 Gwyneth Paltrow and Mark Ruffalo co-starred in "Thanks For Sharing," the story of people who meet in a 12-Step program for sex addicts. Courtesy Photo
We look forward to your next project – whatever it is and thanks for sharing!
Ruffalo: Thank you so much. See you next time.
*Tucker Carlson is a conservative political news correspondent and works for the Fox News Channel.