The "Iceman" Killeth
With Michael Shannon
Beverly Cohn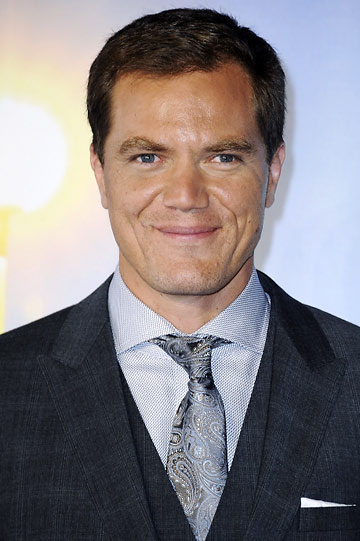 Michael Shannon. Courtesy Photo

soft-spoken southern gentleman, Michael Shannon brings to the big and small screens the intensity and skilled acting that grew out of his years as a stage-trained actor, where he first performed at the Illinois Theatre Center. Subsequent to that, he has worked with such famous companies as Steppenwolf, The Next Lab, A Red Orchid Theatre as well as London's West End where he appeared in "Woyzeck," "Killer Joe," and "Bug." Nominated for an Academy Award for Best Supporting Actor for his performance in "Revolutionary Road," Shannon has had roles in "Before the Devil Knows You're Dead," "Machine Gun Preacher," "Vanilla Sky," "Jonah Hex," "13," "Bad Boys II," and "Mud," and has had a recurring role on the multiple awarding-winning television series "Boardwalk Empire."
Shannon is currently starring in Ariel Vromen's film "The Iceman" in which he plays contract hit man Richard Kuklinski. Among the film's co-stars are Ray Liotta, Winona Ryder, David Schwimmer, Chris Evans, Robert Davi, and a James Franco cameo.
Shannon recently sat down with a select group of journalists and the following is edited for content and continuity.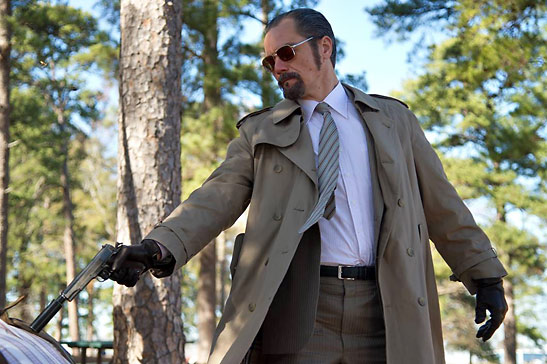 Michael Shannon plays notorious contract killer Richard Kuklinski in Ariel Vromen's "The Iceman." Photo Courtesy Millennium Films
You play Richard Kuklinski, a notorious contract killer. What kind of research did you do for the role?
Shannon: I watched an interview he did from prison. They showed it on HBO, but I saw the full 20-hour unedited interview. I watched it ten times. That's how I got to know him.
What did you discover?
Shannon: I discovered a lot of things. He's a very complicated person. One of the main things I discovered is that it's very hard to get to know the guy because you're never quite sure when he's telling the truth. He contradicts himself all the time. But the one thing that seemed very apparent to me is that he's a very sad, lonely person who had been in a lot of pain pretty much his whole life and that the one thing in the world that meant anything to him had been taken away from him forever. This is really a hard question to answer in a concise manner. Let's go to the next question.
Is this the first time you've played a sociopath and what is the particular challenge in creating such a character?
Shannon: Mmm. Sociopath. Well, I can't honestly say if I know that I've played more than one sociopath or not. I'm not well studied in the mental health sciences. I'm assuming you mean someone who has no morality?
No moral compass.
Shannon: I'm not sure he was without a moral compass at all. I mean he does have certain rules about what he does. He doesn't hurt women or children or he doesn't kill them anyway. The way he looked at it was if he didn't kill most of the guys he killed, somebody else would which is honestly the truth. For me, I don't think the world needs to know more about sociopaths. I'm not on a crusade to enlighten anyone about sociopaths. The only thing that makes Kuklinski interesting to me is actually the tenderness I believe he had in his heart. Under all the layers of rage and fury there was this little fragment of tenderness that he wouldn't let go of and that he did everything in his power to protect his family from himself. That's what I found interesting about him.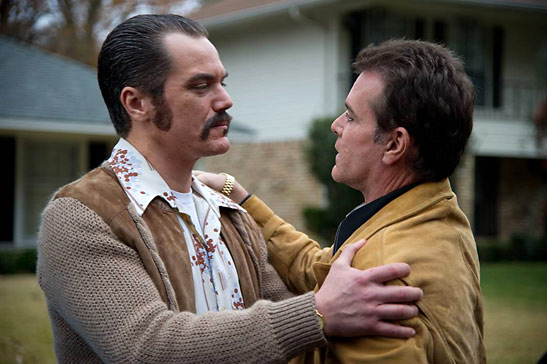 L-R: Michael Shannon as Richard Kuklinski with Ray Liotta who plays mob boss, Roy Demeo. Photo Courtesy Millennium Films
What was the first day of shooting like?
Shannon: It's very cool how we shot the movie. I started with the Demeo (Roy Demeo character played by Ray Liotta) stuff with Ray and David Schwimmer and John Ventimiglia. The first scene I shot was the scene where Ray fires me because I didn't kill the hooker telling me I can't leave witnesses. But I say she was a kid and he says he doesn't give a rat's ass and that I'm done. That was the first time I had ever met Ray Liotta so a lot of the day I was thinking that's Ray Liotta, he was in "Good Fellas." (laughter) He was in "Something Wild." He's really good. Oh yeah, he's really freaking me out. I don't know what he's going to do next. The big issue when we were shooting that scene was this whole thing about me not eating vegetables. I was picking mushrooms out of an omelet and wondering if mushrooms counted as a vegetable. That was a big question that day.
Winona said that violent scene in the kitchen was unrehearsed and she was really surprised. What made you go in that direction and how badly did you actually hurt yourself?
Shannon: I tripped over a table and it was not very bad at all. It was just a scratch. I'll show you. Oh, it's not there any more. (laughter) Unfortunately, it happened on the first take. We had a very slippery coffee table that I kick over so I was walking to the kitchen and stepped on the coffee table and I was like Kathy Fleming skating across the floor. It is Kathy, right? Can anyone back me up on this?
Peggy.
Shannon: (continuing his thought) Oh yes, Peggy. So I fell and was trying to keep it hidden from Winona. You know Winona is a very delicate individual and I knew it would freak her out. So I was crossing my legs and between takes I would go stand in the dark in the back yard. But it was not major. I'm still here. I'm still alive. Everything is fine.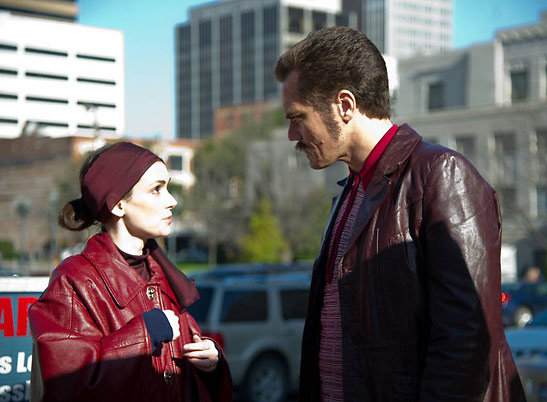 Winona Ryder plays Michael Shannon's Richard Kuklinski's wife Deborah.
Photo Courtesy Millennium Films
She said breaking all the stuff in the kitchen was improvised.
Shannon: No. That was kind of what I was supposed to do. The fact of the matter is that odds are their domestic life, in reality, was much more physical than that. That's a very light-weight version of things that probably happened, but I think it was important to at least have some illusion to the fact that he probably broke a couple of dishes in his day, an aspect of his personality which I think is important to the story.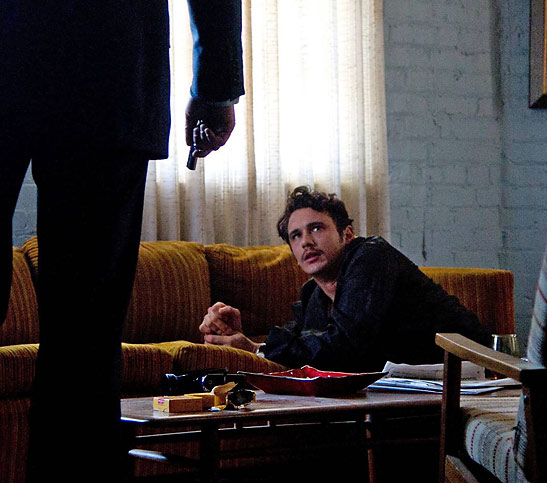 Richard Kuklinski is about to kill James Franco's character of Marty but offers him a chance to pray to God to save him. Photo Courtesy Millennium Films
Was the scene with James Franco where you give him an opportunity to pray for his life in the script?
Shannon: Oh yes. It was on the page. That's actually a story that Kuklinski himself tells quite a lot. In the interview, the interviewer asks him if he has any regrets and he says that he has one and that was the time he made a guy pray to God. He said that wasn't right and he shouldn't have done that. So, that's why it's in there. But, we had a hell of time getting James Franco to pray. (laughter) He didn't want to pray. I don't know if he's anti-religious or something but he just wouldn't pray. I'm saying you gotta' pray, you gotta' pray to God, that's the whole point of the scene. But he just didn't want to do it. He's great in the scene and actually didn't know any prayers which when I started to say "Our Father…" (laughter)
In the film you have two daughters, but in real life, you actually have a daughter. Did that inform your character in any way?
Shannon: She's four and a lot younger than the girls in the movie. My daughter is like my favorite person in the world. The father/daughter thing is very powerful and yes, having my own daughter definitely informed the character. It's also very different as well. I'm a very different father than Richard Kuklinski. (laughter)
Kuklinski actually had a son who is not depicted in the film. Do you know the reason why?
Shannon: You'd have to ask Ariel (the director). I can hypothesize. It's a tricky thing with kids in a movie. I actually think maybe his son didn't want to be depicted in this movie. Don't put me in this movie. That might be it. I know this sounds wretched, but it might have been a budget thing. Like do they really need three kids? I honestly don't know. This film was made on a very tight budget in a very short period of time.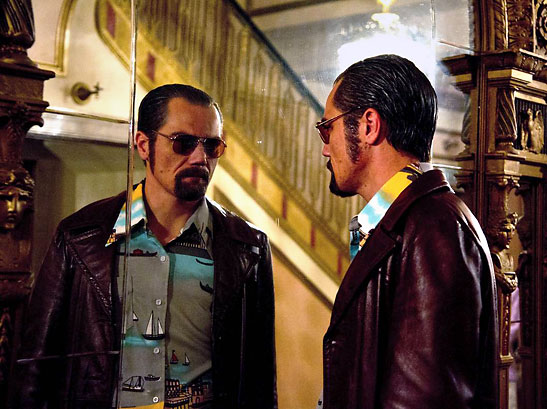 Michael Shannon on Richard Kuklinski: .... "One thing that seemed very apparent to me is that he's a very sad, lonely person who had been in a lot of pain pretty much his whole life..." Photo Courtesy Millennium Films
Despite the intensity of the material was it relaxed on the set?
Shannon: No. It wasn't relaxed at all. It was hard. Like I said, we didn't have much money. We didn't have much time. We were barely making our days. It was a nail-biting experience, but we made it.
Given that this is not really a message film, is there one message an audience could take away with them?
Shannon: I think it's a really good example of how living a double life is a bad idea. Like you should try to find someone that your comfortable being with in all situations so that there's continuity and you don't have to keep big secrets and drive yourself crazy because I think a lot of what he was suffering from got progressively worse and worse the longer he tried to keep all these secrets. Secrets are poison.
Was there one pivotal moment in your life when you decided to become an actor?
Shannon: I felt that way when I got to Chicago and started doing plays in little tiny theatres. I didn't get paid anything. There was one theatre I loved. It was in the basement of a restaurant. It was a little concrete room with folding chairs. We'd do plays down there. I can't think of one at the moment. It was kind of like Chinese water torture – just bearing into your skull and eventually you can't resist. (laughter)
How did theatre training impact on your acting technique?
Shannon: I don't know. They're so different. They're such different experiences. I mean the thing is I think because a lot of the theatres that I working at in Chicago were very small, I was never far away from the audience, so the context of performing isn't that different. The audience is still very close. The rhythm of it is totally different. When you do a play, you tell the whole story and you're done and go home. When you do a movie, you're breaking it up into all these little fragments so they don't really feed one another. I don't feel like one of them makes me better at the other one. They seem like two separate things to me.
You live in New York?
Shannon: I live in Brooklyn.
What part? Park Slope?
Shannon: Red Hook. That's where "On the Waterfront" was set.
That use to be a really bad neighborhood. Is it completely gentrified now?
Shannon: Yes and no. I mean it's not dangerous. There's still a giant housing project and bunches of poor people but there's just not any violence. It'll never be Park Slope. It's too out of the way. And, there's still lots of industrial space there and weird warehouses with funny smells like something bad might be happening
Are you getting a lot of attention now that you're a rising celebrity and how do you handle it when you're out in public?
Shannon: I don't know. I've been getting a lot of that with "Boardwalk." When you're on TV you really become a part of people's rituals. You're in their house and they expect you once a week and they feel like they are getting to know you. I don't mind it. I guess I've been thinking about getting a hat and some glasses or something. (laughter) I mean I can't drive around in town cars because that would drive me insane. I like to walk and go out, take the subway. I'll just have to deal with it.
But aren't people more invisible in New York?
Shannon: Yes and no. I mean I get plenty of well-wishers. It's not really a negative thing as long as they don't expect to become my best friend or something.
How do you handle it when someone comes up to you for an autograph?
Shannon: Let's do it. (Hands over a piece of paper) You're the person.
Assuming a childish voice: Can I have your autograph?
Shannon: Yeah, sure. You got a pen? (laughter) (He feigns signing the paper) Thank you. Thanks a lot. Take care. Have a nice day. Bye, Bye. (laughter).