Morgan Freeman –
The Man With The Velvet Voice
By Beverly Cohn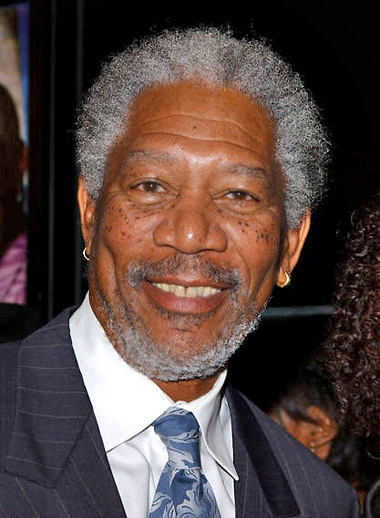 The multiple awarding-winning actor, Morgan Freeman. Courtesy Photo

ean on Me," "Driving Miss Daisy," "Glory," "Robin Hood: Prince of Thieves," "Unforgiven," "Outbreak," "Kiss the Girls," "Amistad," "Hard Rain," "Along Came a Spider," "Dreamcatcher," "Bruce Almighty," "Batman Begins," "Lucky Number Sleven," "The Bucket List," "The Dark Knight," "Invictus," "Dolphin Tale," "The Dark Knight Rises," and, of course, "Million Dollar Baby," for which he won an Oscar for Best Supporting Actor. This is just a sampling of Morgan Freeman's vast body of consistently solid work, an actor who has graced the both the big and little screens with calm determination and a most distinctive voice, which brought him 52 awards and 43 nominations. He is held in the highest esteem as one of Hollywood's most respected actors.
Freeman recently sat down with a select group of journalists to discuss his latest film, "The Magic of Belle Isle," directed by Rob Reiner and co-starring Virginia Madsen. It is the story of a famous Western novelist named Monte Wildhorn, who is plagued by alcoholism, and how through the power of love, emerges stronger and once again productive.
The following has been edited for continuity and print purposes.

Wheelchair-bound Monte Wildhorn (Morgan Freeman) tries to teach Spot how to fetch. Photo: Courtesy Magnolia Pictures
What were the fun scenes in "The Magic of Belle Isle?"
Freeman: Every single one, except maybe a few with the dog. Sometimes the dog was not as cooperative as you would like him to be. (Laughter)
One of the sweetest scenes in the movie is when the kids (Madeline Carroll, Emma Fuhrmann & Nicolette Pierini) are showing you how to use the cell phone. How assimilated are you personally with technology?
Freeman: Hey. (He holds up his cell phone.) And, I have an IPad. (Laughter) I don't do much with it, but it's a great calendar.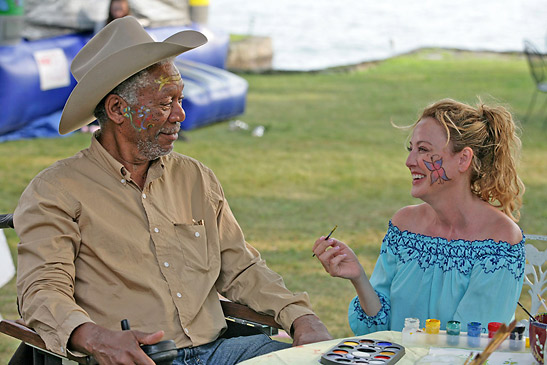 Morgan Freeman plays opposite Virginia Madsen in his very first romantic lead. Photo: Courtesy Magnolia Pictures
This is basically the first film in which you are a romantic lead. What was your reaction to that?
Freeman: Even throughout my good looking youth I wasn't called on for any romantic parts, which was o.k. What I was called on to do I enjoyed doing. The funny thing about life is that if you live long enough, I think, you'll get every wish you've ever had. It'll all come true.
You had a terrible car accident in 2008. Did you incorporate that experience in the development of your wheelchair-bound character?
Freeman: I used all of that. My fingers don't work so I don't use this arm to do much with it. (He wears a glove on the injured hand.) Because I don't have any feeling back here, I'm always afraid that if I try too hard, I'm going to damage it and not even know that it was done, so I'm very protective of it. So playing this character, who is paralyzed on this side of his body, was very easy to do. All I had to do was to relax this hand and try not to let my arm do the things it would normally do.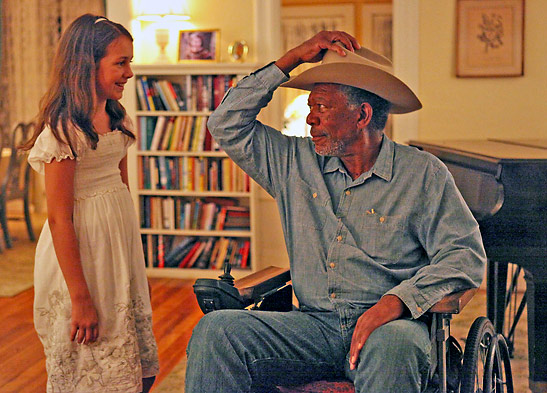 Morgan Freeman as Monte Wildhorn with Nicolette Pierini as Flora.
Photo: Courtesy Magnolia Pictures
Your relationship with the kids in the movie is very believable. Did you draw from personal experiences?
Freeman: I'm always asked that question and I don't know if there's a correlation there really. We're acting. We're pretending. There's really no basis in reality. These (characters) still come off as being pretty close to being like a television family. (Hallmark Channel perhaps?)
Why are stories about story telling important, as is the case with this film in which your character writes stories for the kids?
Freeman: What's outstanding about this film in terms of story telling is that it reminds us that imagination is really an important ingredient in life and if you're going to be a storyteller, it's of ultimate importance. That's the best I can do in terms of answering that question.
Speaking of imagination, do you think there are restrictions in the theatrical versions of a film such as "Sideways" which was recently adapted for the stage by the author of the novel Rex Pickett?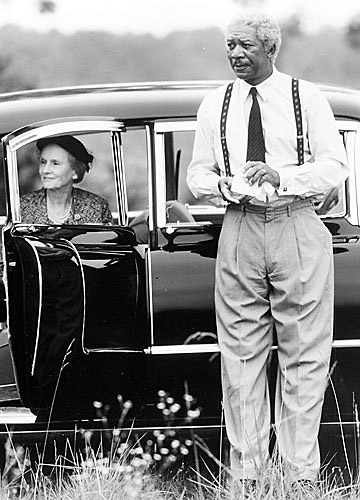 Jessica Tandy and Morgan Freeman in the film version of "Driving Miss Daisy." Courtesy Photo
Freeman: Listen. You can make anything into a play for the simple reason that the human mind is one of the best writers in the business so if you've got a writer who's clever enough to give you enough clues, you'll fill in every blank spot in a play, every single one.
I did a play off-Broadway where I'm driving a car and there was nothing that even indicated a car except me and the passenger so what do you think the audience did? They put in a car around us. ("Driving Miss Daisy" co- starring Jessica Tandy) I saw "The Lion King." How clever, how easily she (Director Julie Taymor) put me completely in the African Serengeti with lions, cheetahs, hyenas, and a wildebeest stampede; pulled it off on stage so, hey, you can do it.
You are one of the most famous actors in the world. How do you deal with your fame?
Freeman: I try to avoid it. You know what I mean? If I stay at home, I'm not famous. I'm only famous when I'm out in the streets so I don't go out in the streets much.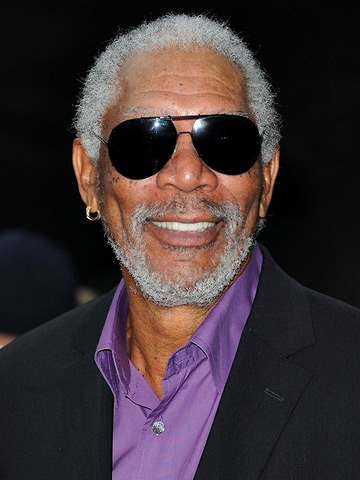 "Don't point a camera at me at an airport, bus station, train station, or restaurant." Courtesy Photo
What do you do when you are out in public?
Freeman: Then I have to deal with being famous. Sometimes I have to tell people that I don't do autographs. Thank you very much. At certain places, I refuse to have my photograph taken. Don't point a camera at me at an airport, bus station, train station, or restaurant. Any place where there is a crowd of people. I try to be gracious because people are saying 'I like you.' I'm not being insulted or pushed around. People approach me because they like me. Nevertheless, I can't… And, I hate saying no to people. 'Would you sign this?' 'No, I'm sorry, I won't.'
In view of you wanting to protect privacy, what do you think a good use of your fame might be?
Freeman: If you get called on to help someone with a good cause that would be a good use of your fame. I don't try to avoid that. As a matter of fact I'm leaving tonight for Destin, Florida to take part in a golf fundraiser for kids of the military. A lot of these children are suffering, and their families are not doing well because they don't make a lot of money, or somebody has been wounded. Anyway, the kids are having a hard time so these people have started a fund to relieve their problems.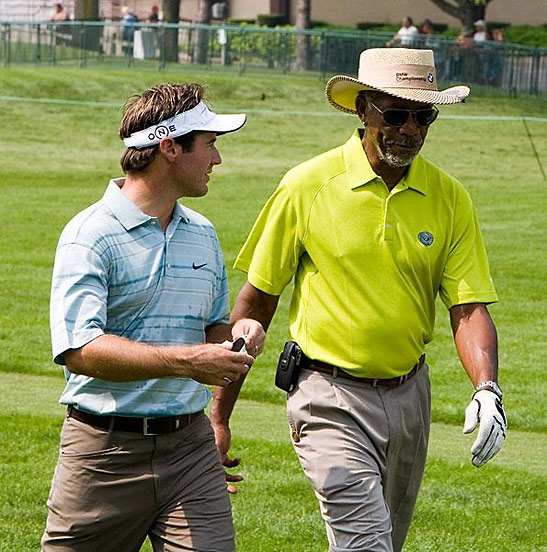 Morgan with golf pro Trevor Immelman. Photo: Courtesy Magnolia Pictures
The scuttlebutt is you're a pretty good one-handed golf player and often beat your opponents. Is that true?
Freeman: I'm not that good really, but the fact that I can even hit the ball with one hand intimates a lot of people.
Are you involved in any other charities?
Freeman: I'm coming back here on the 29th of July just to take part in a fundraiser for Oceana which I think is one of the most important undertakings we have today. If we don't save the oceans, if we don't do something about what we're doing to the oceans, as well as the planet at large, we are going to be sorry.
You were born in Tennessee and now live in Mississippi. Why did you choose Mississippi?
Freeman: That's home. That's where I grew up. I was only born in Tennessee. All my formative years were in Mississippi. I have a nice home. It's really an oasis. It's paradise.
Can we all come visit?
Freeman: Yes come. But you're not allowed to wear a lot of clothes. (Laughter)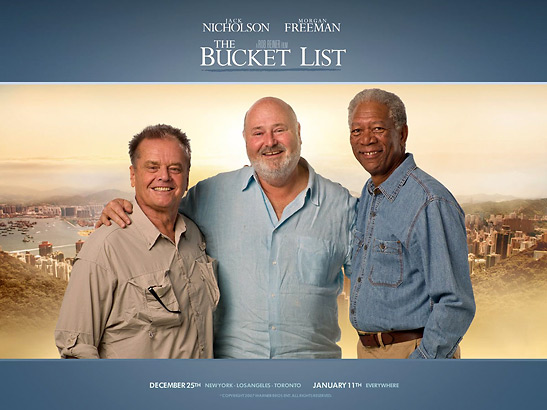 "Rob's a teddy bear. He's delicious." Courtesy Photo
You worked with Rob (Reiner) on "Bucket List." What do you enjoy about working with him and what other directors do you especially like working with?
Freeman: Rob's a teddy bear. He's delicious. He's a really good director and I especially enjoy working with him. He's very, very quick which I really, really like.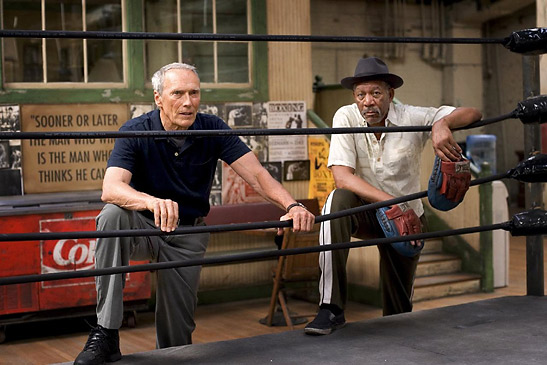 Clint Eastwood and Morgan Freeman in a scene from "Million Dollar Baby."
Courtesy Photo
The other director I hold in equal esteem is Clint Eastwood. Now I have worked with a lot of terrific directors, and I don't mean to be putting any of them below their own station, but these two, I really relish work with them.
With your incredible body of work, is there one film that has remained with you long after the shoot?
Freeman: No. I'm not that kind of an actor. When it's done, it's done. I walk away. I've just never have been the kind of actor that things stayed with me and never needed to carry a character off stage.
How do feel about the conclusion of the Batman series?
Freeman: I feel fine. I know it's a conclusion and I'm all right with that. It was a great stroke of fortune to be hired as a continuing character. If it's ending now, and it is ending now, it's cool.
Have you ever had a less than satisfying acting experience?

Freeman: I did "Othello" once in Dallas, Texas in 1983. It was my worst experience on the stage ever. If you don't believe it yourself, forget about trying to convince anybody else about your character and I didn't believe myself once. So if you ever hear of someone looking for an "Othello," count me out. (Laughter).