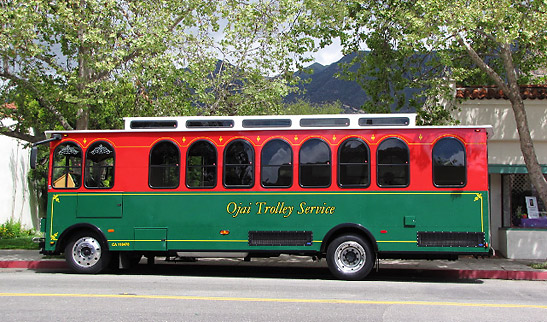 Ojai - A Little Piece of Heaven
Off the 101
Text and Photos by Beverly Cohn

ust a one-and-a-half hour drive from Los Angeles, lies this little oasis and one of the oldest town in Ventura, called Ojai - a soothing retreat from the assaults of every day Los Angeles living and the Ojai Visitors Bureau wants you to experience it for yourselves.
Toward that end, Janis Flippen, assisted by Ruth Ballin, invited a select group of journalists to specifically experience a new attraction called "Eating Ojai Tasting Tour." Brainchild of Allison Costa, of Ventura Food Tours, the attraction is in its infancy and while there is potential for success, some kinks will have to be ironed out before it becomes viable. For example, the restaurants participating in this program will have to be trained in serving proper portion sizes to accommodate the number of "tasters" as there must be ample food to go around, which wasn't always the case. That said, here are some highlights of the tastings: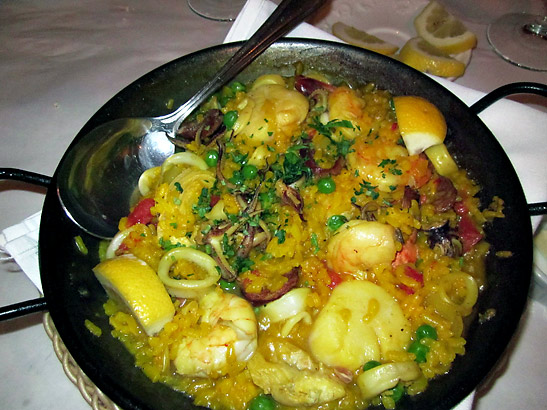 One of the house specialties of the AZU restaurant is Paella.
Azu Restaurant & Tapas Bar is a mother-daughter operation that also features live music in the back room. The outstanding dish was definitely the figs wrapped in bacon.
If you love corn tamales, then you definitely want to head over to La Fuente that serves these deliciously sweet treats all year round. Their most popular tamale is cheese and pepper and at $2.75, they sell around 400 - 700 a week, which is bumped up to 7,000 weekly during Christmas.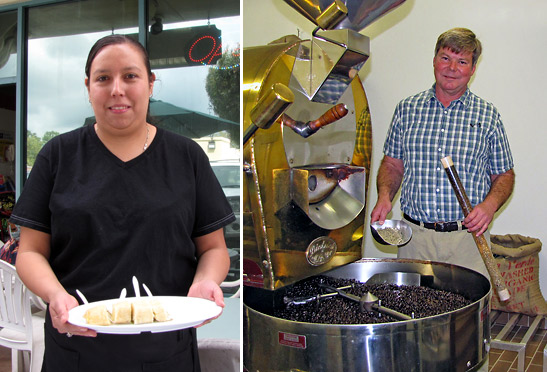 Left: Yolanda Vega is ready to serve some delicious corn tamales; Right: Standing near his bean roaster, which roasts 25 pounds of coffee beans at a time, Kent explains the two-pop process, or second crack, the second one signifying that the beans are almost ready.
In its 17th year, Ojai Coffee Roasting is known as the watering hole of Ojai and coffee lovers gather there every day to experience the brew of the day. The most popular? Dark Papua, New Guinea. In addition to a variety of coffees, Kent offers Panini sandwiches and a selection of house salads using farm-fresh ingredients.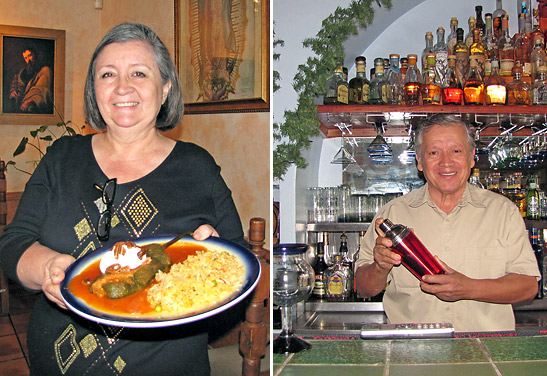 Left: Leticia Salinas getting ready to serve Chile Relleno Con Carne de la Abuelita; Right: Ruben runs the Tequila bar that boasts 150 varieties, ranging from $5.00 to the most expensive Selección Supremo, which aged for eight years, sells for $67 a pop.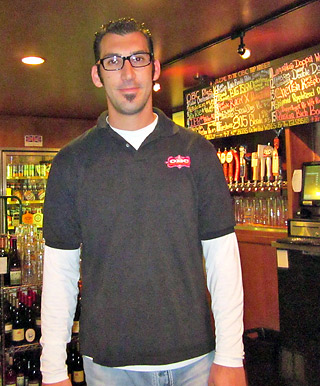 Jorge ( George) Alem runs the family business which goes back four generations to his great, great uncle.
For lovers of authentic, refined, healthy Mexican food, with recipes passed down from mothers and grandmothers to their daughters and granddaughters, Los Caporales, owned and operated by Leticia and her husband Ruben Salinas. The two dishes served in the tasting were Chile Relleno Con Carne de la Abuelta and a very delicious soup, Nectar de los Dioses or food fit for a God. Leticia told us the recipe, straight out of granny's kitchen, is made with pinto beans, meat of your choice, and garnished with tomato, cilantro, onions and Mexican cheese. For tequila lovers, Ruben runs the Tequila Bar that boasts 150 varieties, ranging from $5.00 to the most expensive Selecciton Supremea which is aged for eight years and sells for $67 a pop. The restaurant's welcoming environment, coupled with friendly service, is a "down home experience" to be enjoyed.
A very knowledgeable Jorge (George) Alem of OBC (Ojai Beverage Company) prepared a tasting of three of his 800 beers. Fourth generation in the ale and spirits business, he explained that unlike wine, where you can use your olfactory senses to experience the taste, beer requires four ounces to be consumed to get the full flavor.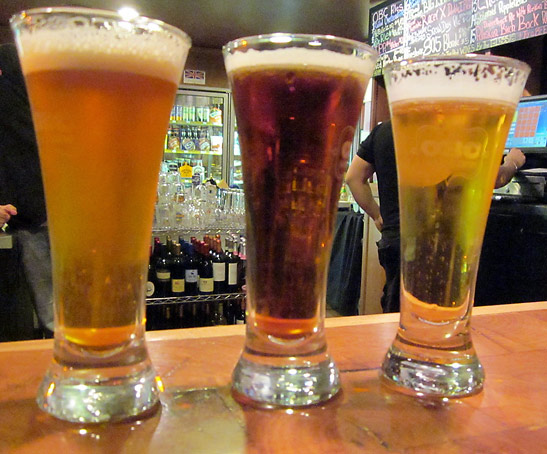 Three of the 800 varieties of beer - including domestic and imports.
If beer is not your cup of tea, also on hand are 4,000 different spirits and 1,000 varieties of wine - something to satisfy everyone. If you'd like to toast in Scottish, try "Slainte" - (Here's tae ye.)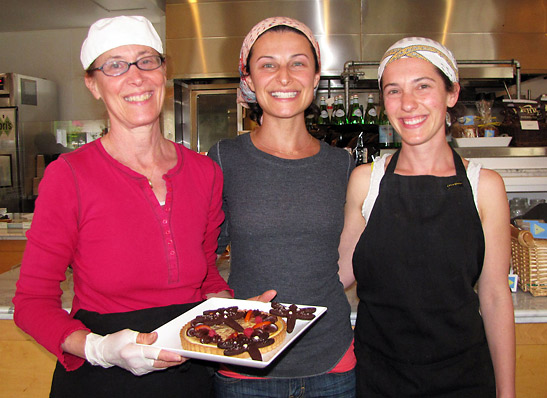 The Knead Baking Company is a family affair, run by (L-R) Bobbi and her two daughters, Leah and Rachel who are holding their signature cheesecake tart.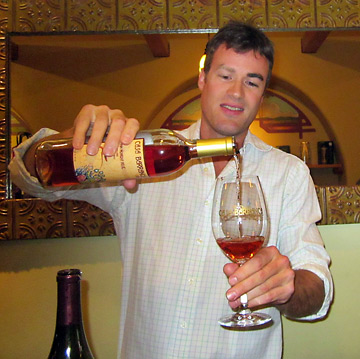 Rickey V, General Manager of Casa Barranca Wines, (House by the River) pours one of the wines selected for the tasting.
If you love home-baked breads or have a nagging sweet tooth, head over to the family-owned Knead Baking Company and do try the unique, delectable cheesecake tart or any of their cakes, pastry, desserts or breads.
Our host pours from one of the wonderful wines he selected for the tasting which included a Pinot Noir, Grenache, Syrah, and a Cabernet Sauvignon. The grapes used in their wines are processed in Ojai and most are certified organic which means no pesticides or chemicals. A definite stop for connoisseurs of fine wine.
Susan and her partner Beryl Schwartz own and operate the lovely Feast Bistro. Formerly a bookstore, the restaurant offers indoor or outdoor dining. She and Beryl settled in Ojai because, "We couldn't afford Santa Barbara."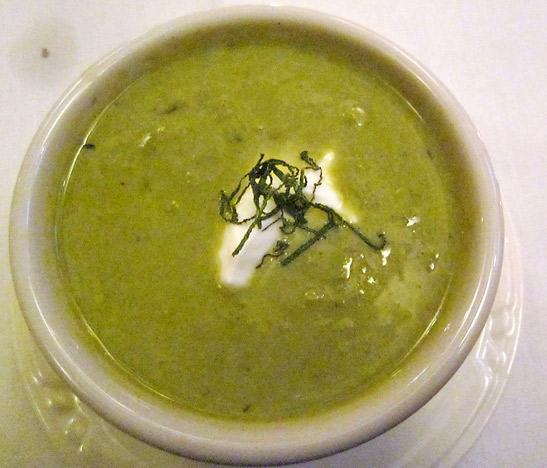 This dreamy asparagus soup is made with cream and lemon sage and is quite a delicious treat.
This outstanding meal began with a delicious, creamy asparagus soup, followed by an arugula and fennel salad with tangerines. The main course was Superior White Fish, which really was superior, served on a bed of couscous. While there is a catch of the day, which is their best seller, the Superior White fish is brought in once a month from Chicago. Cooking for 26 years, when asked about her inspiration, Beryl said, "Mom was a good cook and could make anything taste good." How does she handle stress? "Sometimes when things get real hectic, I think about the guy who sells hot dogs off the freeway. He has no overhead and makes a good living and that can always be my fallback position." (She laughs)
With all this eating you will surely need a place to rest your head at night and have a choice of nine B&Bs. I was fortunate enough to stay at the historic "The Lavender Inn," the only full service B&B in Ojai.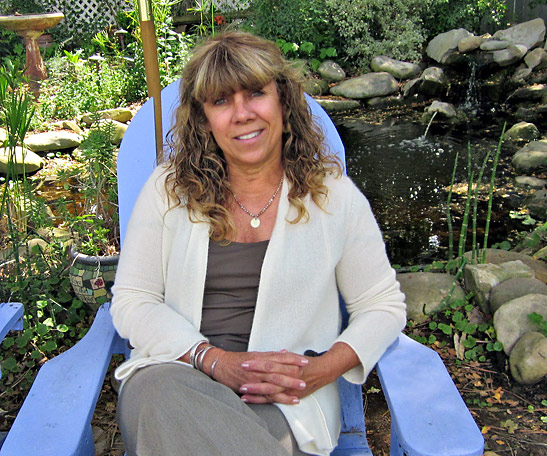 Owner of "The Lavender Inn," a very loving Kathy Hartley sits in a lavender chair in one of the several lush garden areas on the property.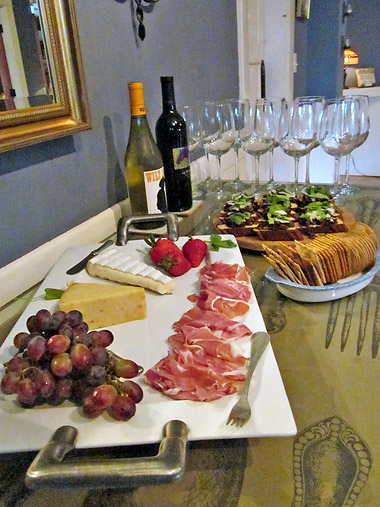 This beautiful spread is typical for the afternoon Wine & Cheese hour and today it consisted of mushroom bruschetta, along with prosciutto, cheese, grapes and paired wines.
Under Kathy Hartley's loving leadership, "The Lavender Inn," a historic property built in 1874 that was originally a school house, is not just an incredibly charming destination with attractive rooms, beautiful gardens, sumptuous breakfasts, and afternoon wine and cheese snacks, it is also a hotbed of activities including the Ojai Culinary School and participation in the Clean The World program. But undoubtedly the most heartfelt undertaking is InnCourage, an annual retreat dedicated to underserved women with mostly breast cancer. The women are treated to three days of pampering which includes organically prepared food, massage, makeup lessons, wig styling and scarf tying for those who have lost their hair. It's a healing gathering where women, guided with a therapist, can discuss the challenges they are facing in coping with their disease. Although somewhat subsidized, when the funding runs out, Kathy puts in her own money - putting her money where her heart is.
The rooms range from $130 and each holds its own unique charm. But for a really special occasion, think about the 1,000 ft. Provence Cottage, a beautifully decorated accommodation with a private entrance, huge living room and bedroom each with French doors leading to a private garden. Of course there's a fireplace for those cool evenings and at only starting at $285, it's worth every penny and a treat you won't soon forget.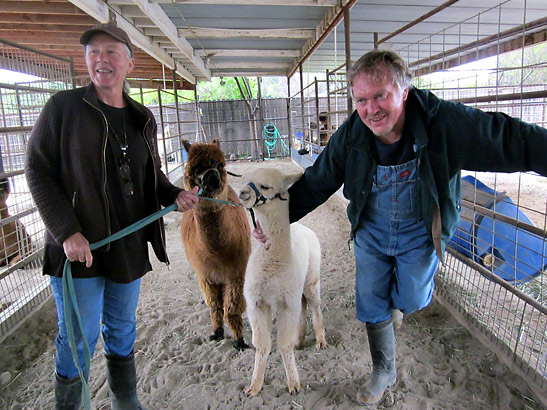 Recipients of the Small Business Award, former city slickers Laurie & Eric Kreis treat these beautiful animals like they were their children and gave them names like Ellie Mae, Elmo, and Elton.
If you would like to experience an alpaca up close and personal, a must stop is the very unique El Paca Pastures, home to 12 of these quite beautiful, mild-tempered animals and one llama who protects the herd from predators. Run by Eric and Laurie Kreis, before entering the cage, we were asked to get into a quiet, Zen-like state and not to make any sudden movements that might scare them and cause them to spit. We were invited to feel their fleece, which is softer than cashmere and hypoallergenic. The alpacas are shorn once a year, usually in the spring, and the fleece is used in an assortment of products from socks to blankets.
Some interesting facts about these beautiful animals is that have strong herding instincts and get distressed if any one of them is separated from herd, all defecate in the same spot which is turned into compost, and they protect each other from danger by emitting a special sound signifying danger and rarely, if ever, engage in any kind of warfare.
In summarizing Ojai, it's both a spiritual haven and a nourishing destination for music and art lovers as the community is home to artists, musicians, and health enthusiasts. It is also a Mecca for outdoor activities, including being home to one of the top 25 golf resorts in North America on the property at the Ojai Valley Inn and Spa.
Ojai's reputation for tranquility began decades ago when it was pictured as Shangri-La in the seminal 1937 film, "Lost Horizon." There is definitely something in the air that will distance you from your daily stresses and definitely lower your blood pressure.
For further information, contact Ojai Visitors Bureau.
1-888-OJAI NOW