Up Close & Personal With "Youth" Director Paolo Sorrentino
Beverly Cohn

aolo Sorrentino, whose "The Great Beauty," garnered him the 2014 Academy Award for Best Foreign Language Film, has written and directed another Oscar contender – "Youth." This is a tender film starring Academy Award winner Michael Caine as Fred Ballinger, a retired British conductor, and Harvey Keitel as Mick Boyle, a Hollywood director and Ballinger's best friend since childhood. They play men nearing their 80s who vacation every year in a spa in the Swiss Alps, where they reminisce about their lives – past, present, and future. Ballinger receives a request from the Queen of England to conduct one of his pieces of music called "Simple Song #3, for Prince Philip's birthday celebration. He declines the request for very specific, personal reasons, which he doesn't wish to reveal. His friend Mick is there with a few young writers as he's intent on developing what could be his last important screenplay.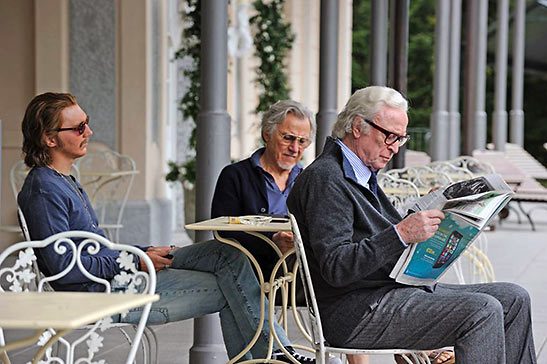 L-R: Jimmy Tree, (Paul Dano,) Mick Boyle ( Harvey Keitel,) and Fred Ballinger (Michael Caine) in a scene from Paolo Sorrentino's "Youth." Photo: Courtesy of Fox Searchlight Pictures
The supporting cast is outstanding and consists of Rachel Weisz as Balliner's daughter Lena, Paul Dano as Jimmy Tree, a guest at the hotel, and Jane Fonda, in a cameo role as an aging actress named Brenda Morel, who has served as Mick's muse in his prior films. The original soundtrack by David Lang is haunting, as is soprano Sumi Jo, whose majestic voice is yet another fabulous element in this beautiful film.
Sorrentino sat down with your reporter for an exclusive interview and the following has been edited for content and continuity for print purposes. It should be noted that some of the questions were translated through an interpreter, but Sorrentino answered most of them in his limited English.
First, I would like to say congratulations. The film is brilliant and is on most critics' short list for an Academy Award. My question is this. You read a small article about a famous Italian conductor who was asked to play for the Queen of England, but refused to do so. What was it about that little story that motivated you to write a screenplay?
Sorrentino: At first, I thought it would be a good idea to do a movie about the queen and the musician. Then, over the course of time, I changed my mind and decided to make the story about these two friends.
When you decided on your final idea, how long did it take you to write the script?
Sorrentino: Not too much. I'm very fast. It took one month.
As the writer, what was the biggest challenge for you to make all the characters real?
Sorrentino: Because there are several characters, the biggest challenge was to make the characters work with each other – developing the relationships between all of them.
During your writing process, after a while, does the character inform your writing?
Sorrentino: Yes. I start thinking like the character.
Did you find one character more difficult to create than the others?
Sorrentino: Maybe the character of Lena played by Rachel Weisz. It is not so easy for me to write about a woman of my age. I am more comfortable writing men, especially older men.
In developing Michael Caine's character of Fred Ballinger, did you know anyone like him?
Sorrentino: The character is based on facts that happened to a real conductor, but no, he's not a real person.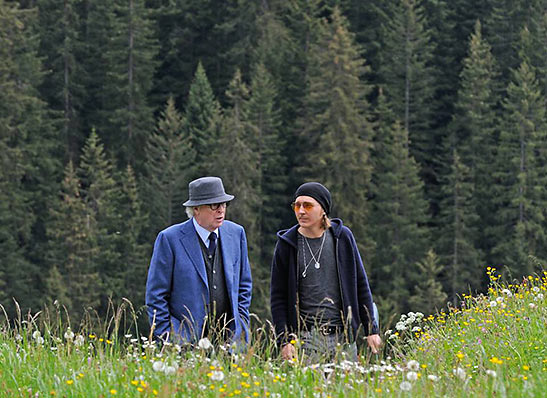 Jimmy Tree (Paul Dano) takes a stroll through the beautiful hotel grounds with retired symphony conductor Fred Ballinger (Michael Caine.) Photo: Courtesy of Fox Searchlight Pictures
How did you decide on that spectacular location?
Sorrentino: I was looking for a certain kind of a hotel. I couldn't find one in Italy and finally found what I was looking for Switzerland. I actually shot in two hotels – one was an antique hotel with old-style rooms and restaurant, and the other a modern hotel with a state-of-the art spa.
The look of the film is breathtaking. Each shot looks like a painting. Did you study art?
Sorrentino: No. I studied economics. (Laughs)
So how did you go from studying economics to being a brilliant writer/director?
Sorrentino: I wrote a lot and sent my first scripts to some producers and directors.
Were you working as an economist while you were writing scripts?
Sorrentino: No. I studied but never finished because I started to work in cinema.
Michael Caine and Harvey Keitel have two very different styles of acting. How did that work for you in terms of your direction?
Sorrentino: I let them act, as they want. When you work with great actors, they know they must live as the character.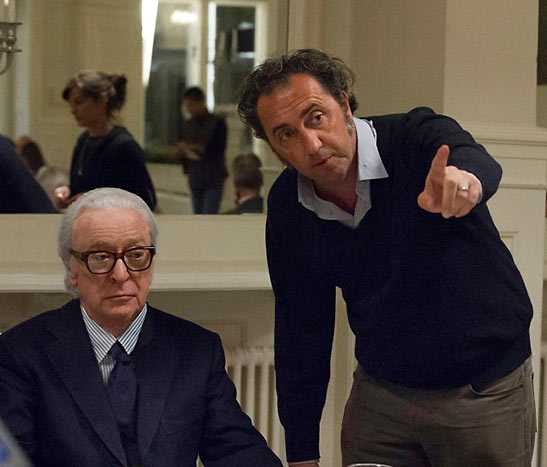 L-R: Michael Caine, as Fred Ballinger takes direction from award-winning writer/director Paolo Sorrentino in a scene from his latest film "Youth."
Photo: Courtesy of Fox Searchlight Pictures
How did you set up the scenes with the actors?
Sorrentino: The only direction I gave the actors was about the placement and movement of the cameras.
How many weeks did you shoot and how long in post-production?
Sorrentino: Eight weeks for the shoot and about nine months in post.
During the shoot, did you have one scene in particular that posed a bigger challenge?
Sorrentino: The last scene of the concert tour was very difficult because there were many elements – the music, the actors, and many people to deal with. It was not as simple as the other scenes. The end of a movie is always complicated.
You've worked with iconic American and British actors. Who else would you like to work with on your next film?
Sorrentino: I don't have a next film at present, but there are many actors I would love to work with including Robert De Niro and Matthew McConaughey.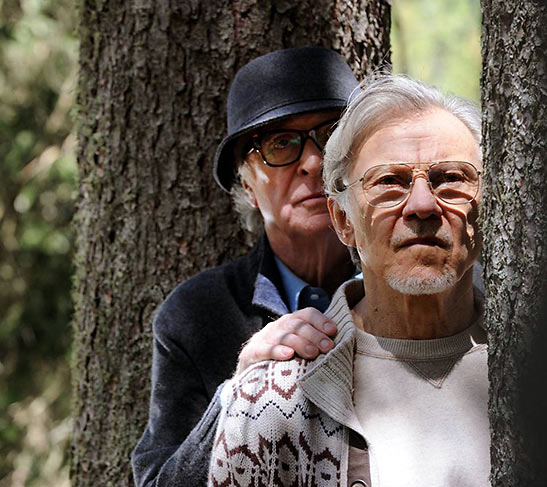 L-R: Best friends since childhood, Fred Ballinger (Michael Caine,) and Mick Boyle (Harvey Keitel) in a scene from Paolo Sorrentino's "Youth." Photo: Courtesy of Fox Searchlight Pictures
I'm sure they would love to work with you as well. When you were growing up, did you like going to see movies and were they mostly American films?
Sorrentino: I started to love movies when I was around eighteen years old. I watched mostly American or Italian films.
What were some of your favorite films?
Sorrentino: All the Scorsese movies, and the independent American cinema.
Were you married when you started your film career?
Sorrentino: No, I was not married.
How did you meet your wife?
Sorrentino: How did I meet my wife? We both worked in the same building and that's how I met her.
Do you have any ideas about your next project, or are just concentrating on "Youth?"
Sorrentino: I am just concentrating on this film at the moment.
Woody Allen said that whenever he has an idea, he writes it on a piece of paper and sticks it in a drawer and when he was ready for his next project, he would look at all the little pieces of paper. How do you keep track of your ideas?
Sorrentino: I do the same thing. I write down my ideas and when I'm ready to do a movie, I go through all my notes.
Did the Queen Elizabeth II see the film?
Sorrentino: I don't think so. It's not been released in England yet.
I've seen a lot of films this year – both American and foreign. Many of them are violent which I suppose reflects the turmoil the world. What is particularly wonderful about "Youth," is that it's so uplifting. You've illuminated the most beautiful part of humanity and for that you deserve a big "thank you."
Sorrentino: That's very kind. Thank you.