Patricia Clarkson
On Character Choices, Dating,
And Women of Today
Inside Hollywood With...
Beverly Cohn
Editor-at-Large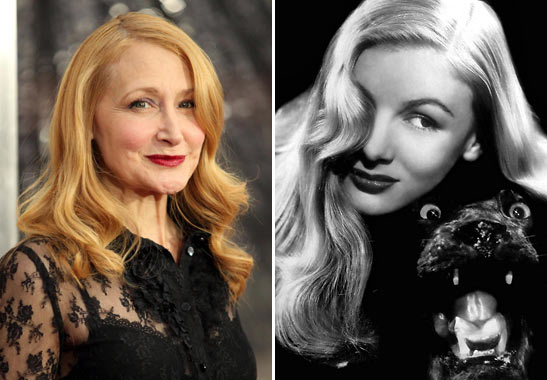 With her hair draped over one eye, Patricia Clarkson's beauty harkens back to the days of Hollywood glamorous stars such as Veronica Lake; Veronica Lake was a star during the 1940s and epitomized Hollywood glamour. Courtesy Photos

ou can be sure if Patricia Clarkson is in a film, you will be treated to a performance that is sheer perfection. Her approach to acting is both unique and compelling as she imbues her characters with her own quirky, but organic interpretations. With her Veronica Lake** hairstyle, harkening back to the days of Hollywood glamour, Clarkson lights up the screen with her mega-watt smile, and intriguing on-screen presence. This Louisiana native is not just another beautiful southern belle. She is highly educated, having attended Louisiana State University, Fordham University, and eventually graduated from the Yale School of Drama with a Master of Fine Arts. She acted in some of the most enduring classics including: Electra, Pericles, Twelfth Night, The Lower Depths, The Misanthrope, Pacific Overtures and La Ronde.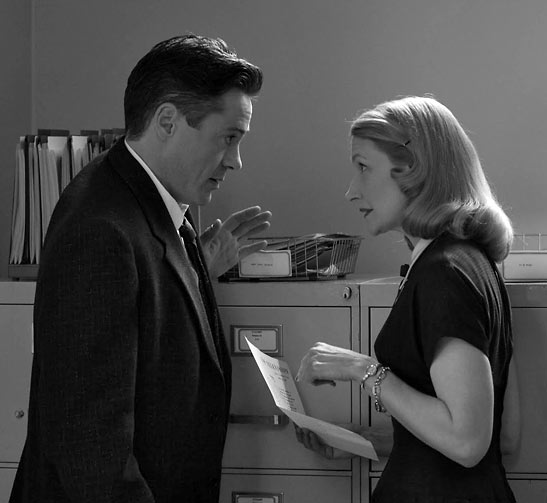 Robert Downy, Jr. and Patricia Clarkson in a scene from "Good Night, and Good Luck." Courtesy Photo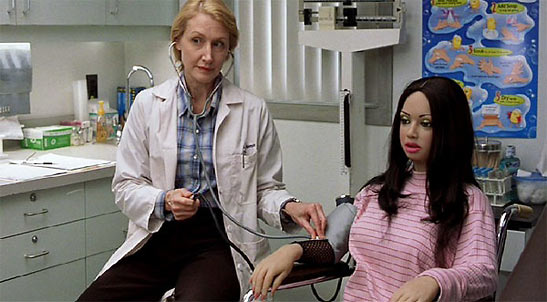 Patricia Clarkson plays a doctor in "Lars, and the Real Girl." Courtesy Photo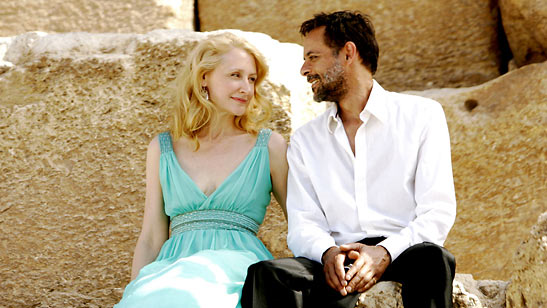 Patricia Clarkson and Alexander Siddig in a scene from "Cairo Time." Courtesy Photo
Clarkson's stage training informed her screen work as evidenced by her characterizations in the following films, some of which go back to the 1980s: The Untouchables, The Dead Pool, The Green Mile, Far from Heaven, Pieces of April, The Station Agent, Good Night, and Good Luck, Lars, and the Real Girl, Cairo Time, Elegy, Vicky Cristina Barcelona, Shutter Island, The East, and Friends with Benefits. Equally at home on television, she has appeared in many episodic programs including: Tales from the Crypt, Law & Order, Murder One, Wonderland, Frasier, Six Feet Under, and Parks and Recreation.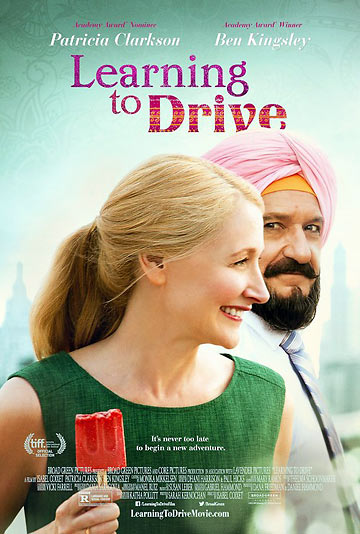 A sweet film about two people in a profound life's transition. Photo: Broad Green Pictures
Once again, Clarkson delivers a compelling performance in her latest film, Learning to Drive, which co-stars the iconic Sir Ben Kingsley. Directed by Isabel Coixet, the script, written by Sarah Kernochan, revolves around Wendy, a very successful book critic whose husband has just left her for a younger woman. She wants to learn how to drive and hires a driving instructor named Darwan, played by Sir Ben Kingsley, who endows his character with a magical life's force. This is not a soapy adventure, but one where each of the characters emerges stronger as a result of their experiences with each other. The supporting cast includes: Jake Weber, Sarita Choudhury, and Grace Gummer.
Clarkson recently sat down with a select group of journalists and the following has been edited for content and continuity for print purposes.
Look at you! You look beautiful!
Clarkson: I just did a television spot. My hair, make-up and dress - it's all wasted on you, right? (Laughter – Alluding to the fact we are print journalists.)
We just interviewed Sir Ben and had a great time. What was it like working with him?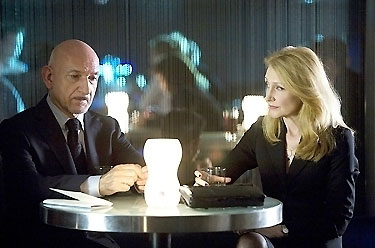 Clarkson on shooting a nude scene with Sir Ben Kingsley
in "Elegy:" "I loved working with him on 'Elegy.' I don't know if you remember us from that film, but I got very intimate with him." Courtesy Photo
Clarkson: He's the consummate actor – the consummate professional. He's an actor's actor. There's no one like him in the world. I know him well and consider him a personal friend. I loved working with him on Elegy. I don't know if you remember us from that film, but I got very intimate with him. Let's just say that once you… uh… I know him well and he knows me well. (Laughter) (They did a nude scene together.) And, that was our first day of shooting. (She sings) "Getting To Know You." It was a great way to break the ice and I can't think of a more intimate way to break the ice. (Laughter) So, it was just a dream to work with him on this movie, which has been a passion project of mine for a long time. I could not have done without Sir Ben and Isabel.
You are known for working on quirky material and are not particularly interested in films that are just "commercial." What is the genesis of this material?
Clarkson: It's based on an essay from the New Yorker. I just found it so tragic and funny and true. I'm 55 but at the time I read it, I was 45. I'm now thankful that we couldn't get the financing, director, or a co-star when I was in my 40s, as I needed to be in my 50s to properly play her. What I love about the script is it's very mature. It's a beautiful story about a profound adult friendship. The lines can always get slightly blurred with a straight man and a woman, but in the end, the real truth prevails about their separate worlds.
What drew you to the character of Wendy and how would you describe her?
Clarkson: This is not a story about a woman finding herself. My generation of women is the first generation to have it all. Our mothers made great sacrifices. We're able to have jobs, partners, lovers, spouses, and children – adopted or surrogate. Wendy is a woman who forgot to look up and forgot to appreciate what she had. She had a wonderful husband and a devoted daughter, but the divorce upset her apple cart. This is not a woman who is use to dealing with emotions. She comes at everything from the head up and suddenly she has to come at everything from the gut.
There were some knee-slapping moments, and would she have slept with that guy?
Clarkson: I never thought of it as knee slapping. I see it as a more emotional film, even though it's funny. But I guess I don't see Wendy as comedic. I see her as angry and mercurial and that's what I love about her. I also love this yin and yang of their relationship. I love this fiery New Yorker and this beautiful devout Sikh coming together in this smelly little car. As far as having sex with him? The tantric sex? Please! (Laughter) I can't wait for my old-fashion southern father to see that. (Laughter) My father is a very amazing cool man. He's a liberal, but he's still an 80-year-old southern man. (Laughter)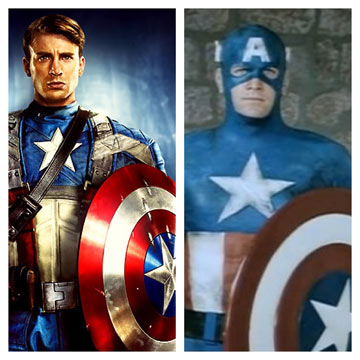 Pictured here as Captain America, Clarkson on having simulated Tantric sex: "Having Tantric sex with Matt Salinger, J.D. Salinger's son, doesn't get any better." Courtesy photo
How was that Tantric sex scene with Matt Salinger?
Clarkson: That was tough. What man do you get to come in for one scene – get naked and simulate Tantric sex? (She laughs) I mean, would you do that? (Much laughter) Would you? (more laughter) My God. I've made three men blush. (referring to the journalists) But really, having Tantric sex with Matt Salinger, J.D. Salinger's son, doesn't get any better.
How did you introduce the film?
Clarkson: When we finished the film, we brought it to the Toronto Film Festival. We didn't do any pre-screenings, but that first big screening brought the house down. Sir Ben and I got a ten-minute standing ovation. We thought: "Oh my God. What happened?" We had the same reaction at the premiere in New York in front of hard-core, discerning New Yorkers. I couldn't watch the film because now we were in New York territory.
Do you drive?
Clarkson: My father taught me how to drive at sixteen. So, yes, I drove in New Orleans. But, after living in New York for over 30 years, I slowly became this New Yorker and lost the ability to drive. I dated a man who lived in the country, so I would drive his Subaru – ooo sexy. (Laughter) He was very sexy. Enough about that. (Laughter) I would drive country roads, and those are easy. But, as it got closer and closer to this film coming to fruition, I realized my fear. I could get a tiny bit "Method*" when I want to, so I was specifically not driving or thinking about driving. I saved it all for the film to connect to where art and life merge.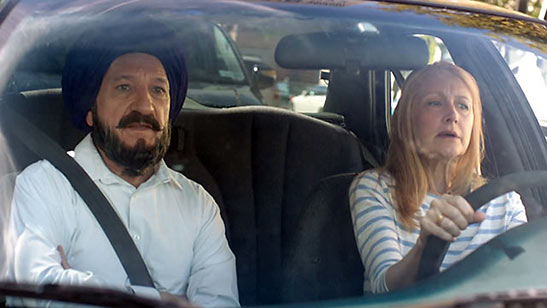 Clarkson on doing her own driving: "Driving through Manhattan was difficult." Photo: Broad Green Pictures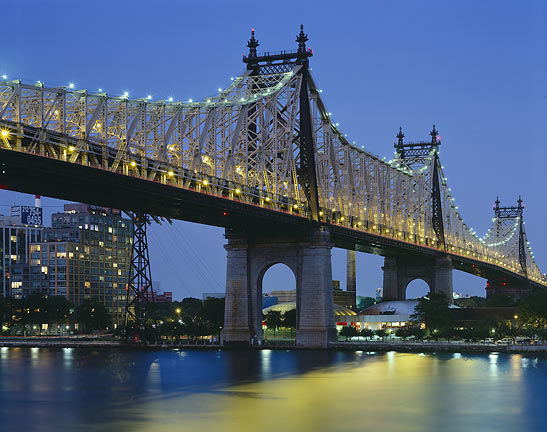 Clarkson's fear on driving over the Queenborough Bridge: To Sir Ben: "..If we don't make it over the bridge, I've loved every minute of my life with you." Courtesy photo
What was the scariest moment for you in the car?
Clarkson: Driving through Manhattan was difficult and I was actually behind the wheel, but driving over the Queensborough Bridge, I looked at Sir Ben and said "I adore you. Hold on. I promise I will get you to the other side, but if we don't make it over the bridge, I've loved every minute of my life with you." (Laughter)
How did the casting of Meryl Streep's, daughter Grace Gummer, come about?
Clarkson: There's an interesting story about Grace. I met her at a premiere almost six years ago. I have an odd sixth sense. I knew she was Meryl's daughter. I walked up to her and I looked at her and said: "If and when I get this movie made called Learning to Drive, I want you to play my daughter." Six years later, I said: "Grace, I want you to play my daughter."
Do you have a memorable moment during the shoot?
Clarkson: A memorable moment... I'll tell you the most memorable moment, and it's not about the shooting. Gabriel and Daniel Hammond now run Broad Green Pictures. I found out that these two young men are in their 30s. (PR rep enters to whisk her away and she says:) "Hold on. This is a great group." (Laughter) I found out that they were interested in doing Learning to Drive, so I met Gabriel for dinner at my favorite restaurant in New York. We sat in my booth and for three hours we never talked about the movie . We talked about our lives. He talked about his mother who passed away. We talked about love. We talked about the world. We talked about everything you can imagine, but never talked about the film. At the end of dinner, he said, "I'm going to make this movie." I'll never forget that as long as I live.
You're a single woman. How do you meet men and have you ever had a blind date?
Clarkson: First of all, I've never really had a blind date to be honest with you.
You're not missing anything. (Laughter)
Clarkson: It's not like I could go on "OK Cupid."*** (she whispers) You mean Patricia Clarkson is on "OK Cupid?" (Laughter) I don't know if that's cool or sad. You know, like she's advertising. All her personal info is now online. I would be on that site if I weren't an actress. I've been on some very crazy dates and maybe they weren't blind, but I wish I had been. (Laughter)
Do friends try to fix you up?
Clarkson: Oh yes. I've had a fix-up. Usually, it's a person I've met. Recently, I started dating a man who I had met when I was in London doing The Elephant Man. It wasn't a blind date, but sort of a fix-up.
One more question. You studied at Yale. Do you have a specific technique for developing a character and what do you look for first?
Clarkson: I'm the opposite of Wendy. The emotional life of the character has to come first. So, I begin to explore how much of my true emotions are there because I like to keep it as true and pure as possible. I marry the emotions of a character to my emotional life so that it lives deeply and organically inside of me. Usually, when I pass on a project, it's because I couldn't find the emotional life of the character – it didn't awaken in me, so I realize that maybe that role isn't for me. Also, it's important that I do my homework and come on set prepared. Everybody has been working sixteen hours and I don't want anybody on the set waiting while I find my inner self and find an emotion.
Thank you. It's been so much fun.
Clarkson: You guys are divine!
*Method acting is a technique actors use to create the thoughts and feelings of their characters.
** A glamorous movie star during the 1940s.
*** A popular dating website for singles