Beyond "Bond"
With Pierce Brosnan –
On Love, Acting & Turning 60
Beverly Cohn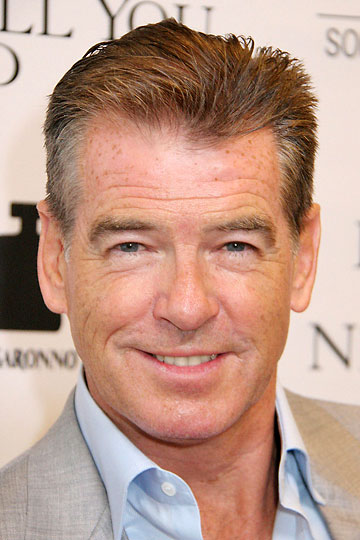 Pierce Brosnan, a Hollywood icon. Courtesy Photo

e's Remington Steele. He's Phileas Fogg. ("Around the World in 80 Days.") He's Dr. Lawrence Angelo ("The Lawnmower Man.") He's Stu Denmeyer ("Mrs. Doubtfire.") He's Ken Allen ("Love Affair.") He's Alex. ("The Mirror Has Two Faces.") He's Professor Donald Kessler (Mars Attacks!) He's Robinson Crusoe. He's Thomas Crown. ("The Thomas Crown Affair.") He is Andy Osnard. ("The Tailor of Panama.") He's Julian Noble. ("The Matador.") He's Sam. ("Mamma Mia!") He's Adam Lang. ("The Ghost Writer.") He's Dan Day. ("Salvation Boulevard.") He is the quintessential James Bond. ("GoldenEye," "Tomorrow Never Dies," "The World Is Not Enough," and "Die Another Day.") These are the characters created by the incredible Ireland born and bred Mr. Pierce Brosnan.
Although virtually unknown to American audiences, Danish actress Trine Dyrholm is one of Denmark's most honored actors receiving the coveted Bodil Award five times from the prestigious Danish Critic Association.
A most elegant Mr. Brosnan and his co-star Trine Dyrholm recently sat down with a select group of journalists to discuss their latest film in distribution – Academy Award-winning director Susanne Bier's "Love Is All You Need." The bilingual film, beautifully shot on location in Sorrento, Italy revolves around a middle-aged widower Philip (Brosnan) and Ida, (Dyrholm) a cancer-stricken woman who has been deserted by her husband who takes up with a much younger woman. The story is homage to finding love in the most unexpected places with amazing performances by these two stars.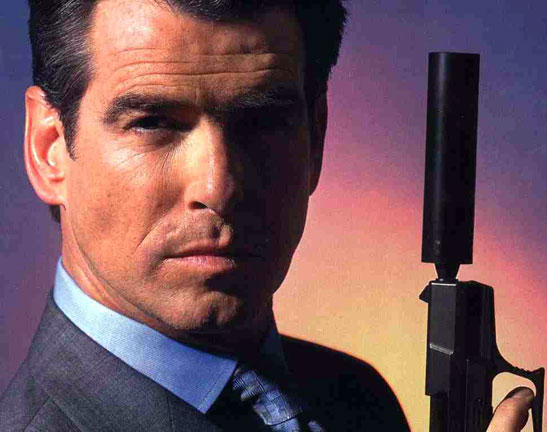 Pierce Brosnan was the quintessential James Bond. Courtesy photo
You were such a fabulous James Bond. Do you miss being that super hero?
Brosnan: No, No. That was my day in the sun, but it's another man's job now. I haven't anything but gratitude for being able to portray James Bond. What a dream to be part of that. But, like all dreams, they come to an end and you move on. I've been a working actor all my life and in some regards, it was just another job.
Speaking of another job, what was your experience like in "Love Is All You Need"?
Brosnan: Good segue. Oh this was a joy. I love Susanne Bier's movies. This was a film that stole my heart in many regards and little did I know that I would be working with Trine (Dyrholm.)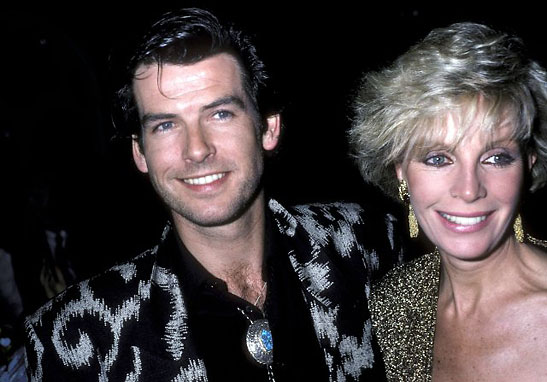 Pierce Brosnan with his late wife Cassandra Harris who died of after a four-year battle with ovarian cancer. Courtesy photo
You've been touched personally by the tragedy of cancer and have been an activist. Is that one of the reasons you wanted to do this film?
Brosnan: Oh, I would say yes. This is a script that touched my heart and the character (Philip) is so much me. I was acutely aware of the similarities of my life and this man's life so how could I not know something about losing a wife and being a single parent. How it went, was the piece found me at the right time in my life, middle age, celebrating that, as a man, as an actor, and then the story was so beguiling and beautiful. So, one sets forth with the best intentions to make a film that will touch people's hearts and also be entertaining.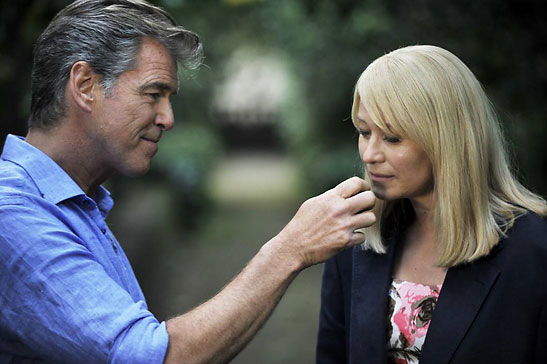 L-R: Pierce Brosnan as Philip and Denmark's Trine Dyrholm star in "Love Is All
You Need," a bilingual love story revolving around to lonely people.
Photo Courtesy Sony Pictures
Is love all you need?
Trine: Is love all we need? Oh definitely. I think we need love and love is many different things. I love the message in this film. It's not how many years you get, it's what you get out of those years.
Brosnan: Of course it 'tis. It's an essential part of our existence as human beings. Without it, where would we be? Love and only love - there's so little of it. You read about the news of the world and there seems to be just devastation and brutality in our societies with respect to each other's countries and religions.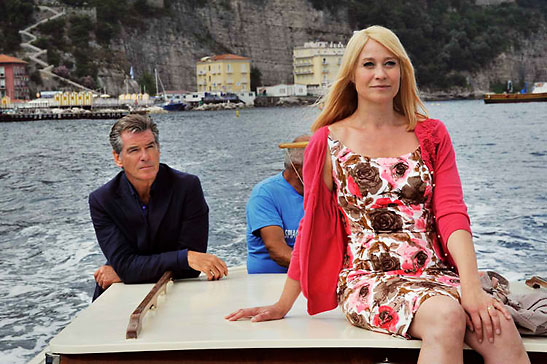 Pierce Brosnan's Philip reaches out to Trine Dyrholm's Ida.
Photo Courtesy Sony Pictures
Because the material is so close to Pierce's own tragic experience, did you ever feel like you had to hold back anything during the shoot?
Trine: It is quite close to me as well. You see, I have close friends who experienced cancer so I think a lot of people are touched by this and, of course, when you share something as actors, you always play together with respect. I just try to portray this lady as good as I could do. It is not a movie about cancer, but it's also about that and I like the way it is in the movie, but not about it.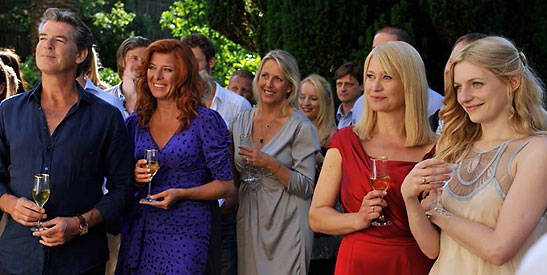 The two families gather for the wedding. Photo Courtesy of Sony Pictures Classics
As a woman, did you feel disrespected when the character of your husband shows up for your daughter's wedding with his new girlfriend?
Trine: But I love stuff like that in movies. That's where the drama is – when people are doing all the wrong things and make all the wrong decisions. That's interesting to look at on the screen. Of course, this is a woman's worst nightmare that you could think of – to be at your own daughter's wedding with your man who brings his young, beautiful woman. It's a good set up for the whole drama.
We were told that when people found out you were in Sorrento, traffic stopped, and is making movies like just another day in the office?
Brosnan: Well, that wasn't the case. I don't think we stopped traffic. Sorrento is a very civilized town and a society of people, which is quite old in heritage, so we were left alone. It's the tourists who can be a bit excitable. But, no, making movies is not just another day in the office. They're so hard to make – it's so hard to raise the money and then to do the job to the best of your ability and give a 100% every day because there's a lot of money involved. You give of your time, so I never take it lightly.
Trine, how did you feel when you found out you would be playing opposite one of Hollywood's movie icons?
Trine: Well, I had to meet him and we were sitting like this at a round table and reading the script and he was so generous and suddenly took my arm and looked into my eyes and said some of the lines, inviting me in and showing me that we were together in this. It really helped me a lot and I relaxed completely and I realized what a wonderful man he is and how generous he is.
Pierce, how did you feel when you found out you would be working with one of Denmark's most famous actresses?
Brosnan: I had seen Trine's work and it was a powerful experience to see the way she conducts herself as an actress and the presence she has as a human being on screen and what she gives to her roles. So it was nerve racking for me and also knowing I was going into an arena of actors who were very much an ensemble. These men and women had known each other and had grown up together and it was a wonderful warm embrace, so you just revel in that. But, I was terrified. It's always terrifying. It's a constant constructing and destroying.
What are your goals as an actor?
Brosnan: I think I've done 69 films so you just keep going. You keep going and hopefully you'll find work that is meaningful.
Of the 69 films that you've done, is there one character that lingered with you after the shoot?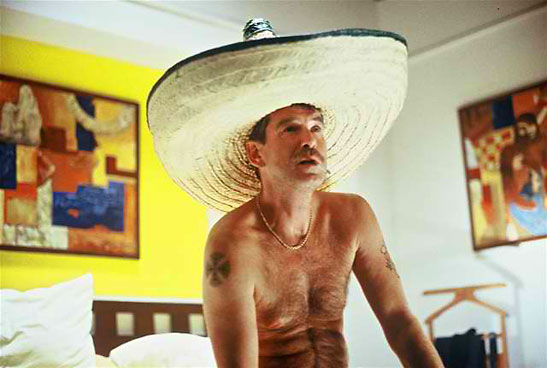 The character of Julian Noble lingered a while after the completion of "The Matador." Courtesy photo
Brosnan: I think "The Matador" was one of those. My wife was concerned when I got back from Mexico City because I still had one of those chains around my neck. That said, my kind of acting is not like the Daniel Day-Lewis school of acting where he goes so deeply into a character. I think to maintain my own sanity, and that's not to say that Daniel is otherwise, but we have a different style of acting. They do live with you. I mean you have a resonance.
How did you like working in Mexico City?
I loved my days in Mexico City. I just love the Mexican way of life. The food. The people and hope to go back there and work again. I worked there many times with "Remington Steel."
Did you always want to be an actor and was there a pivotal moment when you knew that's what you wanted to do?
Brosnan: I was a commercial artist and loved movies and went all the time. One day I was hanging my coat up at work and one of the photographers invited me to a theatre club and I went along with him. Once I discovered that I had some bit of talent for it and could be effective on the stage, I wanted it 100%. I was 18 years of age and that was it.
Having been born in Ireland will you be going back for "The Gathering," the call for all Irish people to return to Ireland to participate in many sub sets such as for pilots, actors, golfers, actors, red heads, etc.?
Brosnan: I was just there a few weeks ago and have been hearing about "The Gathering." I might do that because I'll be in Belgrade on a job, so it's only a hop-and-a-skip across the water, so to speak.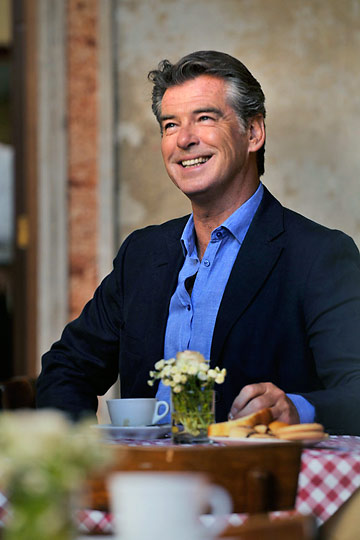 Brosnan on turning 60: "I have nothing but gratitude
for coming down the road so far..."Photo Courtesy of
Sony Pictures Classics
What's the name of the film you'll be working on?
Brosnan: This is a movie that my company "Irish DreamTime" is making. It's called "The November Man" from the Bill Granger books. It's a spy movie and Roger Donaldson is directing and that's what we're going to do. It's a cold war story and my character is a man who has been living a quiet life, but then is brought back into the game. We start filming May 20th.
How do you feel about turning 60?
Trine: That's just another day at the office. (laughter)
Brosnan: Cut 'em down to size, woman. (laughter) 60 is definitely significant. It has a ring to it and I have nothing but gratitude for coming down the road so far and still having a career and long may it last, that's all I can say.
With every physical move do you find an accompanying sound? (laughter)
Brosnan: There are a few oos and ouches along the way. You become conscious of the body and the balance of the body but you try to live a healthy life and try to keep up grace under pressure.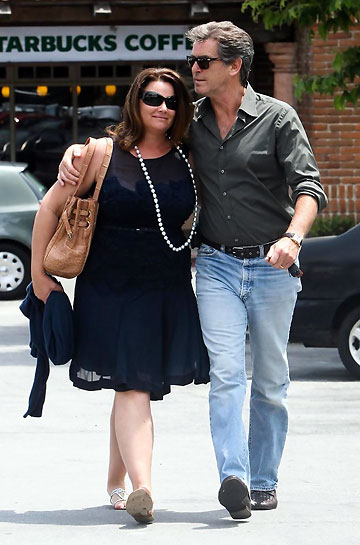 Pierce Brosnan with his wife Keely Shaye Smith.
Courtesy photo
How will you celebrate your birthday?
Brosnan: Well last year, my wife Keely and I had just finished our house so we had a huge house-warming party and 59th birthday party. So this time, I think we're just going to go up to northern California for a quiet weekend and I'll ask her if she would marry me again. (A group awww.) That's a good one, right? I've already worked that one on her. So, it's just going to be the two of us, that's it.
Have you told her of your plan yet or are we going to break that story?
Brosnan: Oh I did, so you're not going to break that story. I already told Keely the other day.
You're really a romantic guy.
Brosnan: Of course I'm romantic guy. I'm an Irishman. We know about romance. (laughter).