The Very Visible Ralph Fiennes
Talks About Charles Dickens
And "The Invisible Woman"
By Beverly Cohn

alph Fiennes exploded on screen in his mesmerizing performance as Amon Goeth, the psychotic Nazi commandant in Steven Spielberg's "Schindler's List," earning him multiple nominations and awards including BAFTA, New York Critics, London Film Critics, and the National Society of Film Critics, and was nominated for both a Golden Globe and an Academy Award. Subsequently, he was again feted for his role in "The English Patient" winning the Best Actor Award from British Independent Films, along with many other nominations and awards too numerous to list.
Born in Ipswich, England, Ralph Nathaniel Twisleton-Wykeham-Fiennes*, received his training at the famous Royal Academy of Dramatic Art (RADA) and began his acting career with the equally well-known Royal Shakespeare Company appearing in lead roles in "Henry VI, "King Lear," and "Love's Labour Lost." Some of his long list of films include "Wuthering Heights," "Harry Potter and the Goblet of Fire," "Quiz Show," "In Bruges," 'The Hurt Locker," "The Reader," "Clash of the Titans," "Great Expectations," "Skyfall," and "Coriolanus," which was the first film he both directed and acted in. His latest film, "The Invisible Woman," is the second one in which he both directs and plays the lead character.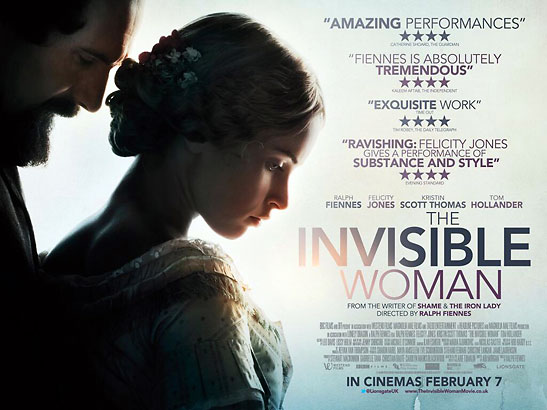 Courtesy photo
Briefly, "The Invisible Woman" is the story of Charles Dickens, exquisitely portrayed by Fiennes, and his illicit 13-year love affair with the 18-year-old Nelly Ternan, a young actress beautifully played by Felicity Jones. Dickens was around 45 years old when he saw her on stage and immediately fell in love. Their liaison was one of the best-kept secrets until author Claire Tomalin wrote a biography on Nelly which, through the writer's investigation, revealed this infamous secret and on which the film is based. Meticulously shot, the landscape of "The Invisible Woman" viscerally captures the every day life and times of late 19th-century London. As interpreted through Fiennes, we see a man bereft of much moral content but whose talent and presence is celebrated everywhere he goes. Dickens was a prolific writer, penning 15 novels, many short stories, plays, works of non-fiction, and poetry. Some of his books include: "Great Expectations," "Oliver Twist," "A Christmas Carol," "David Copperfield," "The Pickwick Papers," "The Old Curiosity Shop," "The Mystery of Edwin Drood," "Little Dorrit," and "Martin Chuzzlewit."
Other cast members of "The Invisible Woman" include Kristin Scott Thomas, Tom Hollander, Perdita Weeks, Amanda Hale, Tom Burke, John Kavanagh, Michael Marcus, and Joanna Scanlan who gives a heartbreaking, award-worthy performance as Catherine Dickens.
Fiennes recently sat down with a small, select group of journalists to talk about the film and the following has been edited for content and continuity.
You did a wonderful job both as director and actor. What was the most difficult challenge going from objective as the director to subjective as the actor and did you have someone on whom you relied for feedback?
Fiennes: You absolutely cannot do both unless you have someone there. When I directed and acted in "Coriolanus," I had Jane Washington on set, a dialect coach who I have known her since I was in drama school. Once I decided I was going to play Dickens, I absolutely had her with me during the shoot. When you take on acting and directing, there's a point where you can't analyze too much. There's kind of heavy adrenalin that takes over and it sort of bled into Dickens. You just gotta' make decisions and you've got to just go. The worst thing on a film set in that you stop to ponder.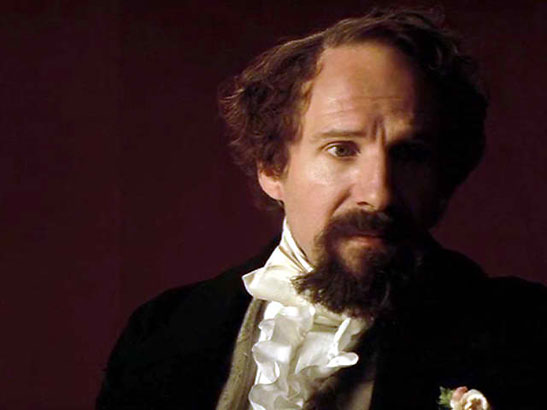 Ralph Fiennes as Charles Dickens in "The Invisible Woman" a film which he also directed. Courtesy photo
What were your feelings about Dickens and what did you learn in the process?
Fiennes: Well, initially I have to say I was ignorant about Dickens. I didn't know much about him. But reading the script, almost in sync with reading Claire Tomalin's book, "Charles Dickens: A Life," I was so arrested with the descriptions of actresses in nineteenth century theatre, and Dickens himself, that I kind of had a wake-up call. I thought this is a brilliant, complicated man and I knew so little about him. On the one hand, he was an incredibly vital, socially gregarious, very seriously active man, and was a controlling father. He was very self-oriented and I think his work ethic was frighteningly brilliant and no one could keep up with him.
What do you think drove him?
Fiennes: I think he was driven by a sense of injustice because as a child, his father was in debt and was made to work in a small blacking factory on the banks of the Thames. (Blacking is shoe polish.) I think Dickens felt humiliation and carried that sense of humiliation throughout his life. He had this fury about it. He was quick to feel slighted and at the same time, he could be a very loyal friend. I got the sense of this unstoppable energy for life, but if you crossed him, there was a real toughness there. Nelly of course, was the big love his life.
Did you get a sense of how Dickens dealt with his celebrity – always being the center of attraction and being mobbed by people everywhere he went?
Fiennes: He loved it. He was defined by his own sense of his relationship with his readership. He was sort of like a successful HBO series of today. He was the "Breaking Bad" of his time. Everyone was addicted to the next Dickens. It was written in installments and I think, like these HBO series, he was writing for a readership/audience and I think he was very much concerned that his books sold. He must have been a gifted actor as well with a storyteller's insistence that held his audience as he read his works. Famously, he would read the murder of Nancy by Bill Sikes in "Oliver Twist. Women would gasp and some people fainted because of the way Dickens acted out Bill Sikes' violence.
Where there any surprises on the shoot vis-à-vis something you didn't know before?
Fiennes: I was learning all the time. This is only the second film that I've directed. You're building relationships with people and that's a learning curve. It was all very positive. The biggest learning curve is in editing. My film editor was Nicolas Gaster, the same editor that I had in "Coriolanus." He would say let's try this and can blindside you with his version, but I knew I must be open to that. Often he did stuff that I liked. I don't know how other directors work; some can be very controlling or leave the editor to do everything. I like Nick trying stuff out and sometimes I would resist it and other times I would go, oh okay, good.
How did you work with the actors?
Fiennes: The thing that you are continually learning is the language in which to talk to actors on the set. You have an instinct that the performance is going somewhere that is not quite right, so what's your vocabulary? Every actor is different so how do you nurture or possibly manipulate to get what you want. You never know what an actor is going to say. "I don't like this line," or "This isn't working." Every day the lesson was how do I get what I want? I have a sense of what the scene is going to be, this person is saying this, they're do that, how do I get them there, and am I right to get them there, or do they have good instincts and should I listen to them. Every day you're dancing this thing. You don't know, so in the end, it's just instinct. I'm always looking for some kind of emotional truth. Some moment that I really believe is happening to that person at that moment.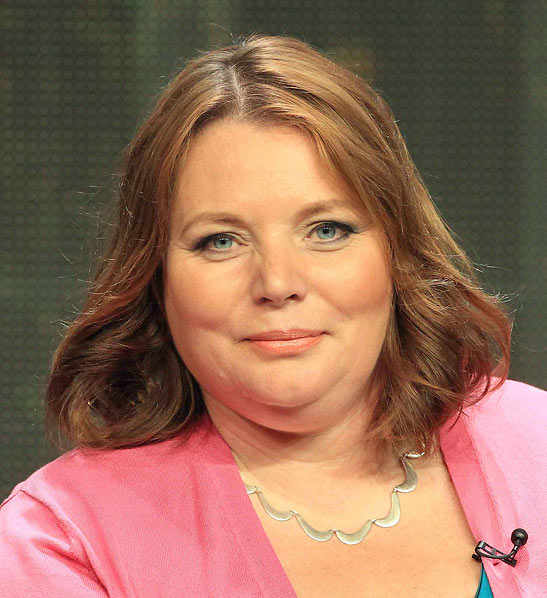 Joanna Scanlan gives an extraordinary performance as Catherine Dickens, the long-suffering wife of Charles. Courtesy photo
What were you thinking as Dickens in sending your long-suffering wife Catherine to Nelly to deliver a gift?
Fiennes: I think he had a pathological streak. There's a great essay by an English academic about violent energy and the motifs of violence in Dickens' imagination – brutality, people being pummeled, and beaten. I think real anger was a side of him and I think it was quite alarming. If this is true, and according to Claire's book it is, he converted possible humiliation into attack. I think it was a psychological defect. Given Dickens' thinking, he would see nothing wrong in sending his long-suffering wife to his girlfriend to deliver a gift.
Was he at all concerned about the bad publicity he would receive for leaving his wife for his mistress Nelly?
Fiennes: He had the same thought pattern when he wanted to leave the marriage. He wrote letters to the Times to justify his decision. As a family man he could have been humiliated by the extramarital affair, but no, he converted it into, "I'm the aggrieved party. I'm the one who is suffering. She was never a great mother. She never loved her children. I'm the one who is doing it all. How could you possibly judge me?" It was shocking and it's cruel and callous, but it's sort of slightly mad.
If someone or something was bothering you in your life, would you ignore it or express your feelings?
Fiennes: I would express my opinion but not in the way Dickens did so. (Laughter)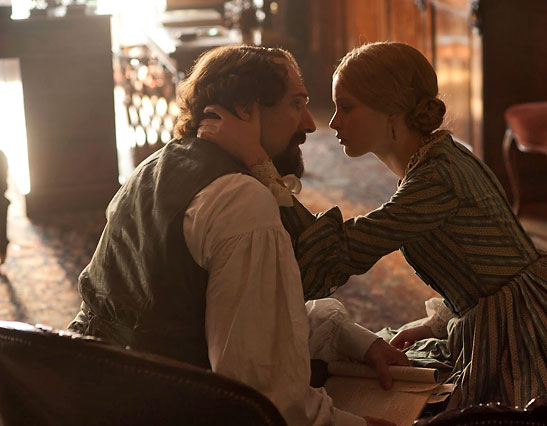 Ralph Fiennes as the 45-year-old Charles Dickens with his mistress and the love of his life,18-year-old Nelly Ternan, played by Felicity Jones. Courtesy photo
Do you think that the problem and pain Nelly faced being the other woman is pretty universal?
Fiennes: I'm never going to know. (Laughter) Seriously, I think there are a lot of compromises in the way of life you have chosen. You have to wait. You have to wait for the phone call and the day that you had planned is the day he has to do this or that with his family. So it must be very difficult and I would find it to be very hard if I were the other man. (Laughter)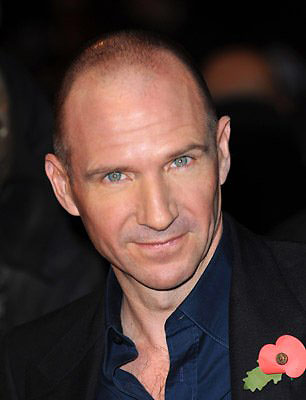 "Still feeling my feet as a director."
Courtesy photo
Off topic for a moment. Is it true that you're the seventh cousin of Prince Charles?
Fiennes: I don't know where that's from, but going back in time, I think my family has been connected to the royal family, but I have no idea about the truth of that. It's seems quite suspect to me.
What's next for you?
Fiennes: I don't know. I'm reading stuff. Some stuff has been submitted to me to direct, which is exciting. I'm still finding my feet as a director so I would have to feel that I really want to tell the story.
I have one more very important question. Your birthday is quite close to Christmas, so growing up did you get one gift for both?
Fiennes: My mum is fantastic and did delineate between the two. (Laughter)
*Pronounced Rafe