"A Walk in the Woods" With Robert Redford & Nick Nolte
Entertainment Editor
The Road to Hollywood
Beverly Cohn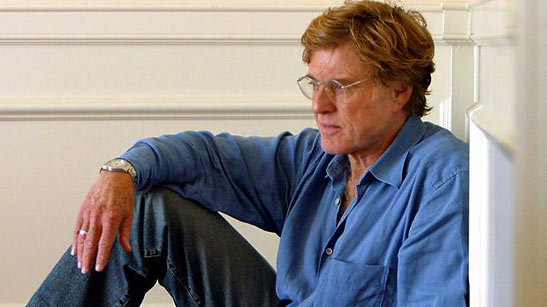 TIME magazine dubbed Robert Redford one of the "100 Most Influential People in the World." Courtesy Photo


obert Redford is one of Hollywood's most treasured actor/producer/director. In addition, he has been an outspoken voice on social and environmental issues and is responsible for the enactment of key legislation aimed at protecting the environment, including the Clean Air Act. Redford's films often reflect his liberal political views for which Time Magazine dubbed him of one of the "100 Most Influential People in the World." He also received the #17 spot in "Premiere Magazine's" list of the "Greatest Movie Stars of All Time." This extraordinary man was also a recipient of the Kennedy Center Honors, and was also awarded the American National Medal of the Arts by the National Endowment of the Arts in Washington, DC.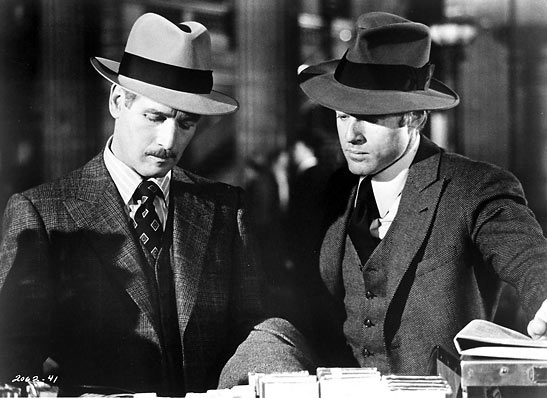 L-R: Robert Redford and Paul Newman starred in the multi-award winning "The Sting," a caper film involving a plot to rip off a mobster. Courtesy Photo
Redford's film and producer credits are too vast to list, but here are some of the most memorable ones: Best Picture Academy Award winners: The Sting, which received a total of seven Academy Awards, and Out of Africa, and Ordinary People, which he directed. On the American Film Institute's list of "100 Heroes & Villains," Redford's performance as Bob Woodward in All the President's Men and is ranked #27, which he shares with Dustin Hoffman, who played Carl Bernstein. The film was also nominated for Best Picture.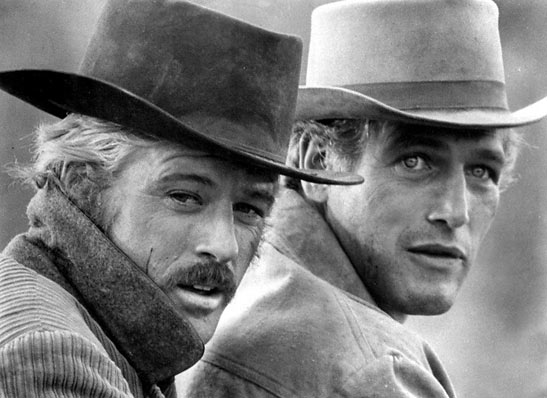 "Butch Cassidy and the Sundance Kid" garnered an Academy Award for best original screenplay and tells the story of two wild west outlaws on the lam in Bolivia. Redford: "It was the most fun I ever had making a film." Courtesy Photo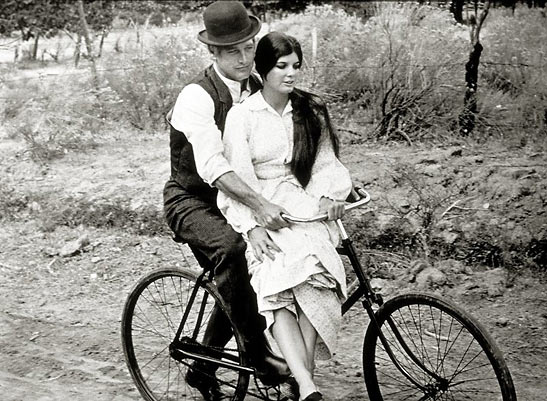 "Raindrops Keep Falling on My Head," the song played in this iconic scene with Paul Newman and Katherine Ross, is #23 in AFI'S 100 Top Film Songs. Courtesy Photo
Quiz Show, which Redford produced and directed received a Best Picture Oscar nomination, as did Butch Cassidy and the Sundance Kid, which became the name of both the Sundance Film Festival and the Sundance Institute in Salt Lake City, Utah where he lives with his wife, Sibylle Szaggars. From over 250,000 films, AFI created their Top 100 with Butch Cassidy and the Sundance Kid and All The President's Men occupying the 73rd and 77th spot, respectively.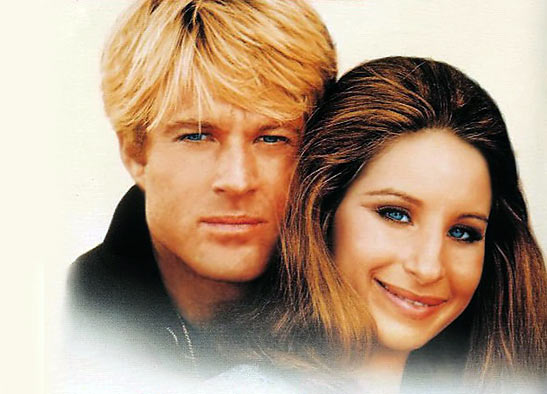 Robert Redford and Barbra Streisand starred in "The Way We Were," one of the most romantic tearjerkers off all time. Courtesy Photo
Other memorable films, which he either produced, directed or starred in, are: The Natural, The Clearing, A River Runs Through It, The Legend of Bagger Vance, Slums of Beverly Hills, The Horse Whisperer, The American President, Sneakers, The Milagro Beanfield War, Three Days of the Condor, The Candidate, Jeremiah Johnson, Havana, The Electric Horseman, and the most memorable tearjerker The Way We Were, in which he was the quintessential "Shaygetz God.*"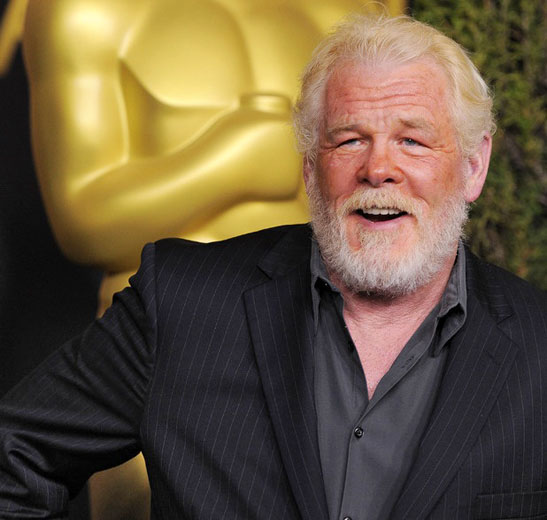 Personal challenges did not prevent Nick Nolte from racking up memorable performances. Courtesy Photo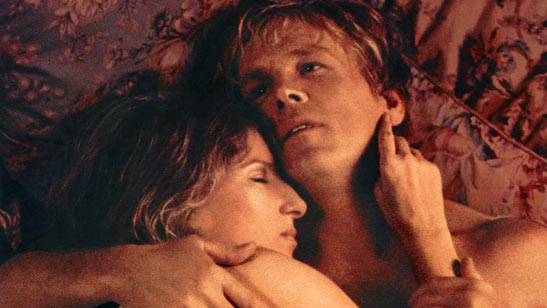 Like Robert Redford, Nick Nolte also co-starred with Barbra Streisand in "The Prince of Tides," which she directed. Courtesy Photo
Award-winning actor Nick Nolte has had his personal challenges, but despite that, has racked up some memorable performances in The Prince of Tides, The Thin Red Line, Gangster Squad, North Dallas Forty, Cannery Row, 48 Hours, Down and Out in Beverly Hills, Lorenzo's Oil, Mulholland Falls, Affliction, The Good Thief, Hotel Rwanda, Paris, je t'aime, Hulk, and Tropic Thunder.
In their latest film, A Walk in the Woods, Redford plays Bill Bryson, a successful travel writer and Nolte, plays his old friend Stephen Katz, a serial philanderer who is down on his luck. Ken Kwapis directs the film written by Bill Holderman, based on a book by Bill Bryson.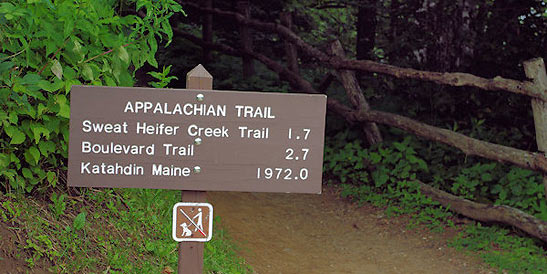 A sign marks the 2,200-mile Appalachian Trail. Courtesy Photo: Broad Green Pictures
The story revolves around two aging friends who decide to hike the 2,200-mile Appalachian Trail, beginning in Georgia and ending in Maine. While Bryson's reasons for embarking on this journey are evident, Katz's reasons for joining him are dubious and much is comically revealed along the way. Emma Thompson, Nick Offerman, Kristen Schaal, and Mary Steenburgen complete the cast.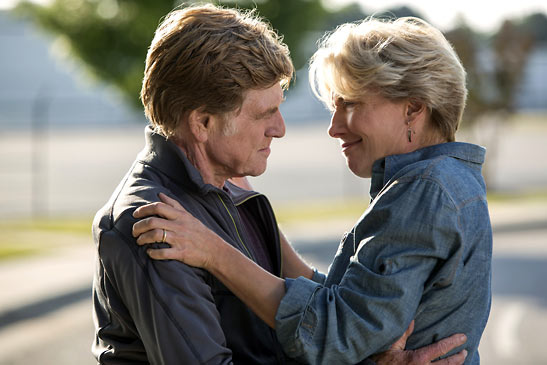 Emma Thompson plays Catherine Bryson to Robert Redford's character of Bill Bryson. Courtesy Photo: Broad Green Pictures
Redford and Nolte recently sat down with a select group of journalists to discuss the film, and more personal subjects, and the following has been edited for content and continuity for print purposes.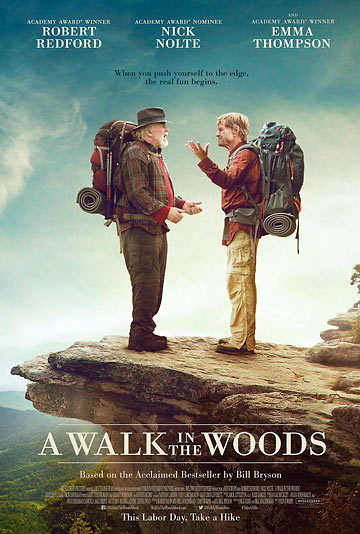 "A Walk in the Woods" is a fun, "buddy" film, starring Nick Nolte and Robert Redford. Courtesy Photo:
Broad Green Pictures
What attracted you to "A Walk in the Woods?"
Redford: I started the project back in 2004. It had a lot of elements that I thought would make a great film – great story, great characters. There was emotion involved and it also dealt with the environment – nature. It also was about friendship – another subject that I thought was always good to work with. So that was what drew me to it.
What took so long to get the film made?
Redford: That's just the nature of our business. It goes like this. Studios don't do as many films as they use to. We don't have a stable of directors, actors, and scripts, so the business depends on a couple of things, one of which is the people who are financing the film must have certain guarantees, such as foreign sales. Foreign sales demand stars and I think that puts an unfair stress on the project. So, a lot of projects don't get made and that's why a lot of independent films are getting made because they're free of that pressure.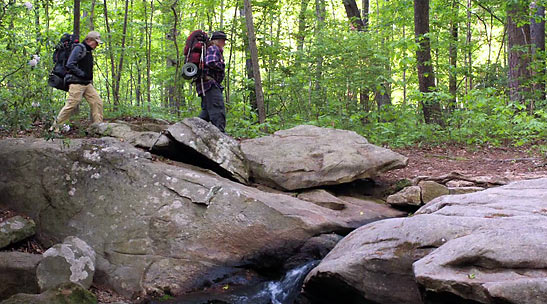 Two old, but estranged friends, Bill Bryson (Robert Redford) and Stephen Katz (Nick Nolte) embark on an arduous hike as kind of their last hurrah.
Courtesy Photo: Broad Green Pictures
The film was beautifully shot. Do you think that will shine a light on nature?
Redford: I hope so. That was sort of my intention. Showing nature in its pure form and also showing where nature is being desecrated.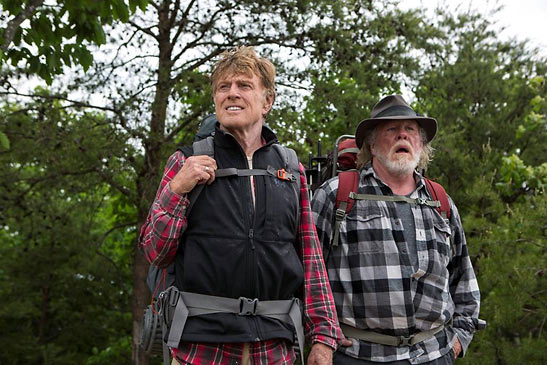 Bill Bryson and Stephen Katz share sometimes comedic personal revelations along the way. Courtesy Photo: Broad Green Pictures
Can you talk about the reasons your aging characters needed to do this hike?
Redford: I think Bryson hit a certain point in his life and was looking for a second act at a time when people retire and sit back. I think he was afraid of that. He wanted to do something that would shake things up, but didn't quite know what it was going to be. It had to be something he had not done before; something that would put him to the test, rather than him writing about people that were doing it. He came up with this idea and almost didn't know what he was doing and he couldn't explain it, but he knew he just had to do it. I just loved that idea. So, he embarks on this hike, not having a clue of how it's going to go with Katz, a friend with whom he had a falling out and hadn't seen him for 30 years.
What was Katz's motivation and did you find similarities between you and the character?
Nolte: Well, it was different for Katz. Katz never had a job. He didn't have a career. He got involved in the revolution in the 1960s and stayed a revolutionary. He was kind of a bum, I guess. He was born and raised in Iowa and never left. I was born during the war and was raised in Ames, Omaha, where ten minutes in any direction, I was in the country. My parents couldn't get me into school. I just refused. I was a problem. You know, I come from a line of professors. My grandfather was a professor at Iowa State College as was my grandmother. My mother's sister was a professor at the University of Oregon. Both my mother and father graduated from Iowa State. My mother said that the reason people teach is because they're afraid of real life. So that didn't go over good with a five-year old. (Laughter) So, I had an automatic out and I think that was Katz's. He's sticking back in time and he brings that to his friend in kind of a package that is a little confrontational.
Redford: One of the things that appealed to me about those guys is that they were both kind of wild in college. They were both smart and they loved to play the game. They went out of bounds and very often did illegal things and had a lot of fun. When I asked Bryson about Katz, and he said that he was very smart and very daring, but he had an addictive personality. So I thought Nick would be great in that role. (Laughter)
Nolte: I can do that. (Laughter) It's not that hard. (Laughter)
Redford: I asked Bryson what he meant by that and he said that he would go out of bounds and go over the line and just couldn't pull himself back, but added that he was brilliant. He had amazing ideas and was very daring. They parted ways and go on a different journey. Bryson gets his act together while Katz stays pretty much who he is, wanting to be independent from any formula stuff or any rules, but finally has to go back to Des Moines because he runs out of money. So, they come back together again later in life, and I thought that was a pretty good story with two great characters.
What was your high school experience like in Omaha?
Nolte: I still have two friends from Omaha I got voted off the team in my senior year and these two friends – one was a Jewish boy who I just stuck to like glue. That summer he said he was going to camp and I said, "I'll go to camp too." He said, "No you can't." I said that my father makes enough money to pay for camp and I'll just pay and go too. He said, "No, you don't understand. It's a Jewish camp." So I said, "I can be Jewish." (Laughter) His grandfather started the company that invented glass bottles here in Los Angeles, but that family moved to the mid-west during the 1940s. There was a specific reason why the mid-west because in Omaha there was a large Jewish population, who were very wealthy, very secure, and very comfortable, so that was the safest place you could possibly be during World War II.
Do you have memories of the war?
Nolte: I remember World War II. Bob remembers World War II. I've been really thinking about this now that I'm in my solid seventies. It had an extreme effect on a lot of people. My English friends that are my age deny that they knew anything about the war. Those kids were moved to the country, but they just deny it. I remember the rationing. We had no butter so we had this white stuff in a package that I use to fight my sister over. She was bigger than me so she always won. I couldn't outrun my sister until my senior year in high school. She would have gone on to the Olympics as a swimmer had she not tried to be a woman for mid-west guys. She finally couldn't and went back east where she found acceptance and freedom and became a buyer for Lord & Taylor. My mother was a fashion buyer and very rebellious. She got mad at Women's Lib and said that if a woman couldn't figure out how to get around in a man's world, she's not worth her salt. She was tough.
How did this affect your relationship with Bob vis-à-vis your respective characters?
Nolte: There was kind of an unwritten script going on between Bob and I, and I think it's this World War II experience.
Redford: I think so. Like Nick, my World War II memory was rationing. I would go to the bottom of the cereal box to get the special Captain Midnight ring. There was no television, so we listened to the radio. I remember lying on the carpet and looking at this little green light on the radio. We also did paper drives. We would go out into the community and get as much paper bundled up as possible for the drive. It was a big, thrilling thing. We had relatives that were in the war some of whom were killed. That was a big impact on a kid four or five years old.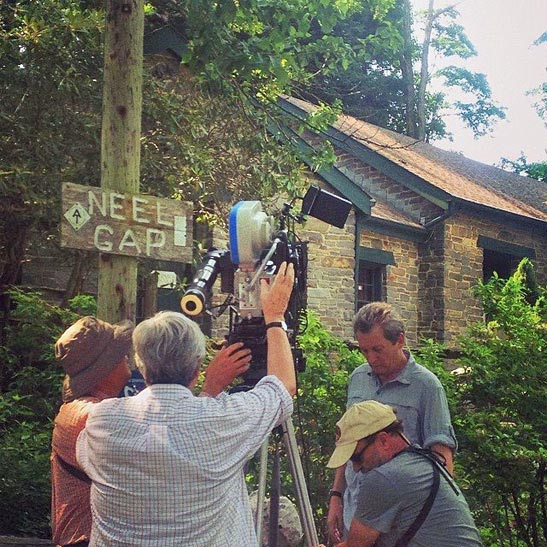 Robert Redford on crews: "It takes an entire crew to make a film…I've had the pleasure of working with crews over the years… they're kind of underappreciated." Courtesy Photo: Broad Green Pictures
We know how vital the crew is in filmmaking. Was there a crewmember that was particularly helpful?
Redford: Not me for.
Nolte: Not specifically. But listen. Filmmaking is a collaborative art and that crew were that good that they were right behind the story. When my son Brawley did a film where he played a kidnapped boy in Ransom. I stayed with him for a week. Ron Howard came to me and said he's really good, but does he understand the circumstances? I said, "Why? Are you having trouble?" Ron said that he doesn't seem to want to cry. I met with my son and he said that he was having trouble because there were so many people around. I explained to him that all those people were there to help him do what he has to do, and he did.
When you're working on a film as an actor where you're wearing multiple hats, how do you stay focused so that you don't worry about the technical aspects such as lighting, camera angles, or the budget?
Redford: Some of that has to do with trust. You're going to trust the director and the technicians. I've had the pleasure of working with crews over the years and they're kind of underappreciated. It takes an entire crew to make a film. They don't get credit. They don't get special attention. They don't get profiles. They don't do press conferences or things like that, but without them, there would be no film. There are people who park the cars and people who scout locations. Also, they show up earlier than the actors and leave long after the actors have left, so they deserve a lot of credit. Nick and I both share that respect of crews. In this case, with A Walk in the Woods, these guys had a rough go. They had to shoot locations that were weird. I never figured out why we used some of these locations, which were miles apart.
How long were you on the Trail and how much of it did you actually walk?
Redford: We weren't on the whole trail. We were only on parts of it. The reason you felt like you did hike the 2,200 miles was because you would be going up hill, and there would be a take, and then you would go uphill, and there would be another take. Then the director would say, "Cut. Now let's do it again." You would do it again, and again, and again, all through the film, so by the time you did six or seven takes, it felt like you had walked the whole trail.
Some of the shots looked pretty treacherous. Did you do all of your own stunts?
Redford: I think most of it.
Nolte: Most of it, but not the fall. We only fell half way. (Laughter)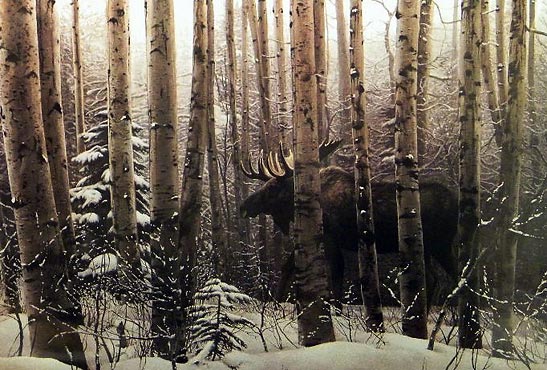 Robert Redford: "That was fake snow." Courtesy Photo: Broad Green Pictures
What about the scenes in the snow? Were you in that weather?
Redford: No. That was fake snow.
Nolte: But listen. We would drive maybe an hour to a location and there were camels, horses and four-wheel drives. Bob wanted to ride a horse. He's a horseman. He owns horses. But, they grabbed the reins and said, "No, you can't have the reins. We have to lead you." (Laughter)
Based on the result of this film, you were definitely led in the right direction.
*"Shaygetz God: Yiddish term for a gorgeous Gentile male in a romantic relationship with a Jewish girl.