Sam Worthington Interview

Musings on Actor Responsibility, Weird Phobias and "Avatar 2"
By Beverly Cohn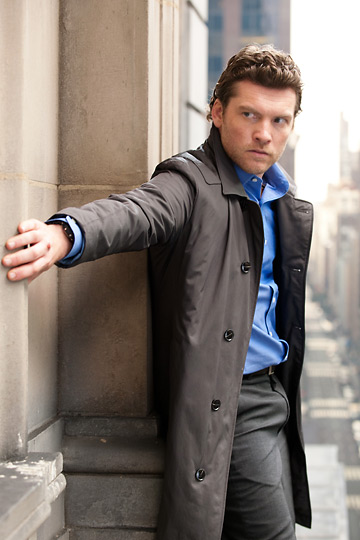 Sam Worthington as former Detective Nice Cassidy in "Man On A Ledge." Photo Courtesy of Summit Entertainment. Photo by: Myles Aronowitz

ritish born, but raised in Australia from the age of six months, Sam Worthington is yet another hunky Aussie actor joining the action hero ranks of his fellow Aussies – Russell Crowe, Mel Gibson, Hugh Jackman, Paul Hogan, Heath Ledger, Eric Bana and the original swashbuckler hero, Errol Flynn. Worthington's body of work includes his seminal role in "Avatar," Hollywood's all-time highest grossing film, as well as featured roles in "Terminator Salvation, "Clash of the Titans," "The Debt," and the critically acclaimed "Somersault," for which he was honored with Australia's highest film award for his performance.
Worthington recently sat down with a select group of journalists to discuss, among other topics, his latest film, "Man On A Ledge." Directed by Asger Leth, this is a caper movie with lots of plot twists and turns. The cast includes Ed Harris, Edward Burns, Jamie Bell, Anthony Mackie, Titus Welliver, Genesis Rodriguez, and Kyra Sedgwick.
The following has been edited for continuity and print purposes.
Bev: What's the first thing you look for in a script and what attracted you to "Man on a Ledge" in view of your acrophobia?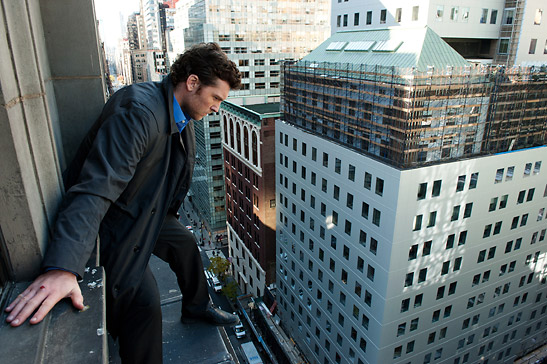 Perched on a ledge 227 feet in the air, Sam Worthington's Nick Cassidy threatens to jump. Photo Courtesy of Summit Entertainment. Photo by: Myles Aronowitz
Sam: I'm not really afraid of heights – I'm afraid of falling and the landing, that's what I'm worried about. Being up there wasn't as painful as I thought it was going to be. The first time I went out on the ledge was nerve racking so I said roll the cameras so when you see me step out for the first time in the movie, that was actually the first time I stepped on to the ledge. Everything was real so I thought we might as well capture that. After a while, you get to be more comfortable and confident. Also, I think at 227 feet up in the air, most people would be acrophobic. (laughs)
Bev: When you read the script, what jumped out – no pun intended – and made you decide to do the part?
Sam: (laughs) I've known the producer Lorenzo (di Bonaventura) for a long time and wanted to work with him because I like the movies he makes – not only "Transformers" and "Red," but he did a lot of movies with Mark Wahlberg and was one of the guys who took a chance and put together the "Matrix." He makes movies for an audience and wants to give them their money's worth and that's kind of my psychology. My job is to make sure the audience gets its money's worth – that they go to the movies and get their sixteen-buck's worth. The script itself resembled "The Negotiator," with Samuel L. Jackson and "Phone Booth," with Colin Farrell and I liked those movies so let's just steal a little bit from them and make our own version and make an unashamedly popcorn movie which an audience can enjoy. So that's why I chose it. I wanted to make a fun, entertaining movie.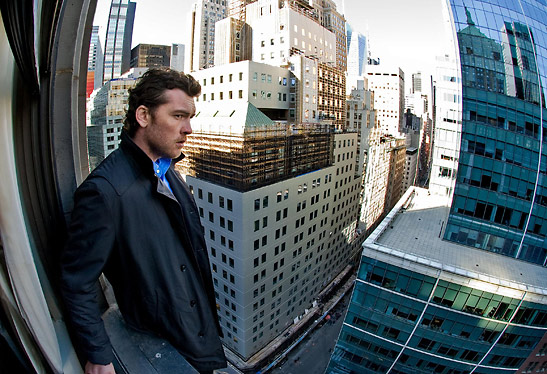 "When you're up there, there's not much to do except to enjoy the view and think about things." Photo Courtesy of Summit Entertainment. Photo by: Myles Aronowit
Bev: You're an action kind of guy and don't like to be confined. How did you deal with this role?
Sam: It was weird out there. A lot of times I was by myself when they were setting up a different camera shot or a crane shot. The cast is inside – the director is not around – he's on an earpiece with me so to me it was a solitary kind of time. It was just me and the pigeons. When you're up there, there's not much to do except to enjoy the view and think about things. To be quite honest, it was quite soothing and I didn't mind it.
Bev: Was there one scene in this film that was particularly difficult?
Sam: The car chase scene. I think people underestimate how hard action is because it's not just get in the car and drive fast; it's a whole technicality of where the cameras are going to be, safety precautions, what the route is. In any kind of action scene, I find you spend more time on it than on a dialogue scene for a number of reasons. I really loved helping in designing and constructing it, so it was great to be a part of that all the way through. Talk to Tom Cruise about action. He'll tell you how detailed you have to be. We're on the edge of our seats because we think it's sometimes life and death but when you filming it, sometimes it is life and death.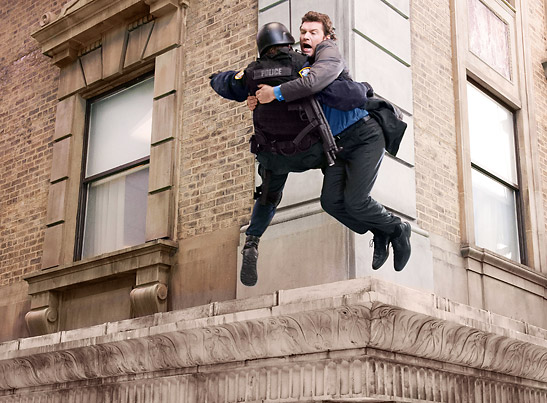 "I love doing stunts. You know you're perfectly safe and you're not going to hurt yourself." Photo Courtesy of Summit Entertainment. Photo by: Myles Aronowit
Bev: After doing this film how far would you go with stunts?
Sam: I love doing stunts. You know you're perfectly safe and you're not going to hurt yourself. The insurance is too high so they wouldn't let you get hurt. But I think the audience demands it and gets a kick out of it and it helps the story and the authenticity of the story. They have me driving that car real fast and it was great fun. I get to do stuff that I would normally get arrested for and I get paid for it. (laughter)
Bev: Do you have any other phobias?
Sam: I've got lots of little fears - nothing big; just weird things. I don't have any big phobias like sharks or spiders or the end of the world. I get scared of small things like fluorescent lights because they don't cast a shadow. I get scared because I wonder why that light doesn't have a shadow. Thinking about it f…s you up. (laughter) Your shadow is supposed to be indicative of your soul so every time you go into a shopping mall your soul is sucked away. Weird isn't it and it kind of freaks me out. There's a lot of other stuff that I really don't want to go into. (laughter)
Bev: Anything else?
Sam: Yeah. Why is when you get a package in the mail, it's called a shipment, but when you put a package on a boat, it's called cargo. What the f…'s going on there? (laughter)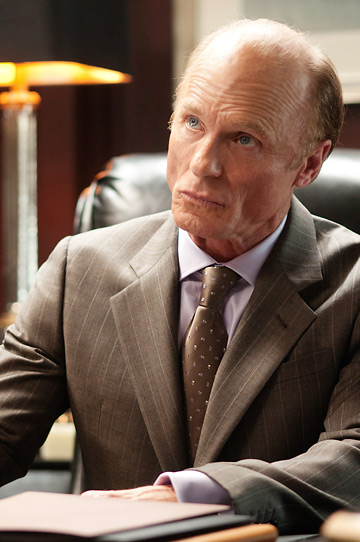 Ed Harris co-stars as David Englander, a ruthless businessman. Photo Courtesy of Summit Entertainment. Photo by: Myles Aronowitz
Bev: How was it working with the great Ed Harris who plays one of the bad guys?
Sam: To be honest, I was nervous as anything - more nervous than going on the ledge. When you meet him, you realize he's a gentle man; he's intense but that's because he takes his job seriously. He's one of the best there is. Every time I looked at him I kept thinking it's Pollack, it's John Glenn, he created Truman and Beethoven. So I couldn't shake that out of my head that he created all these memorable performances and thought to myself 'you better pull it together man.' (laughter) I better deliver for this guy. He held Alcatraz hostage; what's he going to do with me. (much laughter) So you do your scenes with him and you go 'man, it's an honor to be able to work opposite you and watch you work and it's an honor to have you in this film. Thanks.'
Bev: Were you a kid when you decided to become an actor?
Sam: I was nineteen when I went to drama school. (Australia's National Institute of Dramatic Art) A guy told me that I could make a career of this if I would calm down. At that time, it didn't seem like a proper job and I didn't take it that seriously. But I got advice from this guy, who isn't with us anymore, and he basically said that I should use all that energy and put it into my work and think of what my work is about. He said that my job is to primarily entertain people - so it's not about me, it's about them.
Bev: Are you making films at home (Australia)?
Sam: I try to. I did this surf film down there in August last year. The thing is with Australian movies is that we don't make that many movies at home – about 12 a year, if that. It's very hard to get movies made. They're government funded and there's a lot of prerequisites to make them so you get a lot of stumbling blocks. It's just because it's a small cottage industry. That's my plan though. To give back to the industry that helped me start my career.
Bev: Do you still have time to surf and what's the biggest wave you've ever surfed?
Sam: Yes. I spend most of my time in Hawaii. I love it there. Big waves. They had a 25 footer last week. It's as big as this room. My biggest wave was six to eight feet. That's about it. But that's big.
Bev: How's "Wrath of the Titans?"
Sam: It's awesome and I absolutely love it. I think I kind of dropped the ball on the first one (Clash of the Titans) and don't like what I did. I looked at Perseus (his character) and realized that I didn't even have a character. He's just a generic bland action hero who could be played by anybody and that's not what I should be doing – that's not my job. I got a responsibility to the audience to create a character that we want to go on a journey with and I didn't do that, for whatever reason, so on this one, to get a second chance, is a real nice thing. I literally did sit down with Jonathan (Director, Jonathan Liebesman) and we mapped out what I wanted to say as Perseus and what I wanted to create and hopefully you'll have empathy with this character and want to go on his journey. So we still have all the big blockbuster spectacles – big ass monsters – but now there's a heart and that's what I didn't do before. I f….d up, and that's o.k. because I'm lucky enough to get a second chance. That's our responsibility to an audience – to tell stories that invite them in – not distance them.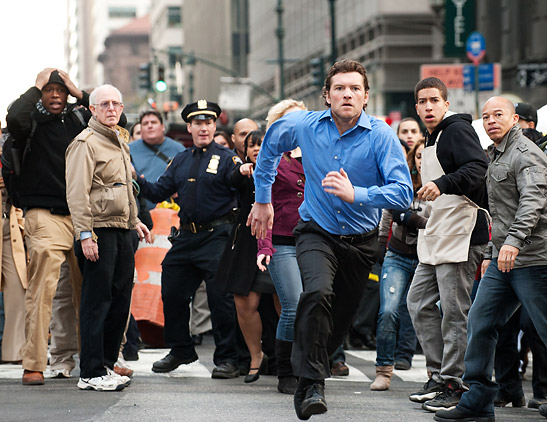 Sam Worthington's Nick Cassidy in pursuit of the bad guy. Photo Courtesy of Summit Entertainment. Photo by: Myles Aronowit
Bev: Have you ever gotten injured during a shoot?
Sam: I've gotten bumps and bruises, but I think my 11-year-old nephew gets more bumps and bruises in his backyard.
Bev: You were linked to a James Bond project. Would you like to play that role?
Sam: No. I don't want big movies that are franchises. I wouldn't want to see a Bond movie with me in it. I just wouldn't. I choose my movies by that rule.
Bev: Is "Avatar 2" almost ready to start shooting and do you make any contributions to the development process?
Sam: I see Jim (Writer/Director James Cameron) next week so I'll get the next update. I know that he's still writing it. He's told me the story and as you listen to what's he doing, you can say, 'Jimmy, what about this?' And he'll say 'This is my f…..g movie, so shut up." (laughter) No. That's a lie. He's extremely open and very collaborative, and listens to you. But what he's designing and where he wants it to go is monumental and he's only going to go when he's ready to go. That's how Jim works. He's going to push the technology, he's going to push the way we do it, he's going to push the story, explore the planets, explore everything. It's big and an exciting next chapter of "Avatar." I can't wait to get back into it. Jim changed my life.
Bev: Do you get many scripts thrown at you?
Sam: Yeah. I just pick movies that I would go and see. Something like "Man On A Ledge" is a fun popcorn movie that you don't have to take too seriously, and I would go and see it.
Bev: Would you like to make a non-action film?
Sam: I'd like to make a comedy. I think me, Russell Crowe, and Christian Bale in a comedy. (big laughter) You see, you're all laughing already.
Bev: So who would be the female lead and when will you be holding auditions? (Much laughter)

Sam: I think we need a glass of wine. (much laughter)