Shane Bitney Crone Shares
His Sad Story About
Consequences of Inequality

By Beverly Cohn

he documentary "Bridegroom" is a touching, tragic love story about a beautiful young gay couple – Shane Bitney Crone, originally from a small, conservative town in Montana, and his partner, Tom Bridegroom, from equally conservative Indiana. They met in Los Angeles and instantly knew they were soul mates and planned to marry as soon as it became legal in California.
Produced by Shane, with Co-producer, Writer, and Director Linda Bloodworth-Thomason, the award-winning film depicts Shane's poignant, emotional journey when Tom takes a misstep and falls off of a roof while taking photos. What happened after this accidental, tragic death is heart wrenching as we see how Shane suffered because he didn't have the legal protections of marriage. He was not allowed to visit his dying partner in the hospital and under threat of physical harm from Tom's family, was banned from attending his funeral in Indiana.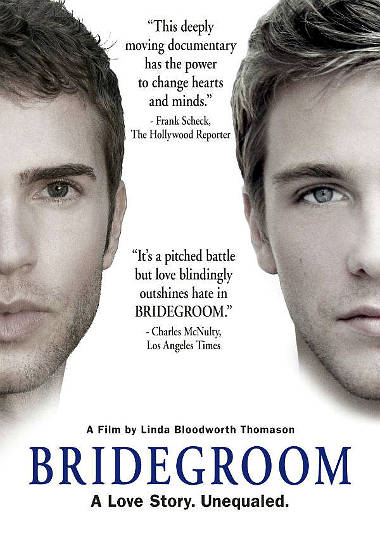 Devoted partners for six years, (L-R) Shane Bitney Crone and Tom Bridegroom's love story ended in tragedy.
Courtesy photo
"Bridegroom," which won the Audience Award at the Tribeca Film Festival, opens yet another window into the issue of marriage inequality and the human suffering this deprivation causes. The film presents an intimate portrait of Shane and his family and close friends that speaks volumes and hopefully will help alter the negative fixed attitudes throughout the United States and indeed, the world.
Shane recently sat down for an exclusive interview with your reporter to discuss the film and related topics and following has been edited for content and continuity.
Cohn: The screening at the Academy of Motional Picture Arts and Sciences was quite touching. How did you feel about the audience's reaction?
Shane: It was incredible. So many people were there supporting the film, and supporting me, and having my mom there, made it a very memorable, special night.
Cohn: Was she surprised by that standing ovation?
Shane: It was very emotional for me and my mom to have the entire audience applauding her. It made me feel so good to see how much she's effected people and how wonderful she is. She laughed in the car and said, "I didn't know what to do so I just waved."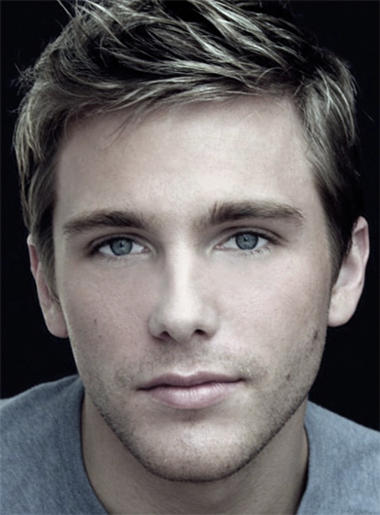 Hailing from a small town in Indiana, Tom Bridegroom found peace and happiness when he met his soul mate, Shane Bitney Crone. Courtesy photo
Cohn: What motivated you to put your heartbreaking story up on YouTube?
Shane: I wanted to honor Tom and his life and I also wanted to show people what happens when we don't have access to the same rights. I also wanted to show people what happens when you don't legally prepare for the unexpected. I never imagined that "It Could Happen To You" would go viral like it did and connect with so many people. It was pretty amazing.
Cohn: How did you meet Linda and what inspired her to make "Bridegroom?"
Shane: Tom and I were in Palm Springs for a wedding and we talked with Linda about how we wanted to get married some day. Then, fast-forward four years, when she saw the video I posted on YouTube. We met and she told me she wanted to make the film. It's kind of hard not to think that everything is connected and that it happens for a reason.
Cohn: You had requested $300,000 from Kickstarter but actually exceeded that amount, as over 6,000 people made contributions. Can you talk about that?
Shane: I had never made a film before so I didn't realize how expensive it is. So we launched a fundraising campaign, not just in the United States, but all over the world. "Bridegroom" broke records becoming the most successful crowd-funding campaign in the history of Kickstarter.
Cohn: Your story seems to connect with straights as well as gays. Why do you think it crosses over?
Shane: I think so many people connected with it because at the end of the day, it shows whether you're gay or straight, that we all experience loss and that love is love and loss is loss and we're really not that different.
Cohn: Do you hope this will raise consciousness among people who are still unenlightened?
Shane: Yes. The purpose of the film is to try to open people's hearts and minds. The director felt very passionate about how people come face to face with whom and what they're opposing because it's hard to be opposed to something when you are faced with an actual person.
Cohn: Had you been on camera before?
Shane: Originally, in high school and growing up, I convinced my family that I wanted to move to Los Angeles to be an actor but when I got here, I realized that I didn't want to be an actor but it was more of an excuse to get to L.A. so I could just be me and not worry about what other people think of me. So other than random videos that Tom and I posted on YouTube pretending to be roommates, I haven't really done much camera stuff.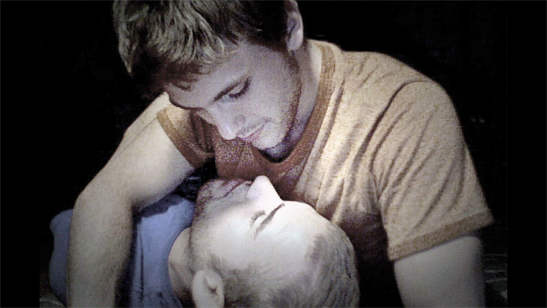 Shane (bottom) and Tom made plans to marry as soon as it was legal, but Tom died before the passage of California's Proposition 8 making same sex marriage legal.
Courtesy photo
Cohn: Was there one scene that was hard to get through?
Shane: Definitely talking about the day of the accident was very hard for me and it took us a while to get through the interview, but after it was over, I felt good about sharing the story and telling people what happened.
Cohn: Were you surprised that the audience laughed at the scenes with your grandmother and great grandmother?
Shane: "Bridegroom" has a lot of humor which does surprise people and it's amazing that my grandmothers wanted to support me and participate, but they are very funny and have little lines here in there which the film needed to have a break from the sadness of the story.
Cohn: Everyone fell in love with them – especially your great grandmother who is a pistol.
Shane: Grandma Pat refused to set her dog Snoopy down and had the dog on her lap during the entire interview. People have asked me when she's going to be on a reality show, but I don't think that's going to happen. That wasn't the goal of her doing an interview. (Laughs)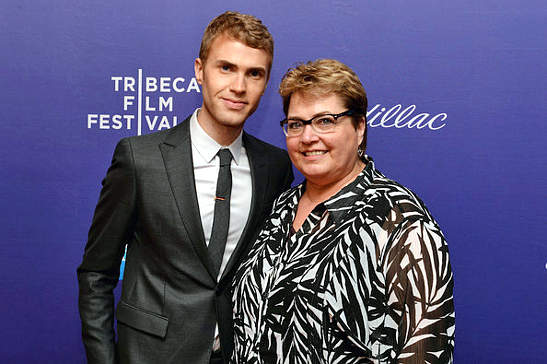 Shane Bitney Crone with Linda Bloodworth Thompson, Co-Producer, Writer and Director of "Bridegroom" which won the Audience Award at the Tribeca Film Festival. Courtesy photo
Were you satisfied with the final edit of the film and did you feel in retrospect that there was something that should have been included?
Shane: Linda let me be in the edit room every day and it was definitely a collaborative effort. There's nothing that I wish wasn't in the film, and there isn't anything I wish we would have added. I am definitely proud of "Bridegroom" and even if nothing happens with the film, I'm grateful that it's something I'll have forever.
Cohn: A lot is already happening. Did you ever expect to win an award at the Tribeca Film Festival?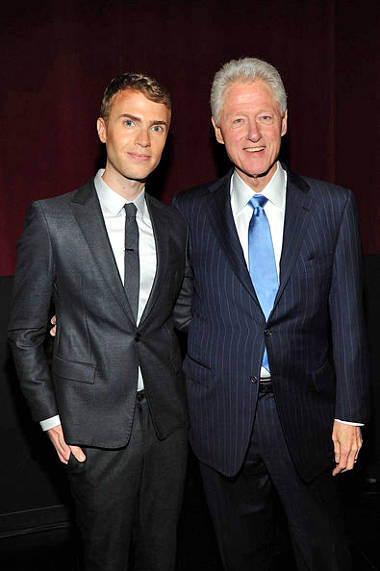 Shane Bitney Crone with President Bill Clinton who introduced "Bridegroom" at the Tribeca Film Festival. Courtesy photo
Shane: It was amazing to even get into that festival and then to have former President Bill Clinton introduce it. When they told Linda and me that we had won the Audience Award, we looked at each other and said "no way." It was incredible that the audience connected with it on such a deep level, that they picked it to be the winner.
Cohn: What would you say to young men and women who are struggling with their sexual identity and are you optimistic about the future?
Shane: The one thing for me growing up was that I didn't see how things could get better so try to surround yourself with good people who support you. The thing that really got me through was planning what I wanted to do with my life and giving myself goals to look forward to because in these small towns, you really feel like you're all alone. I would ask you not to give up and to know that things can get better and try to have faith.
Cohn: If they're living in a small town should they try to move to San Francisco or Los Angeles or New York where they'll be more easily accepted?
Shane: I know that some people can be happy wherever they are, but I think that it was definitely freeing for me to be in a city where I knew there were other gay people and that you could even walk down the street holding hands with someone you love. I do encourage people to move to a place where they don't have to worry so much but if you're still in school and living under your parents' roof, it's not as easy to know whether or not you should come out and I think it really depends on your situation. If you don't feel like you have a place to go, then I think maybe you should wait, which is unfortunate, but you don't want to set yourself up to be in a really bad situation and have nowhere to go.
Cohn: How old were you when you understood who you are?
Shane: I'm still figuring that out. (Laughs) I think though that after losing Tom, it really helped me to figure out who I am, and who I want to be, and to no longer be ashamed of being who I am. I do still struggle with loving myself and I don't necessarily believe that everyone will reach a point where they are completely content with being who they are, but I think as long as I continue to push myself to grow, and try to face these fears and stand up for what I believe in, that hopefully I'll be a better person.
Cohn: When did you begin to have these negative feelings about yourself?
Shane: I think a lot of it goes back to growing up because even at my church there was a youth group talking about how you would go to hell for being gay. They weren't directing those comments at me, but I knew I was gay. Then there were messages in the media, so all of that is so deeply ingrained in my brain that it's hard to get past a lot of that, and the shame really sticks with you. You have to make an effort to try to heal from all that, and to try to believe in yourself, and realize that it's ok to be who you are.
Cohn: Have you thought about joining a men's support group?
Shane: After Tom passed away, I considered talking to other people who lost someone they loved. I'm a big believer in therapy and have a great therapist who has helped a lot, but definitely friends and family have helped me.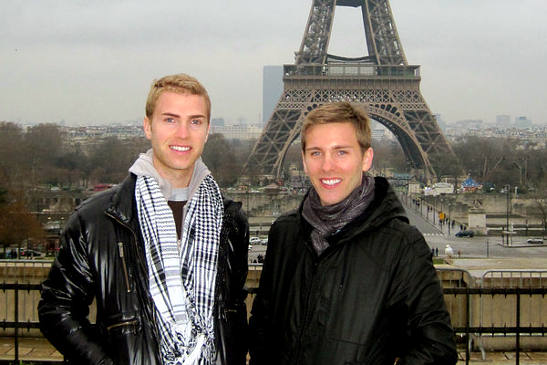 L-R: Shane with his partner Tom on one of their trips. Courtesy photo
Cohn: What is your biggest fear for the gay community?
Shane: That's a good question. (Pauses) I guess my biggest fear is that people won't have the chance to live the life that is true to them and to be free and happy being who they are. I also fear that we won't have full equality soon enough and that people like Tom, will pass away before they have the opportunity to experience the dream of getting married. People tell me that I should be happy that it's come so far, and I am happy, but why should anyone have to wait just to be treated equally.
Cohn: Not allowing you to attend Tom's funeral was cruel. What are you feelings towards his family?
Shane: I wish Tom's family would come forward and support the film. Also, if they would acknowledge that they made some mistakes, and were genuine about it, this could be an opportunity that could help a lot of people. I wish them the best and don't wish any harm upon them.
Cohn: Have you considered sending them a screener?
Shane: Now that the film is going to be out there, I do want to send them a copy, but I don't know if they'll watch it. If they did, I think they would be surprised that we were very fair in telling the story and did not demonize them in any way.
Cohn: Where can people see "Bridegroom?"
Shane: It's playing in theatres here in L.A. and the biggest thing that's happened is that it recently aired on Oprah Winfrey's OWN Network and is now available on Netflix.
Cohn: Will you be going to other film festivals?
Shane: I've been invited to a few, but unfortunately my schedule hasn't allowed me to do a lot of that. One thing that's pretty incredible is that there is so much interest in different countries Europe and South America and Africa. People all over the world have the same struggles we have here in the United States. Marriage inequality has moved to the forefront of debate almost everywhere so the timing of this film couldn't have come at a better time and it could potentially be a tool to help this movement around the world.
Cohn: How do you feel about being brought center stage in the Gay Rights struggle?
Shane: It's pretty bizarre considering how ashamed I've been for so long for being gay. I never even experienced a Gay Pride parade until after Tom passed way.
Cohn: You're a very special young man and it's been a pleasure meeting you. I wish you the best of luck.
Shane: Thank you so much for your interest.
Editor's Note: You can access "It Can Happen To You" on YouTube