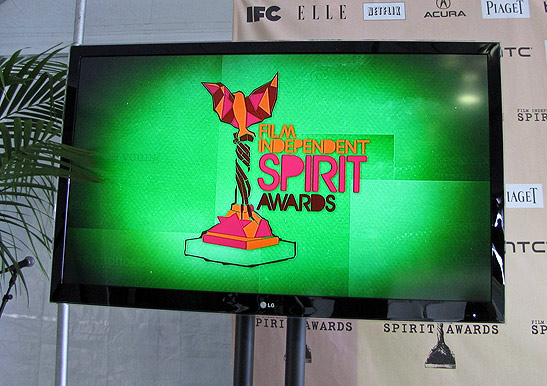 Photo: Beverly Cohn
On The Beach With Film Independent's Spirit Awards
By Beverly Cohn
"Oklahoma where the wind comes sweeping down the plain…
…When the wind comes right behind the rain…"

f course, these are lyrics from the wonderful musical "Oklahoma" and can easily be applied to the weather conditions greeting the 26th edition of Film Independent's Spirit Awards which set up in its familiar tents on Santa Monica Beach Saturday, February 26, 2011.
Despite being assaulted by fierce winds and the lingering dampness from the torrential downpour the night before, hundreds of folks in the film business, nominees, and friends alike, turned out for this most casual, relaxed awards ceremony to honor filmmakers who made their movies independent of studio financing, bringing their artistic vision to fruition, many times with great difficulty.
In what was a less than popular change of venue last year to a downtown Los Angeles location at L.A. Live, this year Film Independent's Spirit Awards, reverted back to its familiar Santa Monica location and the traditional afternoon awards luncheon format. Once again the event was a fun, relaxed gathering of the film community.
Red carpet arrivals began at 11:30 a.m., with the ceremony starting at 2:00 p.m. The program aired on IFC at 10:00 p.m. that evening. Fans who wanted to get a glimpse of some of their favorite movie stars were welcomed, cameras in hand, as viewing barriers were set up.
Now in its 26th year, this highly informal jeans-and-tees event was founded in 1984 and was originally called FINDIE Awards ("Friends of Independents"). It has steadily grown in popularity and as usual was a barometer of the Academy Awards held the next day.
Film Independent Executive Director Dawn Hudson put together a producing team including Audrey Morrissey of Live Animals as the new Executive Producer, who joined Barry Adelman of Dick Clark Productions, who returned for a second year as producer.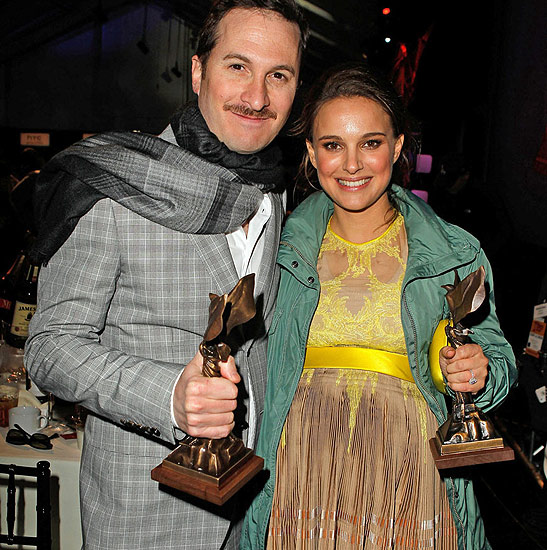 Darren Aronofsky won Best Director for "Black Swan" and Natalie Portman garnered Best Female award for her outstanding performance in that film.
Photo: Jeff Vespa, WireImage, Courtesy of Film Independent.
This year's crop of nominations for Best Feature was an especially rich list, including "127 Hours," "Black Swan," "The Kids Are All Right," "Winter's Bone," and "Greenberg," with "Black Swan" taking the prize, along with garnering the Best Director award for Darren Aronofsky and Best Female going to Natalie Portman.
Especially gratifying was the award for Best First Feature, which went to Sony Pictures Classic's "Get Low." The riveting, compelling performance given by Robert Duvall could stand as a "how to" acting lesson for actors - whether aspiring or seasoned.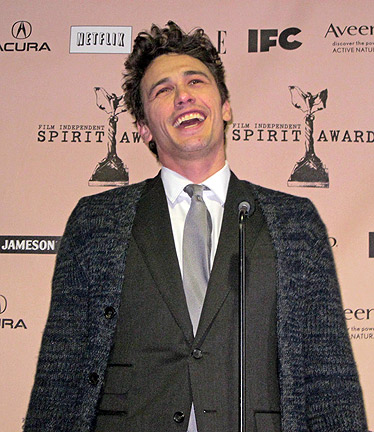 James Franco scored the Best Male award for "127 Hours." Photo: Beverly Cohn
Following scoring the Best Male award for his performance in "127 Hours," James Franco, who won the Best Supporting Male for his performance in "Milk" in 2009, participated in a brief Q & A in the very breezy press tent crammed with journalists from all over the world. For a change of pace, Franco talked about his recent appearance on "General Hospital" as well as a Yale University project in which he is involved.
Q: Is acting on a soap opera different from film acting?
Franco: Before I got on the set, I wondered if I had to act differently, but when I settled in, I realized that my job was to act realistically within the parameters of that world. While the technical aspects are different - the makeup, cameras, lighting, etc., the acting is the same whether you're on a soap or in a film.
Q: How involved do you get with the technical side of filmmaking?
Franco: When I first started acting I didn't want to know about the technical side. To me it was about living the emotions of the character. But, I do see that movies are a collaborative art form and you have to be aware of cameras, blocking and all those other considerations so instead of trying to ignore everything, I try to work with it.
Q: Can you talk about your Yale project?
Franco: I am interested in capturing young people in the theatre and I'm working on a project at Yale using a live stage play, but also digital technology.
Thank you very much. (Applause)
2011 Spirit Award Winners
Lena Dunham won for Best First Screenplay - "Tiny Furniture."
Photo: Beverly Cohn

Dale Dickey is Best Supporting Female for her performance in "Winter's Bone." Photo: Beverly Cohn

John Hawkes won Best Supporting Male for his work in "Winter's Bone."
Photo: Beverly Cohn

James Franco answers questions during the brief Q & A with the press.
Photo: Beverly Cohn

In the Best Foreign Film category, director Tom Hooper won for "The King's Speech." Photo: Beverly Cohn

Matthew Libatique won best Cinematography for the
"Black Swan." Photo: Beverly Cohn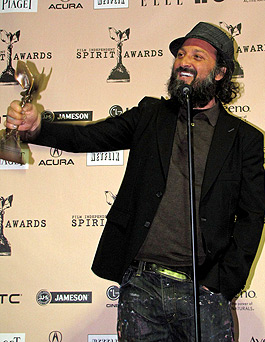 Actor Thierry Guetta accepted the award for best documentary - "Exit Through The Gift Shop" - on behalf of the elusive director, Banksy. Photo: Beverly Cohn

Other Winners
Best Screenplay:
The Kids Are All Right (Stuart Blumberg & Lisa Cholodenko)
Best First Feature:
Get Low (Director: Aaron Schneider)
John Cassavetes Award
(Daddy Longlegs)
(IFC feature made under $500,000)
Congratulations to all the winners and may next year bring another collection of outstanding independent films.
Related Articles:
Los Angeles Irish Film Festival, Robert Duvall, Jeff Bridges