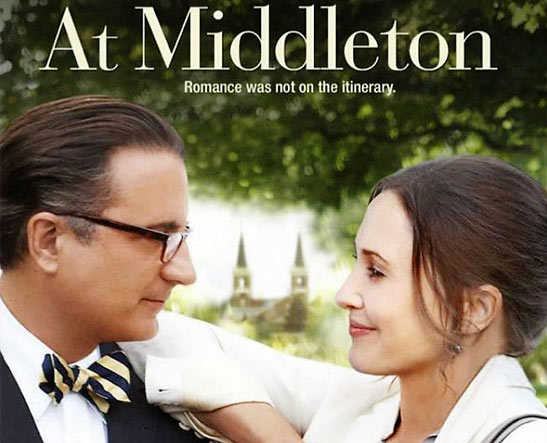 A charming story about unexpected connections. Courtesy photo.
Vera Farmiga on the Complex Demands as Mother,
Wife, and Actor
By Beverly Cohn

era Farmiga is a familiar on-screen personality and has racked up a number of memorable roles in such films as "The Departed," "Source Code," "Goats," "Safe House," "The Conjuring," and "Up in the Air," which earned her both a BAFTA and Academy Award nominations for Actress in a Supporting Role. For her performance in the television series "Bates Motel," Farmiga was nominated for an Emmy as Outstanding Lead Actress in a Drama Series.

Her latest film, "At Middleton," in which she co-stars with Andy Garcia, garnered her the Best Actress award from the Boston Society of Film Critics. Shot on the campus of Washington State University, the story is about George (Andy Garcia) and Edith (Vera Farmiga), two parents who bring their respective children for a day of orientation at Middleton College. Edith is an off-the-wall character who flies by the seat of her pants. She lures George, a strait-laced, bow-tie wearing cardiac surgeon, away from the orientation group into a day filled with unexpected adventures and a strong attraction that must not be acted upon.
Co-written by Glenn German and Adam Rodgers, who also directed, the supporting cast, includes, Taissa Farmiga ("Audrey"), Spencer Lofranco ("Conrad"), Nicholas Braun ("Justin"), Peter Riegert ("Boneyard"), Mirjana Jokovic, ("Professor Riley"), and Tom Skerritt as "Dr. Roland Emerson."
Farmiga recently sat down with a select group of journalists to discuss "At Middleton," along with personal revelations about family and career challenges.
The following interview has been edited for content and continuity for print purposes.
How did you get attached to the script?
Vera: A Fed Ex truck delivered the script (Laughter) with an offer saying that Andy Garcia was attached to play George and I think there was some sort of a deadline, like a 48-hour time limit to accept the offer, which I think was a really savvy and ballsy way of saying this is a good script and if you don't like it, we'll find someone else. Just out of the gate, I read it and knew this was a role I could run with. The characterizations were so vivid – they were like three-dimensional pop-ups.
What in particular did you like about Edith?
Vera: I just wanted to have fun. I grew up watching Carol Burnett do her shtick and I was aching to do something that would allow me to just have fun. At the same time, when I first read the script, I understood why my mom cried when she filled out the loan documents that sent me off to the Syracuse University School of Performing Arts. (Laughter)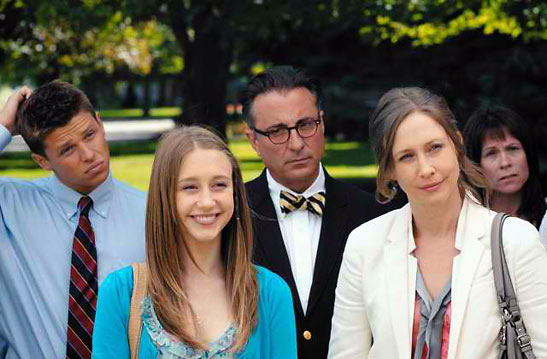 L-R: It's orientation day for "Conrad," (Spencer Lofranco) and his dad "George," (Andy Garcia) and "Audrey," (Taissa Farmiga) and her mom "Edith" (Vera Farmiga.) Courtesy photo.
How did you relate to your film daughter Audrey going off to college?
Vera: I have a kid who just turned five and he's not even in kindergarten yet and the pangs of withdrawal and letting him go, even at the ripe old age of five, wondering if I've girded him with enough to send him on his way. He doesn't even wave when he gets into the school bus. Anyway, it is a really a touching script and I have had tremendous respect for Andy ever since seeing "When A Man Loves a Woman." His performance really lingered with me. I had seen him in "Godfather" (III) and thought he was a soulful dude. At that point, I didn't anticipate becoming an actress. I wanted to be an ophthalmologist but after seeing that film, I thought if only I could find a man to love me with that sort of tenderness and patience and willingness and commitment. And I did. (Laughter) The script is about encounters that we all have. At some point in our lives, that flame dwindles or runs dry and it's about these encounters with other human beings that makes that flame ignite and my husband was that for me. Then my children became that for me as well. Anyway, the script resonated with me profoundly from this place of identity and parenting.
Did you have rehearsals before shooting?
Vera: I put a kibosh on that immediately. At that time, I had a one and a three year old and had just come from shooting "The Conjuring." I was depleted and terrorized by researching negative mysticism and I just wanted to have some fun. Then I met Andy and him saying, "So should we get together?" I remember meeting him and recognizing that sort of sense of whimsy. When you meet him, he's so debonair and is really a first class guy – he's just goodness. In my experience with him, he's someone who walks by your side and you can call him a friend immediately.
How was it working with your sister Taissa?
Vera: Having Taissa play my daughter was so relevant to who we are to each other and who we have been to each other. She's a surrogate daughter of mine. I'd like to think that I've modeled for her what it means to take risks and to be optimistic and what's scary and what's not. It was a time in her life where she was just turning eighteen and just had a certain measure of success with "Higher Ground" and was given so much opportunity. I could see her fluttering away from me and at the same time needing me, which she still does. She was at the Golden Globes and I was on the couch watching it and she's texting me, "Who's Warren Beatty? (Laughter) I've Googled him. I have a meeting with him at 8:30 so can you give me the low down?" (Laughter)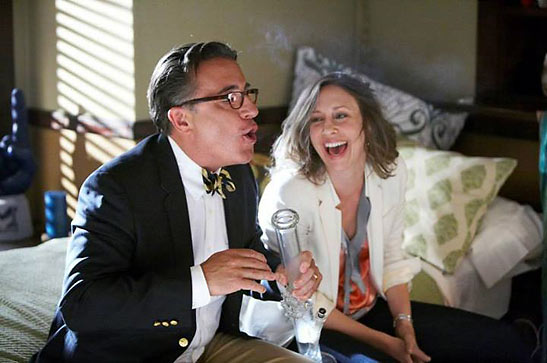 Encouraged by Edith, (Vera Farmiga) George (Andy Garcia) breaks out of his comfort zone and indulges in a forbidden pleasure. Courtesy photo.
Any improvisations with Andy, or did you pretty much stick to the script?
Vera: Andy is a jazz pianist and improvises. I'm actually more like the character of George just naturally. Every detail is in each scene, almost to every gesture, so I can't take any credit if any of our scenes looked like they were improvised. There's carefreeness in the script and as far as all that chemistry goes, I'd like to take credit for it, but for me it's 1% willingness and 99% in the writing. Everything was on the written page and they (Adam Rodgers & Glenn German) had the hardest job. They start off with a blank page and without that great writing, you'd just be powerless as an actor. It was a veritable playground. You just had to put on your grubbies, roll up your sleeves, and indulge. Sure. Improvisation came at a point. I would say there was room for it, but we didn't rely on it because it was solidly scripted. Then there were things like, for example, the acting teacher (Mirjana Jokovic as Professor Riley) who led the class through sort of a physical relaxation, but that's Adam's direction as well.
What is the biggest challenge in developing a character?
Vera: When you're establishing chemistry, and whimsy, and adventure, you have to open yourself up and be present and oftentimes, it feels like you just can't repeat moments and you have to have newness.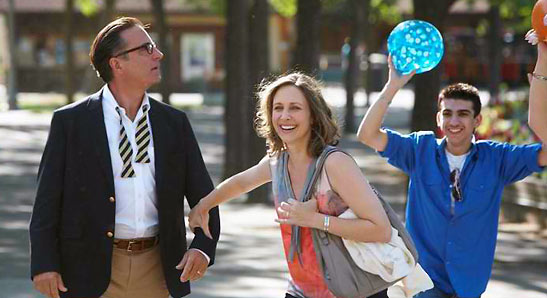 As the day progresses, George (Andy Garcia) loosens his bow tie and allows Edith (Vera Farmiga) to lead him through a day of new experiences. Courtesy photo.
What was your inspiration for all your comedic moments as Edith?
Vera: That's a legitimate question. All these physical comedians, like Lucille Ball, have delighted me. I think the great contradiction in Edith is the first profound things she says. Here's this energetic, carefree, passionate woman and yet the first bit of truth she admits to is that she's profoundly unhappy, which is a dichotomy between the carefree behavior she exhibits with George and the hampered life she has chosen to live.
Vera with her two-year-old daughter Gytta. Courtesy photo.
Were there any moments that didn't work during the shoot?
Vera: I have incredible short-term memory. (Laughter) You know when you're breast-feeding a child, you don't have the same retention as you do when your not. (Laughter) So, yes, there were plenty of inept moments where I felt if I could just have one more day, it could have been better, deeper work so there were a lot of insecure moments. I especially tried to give options in tone, and that was always something I relied heavily on Adam for – to reign me in because I'll go big. I'm not afraid to go big. You give me an inch and I'll take a yard. (Laughter)
What was your process when you went to college?
Vera: Oh God. I was such a square in college. I actually never went to my own orientation. Once I was enrolled, there was an orientation, but way in advance I never went to Syracuse. I did go to Elizabethtown College with my mom when I thought I was going to be a music therapist and then to Villanova College when I thought I was going to be an optometrist. (Laughs)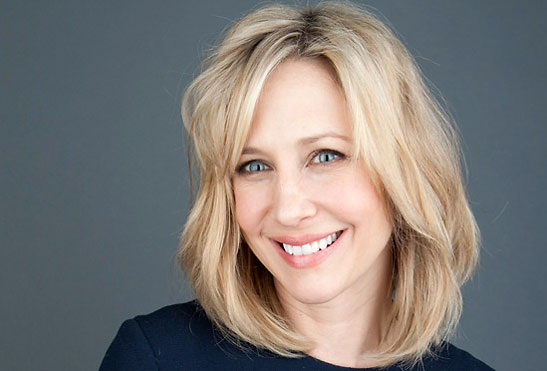 Vera on preparing for a role: "You know when you're breast-feeding a child, you don't have the same retention as you do when you're not." Courtesy photo.
At what point did you decide to study acting?
Vera: In my senior year, I decided to take the fork in the road. I was playing varsity soccer and was benched and had my heart broken the same week and didn't want to sit there forlorn. One of my best friends encouraged me to audition for the school play and I got the lead role. From there, I was encouraged to do.
If you didn't become an actor, what other profession would not have appealed to you?
Vera: I would not have worked as an air conditioner technician. (Laughter)
You're a very successful working actor. What are the biggest challenges in juggling career with being a mother and a wife?
Vera: It's flat out challenging. I think of myself as devoting 100% to my role as wife and mother, which is the most demanding, the most challenging, and the most gratifying role I could ever play. Right now, I consider myself to be a full-time mom and so career, after having kids, is second but sometimes they come second and sometimes I feel, because of my commitment to maternity and "wifery," I'm not as prepared as I could be and feel like I just wing it these days. But, I wing it to the best of my ability. (Laughs)