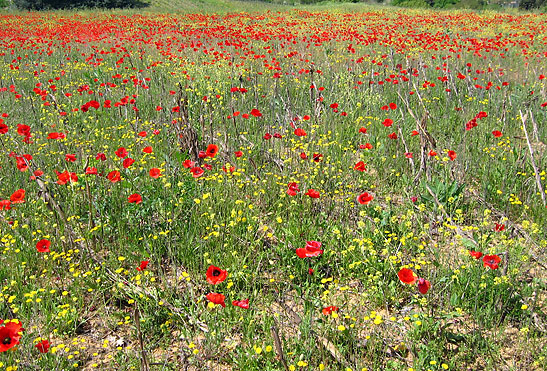 "In Flanders field the poppies blow," begins the haunting poem by Canadian Army doctor Lt. Col. John McCrae about the carnage he witnessed in Flanders
during World War I
In Flanders Fields
Story and Photos by John Blanchette


t was April in Flanders, the Dutch-speaking northern area of Belgium, and two weeks of cold and rain suddenly came to an end. Warm skies dried the soaked fields, drawing daffodils, narcissus and poppies from the ground, birdsong filled the air and the university students and general population of Ghent, Bruges and Leuven flocked to the riverbanks and city parks to bake in the warm air and enjoy Belgium's favorite product — not chocolate, waffles, sprouts nor fries, but beer.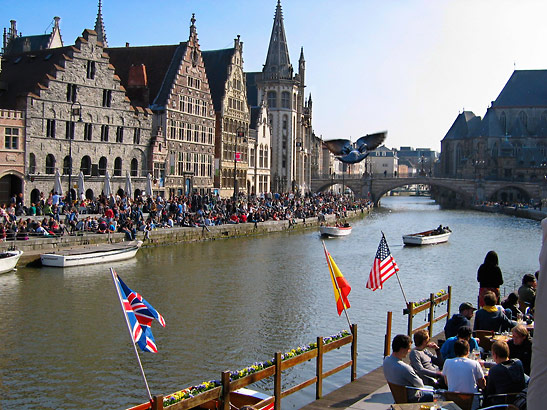 First warm spring day brings out the city of Bruges
More than 800 types are produced in Belgium, most served in their own beer glass shape, from fruit flavored lambics, to high-alcohol Trappist ales and hoppy lagers like Stella Artois, whose parent company just purchased Anheuser-Busch, becoming the world's largest brewer. Belgium doesn't have the soil to produce good wine, but who needs dirt when you've got the world's best beer.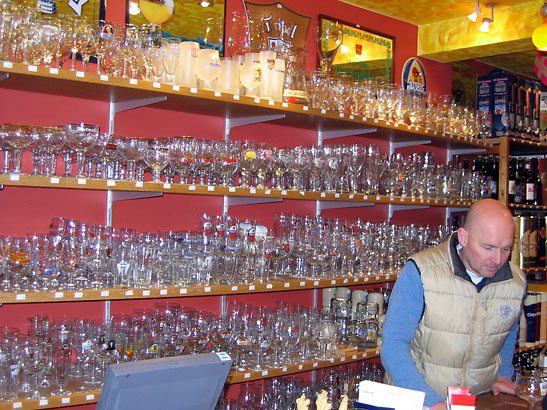 Chocolate is a close second in consumption, and there are more than 2,200 shops in Belgium. I visited as many as I could. I also have a fondness for waffles and fries (called "frites" in French), but brussels sprouts, not so much.
Bruges is about an hour train ride northwest of Brussels, lying near the North Sea. It is a beautifully preserved, cobblestoned medieval town of about 120 thousand, where 3 million tourists converge every year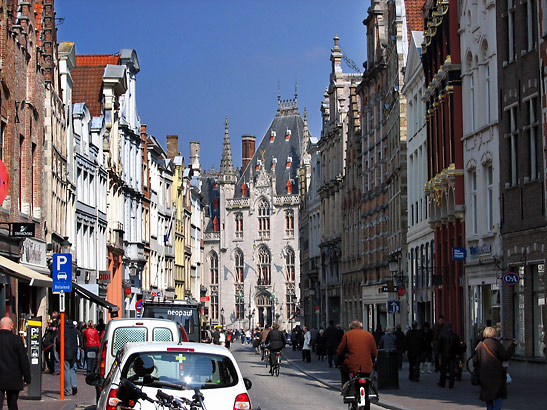 The crowded streets of the beautiful medieval Flemish city of Bruges
The city has the feel of a film set and became a main character of the film "In Bruges." Now it is even more of a travel destination, crowds are abundant and can cause claustrophobia in the summer. It is the most visited medieval city in Europe.
Steven Spielberg and Peter Jackson are currently collaborating on three animated 3-D movies featuring Belgium's favorite comic strip, adventuresome boy reporter Tintin. The film will take advantage of photogenic Belgium during filming. The Tintin Shop, 3 Streenstraat, stocks every imaginable related item.
You might also be familiar with the Smurfs, another Belgian creation, and Smurf shops are abundant throughout Belgium.
Navigable concentric canals give Bruges the nickname "Venice of the North." Take the 30-minute boat cruise (6 Euros) to get a real feel for the town. The horse-drawn carriage rides take you on a street tour and are very popular (30 Euros for 35 minutes).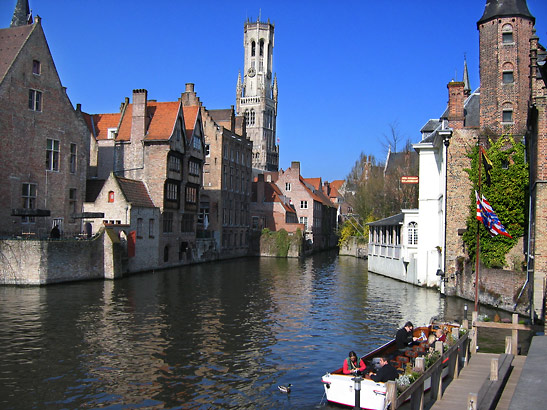 Canals of Bruges earn it the nickname "Venice of the North"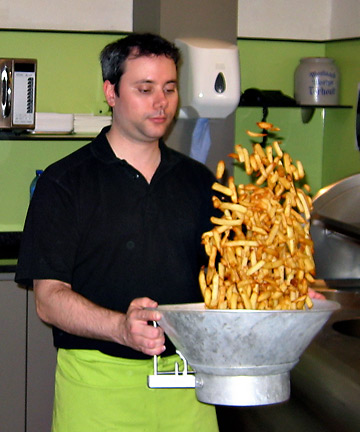 The main market, or "Markt," is dominated by the 259-foot belfry, whose 47-bell carillon entertains every half-hour during the day. If you are hale and hearty, you can climb the 366 steps to the observation area for a grand view of the city. If you prefer to stay on the ground, in its shadow on the right lies the best Belgium "frites" shack in town. Try them with the garlic mayonnaise (2.5 Euros).
Don't miss the Friet Museum for the history of Belgian fries and nearby is the Choco-Story chocolate museum, both under the same management.
The best chocolate shops I savored in Belgium are Chocolate Line in Bruges, which has experimental chef Dominique Persoone creating new masterpieces for international competitions. Daskalides of Ghent, Pierre Marcolini and Wittamer in Brussels and Raets-Putseys in Leuven are also artisan Belgian chocolate-makers of great skill and worth a visit.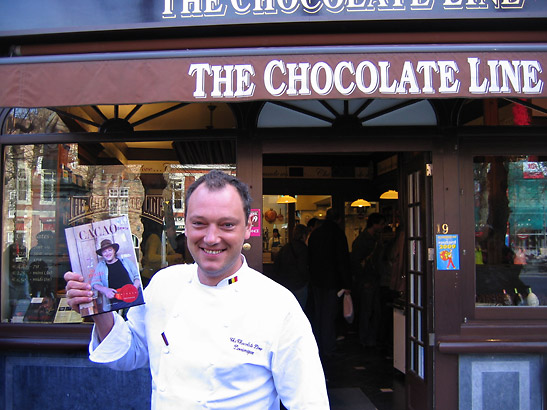 Dominique Persoone
When you are thirsty, try the oldest bar in Bruges, De Garre, hidden in a narrow — only wide enough for two people to pass — cul-de-sac between the Markt and Burg squares. Ask for the house beer, the best in all of Belgium according to many aficionados, made exclusively for this pub and available nowhere else. Open since 1856, De Halve Maan brewery provides tours and a glass of beer in the tasting room.
Lying halfway between Bruges and Brussels, Ghent is a university town with a population of 230,000 and 60,000 students, most of whom descended to the riverbank of the Leie and enjoyed the warm spring weather and the local beer favored by students, Jupiler. It was in Ghent that I discovered my favorite Belgian beer Orval, a full-flavored Trappist ale with a hoppy finish.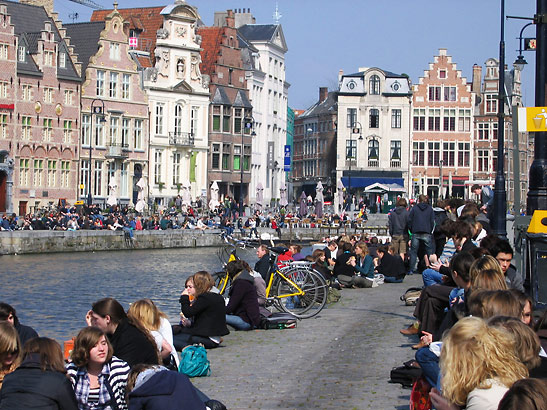 Students mass along the banks of the River Leie to enjoy the
first warm day of spring in Ghent
A new brewery, the first since 1976, opened while we were visiting. Gruut will produce five types of beer that will be available in the United States. I took the tour and sampled the beer. They'll do well.
For sustenance, visit Butcher's Hall, or "Groot Vleeshuis" in Dutch, and try the air-dried ham, sausages and cheeses. If you need a little mustard for your meat, sample some of the 30 different varieties prepared by Tierenteijn-Verlent, 3 groentenmarkt, founded in 1790. Best cheese market was Petite Normandie and don't miss the Vismarkt to see the daily catch on sale.
Belgium's most prestigious university town is Leuven, pop. 90,000. Lying nine miles east of Brussels, the lively student population of 30,000 supports a number of clubs and bars, mostly situated around the city square, and there are a number of warm and inexpensive bistros and restaurants that feed them.
Most of the city was burned by the Germans in World War I, but it has been restored and some medieval areas have been preserved as university housing.
It is also the home of Stella Artois beer, and tours in English are given regularly. The 10 Euro fee includes two glasses of beer and a beer cookbook.
If You Go:
Family run Chez Leon in the heart of Brussels famous restaurant lane, on the cobblestone walking street Rue des Bouchers, is known for its mussels and fries, the national dish of Belgium. The restaurant had hosted Hilary Clinton and TV travel writer Burt Wolf just days before moi; but they didn't ask for my signed photo to place on the wall of fame.
Cantillon Brewery in Brussels produces the traditional sour lambic fruit beers and gives tours and tastings. De Bier Temple had 600 beers and 300 glasses on its shelves in Bruges and nearby Bierbrasserie Cambrinus featured 400 beers and 325 glasses. Choices, choices.
Some memorable restaurants where I dined in Flanders included three Michelin-starred restaurants; the chic one-star Belga Queen in Brussels, two-star Comme Chez Soi in Brussels, where I dined at the chefs table in the kitchen, and in Bruges at the three-star De Karmeliet. Den Dyver restaurant in Bruges features dishes made with beer sauces. Patrick Devos in Bruges brought us into his kitchen for a cooking lesson. In Leuven Tres Luxe is a chic restaurant with an experimental young chef and Pakhuis in Ghent has a high-vibe industrial feel.
The Tourist Office of Flanders in New York (www.visitflanders.us; 212-584-2336) publishes a number of free pamphlets and maps, information on special events, festivals, museums, self-guided tours, and places to stay, from hostels to five-star hotels. I stayed at the Dominican in Brussels, the Marriott in Ghent and the Kempinsky Hotel, former residence of the Duke of Burgundy, in Bruges.
Related Articles:
Bruges, Leiden and Dijon; Amsterdam; Versailles, France ; Normandy