Fall Bounty in the Inland Northwest
Story and photos by John Blanchette

n late autumn the rolling hills of the Palouse in Eastern Washington and North Idaho turn to gold as wheat ripens over thousands of acres and massive green combines crawl over the fields like giant locusts harvesting grain.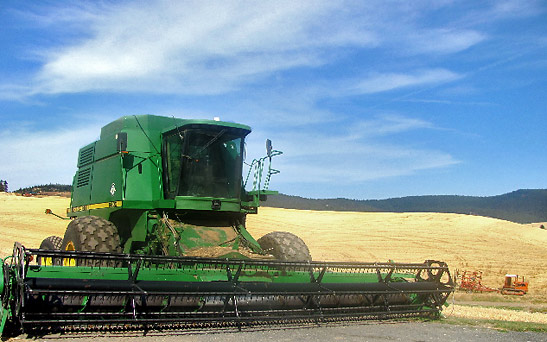 Combines move through the fields like giant locusts devouring grain
Rain is scarce in this region and wheat, barley, legumes, especially chickpeas and lentils, respond well to the dry farming.
When irrigated the rich earth will grow most anything and fruit orchards are plentiful, providing pears, plums, cherries, peaches, apples, etc. World-class vineyards take advantage of the terroir and 22 varieties of vegetables, from carrots to tomatoes are commercially farmed along with grass, vegetable and flower seeds. Berries of all types are a major crop including wild huckleberries, which cannot be cultivated and are also coveted by deer, elk, moose and bears, who freely roam the land with an avian brotherhood that includes wild turkeys, hawks, eagles, ducks and geese. With so much abundance of flora and fauna, hunting and fishing are popular pastimes along with water sports and white water rafting in this land of 76 lakes and numerous wild rivers.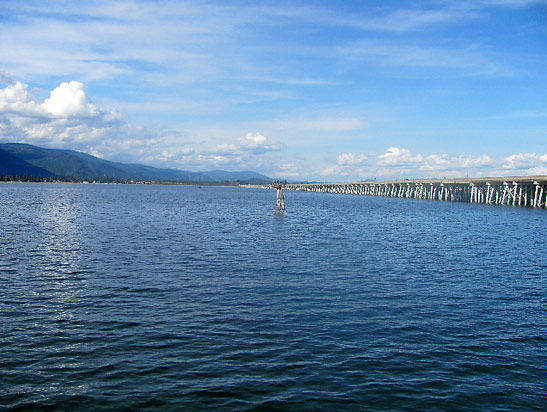 Three mile bridge over one of Coure d'Alene's lakes
Spokane is the major city in the region with a population of 210,000 and half a million in the surrounding area, the largest urban hub between Seattle and Minneapolis. It is also the home of Bing Crosby and the local theater stage is named for him.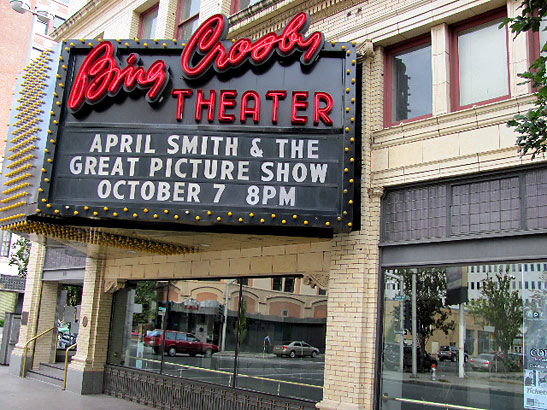 There are 20 wineries in Spokane, most with tasting rooms, and I indulged at Barrister. The owners are lawyers, accounting for the label. Headquartered in a historic brick building you enter off a back alley, like you might a prohibition-era speakeasy.
There are a number of excellent universities in the Inland Northwest including Gonzaga, Washington State, University of Idaho, Eastern Washington University, Lewis and Clark, North Idaho College, Whitworth, etc. It is a rural but enlightened community that emphasizes agricultural science and puts its products into the hands of some great chefs, restaurants and specialty food producers whose creations I fully enjoyed as I traveled the Inland Northwest along the corridor of Eastern Washington and the North Idaho panhandle.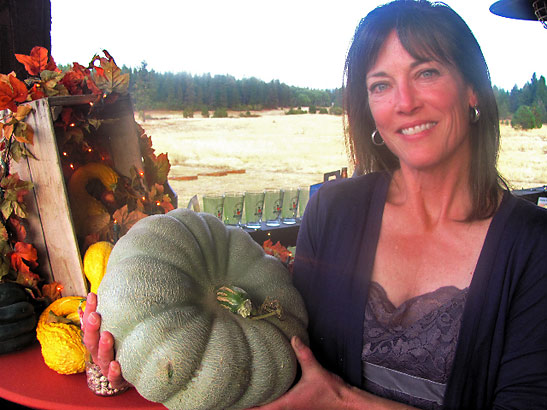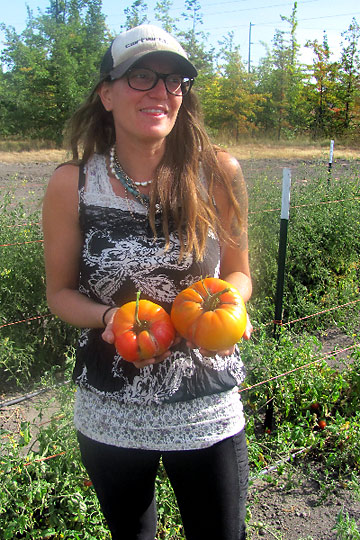 Farmers with their organic produce
Shaped like a little house on the prairie with the panhandle forming its chimney, Idahoans are particular about area names. It is North Idaho and not northern and Moscow is in Russia (as I was told several times), Mosco(h) is the way they pronounce it in North Idaho. No matter how you say it, the countryside is rich and abundant and the cities and towns have retained their architectural heritage. Fifty percent of Spokane's downtown buildings are protected as historic sites.
Over several days I explored the bounty and inviting landscape of the area on a culinary tour of the vineyards, farm stands and restaurants, first driving north from Spokane towards Sandpoint, Idaho, about 80 miles, I then circled south through the lake lands and farms toward Coeur d'Alene (a term applied to the Indian traders by the French for their sharp business skills, literally "heart of an awl") and then south 70 miles to Moscow, home to the University of Idaho and the Co-Op, the largest grocery store in town and full of all local organically produced products. Traveling west seven miles to Pullman, the city is home to Washington State University and one of my favorite stops, Ferdinand's Creamery for Cougar Gold cheddar cheese (which comes in a 30 ounce can for $18) and the ice cream parlor, all run by students.
Heading north again 50 miles I finished the loop in Spokane, where I stayed at the historic and some believe haunted, Davenport Hotel and at the Northern Quest Resort and Casino near the airport www.northernquest.com.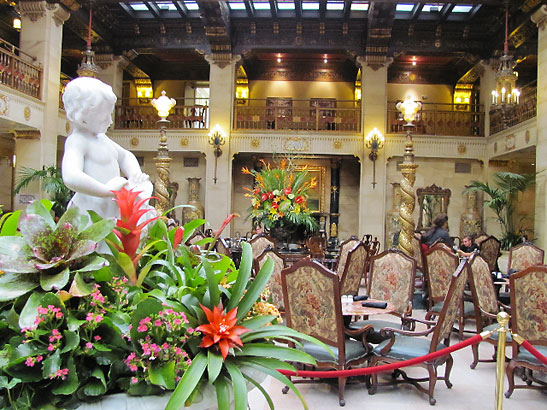 Lobby of the Davenport Hotel

Other hotels included the Coeur d'Alene Resort with spectacular views of the lake, mountains and harbor off the bedroom porch and the University Inn in Moscow, across from the campus.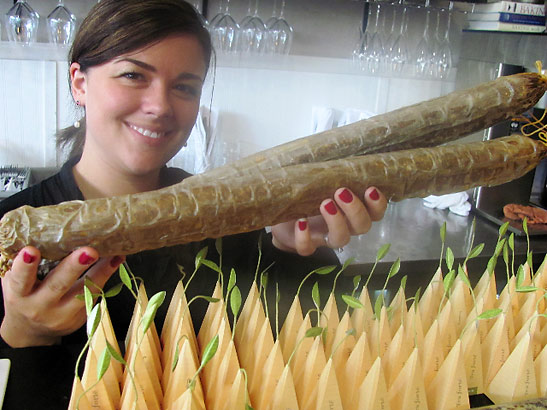 Homemade salamis and charcuterie at Santé with co-owner Kate Hansen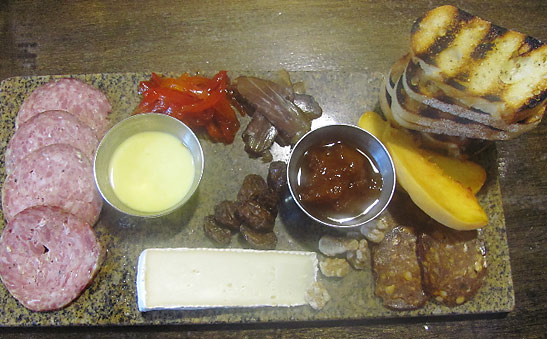 Two of the best dining experiences were in Spokane; breakfast at Santé, which specializes in organic local products and spectacular homemade charcuterie, and at Italia Trattoria in the restored Browne's Addition section of the city. Chef Anna Vogel trained with Tom Douglas in Seattle and her gnocchi is the best I've ever had.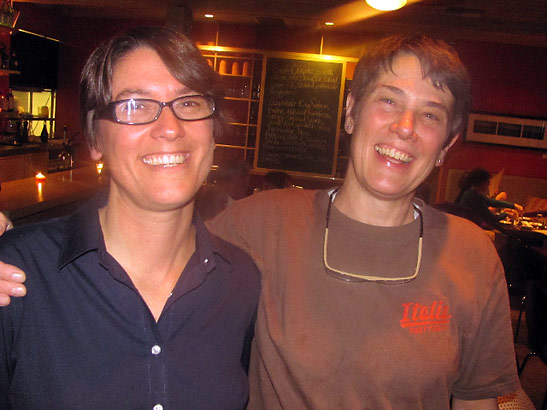 Chef co-owner Anna Vogel (right) and co-owner Bethe Bowman of Italia Trattoria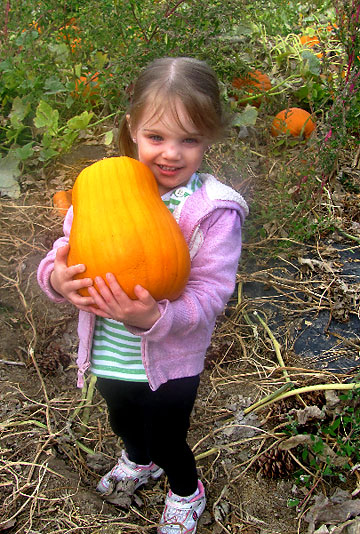 Harley Inabinet, age three, carries off her Halloween pumpkin at Walter's Fruit Ranch
In the town of Colbert, Washington I visited Green Bluff Growers and Walters Fruit Ranch, where children can take a wild train ride through the orchards, play with the farm animals or pick their own pumpkin from the patch while adults shop in the farm store, pick their own fruit in the orchards or eat the best apple pie in the Northwest. Down the road in Post Falls, Idaho is Doma Coffee Roasting, a must stop for a weary traveler.
In Coeur d'Alene I dined al fresco at Settlers Creek farmstead on wood grilled meats, fish and vegetables from local farmers, accompanied by local beer and wine.
In Moscow, Nectar in old town near the University has a talented young chef in Nikki Woodland.
David Blaine, the chef not the magician, although he is magical in the kitchen, prepared our lunch at Latah Bistro in Spokane serving breads made with local wheat. The farmer who grew the crop also dined with us.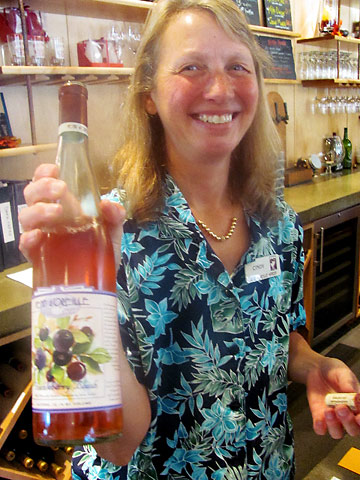 Rosey cheeked server Cindy at Pend d'Oreille Winery
and her Huckleberry Rose
I met a number of farmers on the tour, all tall, knowledgeable and eloquent in the descriptions of their life and work. Men who love and care for the earth they tend, sow and plow and the crops and animals they harvest for food.
Back in Spokane I had my final meal at Masselows, the elegant restaurant at the Northern Quest Resort and Casino, prepared by chef Robert Rogers.
Wineries visited included Arbor Crest, which offers a panoramic view of Spokane from the vineyard tasting room at Eagle's Nest estate, former home of inventor Royal Riblet. Trazzi farm, located north of Spokane, specializes in Italian style wines, Bistro Rouge Cafe in Sandpoint has an extensive pizza and salad menu using locally sourced ingredients and the attached Pend d'Oreille Winery makes an extraordinary rose, blending huckleberry wine and Riesling ($17). Coeur d' Alene Cellars is located in an industrial park within the city and winemaker Warren Schutz is a master of Rhone varietals.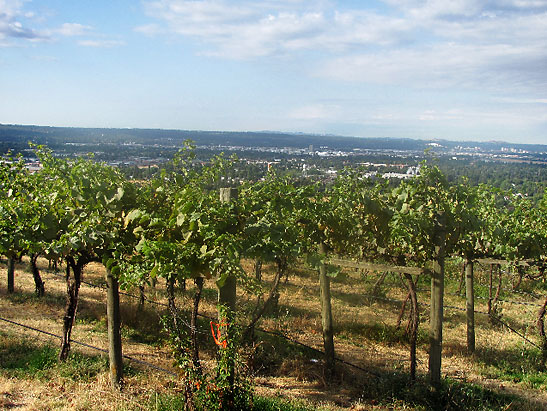 Vineyards above Spokane at Eagle's Nest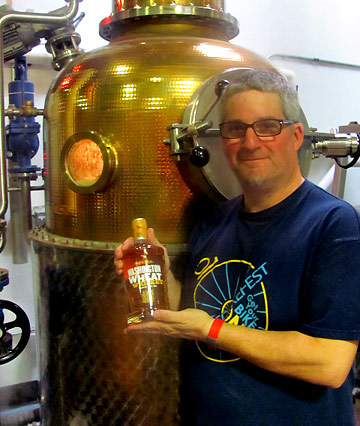 Another product made from grain at Dry Fly Distilling
Northern Lights Brewery in Spokane makes a nice India Pale All and next door is Dry Fly Distilling for Vodka, Gin and Whisky made from local wheat and other grains, if you want a chaser with your beer.
When You Go
For a sweet adventure check out the famous soft peanut butter brittle produced by the Davenport Hotel Confectioners, Amy E's Bakery in Moscow for sinful organic almond toffee and the wide variety of caramels created at Ellie's Edibles in Colbert, Washington. If you want things spiced up a bit look for Chukar Dave's herbal seasonings in Post Falls, Idaho.
For brochures, wine guides and further information to successfully conduct your own culinary tour of the Inland Northwest border areas of Eastern Washington State and North Idaho and to discover the fresh, locally sourced meats and produce prepared by farmers and chefs who understand the importance of doing it right when cultivating an evolving food and beverage landscape, dig into www.visitspokane.com and www.visitidaho.org.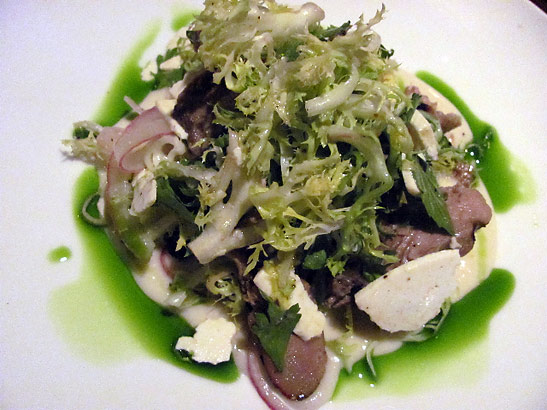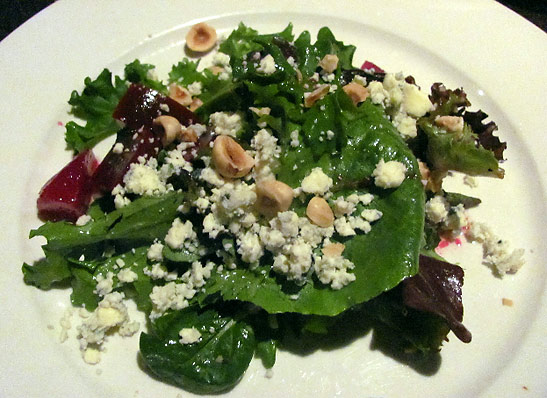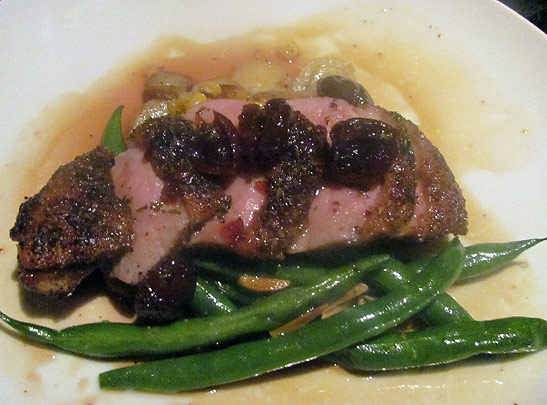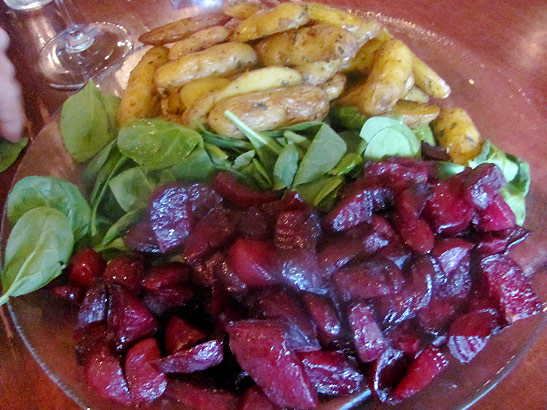 Potatoes and beets at Latah Bistro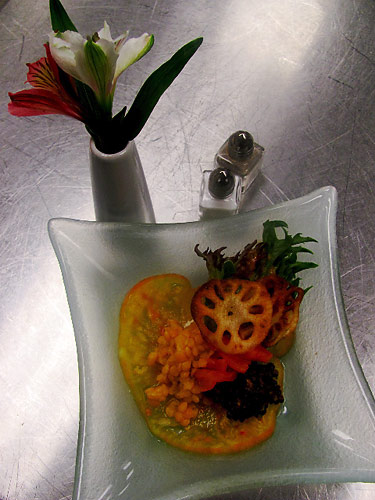 Fresh tomato salad at Masselows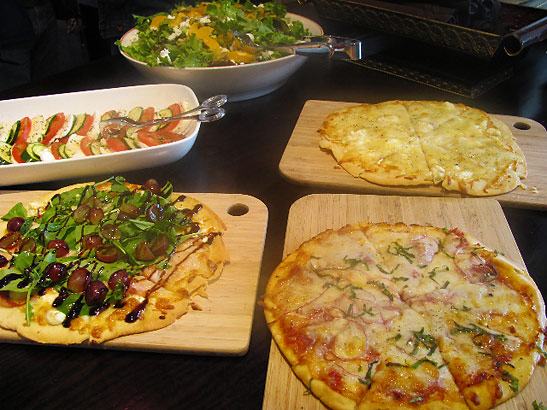 Pizzas and Salad at Bistro Rouge Café
Related Articles:
Eastern Washington; Spokane, Pullman & the Palouse; Palouse Scenic Byway; Olympia, Washington; Olympic Peninsula