Hopscotching Around Scotland
Story and photos by John Blanchette


"Then let us toast John Barleycorn,
Each man a glass in hand;
And may his great posterity
Ne'er fail in old Scotland!"
"John Barleycorn"
By Robert Burns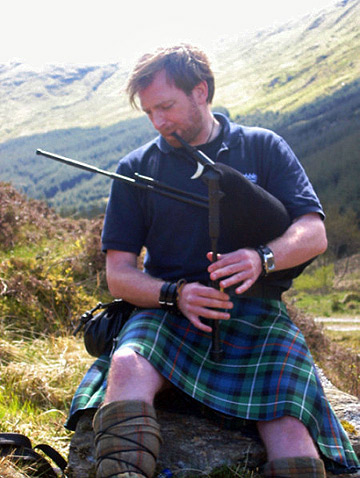 Piper in the Highlands, calling the Scottish nation home

dinburgh, Scotland – Scotland's greatest poet, Robert Burns, celebrates his 250th birthday this year, ushering in a special reunion gala, "The Gathering," the world's largest assembly of the Clans. Calling all of its ancestry home, in late July the country will welcome back some of the millions of prodigal sons and daughters that have spread about the earth for a weekend celebrating all things Scottish, featuring festivals, concerts, dancing, craft shows and the Highland Games.
Along with its writers and poets, Scotland is known for its architects and designers, inventors who helped launch the Industrial Revolution, like Lord Kelvin and James Watt and, of course, it's the home of golf.
I got to the gathering early and decided to celebrate my favorite part of Scotland, its whisky (spelled with no "e" in Scotland, from the Gaelic for "water of life").
About five million Scots inhabit the country that caps Great Britain, along with 20 million sheep and 107 commercial distilleries, which I did my best to sample.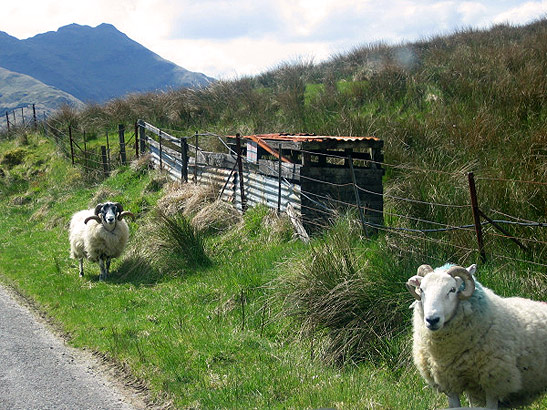 Are ewe lookin' at me, are ewe lookin' at me. With no natural enemies, sheep graze without attendance throughout the glens.
I found that I have an affinity for the peaty whiskies produced in the Highlands, Islay, Speyside and the Islands. There is no arguing when it comes to matters of taste. Others can enjoy the Lowland's whiskies with their balanced food-friendly, un-peated "caramel centers," I'll take the smoky giants that distinguish Scotch whiskies from the rest of the spirit world.
I visited in mid-May. Spring anointed the landscape with shades of radiant green, yellow gorse was in bloom and the Scottish national flower, bluebells, carpeted the forests, hills and lake shores.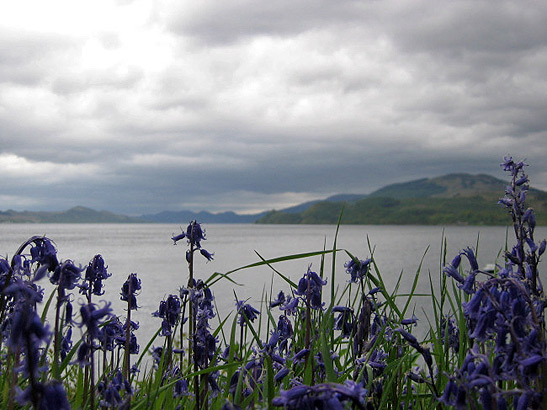 Scotland's national flower, bluebells adorn the hillsides, forests and lakes in the spring. Here along Loch Fyne
I was attending the Spirit of the West Whisky Festival, held on the grounds of the Duke of Argyll's castle in Inveraray. The country's best single malt whiskies were being tasted and I threw myself into the task, sampling such great ones as Oban, Talisker, Ardbeg, Caol Ila, Bowmore, Laphroaig, Lagavulin, Bruichladdich and Dalwhinnie.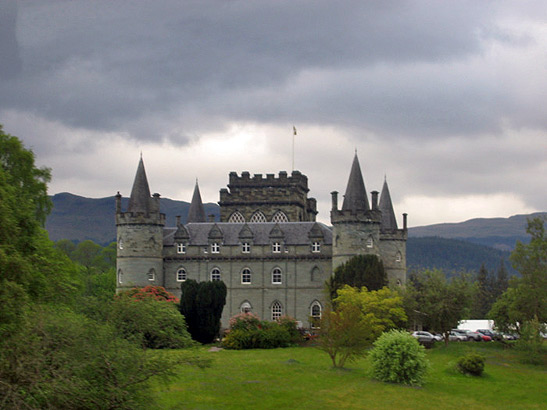 Duke of Argyle's Castle
My favorite is one that just become available in the United States, aged in Bourbon casks and in limited supply, a beautifully balanced whisky from Kilchoman in Islay, the most westerly distillery in Scotland.
Like American moonshine stills, Scottish distilleries were primarily erected in remote untraveled areas, not as the whisky makers would have you believe, for the pure waters filtered through the stony soils of the highland glens, but more probably to evade the tax revenuers and government officials. To this day Scotch is heavily taxed, about 75%, and is usually cheaper to purchase in America than in Scotland.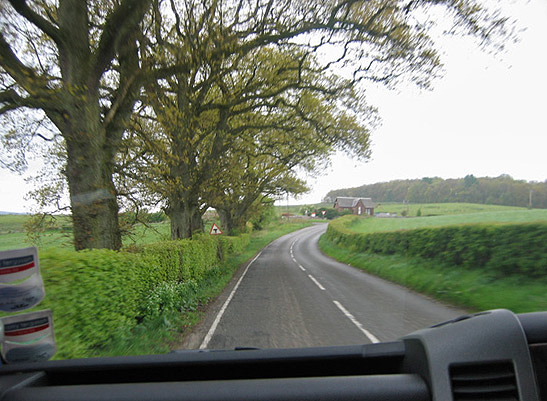 Quiet country roads lead to hidden away distilleries
American Bourbon owes its existence to early Scottish settlers in Tennessee and Kentucky who set up stills hidden away in the rural mountain hollows of Appalachia. They created a distillate based on corn mash and rye rather than malted barley, which accounts for the difference in flavor. In 1797 George Washington's farm foreman, a Scotsman, set up five pot stills at Mount Vernon, and whiskey became George's most profitable product, earning him 60 cents a gallon.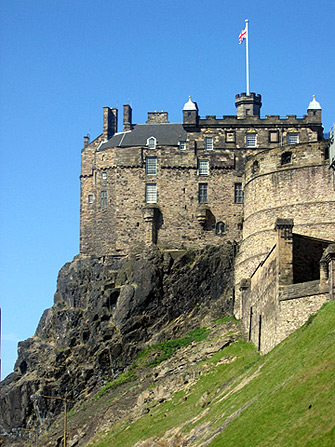 I arrived in Edinburgh, Scotland's capital and a beautiful walking city that is the hometown of Robert Burns, Sir Walter Scott (who has a grand monument at the beginning of the Royal Mile) and Robert Louis Stevenson. Georgian architecture reigns along the major boulevards and cobblestone streets, especially beside the Royal Mile with its grand view of the city park and the stone castle, looming above from its craggy peak.
It also happens to be home to the Scotch Whisky Heritage Center. For about $20 dollars you receive entry into the museum and a tasting of a number of Scotches at the museum bar. There are also special whisky appreciation classes taught at the facility. It was here that I discovered Highland Park, a beautifully peated Orkney Island whisky that is now my regular brand. You can also dine at their whisky-friendly Amber restaurant.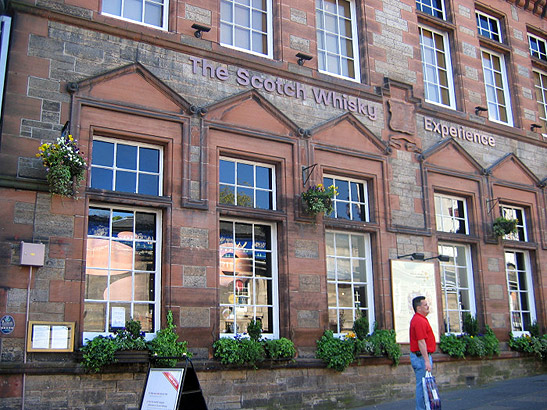 Whisky Museum
The distance between Edinburgh and Glasgow is about 40 miles by road. When you travel by Loch Lomond near Glasgow, look for Glengoyne Distillery, a good place to learn about Scotch whisky. They present a slide show at the Visitor's Center and a chance to blend your own personal bottle using whiskies from all the different areas. Mine had a definite north and west influence. When I open my bottle it will be with the Scottish toast, Slainte Mhath! "Drink to good health" (pronounced "slan-ja var").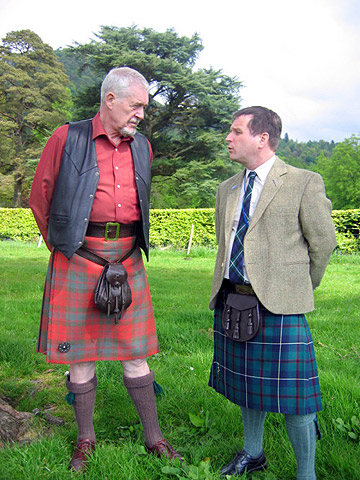 Scotsmen in conversation and kilts
If You Go
In the large cities of Edinburgh and Glasgow there are hop-on-hop-off tour buses that are worth the $15 pass (good for 24 hours) to acclimate to the cities and see all the main attractions before exploring in depth.
If you've got any Scottish blood, you can search for ancestors at the People's Center in Edinburgh, scanning through church logbooks and computer data.
In Glasgow make a pilgrimage to the Willow Tea Room, created in 1904 by Scotland's most renowned designer, Charles Rennie Mackintosh. He designed everything including the windows, furniture, lighting, even the silverware. You must try the haggis here with the "taters and neeps" (potatoes and turnips), $10. Haggis is the national dish of Scotland; sausage made of ground offal and oats, spiced like Sheppard's pie and cooked inside a sheep's stomach. Better than it sounds.
Restaurants and Hotels
Hotel du Vin in Edinburgh is a clean, modern hotel with an excellent restaurant. The lamb was some of the best I tasted on my tour.
Hotel Missoni is an ultra modern Italian-designed building that has just opened in a prominent location at the head of the Royal Mile.
Forth Floor Restaurant in Edinburgh offers traditional fare.
The Inn at Inverbeg has a wide view of Loch Lomond and nearby Mr. C's Fish and Whisky Bar has great fish and chips.
Creggans Inn on the shores of Loch Fyne in Argyll serves lightly kippered herring from the loch's tidal waters. Gill and Archie MacLellan run the family business, helped by their sweet young children. They have an excellent chef and the historic country inn has lake views, a lovely garden and access to free internet.
For a true Highland inn experience head for Balquhidder Glen, and Monachyle Mhor, which sits overlooking Loch Voil.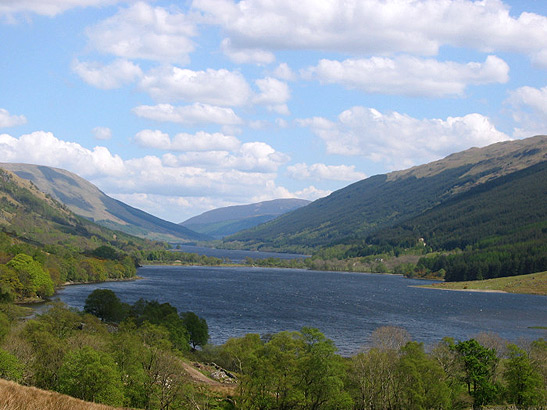 Loch Voil
This is a spectacular 2,000-acre farm that raises much of the food served in the restaurant including lamb, pork, fish, chicken, eggs, beef and the occasional red deer, harvested in the glens as part of the sustainable management program because wolves were systematically eliminated in most of Scotland.
Owner Tom Lewis is a legendary chef and raconteur who will endlessly entertain with his wit and stories. In town the family also owns an organic bread bakery that uses the farms meats in its pies, and a nearby fish market and "chipper."
In Glasgow, the Malmaison Hotel Arts and Crafts interior inhabits a former Greek Orthodox Church. It features a Champagne bar and smart restaurant.
One of the best meals I had was at La Vallee Blanche in Glasgow on Byres Road near the university. Walk around before or after dinner and grab a drink at one of the student hangouts on Ashton Lane.
There are a number of Celtic music, arts and crafts festivals held throughout the year. Edinburgh's summer arts festival is renowned and whisky events are always on the calendar. For information on travel accommodations, special events, sightseeing, dining options, bargain hunting, etc., contact www.cometoscotland.com.