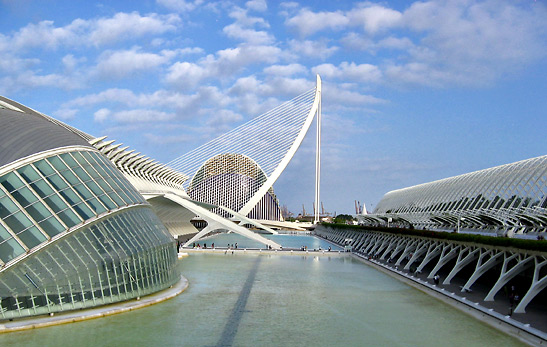 City of Arts and Sciences futuristic architecture is stunningly beautiful
Valencia, Spain is Burning Hot
Story and photos by John Blanchette


ising like an orange above Valencia, the sun peeled the darkness from night, as my Iberia flight from JFK descended on the first day of summer into Spain's third largest city.
Situated halfway between Madrid on the central plateau and second city Barcelona on the northeast corner, the Valencia region forms a crescent mouth that bites into the west coast of the Mediterranean, gateway to one of the country's great gastronomic areas.
Young creative chefs and Michelin starred restaurants are in abundance. This is also the home of paella, Spain's national dish, horchata beverage, turrones candies, and of course, Valencia oranges.
Throughout the week of my stay I dined at a variety of restaurants and discovered a lesser-known wine area growing some non-traditional red and white grapes and creating unusual blends. This is a place of experimentation and excitement for the Spanish food and wine industry.
The Central Market of Valencia (Mercado Central) is one of the oldest food markets in Europe and everything is sold here: bread, cheese, jamon (ham), wine, fruits, vegetables, and even a shop devoted to saffron (indispensable in a good paella).
The city boasts some of Spain's finest modern architecture as well, blended into a mix of stately government buildings and a charming old town. Unfortunately modern urban sprawl composed of brick and concrete high-rise flats blight the edge of town, an all too familiar sight throughout Spain.
Running through the center of the city is a dry riverbed. Several years ago the water was diverted into a concrete canal to avoid the annual flooding along its banks. It is now Turia Gardens, a walking park full of trees, flowers, pathways, restaurants, athletic fields and the magnificently modern City of Arts and Sciences created by Spanish architect Santiago Calatrava.
This striking span of buildings stretches over a mile and includes the city aquarium, new convention center, opera house and art and science museums. His remarkably unique architectural achievements draw tourists from around the world.
Valencia is a major port city and harbors several Mediterranean cruise lines. The mild, year round climate attracts tourists to the stunning coast south of the city where the white sandy beaches roll into bays and sweeping mountains come into view along high arid plains.
About 10 miles south of Valencia, La Albufera is an inland lagoon and source for most of the "bomba" rice used in making traditional paella. The dish was created here in the town of Alfafar. Sitting on the edge of the expansive rice fields is La Matandeta restaurant, where Gwyneth Paltrow and Mario Batali were served a seafood version in their PBS series on Spain.
The area's traditional paella is made in a giant flat pan, cooked over wood and composed of chicken, rabbit, duck, snails, broth, tomatoes, onions, salt and rosemary. The saffron which flavors the dish is crushed before sautéing, never used whole. The bomba rice is added last and the paella is complete when the juice has been absorbed. Proper paella is always dry and almost always cooked by men.
Other area specialties are olives, almonds, pomegranates and of course, citrus. My favorite discovery was the Valencia tomato, an unattractive pink, yellow and green-stripped fruit that is spectacularly good. Sweet, deep in flavor and best served chopped on thin-sliced toasted bread rubbed with garlic, drizzled with olive oil and dusted with sea salt. Valencia oranges are also good, but you expect that from a fruit named for a region.
My favorite red and white wines from the area are the lush Monastrell and the crisp and fruity Verdejo. Some excellent Bodegas in the southern Valencia region include Felipe Gutierrez in Parcent, with daughter Violeta now taking over the wine making duties; Pepe Mendoza in Alfas del Pi; and Sierra Salinas in Alicante, which received a score of 95 from Robert Parker for their 2004 red blend.
West of Valencia, Requena is a lovely medieval town perched on a hill dominated by its Gothic church. My favorite hotel on this trip, Dona Anita, lies across in the town's open plaza, where I shared dinner al fresco with other guests one warm evening and we were joined at the table by a neighbor and local wine maker who shared his Macabeo white.
Dominio de la Vega is located in an historic wine cellar in Requena and the Museo del Vino in nearby Utiel offers an interesting introduction to the history of the wine industry in the Valencia region, with photos, old artifacts and wine available.
Located in a beautiful wine valley that runs through the hills of San Antonio de Requena, Chozas Carrascal winery offers tours and tastings at the facility.
Leaving Requena, I arrived in the southern Valencia coastal city of Alicante, (330,000) the day they celebrate the Fiesta de Sant Joan. The revelers welcome the summer with a sort of 4th of July all night long fireworks display, featuring the burning of giant, whimsical, brightly colored sculptures that they work on all year.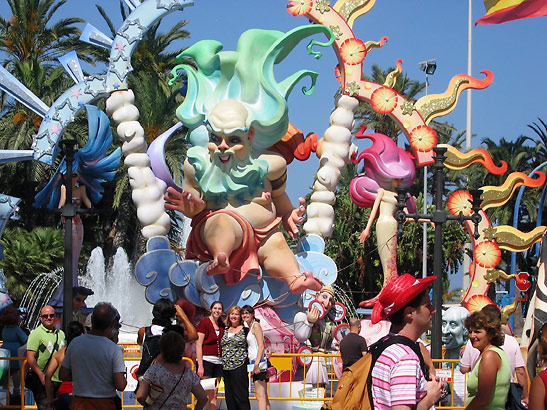 Scheduled for a hot time tonight, these beautiful sculptures will be torched after a year of preparation
These go up in bonfires around the city over the evening amid firecrackers and fireworks. It's a busy night for the fire department, hosing down the embers, nearby buildings and soaking the pyromaniacs who welcome the water with chants of "agua, agua."
This was also the night that the U.S. soccer team defeated Spain in the Confederation Cup. I felt a little like Joan of Arc amid all these fires and upset fanatical soccer fans, so I kept a low profile and pretended, eh, to be Canadian.
One of my best dining experiences was in the local tapas restaurant La Taberna Gourmet. Most items were 1.5 Euros and cheaper when ordered for the table. All were delicious, including the best rice dish on my trip. I ordered a second helping of this deeply flavorful, saffron infused tapas, washed down with my favorite Spanish beer, crisp and hoppy Cruz Campo. This is a popular hangout for celebrities as well. Francis Ford Coppola and Gerard Depardieu have made multiple visits.
Also in Alicante is de Pura Cepa delicatessen where owner Mariano Tortosa poured me Spanish superstar chef Ferran Adria's signature beer Estrella. It's Five Euros per bottle. I'll stick with Cruz Campo.
Elche (216,000), just southwest of Alicante, is famous for its palm forest of over 200,000 trees, originally planted by the moors and forming an oasis within the city. The place is magical and feels like you're in a Pre-Raphaelite painting.
Michelin-starred chef Jose Miguel Ruiz is the creative force behind La Seu in the seaside town of Denia about 45 miles south of Valencia. I had a three-hour, 12-course meal here that was an amazing display of talent.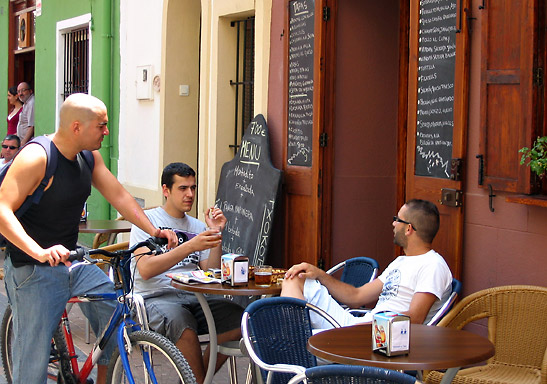 Tapas and conversation ease the heat of midday
After all of this indulgence it was time to check into the hotel at the Sha Wellness Clinic, a beautiful modern facility in Sierra Helada del Albir, overlooking the Mediterranean Sea by the picturesque village of Altea.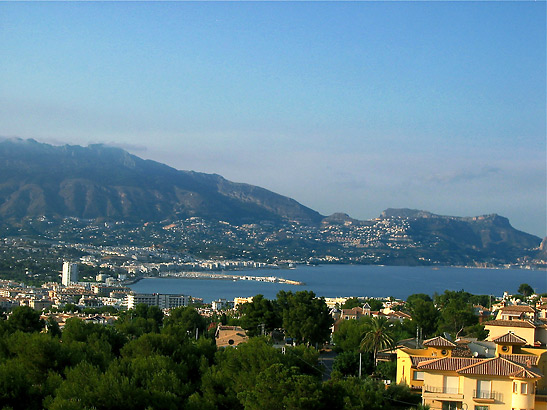 View of the Mediterranean sea and the town of Altea
The clinic offers spa treatments, weight loss programs, and healing and well being regimens using eastern and western techniques. The restaurant is macrobiotic. I must say it was a nice respite from the overeating I had indulged in most of my trip. But I will remember the other restaurants more.
If You Go
Barceló Valencia is a modern hotel with views of the opera house and the City of Arts and Sciences across the street.
Michelin-starred chef Alejandro Toro of his eponymous restaurant in Valencia is a rising star in the culinary world.
For a traditional tapas menu Casa Montana in the old city is full of character and customers and its huge wine list is presented in book form. A favorite stop for Mario Batali, Gwyneth Paltrow and crew on their travel series about Spain.
The modern Restaurante Vertical features a spacious and elegant dining room inside the Aqua 4 hotel.
La Horchata Valenciana serves the refreshing local drink, made of crushed tiger nuts (chufa, which looks like dehydrated garbanzo beans). Locals believe it has miraculous curing effects.
Carnicerias abound in ham loving Valencia and hind legs mounted on special slicing racks are common throughout the city. Look for the black-footed pigs fed on acorns.
And for dessert, the local almond, honey and wafer confection turrones is best at Turrones Ramos, founded in 1890.
In Alicante I stayed at the restored Hospes Amerigo, a quiet hotel off a gated entrance that kept the arsonists and mad bombers away from me on the night of Sant Joan. That evening I had dined at Restaurante L'Ereta perched on the craggy hill overlooking the city, where we had a full view of all the pyrotechnics, smoke and fury taking place down below. The Valencia region, it was a burning hot, smoking blast!
For information contact the Spanish Tourist Office at www.spain.info (323) 658-7188 or www.comunitatvalenciana.com.
Related Articles:
Memories of Madrid; Madrid and the Art of Armor; Northern Spain