A Magical Walk Through Hemingway's Paris
Richard Carroll
Photography: Halina Kubalski

ARIS, France -- Magically enchanting and much-loved Paris, the Urban Empress of Europe, remains eternally young and amorous. Occasionally vain, always passionate, and with a long and turbulent history, the legendary city has a special flair for life that has captivated many of the world's most inspired artistic talent.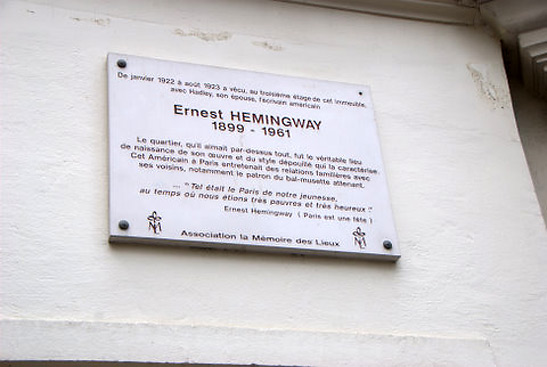 French plaque honoring Hemingway -- Left Bank of Paris
After the Great War and during the 1920s and '30s, Paris was the place to be for artists and the forward-thinking avant-garde looking to etch their mark, while novelists and writers quickly recognized that it was far easier to be acknowledged by the small innovative Parisian publishing companies than to catch an editor's eye in the States.
During this most exhilarating period in 20th Century American Literature, Paris was the destination for an amazing assortment of international expatriates, including some 30,000 Americans many clutching one-way tickets to the City of Lights.
Some arrived in Paris in search of panache and identity, while others, overwhelmed by the complex and tenacious city, became lost in heart-wrenching dreams of discovery and triumphant achievements.
The French franc was a colossal friend, the exchange rate a whopping 25 to 35 francs to the dollar, while Paris' free-flowing alcohol was a further attraction as long as hard-line prohibition had the upper hand in the United States. Parisian nightlife, animated cabarets, freethinking ladies, and French wine were all treasures to behold.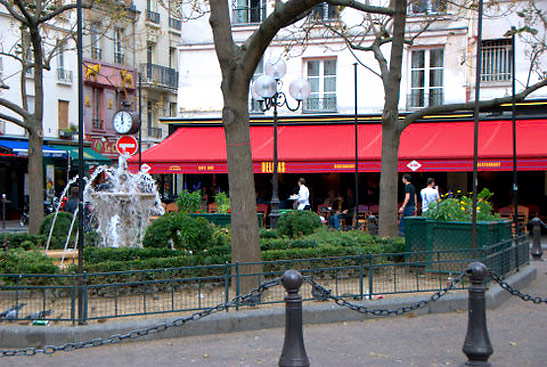 Hemingway's Paris. He lived nearby.
On the vibrant Left Bank of Paris, in the Latin Quarter and Montparnasse, Ernest Hemingway and wife Hadley, bespectacled James Joyce struggling to publish Ulysses, and F. Scott Fitzgerald with his flamboyant wife Zelda, both giddy from the publication of The Great Gatsby, had settled in, along with photographer Man Ray, always ready to capture the moment. Pablo Picasso and writers Ezra Pound, Djuana Barnes, Nancy Cunard, Sherwood Anderson, and eccentric John Dos Passos, along with a memorable list of other authors and artists, were also part of the heady Paris scene, and friends of Hemingway.
Bigger than life and significant to the literary and artistic scene, Gertrude Stein, writer, serious art collector, and a remarkable influence on writers and artists, cleverly tagged the exiles The Lost Generation, backed by her jealous lover, Alice B. Toklas, who fiercely disliked Hemingway. The exiles included a cast of street characters with stories to tell, who were lounging at sidewalk cafes often deep into their cups, discussing literature, sharing gossip and jealousies, wondering where life and careers were headed and when the next dollar would materialize.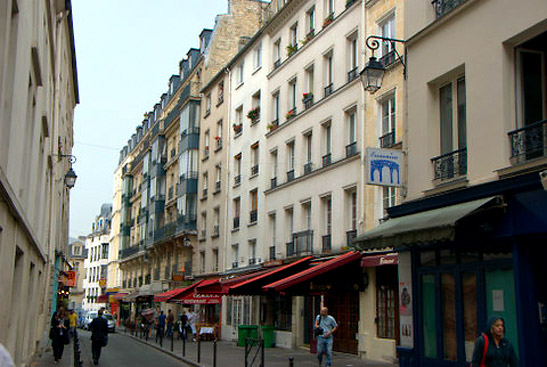 Hemingway's Paris -- Left Bank
Mercifully, much of the great city has remained suspended in a timeless bubble, making it easy to relive the Lost Generation, to tread on the ancient stones that Hemingway and friends negotiated, sit at the same sidewalk cafes and restaurants, see the gardens, hotels, churches, cathedrals, and lodgings that once upon a time were their stomping grounds.
The reflective adventure comes together with Oriel and Peter Caine's prestigious Paris Walking Tours, founded in 1994 and recommended by the Paris Tourist Office. The Caine's, who are themselves esteemed authors and scholars, engage knowledgeable English-speaking guides whose contributions to the tour include appropriate humor and fascinating encyclopedic insights.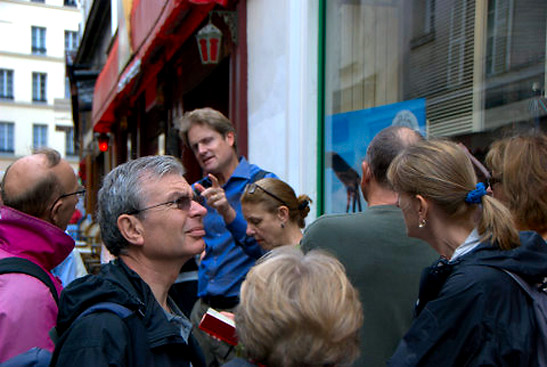 Paris walks -- Hemingway's Paris
Following the guides through any of the two-hour walks, Hemingway's Paris, Writers of the Left Bank, The Village of Montmartre or Saint Germain-des-Pres, gives the sense of having moved through time, setting the stage for an irresistible mélange of literary and artistic history.
A magnificent destination of monuments and striking architecture, each turn of a Parisian corner invites a celebration of the senses that embellishes the timeless link to Hemingway, and a city glowing with imperishable splendor and earthiness that can grab your heart and hang on for a lifetime.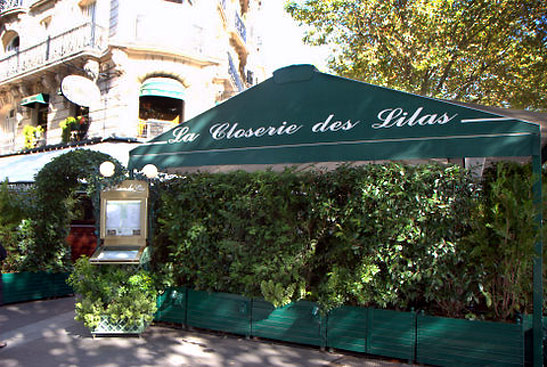 Hemingway's favorite restaurant where he worked on
"The Sun Also Rises" and short stories
Via a touch of imagination supported by the images of Woody Allen's excellent film, Midnight in Paris, and Hemingway's memoir recalling his life in Paris, A Moveable Feast, one can envision him strolling along the narrow, winding cobblestone streets, Fitzgerald at his side, Zelda, edging between them wildly dancing the tango and hoping for an open bar.
With Lost Generation thoughts flowing, you might hear a bit of Hot Jazz and pass by Kiki, the classy lady of the night, a favorite artist's model, who never met a man she didn't like. You might pick out Josephine Baker's bluesy voice, floating through the night air from the intensely popular Folies Bergere where Baker, a favorite of Hemingway, often performed in her adopted homeland with Chiquita, her pet Cheetah.
Gertrude Stein's home and salon at 27 rue de Fleurus, now a private resident, once decorated with priceless Gauguin, Renoir, Matisse, Picasso, and Cezanne paintings and long noted as the most distinguished salon in all Paris, was an important gathering place for a coterie of famous artists, writers, and trend-setters including Hemingway and European Royalty.
Down the street, Malcolm Cowley, famed writer, poet, and critic, lived and wrote at 1 rue de Fleurus. Famous for having reportedly once floored Hemingway in a friendly boxing match, Cowley became the spokesman of the 1920s American expatriates.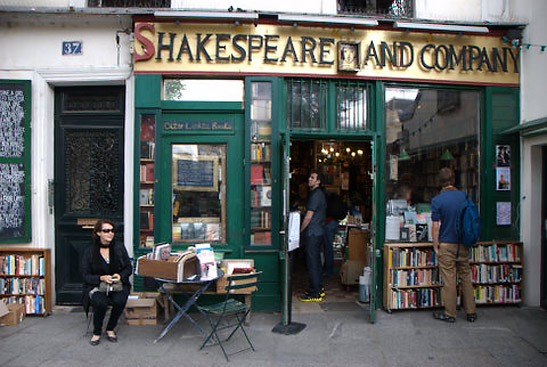 A celebrated bookstore for Hemingway and other famous writers
Sylvia Beach's Shakespeare and Company on rue l'Odeon, the only English-language bookstore on the Left Bank, was another celebrated gathering place for writers. Writers could buy or borrow books there, Hemingway often noted for doing the latter.
The bookstore closed in 1941 during the German occupation of Paris and never reopened, but in 1951 another Shakespeare and Company opened in tribute to Sylvia Beach. Steps from the Seine and the Notre Dame Cathedral, the bookstore, featured in Midnight in Paris, buzzes with camera-toting visitors with a literary liking.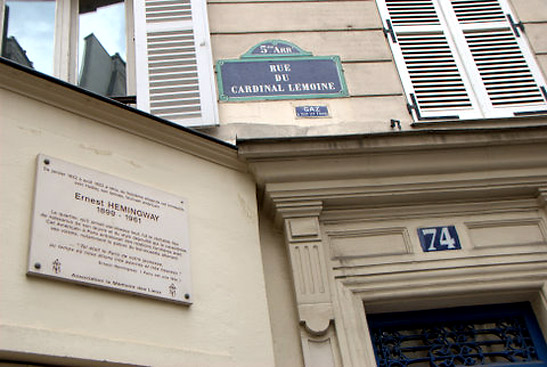 Hemingway's Residence, Left Bank of Paris
After experiencing the famed bookstore, it's astounding to walk past the Hemingway's old neighborhood on rue Mouffetard where they rented their first apartment on the third floor at 74 rue du Cardinal Lemoine. A small women's clothing store on the ground floor is aptly named Under Hemingway's.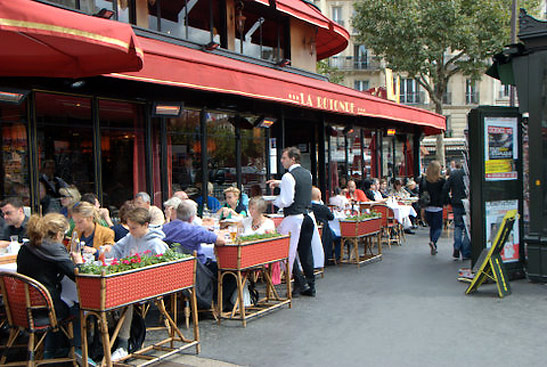 Hemingway's Paris: La Rotonde, Boulevard du Montparnasse
Along Boulevard du Montparnasse are a cluster of legendary cafes; La Rotonde, La Coupole, Le Dome, and Le Select, home to Mickey a 19-year old cat, all within walking distance, all fashionable today, just as they were when they were the center of life in the 1920s with their people-watching sidewalk tables, and churlish waiters.
Reams of material have been written about the significant cafes and their eminent patrons, but Hemingway's preferred café, also on Montparnasse, was La Closerie des Lilas. He often sat in the corner with a cafe crème, writing some of his finest short stories and working on his brilliant novel, The Sun Also Rises.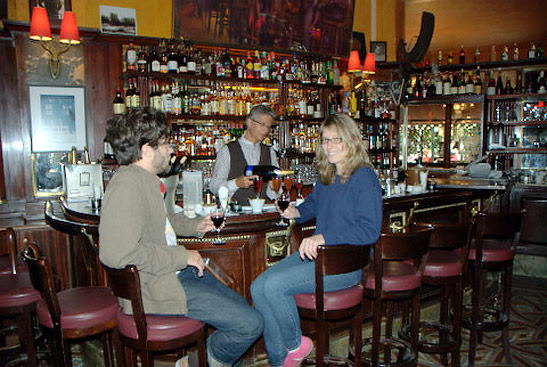 Hemingway's bar: La Closerie de Lilas
Incredibly, the bar retains its period ambience confirmed by a framed black and white photo, circa 1920s. A small copper plaque inscribed with his name is embedded in the bar, along with a small photo of him above the bar. One can imagine Hemingway sitting here chatting with Fitzgerald and Joyce, while in the background Cole Porter is playing the piano to an audience of wistful lovers on the prowl.

Years later, one of Hemingway's numerous haunts was the famed Ritz Hotel on rue Cambon, where his name is now honored with the intimate Hemingway Bar. Hemingway spent his time in the hotel imbibing aperitifs with the celebrities of the day and observing the carefully coifed, costumed, and accessorized French women, who were undeniably elegant.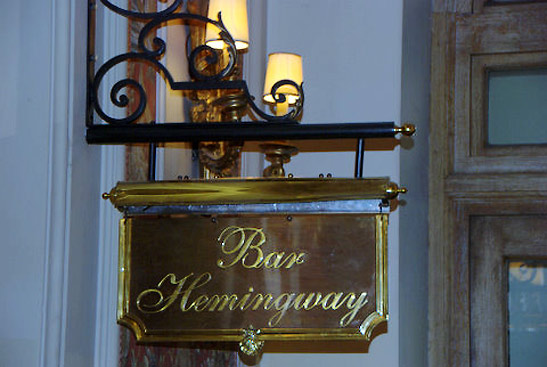 Ritz Hotel, Paris -- Hemingway's Bar
Nearby, the mighty Seine, dotted with barges and sight-seeing boats, flows along tree-lined walks where embracing couples shimmer and shake, brusque vendors sell books, prints, and paintings, and old-timers cast for fish.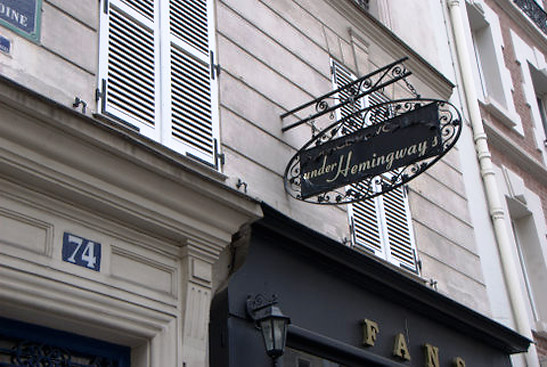 Hemingway and wife Hadley lived above this boutique
Parisians remark that the more Paris changes, the more it stays the same. For Hemingway, the City of Lights was an ageless enclave of beauty, style, and history, and where, through much effort, his distinctive writing style developed.
When You Go
Contact Paris Walks at, www.paris-walks.com; paris@paris-walks.com; check the five-star Paris Sightseeing Pass offering visitors access to over 60 top attractions including the sightseeing bus, metro, a Seine cruise, and other discounts. www.parispass.com
Related Articles:
Versailles and Avignon; Montpellier, France; Provence; Monet's Gardens, Giverny