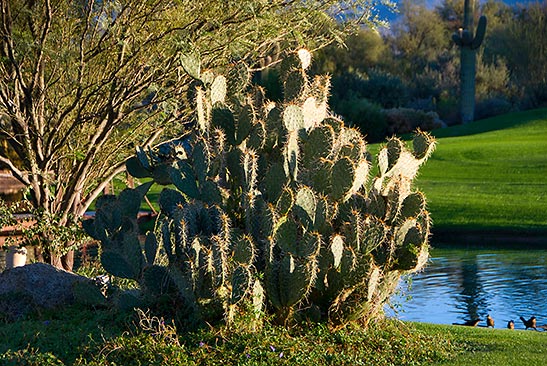 The Boulders in the foothills of the Sonoran Desert is located in a spectacular
nature setting.
Boulder's Sunrise
By Richard Carroll
Photography: Halina Kubalski

he enormous Sonora Desert, a colossal 120,000 square miles of splendor that spreads like a great tapestry of textures and colors across international boundaries from Arizona into the State of Sonora in northern Mexico is one of North America's grand, untrammeled natural treasures. The complex, sun-blessed region of bright dry heat, brilliant low-hanging stars, and long, ever-changing shadows that shift with the sun as they drape like endless silhouettes across craggy walls, mountain ridges and hidden canyons, is a vibrant land with tales to tell.
Rag-tag Arizona prospectors in search of a rare golden nugget often left with broken dreams, while those who found Sonora's wide-open spaces irresistible, worked hard to scratch out a living. One of the largest in North America, the desert is a mysterious and serenely silent land. Modern day researchers, biologists, nature lovers, and Sonoran aficionados have all experienced the addictive nature of the desert's austere beauty.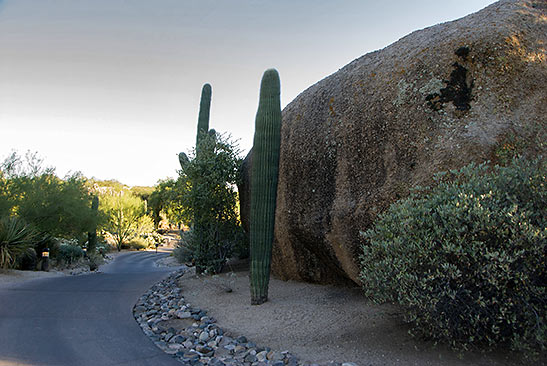 The Boulders, opened in 1985, offers a place to regenerate the spirit in a serene environment enhanced by the Sonoran desert.
This vast land, alive with distinctive plants and animals, is passionately celebrated by the carefully designed Boulders Resort & Spa on 1,300 acres in the Sonoran foothills of Carefree, Arizona, tucked among towering 12-million-year-old granite boulders, that look like they were created by a Pixar Artist with a whimsical sense of humor and a deep affection for the natural world.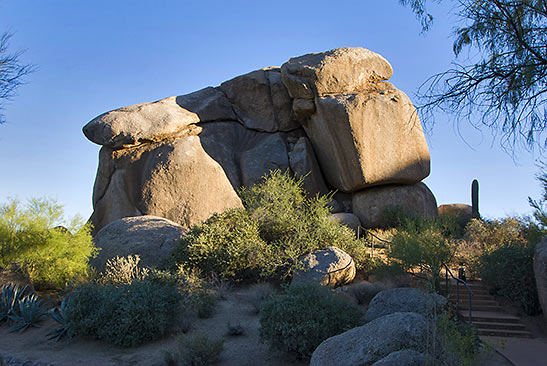 The Boulders Resort has been designed amongst giant 12,000-year- old boulders.
Granite boulders of various sizes are piled high in a fascinating arrangement of lofty sharp angles, smooth-sided facings, peaks and crevices, and scattered helter-skelter among guest casitas illuminating the sensation of eternal strength and serenity and giving one a clear sense of the unrelenting progression of time. A guest on a nature walk standing next to a massive outcropping of granite said, "I feel like I'm a mouse standing next to an elephant surrounded by 'feel good energy.' The positive vitality is overwhelming."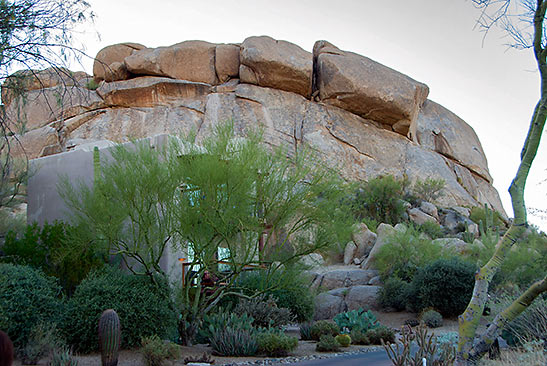 An overview of The Boulders.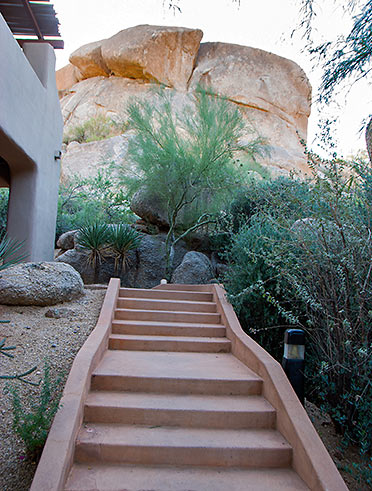 Steps leading to a casita framed by a huge boulder.
Mercifully, the resort's attention to detail creates a tight marriage between tranquility and relaxation. Here, the noise and pollution of vehicles are quietly put to bed in the far rear of the main lodge, whereas the casitas are accessed by golf carts that putter along narrow, winding walkways carrying guests to and fro, or delivering a chilled bottle of wine to be enjoyed on a balcony as the sun disappears below the far horizon of this enduring desert setting.
The roomy casitas constructed from Arizona materials in the classic New Mexico, Southwestern-style were designed with artistic touches of American Indian décor, handcrafted beamed ceilings, flagstone floors, wood-burning fireplaces, wet bars, bathrooms large enough for a morning stretch, and a patio or deck with views of scampering birds and unending skies.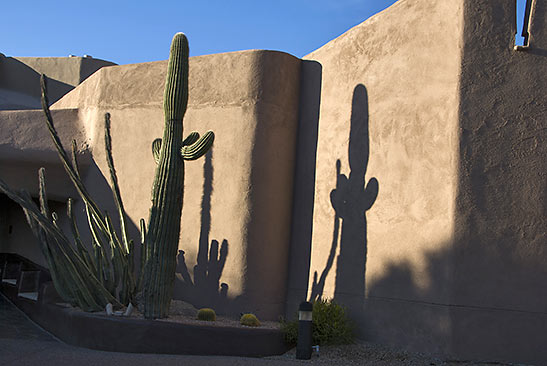 The roomy casitas designed in a Southwestern style blend nicely with the 12,000-year-old boulders.
In keeping with the Sonoran setting, robust desert rejuvenation is experienced at the 33,000-square-foot spa which offers an exceedingly diverse focus of therapeutic treatments dedicated to the restoration and encouragement of constructive optimism. Noted among the best Spa's in this part of the country, The Spa pulls its guests from the helter-skelter of everyday life to a Zen-like ambiance of hydrotherapy, the elements of feng shui, and feel-good meditation areas.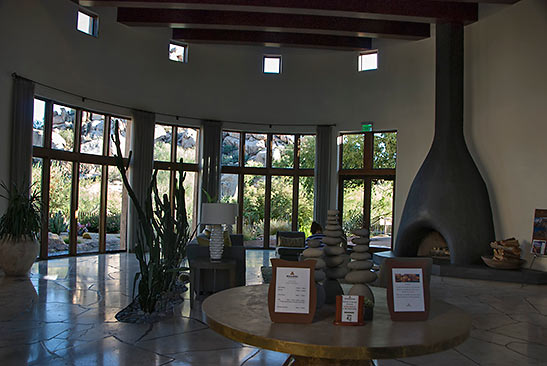 The 33,000-square-foot spa ranked among the best in Arizona offers a diverse selection of therapeutic treatments.
Three Vichy treatment rooms, a pool dedicated to Watsu underwater treatments, a relaxing Hawaiian Lomi Lomi healing massage that makes the eyelids heavy, and the traditional Indian cleation technique nourishing the skin and calming the nervous system, are amongst a hefty collection of special high caliber spa selections.
Twenty-four treatment spaces, a 2,000-square-foot Fitness Center, Yoga Studio and tasty Spa Café with well-being in mind, are a bonus for body and mind. However, The Spa staff also urges guests to step outside and experience nature, to join the Waterfall Rappel Clinics, enjoy a guided desert hike or a Walk the Rock Tour, and when the sun sets a Moonlight Bicycle ride or Night Exploration Hike under an unforgettable sky.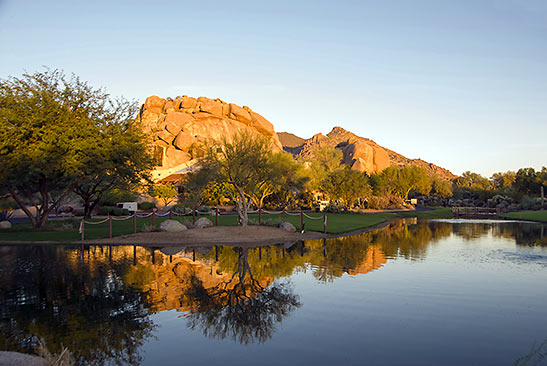 Spectacular sunrise photo excursions are led by Linda Covery, Resident Boulder Photographer. Guests can capture the everchanging Sonora light and learn about the busy bird life and the cacti that say 'look but don't touch.'
On the other end of the day a special treat awaits as the sun appears with its touches of soft dappled light flooding the surroundings. Vivacious Linda Covey, Resident Boulder Photographer, leads guests on an early morning photo tour sharing an overwhelming passion for the desert and nature photography.
Leading a small posse of guests through the magical moments of sunrise, Covey points out the long shadows that slowly appear on the stacked boulders and casitas, the active bird life, and the glorious cacti that say 'look but don't touch.' With cameras catching the nuances of a new day and hawks drifting in the thermals and ever-changing light, the group is hopeful to snatch a glimpse of a coyote or two, or Rocksy the cagey resident female bobcat with black paws, a dark orange face, and inherent desert wisdom.
After a day out-and-about, award-winning New Mexico and Northern Mexico cuisine, noted as southwestern, is a satisfying treat. The Palo Verde Restaurant sources most of their ingredients from locally owned farms. While in the Spotted Donkey Cantina guests take a step back to Mexico, sip a Herradura – a hand-selected, double-barrel Reposado tequila created for the restaurant in limited production – and tasty guacamole with a bite.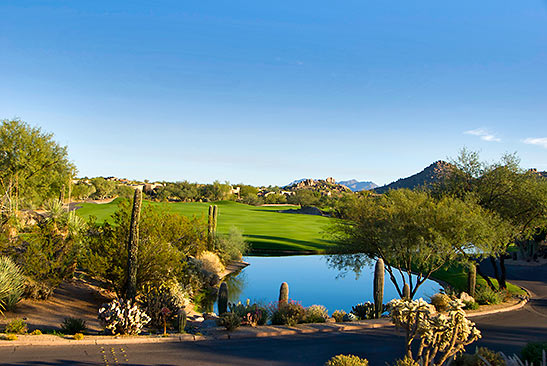 The Boulders have two award-winning 18-hole golf courses and a prestigious
Golf Academy.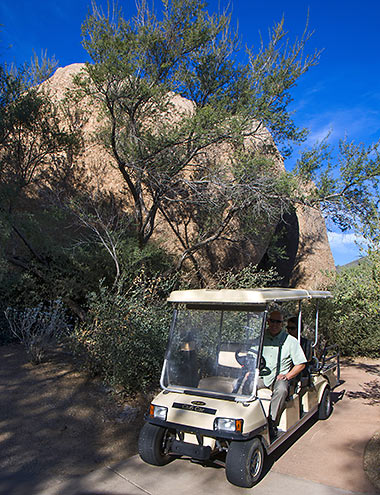 Vehicles are parked behind the main lodge. The casitas
are accessed by golf carts or on foot.
The Boulders also offers golfers a home-away-from-home with two world-renowned 18-hole courses honored with enough awards to fill a golf bag, both celebrated for their stunning beauty. The South Course's par-five signature hole is bordered with a cluster of spectacular rock outcroppings and incredible views of the desert and resort.
Those in need of a tune-up can check in at the Golf Academy with PGA and LPGA instructors, and for ladies The Boulders is acclaimed as one of the top women-friendly golf resorts in the country with numerous programs for all skill levels. After a few hours on the greens, guests and club members can pop in to the private upscale Clubhouse designed with men's and women's locker rooms, two restaurants, views of both courses and the Sonoran foothills.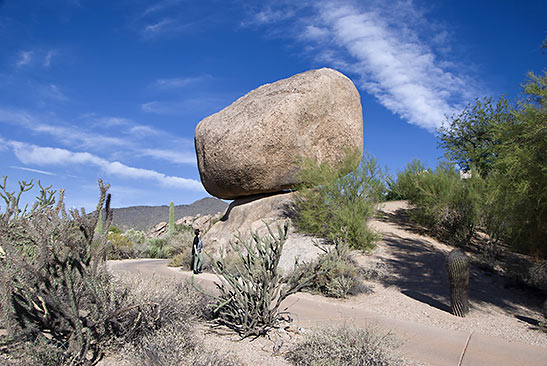 Before guests depart, a popular tradition is to view Rosie's Rock, named after the wife of the original owner who opened the property in 1985.
Before heading home, a popular tradition is to view Rosie's Rock, a huge isolated boulder balanced on a tiny ledge, as if just waiting for Wiley E. Coyote to send it crashing down on the tracks of the Roadrunner below. Named after the wife of the original owner who opened the property in 1985, it appears as if another Pixar artist had been working overtime to create this surprising occurrence and lasting memory.
When You Go
The Boulders is located 33 miles from the Phoenix Sky Harbor International Airport; transportation can be arranged through the resort concierge; www.theboulders.com, (866) 397-6520.
Related Articles:
Historic Route 66; Arizona Cowboy College; Elko's 31st Celebration Of The Old West; Utah's National Parks; Northern New Mexico Cilinary Tour; Images of New Mexico